Ryotaro Shiba's 'RYOMA!' Translated into English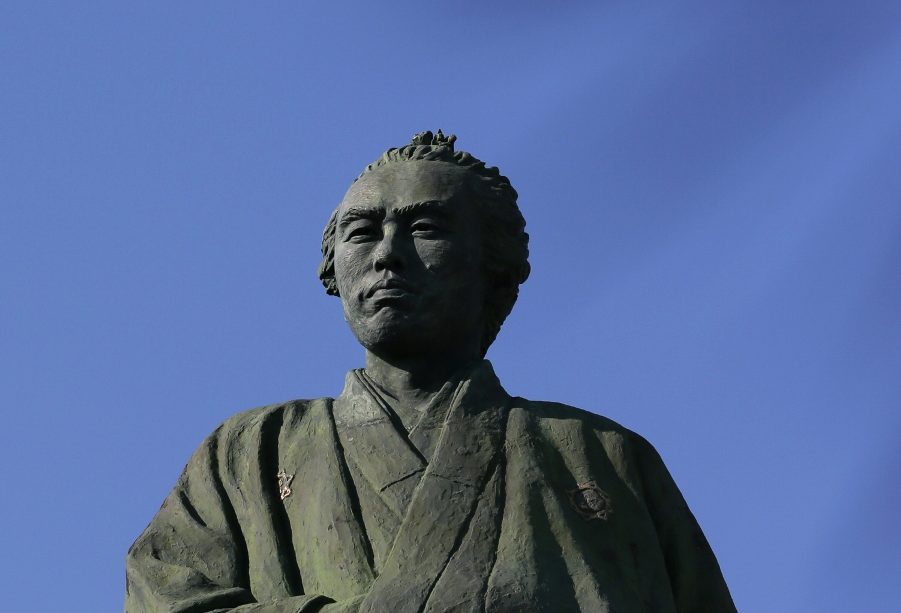 Ryoma ga Yuku (literally, Ryoma Goes His Way), one of the most representative historical novels by Japanese author Ryotaro Shiba (1923-1996), has recently been translated into English, thanks to the dedicated efforts of an ardent fan of the author.
Published in electronic format, RYOMA!—the first volume of the full-length four-volume Japanese novel—focuses on the life story of Sakamoto Ryoma (1835-1867), a historic figure who is widely known as one of the main architects leading Japan into the Meiji Restoration.
The timing is significant: 2018 marks the 150th anniversary of the Meiji Restoration. The e-book is expected to help spread the epic narrative of a youth who played a key role in steering Japan forward in the run-up to its modernization.
RYOMA! is priced at US$9.99 (equivalent to about ¥1,075, not including tax) and is now simultaneously available in English in about 100 countries through Amazon.com. The remaining volumes are expected to be available in e-book format in English by the end of 2020.
While the Chinese and Korean versions of the copious novel have already been published, an English translation has not been available until now, partly because the long novels tend not to be preferred in English-speaking countries according to the publishers.
RYOMA! materialized, thanks to efforts of Akira Takahashi, 53, a trading house employee who is an avid reader of Shiba's works.
"When I was in college, I was profoundly impressed by the prominent ability of the protagonist to take action, and the breadth and depth of his international perspective," said Takahashi.
He explained that, after graduation, when he encountered hardships on overseas assignments for his trading company, "I was exhilarated by Ryoma and encouraged to do my best to accomplish what I was sent to do," he said. "I subsequently came to feel strongly that I wanted to take action to have this splendid novel translated into English and read worldwide."
In 2016, Takahashi obtained the English translation rights for Ryoma ga Yuku from the Shiba Ryotaro Memorial Foundation in Osaka, which holds the copyright to Shiba's works. He then arranged for translation of the novel into English at his own expense.
A five-member team was formed for the project, including three translators and an editor. Among the translators is Juliet Carpenter, who teaches at Doshisha University and has an established reputation for translation of Japanese literature, including Shiba's works, such as Saka no Ue no Kumo (Clouds Above the Hill).
The project team was intent on using their best creative efforts to draw the interest of prospective overseas readers through intelligible English, Takahashi said. An agreement was subsequently reached with Amazon to release the translation as a digital book. Discussions are also underway to put out RYOMA! as a hard-copy book in the future, though a date has yet to be fixed.
Thirty-five of Shiba's novels have been published in 11 foreign languages so far. As most publications of Japanese books in foreign languages have been carried out at the initiative of publishing companies, a translation project undertaken by a private individual, such as in Takahashi's case, is relatively rare.
He said, "English is a prerequisite for sending the message of the author to all parts of the globe, and it would be my great pleasure if I could see young people in developing countries gain inspiration from RYOMA! in a way that boosts their efforts for nation building and modernization, even if it takes a decade or two before we see the results."
Ryoma ga Yuku is the greatest of Shiba's literary masterpieces, depicting the lifetime of Sakamoto Ryoma on a grandiose scale, as he played major roles in such events as the 1866 formation of a military alliance between the two powerful domains, Satsuma and Choshu, for overthrowing the Tokugawa Shogunate, and return of political power to the Emperor the following year. Sakamoto thus exerted great influence on the eve of the 1868 Meiji Restoration.
The multi-part novel also provides a dramatic representation of a number of other brilliant historical figures who, in their youth, rushed through those turbulent days. The novel was initially carried in The Sankei Shimbun in installments published from 1962 to 1966.
(Click here to read the original article in Japanese.)