Sankei-Fuji Poll: Big Majority Okay with Attacking North Korean Bases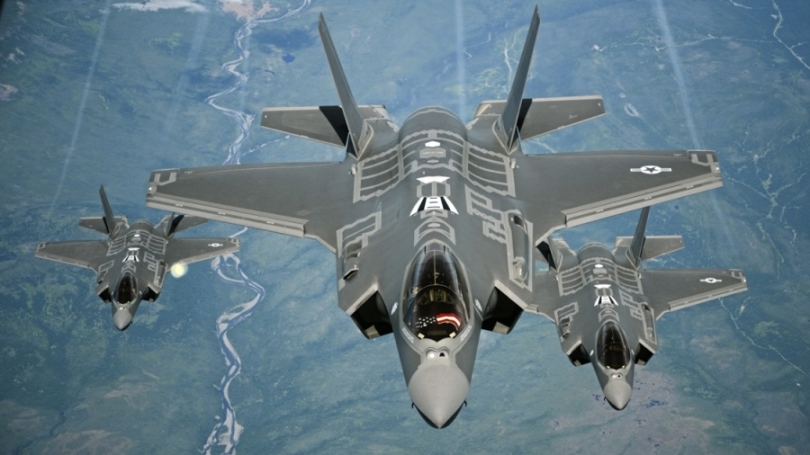 It is "acceptable" to attack North Korean bases, a big majority—over 75%—of respondents said in the latest opinion poll jointly conducted by the Sankei Shimbun and Fuji News Network (FNN).
The poll, conducted by phone on April 15 and 16, asked respondents if Japan should build its defense capabilities in response to North Korea's recent nuclear tests and threats.
Of the 1000 respondents, 30.7% said this should be done when North Korea starts preparing for a missile launch, while 45% said only after it launches ballistic missiles toward Japan—a total of 75.7%.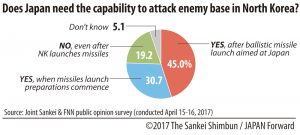 To the same question, 19.2% of respondents said "Japan should not respond by attacking enemy bases, even if ballistic missiles are fired at Japan," while 5.1% didn't know what should be done.
The combined percentage, 75.01%, of those who think Japan "should maintain those capabilities" or "should consider acquiring those capabilities" was unchanged from the poll conducted a month ago, on March 18 and 19.
Majority of males 50-59 years old (54.8%) agreed that "Japan should only respond after missiles have been fired at Japan." Majority of females over 60 years old (51.1%) shared the sentiment.
Among males 30-39 years, the greatest number of respondents, or 38.7%, said Japan "should attack when definite plans have been revealed." About the same number of females (38.9%) in the same age bracket agreed.
The joint public opinion poll in April also showed that almost all the respondents—91.3%—acknowledged that they "feel" the threat of North Korea's nuclear and missile development, while 8.0% said they "did not feel" the threat.
At the end of March, the Liberal Democratic Party (LDP) of Japan lobbied the government to consider acquiring "enemy base attacking capabilities" in order to prevent subsequent missile launches, in the event of North Korea fires ballistic missiles toward Japan.
According to the April survey, 47.1% of LDP supporters agreed with the plan, and 35.3% approve of the use of a pre-emptive strike.
(Click here to read the original article in Japanese)