Shohei Ohtani Becomes Two-Time Unanimous AL MVP
For the second time in three years, Shohei Ohtani is the American League MVP award recipient, recognizing his all-around excellence as a pitcher and hitter.
Read the full story on SportsLook - Shohei Ohtani Becomes Two-Time Unanimous AL MVP
Shohei Ohtani is the first two-time unanimous MVP award winner in MLB history.

Ohtani achieved the feat on Thursday night, November 16, when it was announced on MLB Network that the Japanese superstar's name was listed as the first choice on all 30 ballots for the American League MVP award for the 2023 season.
The 29-year-old, who played in his third MLB All-Star Game in July, hit an AL-best 44 home runs in an injury-shortened season. He didn't play after September 3 due to an oblique injury.
In 135 games, Ohtani batted .304, bashed eight triples, had 20 stolen bases and 95 RBIs. He led MLB in slugging percentage (.654) and was the AL leader in on-base percentage (.412).
On the mound, Ohtani had a dominant season with a 10-5 win-loss record and a 3.14 ERA in 23 starts. He struck out 167 batters in 132 innings in an abbreviated season, tearing an elbow ligament on August 23. On September 19 he underwent season-ending right elbow surgery.
Texas Rangers teammates Corey Seager and Marcus Semien finished second and third, respectively, in AL MVP voting. Seager received 24 second-place votes. Members of the Baseball Writers' Association of America vote for MLB's regular-season awards ― there are 30 AL voters, two representing each of the league's 15 cities. The deadline to vote is before the start of the playoffs. Thus, World Series statistics, for example, don't factor into the voting.

The Rangers captured their first World Series title on November 1.

Atlanta Braves right fielder Ronald Acuna Jr was the unanimous winner of the National League MVP award. He hit 41 homers, stole 73 bases, and batted .337 in a sensational all-around season.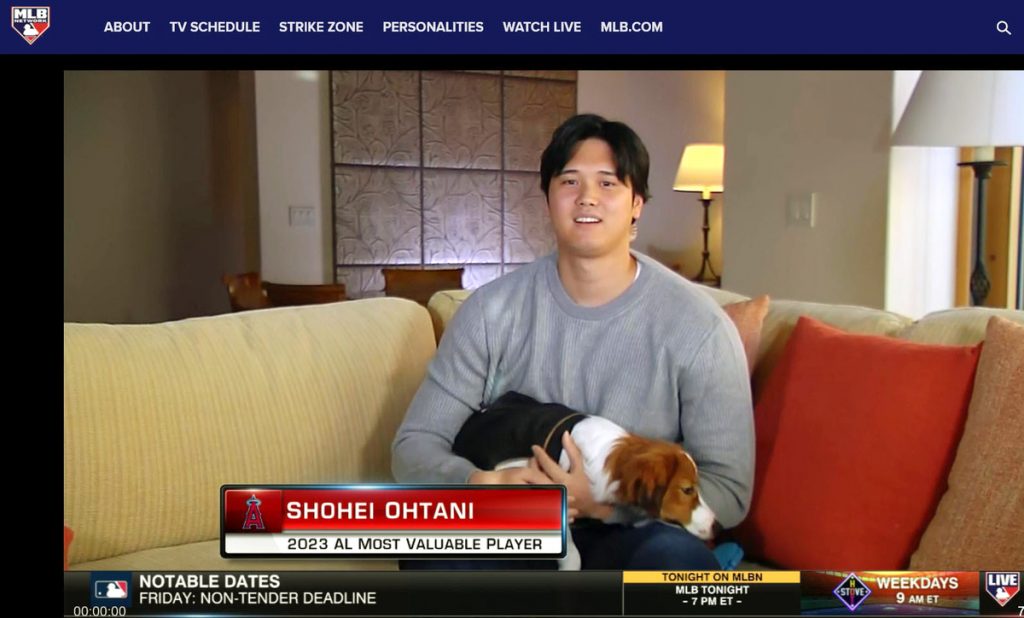 Shohei Ohtani Reflects on 2023 Season
Ohtani was the AL MVP runner-up in 2022, when New York Yankees slugger Aaron Judge belted 62 home runs, breaking Roger Maris' AL record of 61 clouts set in 1961.
In 2022, Ohtani belted 34 homers and had 95 RBIs with a .273 average. He was 15-9 with a career-best 219 strikeouts and a 2.33 ERA in 166 innings, making 28 starts for the Angels.
"Obviously, I wanted to win it last year, but the other player had a spectacular season and deservedly won it. So I wanted to come back stronger this year," Ohtani told MLB Network through an interpreter.
How did Ohtani assess his overall performance in 2023?
Continue reading the full story on SportsLook.
RELATED:

Author: Ed Odeven
Find Ed on JAPAN Forward's dedicated website, SportsLook. Follow his [Japan Sports Notebook] on Sundays, [Odds and Evens] during the week, and X (formerly Twitter) @ed_odeven.