Shoko Kanazawa: A Down Syndrome Child's Long Road to the 'Light'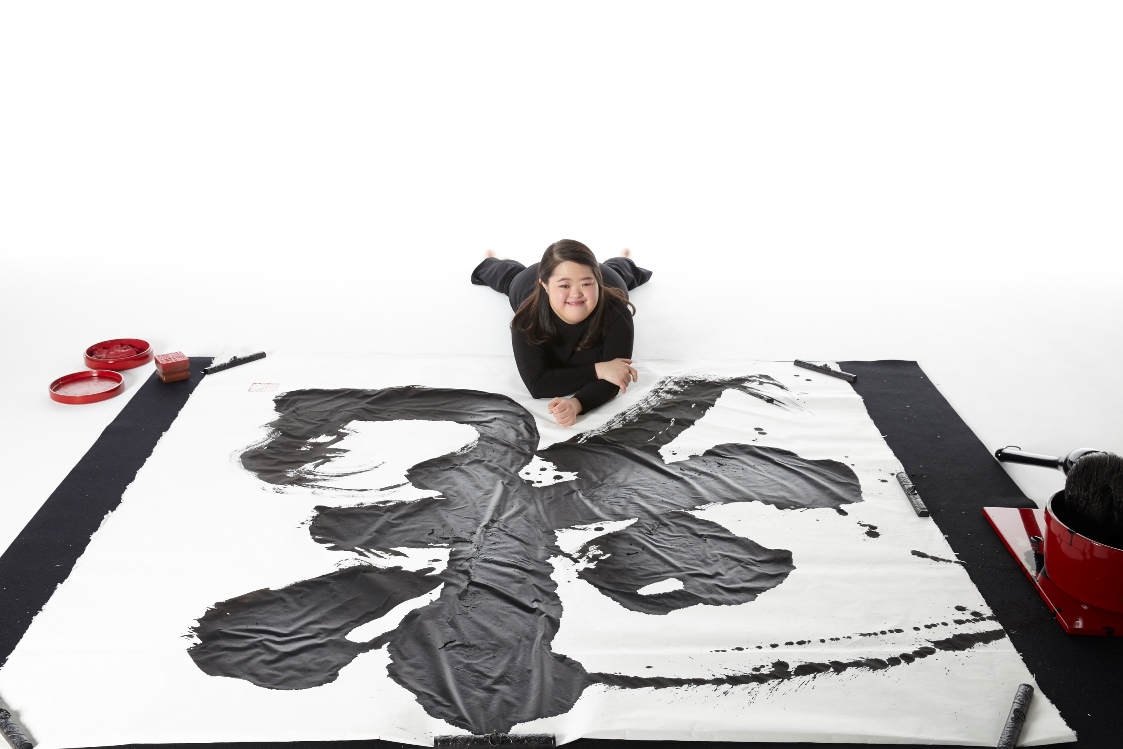 (Conclusion)
Part 1: 'Shine Brightly': Calligrapher Shoko Kanazawa Writes New Year Kanji for 'JAPAN Forward' Readers
Shoko Kanazawa is one of the most famous calligraphers in the world. She has had exhibitions and performed live calligraphic writing more than a thousand times in Japan over the past 10 years, and has been featured in television and newspaper outlets across the globe. She has even given a speech at the United Nations in New York.
The only person who seems not to know that Shoko Kanazawa is a world-renowned artist is Shoko herself. She has Down Syndrome and, as her mother Yasuko says, is mainly concerned with making people happy. Everything else is a distant second.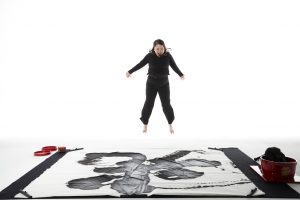 Happiness is the very essence of Shoko's existence. She is irrepressibly happy, and she effortlessly communicates her happiness to everyone she meets. After the earthquake, tsunami, and nuclear disaster which struck Fukushima and the Tohoku region of northeastern Japan in March of 2011, Shoko traveled up to Iwaki, Fukushima, to share calligraphy and smiles with those afflicted by the calamities. She is a happy force, undaunted by even the worst misfortunes.
And yet, for many years, Shoko and her mother did not lead a happy life. It was a long and dark road to the present. JAPAN Forward recently sat down with Shoko and her mother to learn more about the past—and the future—of one of the world's most well-known calligraphers.
Saving Graces
Yasuko Kanazawa was heartbroken to discover that her first and only child, Shoko, had Down Syndrome. Yasuko says that her instinct was to hide Shoko away from the world. There was even a time when she considered taking Shoko's and her own life together, as Yasuko was convinced that there was no way Shoko would ever be accepted by society.
Calligraphy became one of the Kanazawas' saving graces.
"Shoko had a hard time making friends," explained Yasuko, who says she hails from a family of calligraphers. "She used to watch me doing calligraphy from her bassinet. When she was old enough, I had her start practicing calligraphy on her own."
Shoko herself told us, "Studying calligraphy helps me be calm."
But the lessons were hard, and Shoko, eager to please her mother, would often cry when she was unable to form the complex characters properly with ink and brush. Sometimes, Shoko's tears would fall onto the paper.
"We would take a break and let the tears dry," Yasuko said. "And then we would start again."
Her Father's Dream
Yasuko was married to a wealthy businessman whose trading company had offices in 13 overseas locations. At the age of 52, Mr. Kanazawa, who doted on Shoko, died suddenly of a heart attack. Shoko was just 14 years old.
"I went to each of the foreign offices and closed them down one by one," Yasuko told us. "My husband left us enough money to get by on, but I was worried about what would happen to Shoko if I were to die, too."
In the midst of this suffering, Yasuko held onto a faint hope.
"I wanted to give Shoko one big thing," Yasuko said. "I wanted to let her achieve one big dream. We had a calligraphy exhibition of Shoko's works—something my husband had always wanted for Shoko. I would have been thrilled if a hundred people had shown up. But they came by the tens of thousands."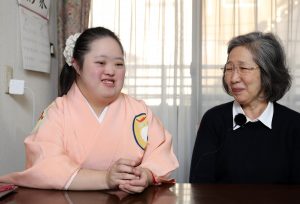 It was from that first calligraphy showing that Shoko's, and Yasuko's, life changed dramatically. They have been working and traveling non-stop ever since. Unlike most famous people in Japan, Shoko has no manager, no agent, no one to book appearances and handle e-mails and phone calls.
"I do it all myself," Yasuko said.
Day Starts with Prayer
What is the source of this remarkable ability of daughter and mother to rise to the top of the art world from a place of complete artistic obscurity?
To hear Yasuko tell it, it has a lot to do with prayer.
"I begin each day by praying," Yasuko said. "I used to pray for guidance, for help. I thought I was cursed to have given birth to a Down Syndrome baby. I used to pray that Shoko be allowed to live another day."
But that all changed as Yasuko began to see that the child who is so different from the world around her was herself the great gift.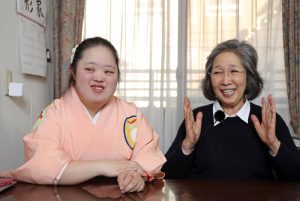 "Now, I pray in thanksgiving," Yasuko added. "Shoko has taught me so much. She is pure of heart. She has what the world is looking for. People are often moved to tears by her calligraphy. They can sense that Shoko is somehow in touch with the real cosmos, which is peace and love and forgiveness."
Yasuko continued, "I can say today that I am glad Shoko has Down Syndrome."
A Mysterious Power
Yasuko thinks that some greater power also enters into Shoko while she is writing. Shoko has a talent that has stupefied even the most discerning experts, although no one can begin to explain its source.
For example, Shoko's calligraphic reproduction of the iconic Fujin Raijin (Wind and Thunder Gods), painted on folding screen and on display at Kenninji Temple in Kyoto, is widely hailed as a work of sublime genius. Somehow, Shoko has captured, in a way that seems to transcend the work itself, the very spirit of the piece, positioning her characters for "wind" and "thunder" exactly as the gods are depicted on the screen.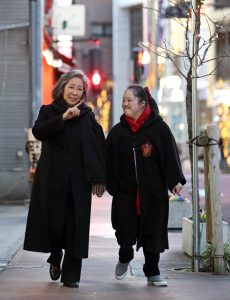 Many who go to the Kenninji Temple to see the Fujin Raijin screen end up being more captivated by Shoko's calligraphic rendition, which is displayed annually in a hall just next to the centerpiece attraction.
Better Than Fame
Before some of Shoko's bigger exhibitions, the shop windows along the street leading from the local train station to her mother's home in Kugahara (Shoko has been living in her own apartment nearby for the past few years) are lined with posters showing Shoko hard at work on her latest masterpiece. Everyone in the little community knows her. Shoko welcomes reporters and interviewers from around the world.
But she remains unchanged by any of this. She would still much rather talk about her favorite YouTube cooking shows, or give an impromptu dance performance to Michael Jackson's classic hit "Beat It," than answer questions about the artwork that hangs in some of the planet's most exclusive galleries.
Perhaps the secret to this lies partly in the fact that Shoko's new year's wish for us all is as simple as it is profound.
"I want everyone to shine brightly," Shoko says. "That's why I chose to write the character for 'light.'"
In Shoko's art, her mother Yasuko reminds us, we catch glimpses that shining brightly—being happy—is truly possible.