Showing Up for a Hurting Friend: Dignitaries Send Condolences, Mourn Shinzo Abe with Japan
A state funeral for the former prime minister is planned for the autumn, where more dignitaries are expected to arrive in Tokyo.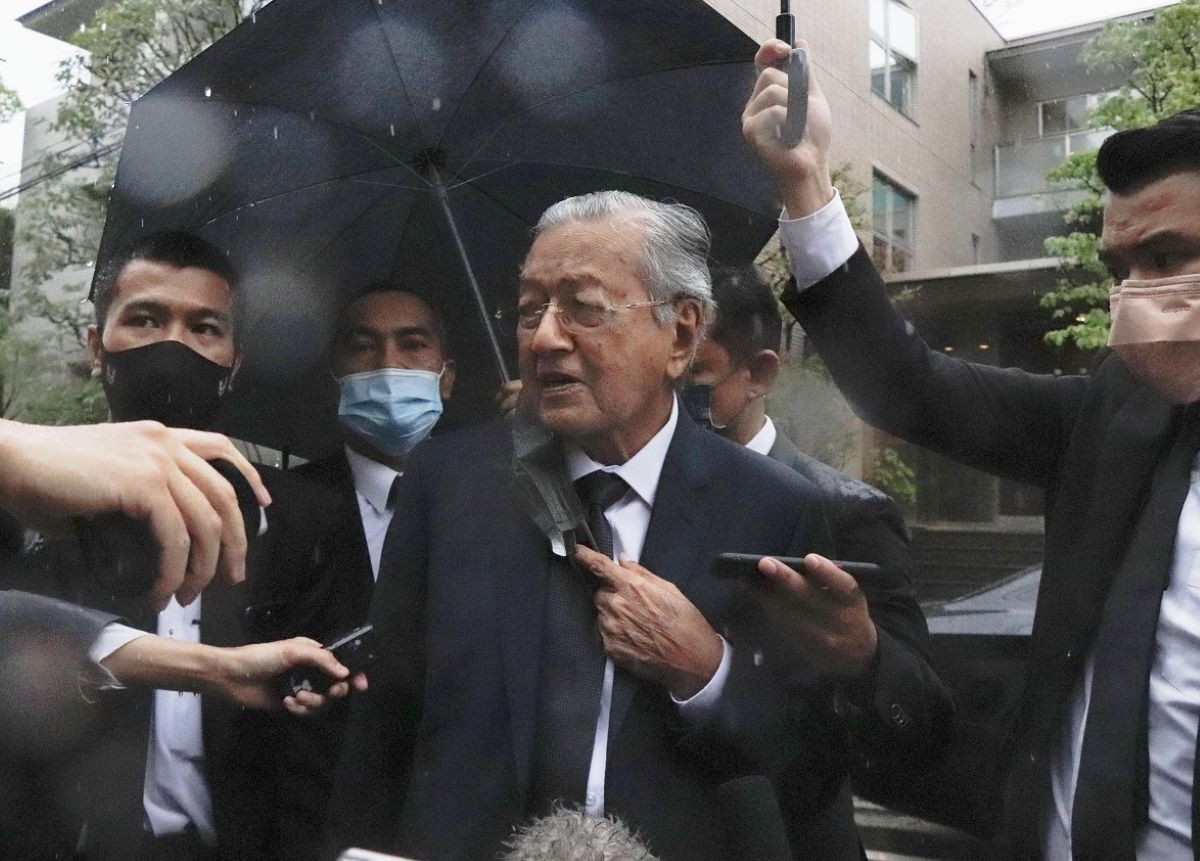 Former Japanese Prime Minister Shinzo Abe was assassinated on July 8, in Nara Prefecture while giving a campaign speech for a local candidate running in the Upper House election held two days later on July 10.
In the week since Mr Abe's sudden death, foreign dignitaries have visited Japan one after another to offer their condolences.
The passing of Mr Abe, who left a long legacy of accomplishments, creates an opportunity for condolence diplomacy. And its scale is likely to grow further until the state funeral ceremony is held for him in Tokyo in the autumn of 2022.


Former Malaysian Prime Minister
On Friday, July 15, former Malaysian Prime Minister Mahathir Mohamad made a quick visit to Tokyo to meet with Ms Akie Abe, wife of the slain former prime minister, at the Abe family home to extend his condolences.
Mr Mahathir has been an advocate of Malaysia's "Look East Policy," learning from Japan's way of economic growth. He also had a longstanding relationship with Mr Abe.
When Mahathir returned to the Malaysian Prime Minister's Office in 2018, he chose Tokyo as his first official overseas trip and met with then PM Abe on June 12 of that year.
This time, after visiting Mr Abe's home in Tomigaya, Tokyo, Mr Mahathir shared his thoughts with the Japanese media, including The Sankei Shimbun and JAPAN Forward. Expressing his condolences and sadness, he recalled his friendship with Mr Abe, saying: "We were getting on very well together…. [I] still remember his dedication towards good relations between Malaysia and Japan."
"In the future," Mahathir emphasized, "we hope the government of Japan will carry on the good work Mr Abe has given us in terms of strengthening the relations between Malaysia and Japan."
Plus, he reminded us, "Japan has helped [Malaysia] with its Look East Policy. And we have many students coming to study here [in Japan]," he remarked. "We also want to learn a lot about the Japanese work ethic and Japan's success in recovering from the war."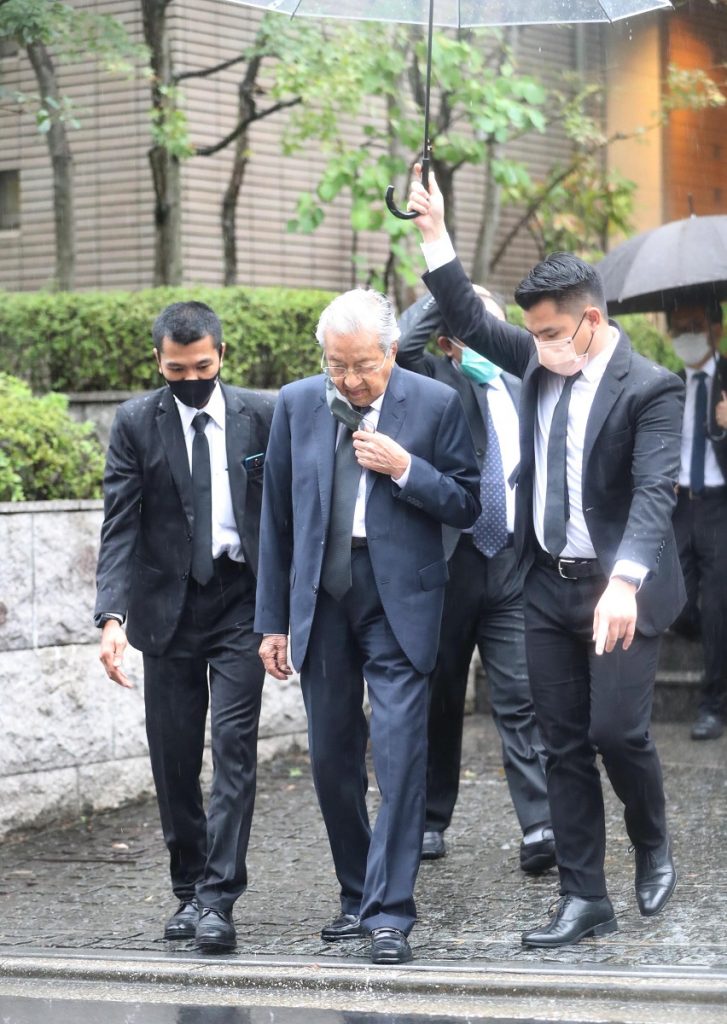 Mr Mahathir's Message
According to Mr Mahathir's contacts in Japan, he sent a message of his condolences to Ms Akie Abe on July 9, a day after Mr Abe passed away. JAPAN Forward has obtained the message and reprints it here as follows:
I cannot describe how truly shocked and saddened I am to hear news of the tragic death of your husband, Prime Minister Shinzo Abe.
My heart goes out to you and the rest of the family at this difficult time.
Mr Abe and I had shared a good working relationship. He was always kind and was very supportive of Malaysia. Malaysia has truly lost a friend.
I wish to convey my condolences to you and your family and to the people of Japan for this tragic loss.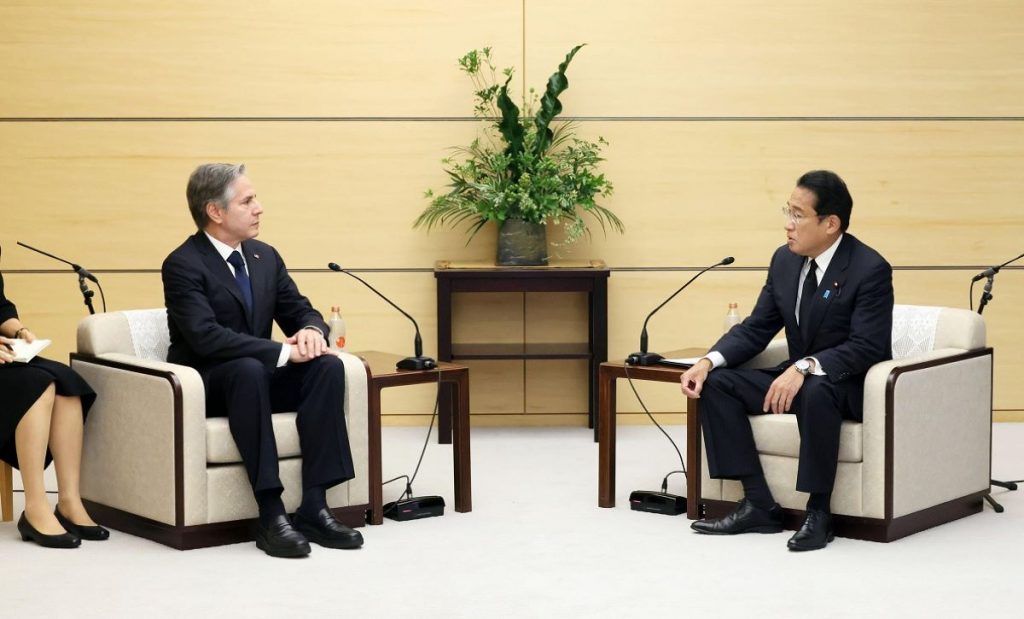 US Secretary of State Antony Blinken
On Monday, July 11, the United States Secretary of State Antony Blinken stopped by Tokyo to visit Japanese Prime Minister Fumio Kishida on his way back to the US. He had been on a diplomatic tour of Bali, Indonesia, and Bangkok, Thailand.
In Tokyo, he offered condolences to the Japanese people on the death of Mr Abe.
Secretary Blinken shared his comments with the Japanese media at the Prime Minister's Office after a meeting with PM Kishida:
Mostly I'm here because the United States and Japan are more than allies, we're friends. And when one friend is hurting, the other friend shows up. We will do everything we can to help our friends carry the burden of this loss.
Mr Blinken also said, "In his time in office, Prime Minister Abe did more than anyone to elevate the relationship between the United States and Japan to new heights."
He revealed personal messages from the United States as well, saying: "I share[d] with the Prime Minister [Kishida] letters to the Abe family from President [Joe] Biden, and simply want them to know that we deeply feel their loss on a personal level as well."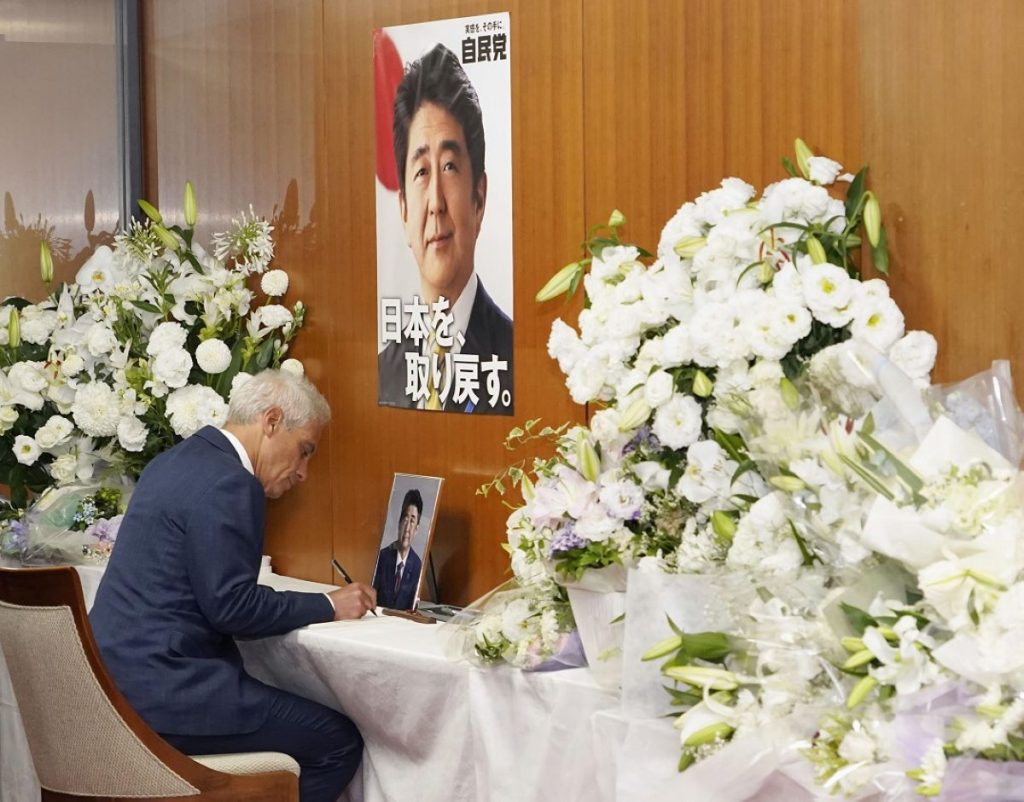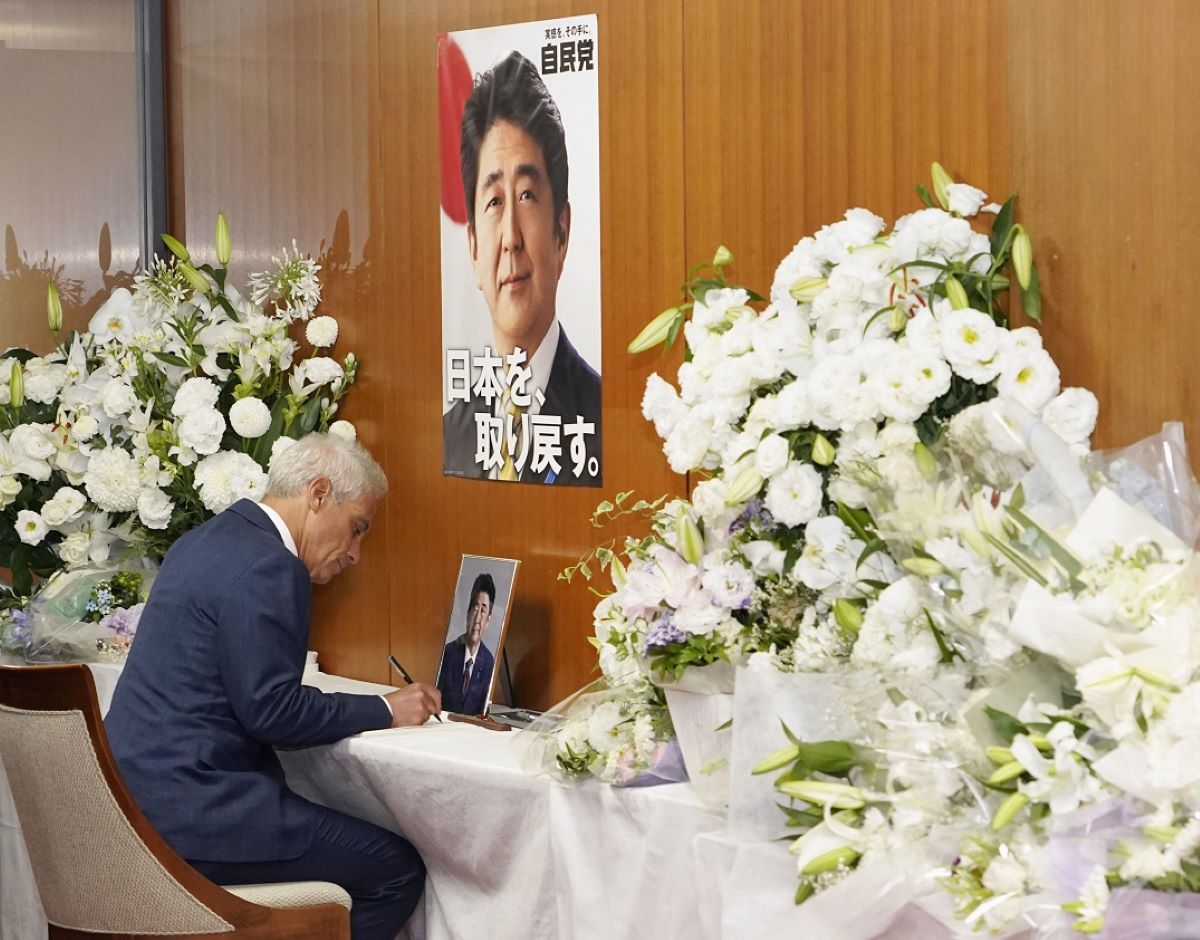 US Ambassador to Japan Rahm Emanuel
Rahm Emanuel, Ambassador of the United States to Japan, visited the headquarters of the Liberal Democratic Party to extend America's condolences on the passing of Mr Abe on Thursday, July 14.
After the visit, Ambassador Emanuel commented to the Japanese media: "He (Abe) is a leader that touched people for his vision as well as for the qualities of leadership and compassion that he brought and his ideals."
Mr Emanuel concluded, "I hope the Japanese people feel [America's] friendship and extension of our friendship in this time of need and emotional stress."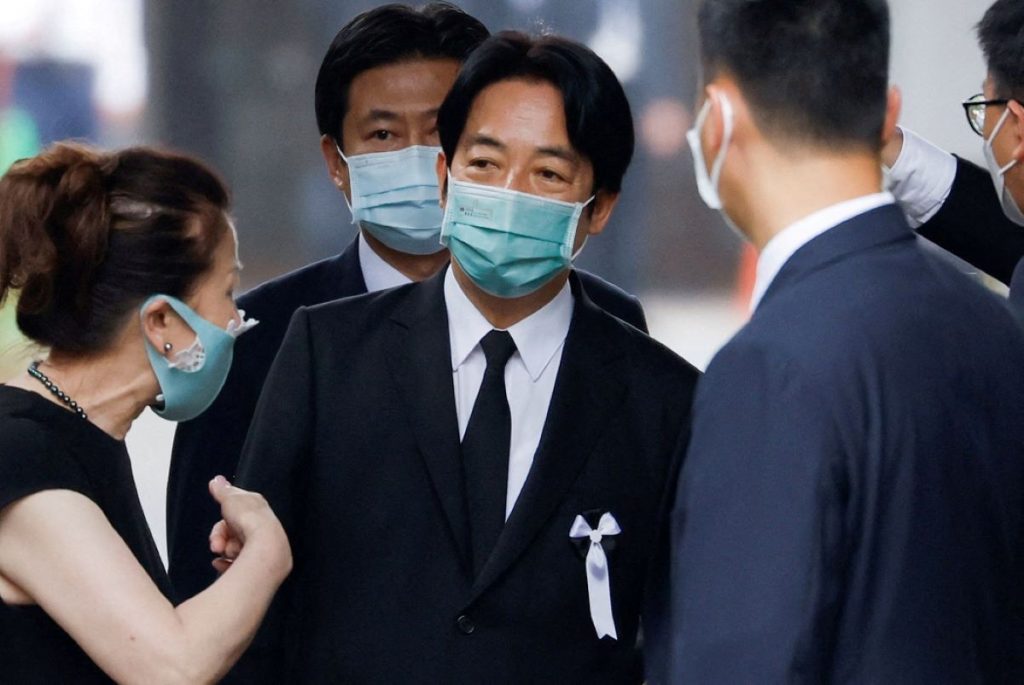 Private Respects From Taiwan
Taiwan's Vice President William Lai attended the funeral service for former Prime Minister Abe held at Zojoji Temple in Tokyo on Tuesday, July 12.
With regard to Mr Lai's visit to Japan, Yoshimasa Hayashi, the Japanese Minister for Foreign Affairs explained at a press conference on the same day: "Regarding the person you (a staff writer who raised the question) pointed out, he is visiting Japan as a private individual to attend the funeral service of former Prime Minister Abe."
Minister Hayashi also revealed that, not counting messages from private citizens, the Japanese government had received more than 1,700 messages of condolence from 260 countries, regions, and organizations as of Thursday, July 14.
PM Kishida has announced the government will hold a state funeral ceremony for Mr Abe in the autumn of 2022. The ceremony will likely be held in September at the earliest. Many foreign dignitaries are expected to visit Japan during that time, continuing one of the rare instances of condolence diplomacy in Japan in recent years.


RELATED:
Author: Mizuki Okada