[SOCIAL WIRE] Japanese Athletes Mourn NBA Legend Kobe Bryant's Death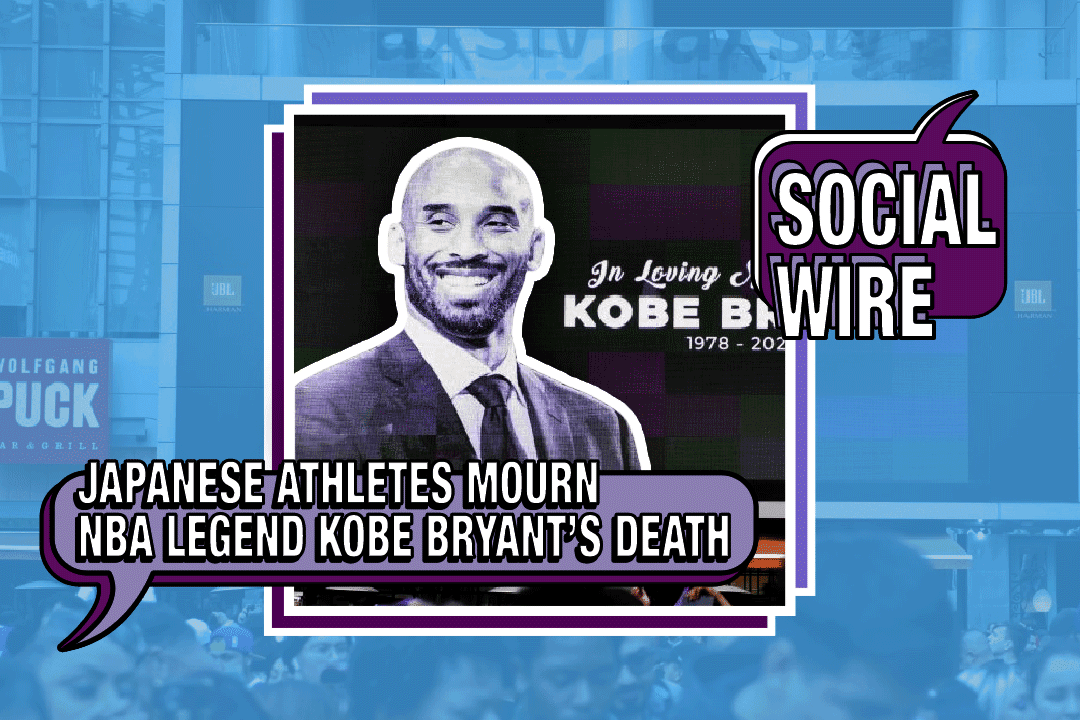 Current and former professional athletes in Japan joined the world in mourning the death of basketball legend Kobe Bryant.
The news broke early Monday, January 26 PST, that the helicopter Bryant was on, alongside his daughter Gianna and seven others, crashed near Calabasas, California. The cause of the crash is still being investigated.
On Twitter, we look at how Japanese athletes reacted.
I can't. pic.twitter.com/Vc3dJZztYS

— NaomiOsaka大坂なおみ (@naomiosaka) January 27, 2020
"It must be a lie.. Kobe…"
嘘でしょ… コービー

— Yuta Watanabe 渡邊 雄太 (@wacchi1013) January 26, 2020
Japanese text: "There's no way I can believe it."
I don't know what's happened.
I can't believe it... #8 #24
信じられる訳がない。

— Yudai Baba 馬場雄大 (@babaseyo) January 26, 2020
"A scary reminder that human life is but fragile. People say that life changes when people close to them die, but the fact that I feel that because of Kobe's death is proof that he was so great. #BeThankfulForLiving
本当に人の命というのは脆くて儚いというのを痛感する。身近な人が死ぬと人は人生観が変わると言うけど、コービーの死で僕がそれを感じてるということは彼がそれだけ偉大だった証拠なんやろうね。#人生に感謝

— KeisukeHonda(本田圭佑) (@kskgroup2017) January 27, 2020
"Kobe. Condolences from my heart"
コービー😭😭😭 心からご冥福をお祈りいたします。

— 湊谷アレクシス (@minatoya23) January 27, 2020
"Kobe…"
コービー、、、

— Fumiya Kogure (@pokkii238) January 27, 2020
"Kobe Bryant's death.
Athletes who responded immediately.
Even though the sport is different,
athletes understand each other,
I think there are things that only athletes can understand.
I wonder how it is for everyone else.
Therefore, I live every day to the best I can.
That's what Kobe taught me.
コービー・ブライアントの死去。

直ぐに反応するアスリート達。

種目は違えど、
アスリートだから分かり合える、
アスリートしか分かり合えないコトがあると思う。

人はどうなるかわからない。

だから、毎日を精一杯生きる。

改めてコービーに教えてもらいました。

Thanks KOBE R.I.P

— 播戸竜二 (@ban11_mr12) January 27, 2020
"What? You must be joking? Kobe…"
え?嘘だろ?コービー。

— Jun Uzawa 【鵜澤 潤】 (@big11jun) January 26, 2020
"Shocked since this morning.
Thank you for everything."
朝からショックだ。
今まで本当にありがとうコービー
R.I.Pkobe🙏🏽#kobebryant #kobebryant8 #kobebryant24 #ripkobe https://t.co/gIHNLs3cQr

— 田中大地 (@daichi_08jp) January 26, 2020
"It's so hard to believe that Kobe is…"
信じられない...
あのコービーが...

R.I.P. https://t.co/VURAjYaWOk

— 岩田涼太(Ryota Iwata) (@ry0tq06) January 26, 2020
"Kobe…"
コービー😭😭😭😭

— 舘野 俊祐 (@05shunshun19) January 26, 2020
"Kobe, for real?"
コービー、マジ?!😨

— 柏木 真介(Shinsuke Kashiwagi) (@kashiwagijuku) January 26, 2020
"An unchanging superstar. Thanks, Kobe. Condolences."
これからも変わらないスーパースターです。
ありがとうKobe。
ご冥福をお祈りいたします。#KobeBryant
#24
#8 pic.twitter.com/w0bb73leIL

— Shuhei Komatsu (@komatsushuhei13) January 27, 2020