[SOCIAL WIRE] Local Officials, Celebrities React to State of Emergency Declaration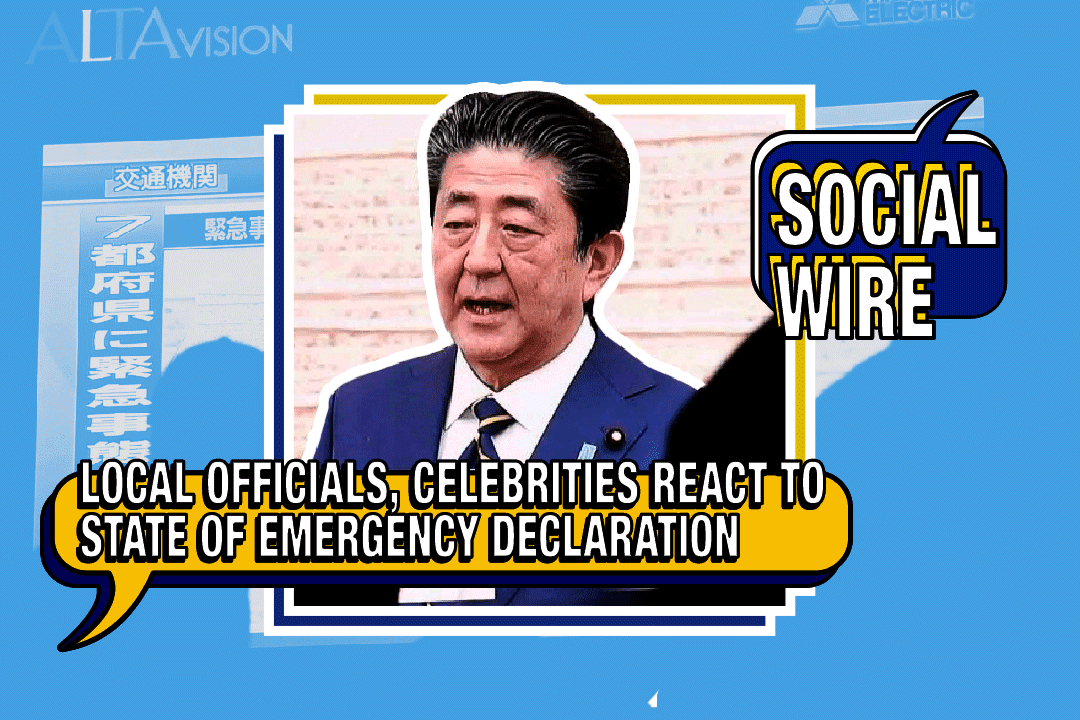 In what could be one of Prime Minister Shinzo Abe's most important press conferences in history, he declared on Tuesday, April 7, a state of emergency in Japan for two metropolitan areas and five prefectures: Tokyo, Kanagawa, Saitama, Chiba, Osaka, Hyogo, Fukuoka. It is effective from April 8 until May 6, after the golden week vacation.
On Twitter, we took a look at how some officials and celebrities reacted.
Yuriko Koike, Governor of Tokyo
In response to today's 'State of Emergency' declaration, the Metropolitan Government requests the residents of Tokyo to restrict going outdoors as an emergency precaution. The main purpose is to protect the lives of Tokyo residents. Avoiding human contact is the best solution. Transforming your behavior is key to protecting yourself and your loved ones. Let's work together to overcome this difficult situation.
本日の緊急事態宣言発令を受け、都は緊急事態措置として、都民の皆様へ『徹底的な外出自粛』を要請します。
大目的は、【都民の皆様の命を守る】こと。人との接触を避けることが最大の対応策です。自分を、大切な人を守るため、皆様の行動変容がカギです。
一丸となって、この難局を乗り越えましょう pic.twitter.com/cQOsEHZ8M1

— 小池百合子 (@ecoyuri) April 7, 2020
Hirofumi Yoshimura, Mayor of Osaka
Today, a 'State of Emergency' declaration has been issued. This is a message from me to everyone.
本日、緊急事態宣言が出されました。僕から皆様へのメッセージです。 pic.twitter.com/vDqcEHN2sT

— 吉村洋文(大阪府知事) (@hiroyoshimura) April 7, 2020
Kyary Pamyu Pamyu, Japanese singer, model, and blogger
State of Emergency declaration…
Stay at home, can't go out but let's surround ourselves with cute things. I'd love to make that kind of online store. I wonder how that would go. I let my company president know I want to do it.
緊急事態宣言、、、!
家にいて外出もできないけどかわいいものに囲まれていたくない?そんな通販サイトみたいなの立ち上げたいと思ってるんだけどどうかなー?
一応社長にはやりたいですってお願いしてみたんだ😌

— きゃりーぱみゅぱみゅ (@pamyurin) April 7, 2020
Motohiro Oono, Governor of Saitama
Emergency measures were announced in response to the 'State of Emergency' declaration. It is vital for the citizens of our prefecture to practice self-restraint of unnecessary and urgent outings. We will respond without hesitation to ill practices of buying and selling. Please remain calm and stay safe.
国の緊急事態宣言を受けて緊急事態措置を発表しました。県民の皆様に対する要請の中心は不要不急の外出の自粛です。なお、買い占めや売り惜しみなどについては躊躇なく対応してまいりますので冷静な対応をお願いします。
詳細https://t.co/Uxs3Pfgw0D
フルバージョン動画
https://t.co/ZwCT7nOJdF pic.twitter.com/orG4EJIDJ0

— 大野もとひろ 埼玉県知事 (@oonomotohiro) April 7, 2020
Yasushi Takahashi, Mayor of Mito
It has been pointed out that policies are inconsistent, but it is necessary for politics to review them flexibly as conditions change. With the 'State of Emergency' declaration, the number of people returning from the focus area to Mito City is expected to increase, and the change in the flow of people is regarded as a major change in crisis management, and temporary closure is determined. Regarding high school, I made a request to corresponding organizations but could not follow through. I deeply apologize for this.
政策に一貫性がないと指摘されていますが、状況変化に伴い柔軟に見直すことが政治には必要。緊急事態宣言により対象地域から水戸市への帰省者増が予想され、人の流れの変化は危機管理上大きな変化と捉え臨時休業を決意。高校については関係機関に要請したが実現できず申し訳ない気持ちでいっぱいです。

— 高橋 靖 (@mayor_takahashi) April 7, 2020
Kazma Sakamoto, Pro Wrestler
'State of Emergency' has been declared!
I will do whatever I can now.
Just stay on top of it!
Politicians!
Please compensate me!
緊急事態宣言!
いま自分が出来る事をしっかりして。
踏ん張るのみ。

政治家の皆様!
補償はよろしくお願いします!

— KAZMA SAKAMOTO (@WWEMrSAKAMOTO) April 7, 2020
Kazuhito Fukuyama, Lawyer and 2020 Kyoto Mayor Candidate
Prime Minister calls on citizens to stay at home with the 'State of Emergency' declaration, but says that they should do something independently unless tax-exempt households and income are reduced by 50%
Forcibly work → coronavirus epidemic → deaths will arise
or
Forced self-control → Bankruptcy / poverty → deaths will arise
Compensation is the key to infection prevention
緊急事態宣言で国民に家にいろと求めるが非課税世帯や収入5割減でない限り自力で何とかしろと言う首相
⬇️
無理して営業→コロナ流行→死人が出る
or
無理して自粛→倒産・貧困→死人が出る
⬇️
補償こそ感染防止のカギだ

— 福山和人 (@kaz_fukuyama) April 7, 2020