[SOCIAL WIRE] Pros react to Naomi Osaka's Australian Open Win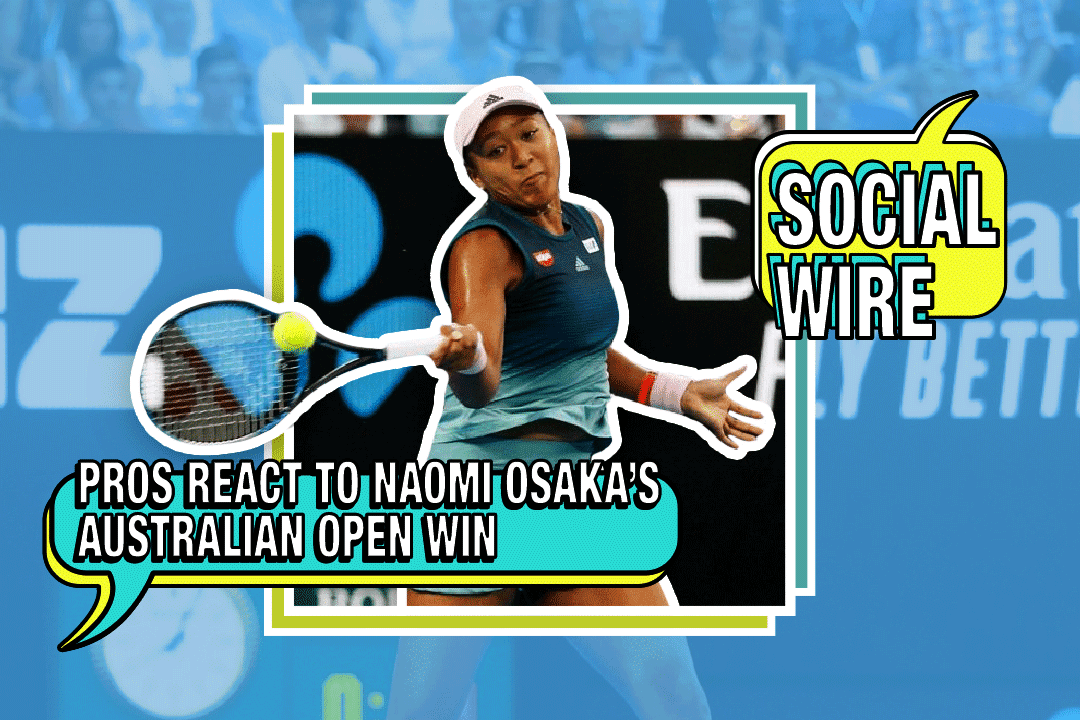 Off the court Naomi Osaka is kind, modest, funny, and loved for her adorable mannerisms. She is only 21; yet, in winning two straight grand slam championships, she also won the hearts of millions of people around the world.
Osaka is the daughter of a Japanese mother and a Haitian father, representing Japan — the country of her birth — despite having grown up in the United States. She's an interesting person, who, with her graceful victory, reminded us what humility looks like. On Twitter, past and present pro tennis players reacted to her Australian Open win.
👍💪👊 @Naomi_Osaka_ 🇯🇵🇯🇵🇯🇵🇯🇵💪💪💪💪👍👍👍👍👊👊👊👊🏆🏆🏆🏆🏆🏆🏆🇯🇵🇯🇵🇯🇵🇯🇵🇯🇵 https://t.co/78hOF0NLQ8

— Kei Nishikori (@keinishikori) January 26, 2019
What a thrilling @AustralianOpen Final last night! @Petra_Kvitova showed an amazing fighting spirit and what outstanding mental toughness by @Naomi_Osaka_ 🙌🏼.

Congrats to both amazing champions and to Naomi for becoming a new number one!

— Ana Ivanovic (@AnaIvanovic) January 27, 2019
Congrats @Naomi_Osaka_ !!!! 👏🏻👏🏻👏🏻

— Donna Vekic (@DonnaVekic) January 26, 2019
Congratulations to the 2x Grand Slam champion, @Naomi_Osaka_! Your future is so bright, and your talent, drive, and determination will take you far. #champion #AusOpen https://t.co/mxMzfNO59v

— Billie Jean King (@BillieJeanKing) January 26, 2019
Unreal! https://t.co/zh2Ugc1yUz

— Daria Gavrilova (@Daria_gav) January 26, 2019
2x Grand Slam champion,#1 in the world @Naomi_Osaka_ Amazing achievement1️⃣🌟👏🏆And amazing final.Cant not admire @Petra_Kvitova 🙌❤️Congratulations ladies🎊👏

— Elena Vesnina (@EVesnina001) January 26, 2019
AMAZING @Naomi_Osaka_ Congrats 🎉🎊🎈 Happy for you😘❤️

— Ons Jabeur (@Ons_Jabeur) January 26, 2019
Fantastic achievement for @Naomi_Osaka_ winning her 2nd #GrandSlam title after intriguing and fluctuating final!Congrats at also becoming new #1! Huge admiration for @Petra_Kvitova and difficult not to be moved by her speech ! A wonderful Womens event this year @AustralianOpen

— Annabel Croft (@Annabel_Croft) January 26, 2019
Congratulations @Naomi_Osaka_ on your second Grand Slam title!! Well done! https://t.co/66p6FbCRIN

— Patrick Galbraith (@PGalbraithUSTA) January 26, 2019
Big congrats for new world No1 @Naomi_Osaka_ . What a final both girls ….. also great tournament for @Petra_Kvitova https://t.co/y0LZtLsrE8

— Shuai Zhang (@zhangshuai121) January 26, 2019

…and a special shout-out from Prime Minister Abe's office:
PM Abe: Such a moving victory in a thrilling neck-and-neck match! I send my heartiest congratulations to Ms. Naomi Osaka for winning the Australian Open.
This Grand Slam title follows her victory in the U.S. Open. https://t.co/Tjxeyv3YlS https://t.co/SBZIRMFrqA

— PM's Office of Japan (@JPN_PMO) January 26, 2019