[SOCIAL WIRE] Revelers Creepin It Real at Shibuya Halloween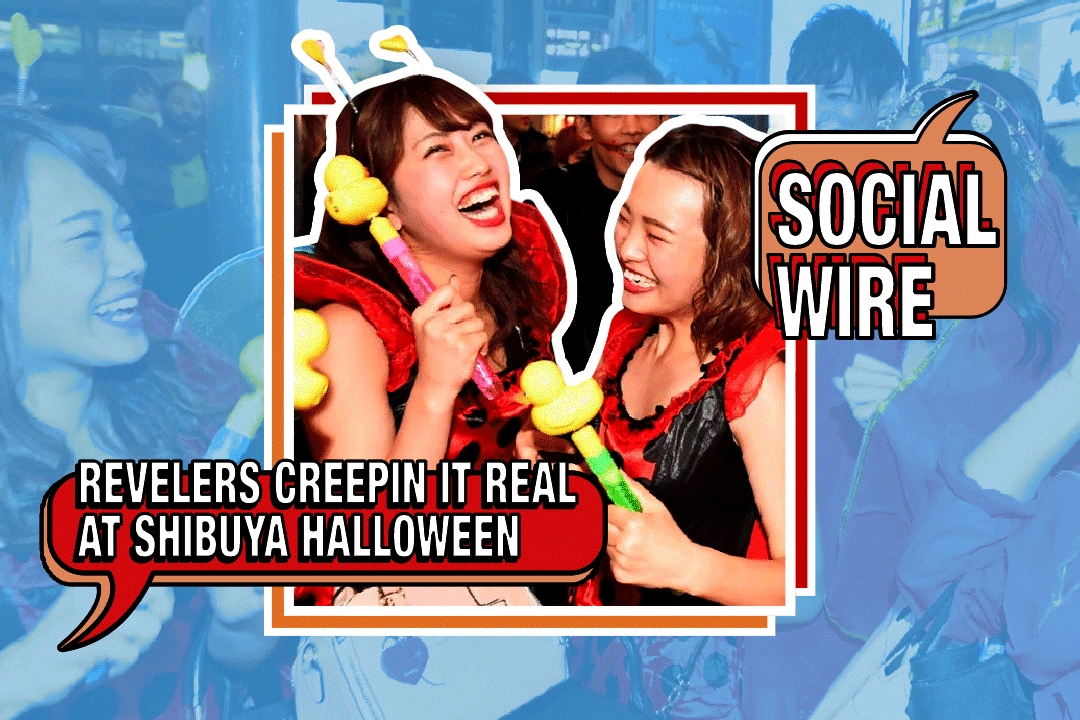 In recent years, Shibuya has stolen the spotlight for Halloween festivities in Tokyo. Never short of any controversy (4 Men Arrested in Shibuya Halloween Chaos) and novelty (Kawaii Monster Cafe's Halloween Menu Features Western "Monster Celebrities" Vampire, Frankenstein and Werewolf), it has been an adventure. And if you are expecting a well-behaved and peaceful gathering, well… that's just witchful thinking.
Without a shadow of doubt the multitudes have come from near and far dressed in their carefully selected attire to shake their boo-ties, presumably all dying to have fun in the party town. To put it bluntly, people will turn up to get sheet-faced…
On Twitter, we look at how people were creepin' it real. Happy Halloween!
Halloween in Shibuya was so wild! pic.twitter.com/p6hgGlEEY8

— Spufflez @ Halloween in Tokyo 🎃🧡✨ (@Pyroar) October 31, 2019
Happy Halloween from Shibuya 🎃✨⭐️ #MaddyinJapan pic.twitter.com/FOaH3wsVQz

— ᗰᗩᗪᗪY マディin 🇯🇵 🎃 (@LaMlleMaddy) October 31, 2019
Shibuya representing 😁 @GretaThunberg #FridaysForFuture #SHIBUYAHALLOWEEN pic.twitter.com/xwklABD0om

— nano (@nanobii) October 31, 2019
#halloween2019 #SHIBUYAHALLOWEEN pic.twitter.com/bBI0ioC8ID

— yaya belle (@tiaragloria1502) October 31, 2019
Happy Halloween from Shibuya! 🎃🦇👻 pic.twitter.com/WHnp3XlD1b

— Maebu (@maebu_) October 31, 2019
Jill is ready for that famous Shibuya Halloween party 👌 pic.twitter.com/m7INSTCXBi

— Rox 🛸 (@deerpressed) October 31, 2019
Rhythm Café Shibuya ❣️
happy halloween 2019 🎃👻 pic.twitter.com/tXbljoaDHC

— poison girl friend (@n0ririn) October 31, 2019
SHIBUYA ULTIMATE Halloween 2019
ありがとうございました🙏🏻❤️✨

O-EASTって清瀬は初で すごく大きくて
こんな素敵なところでライブができて
VUENOSでのライブも最後まで盛り上がって とても楽しかったです🥳✨

みんなゴミはポイ捨てせず
気をつけて帰ってください!!
次は滋賀で会おうね🙏🏻🌟 pic.twitter.com/tLGdSrZVv3

— 清瀬 汐希〈sherbet〉 (@yuki_kiyose) October 31, 2019
someone dressed as the truck that was overturned last year#shibuyahalloween #渋谷ハロウィン #地味ハロウィン #halloween2019 pic.twitter.com/6nOFKUCRJT

— 🌸サクサナちゃん💜 (@39sakusana) October 31, 2019
Halloween at Shibuya Crossing in Tokyo is INSANE 🐱🎃 pic.twitter.com/eZz5hc2kNt

— 🧟‍♂️☠️ Grave Cobb 🏳️‍🌈 (@davecobb) October 31, 2019