South Korea's Political Parasites Deprive Comfort Women of Closure and Healing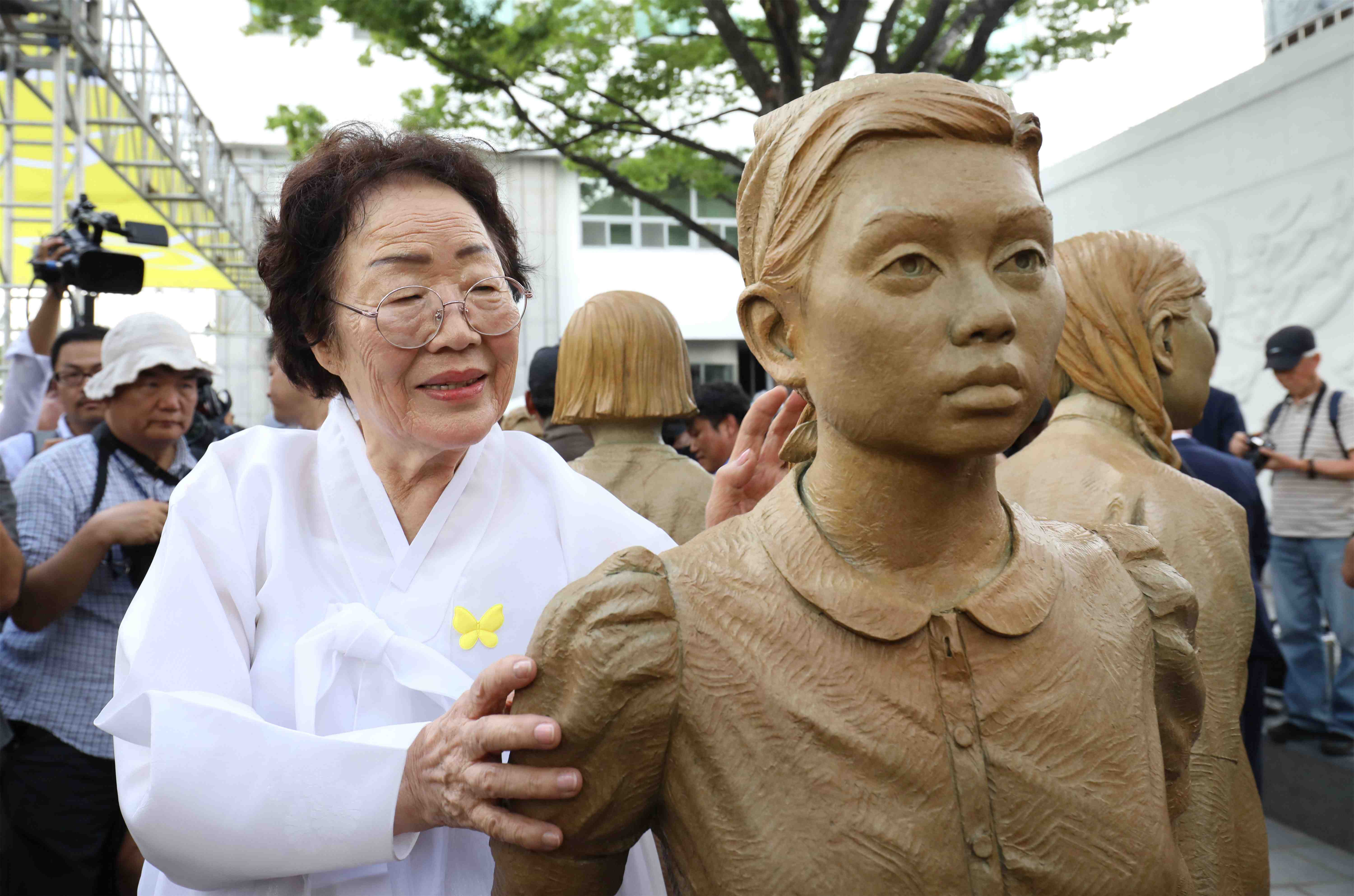 South Korean films are popular around the world. But while in the film world a South Korean film called Parasite has made headlines, in the world of politics another form of parasite has surprised the world with its own drama.
Former comfort woman Lee Yong Soo disclosed at a press conference on May 7: "I have been deceived as much as one could be deceived, and exploited as much as one could be exploited for 30 years."
Her allegations were aimed at the Korean Council for Justice and Remembrance for the Issues of Military Sexual Slavery by Japan.
Ever since her statement, the council's corruption, hypocrisy, and dark ties with leftist South Korean politicians and China have come to light.
Image 1 above: Changing public perception of civic groups surrounding comfort women. The woman in blue is the council president Yoon.
Listening to comfort woman Lee firsthand without the council's interference, the public learned for the first time that the opinion of comfort women was different from that of the council.
Comfort women didn't want to antagonize Japan. They didn't want their past suffering to hinder the process of mending ties between Japan and South Korea. They didn't want to be forced to go to Wednesday rallies held by the council in front of Japanese embassy in Seoul. And they didn't want young students spending their precious time and money to attend those rallies that only instilled anger and hatred in them.
Comfort women have wanted to come to an agreeable closure with Japan for a very long time.
Image 2 above was taken on May 24, 2020 when comfort woman Lee held a second press conference where she revealed further corruption of the Council.
It was the council that did not want closure. The closure would have meant a death sentence to the council.
The 2015 Comfort Women Agreement
Prior to making the landmark 2015 Comfort Women Agreement, then-president Park Geun-hye's foreign ministry consulted closely with the council president, Yoon Mi Hyang, to accurately understand and reflect comfort women's views in the agreement. With time, more and more comfort women were passing away, and President Park wanted to make sure that as many of them as possible could be compensated and come to a closure while they were alive.
The 2015 agreement was also the only time that comfort women received a sizeable sum of money from anywhere.
However, as soon as the agreement was made, Yoon claimed that she was not consulted by the government and that she would not accept it. Many comfort women wanted to receive money from the agreement, but Yoon did not let them, saying that the comfort women should not receive Japanese money. Instead, they should receive money from the council when its own fund becomes available.
Her work has paid off. Yoon is now a parliamentarian for the ruling party, the Democratic Party of Korea.
Image 3 above depicts how South Korean leftists think of the current debacle. There is a saying in Korea, "Rescue someone from drowning, and the rescued asks for her bag," which describes someone who is ungrateful to an act of kindness. This picture has now been erased from the newspaper that first introduced it because of its sensational nature.
Revelations of the Hibiscus Sisters Association
All the money that the council had been collecting in the name of comfort women was in reality channeled to activities that were designed to subvert South Korea's liberal democracy and weaken ties with the United States and Japan, while befriending China.
The council channeled people's donations to anti-U.S. civic groups that opposed THAAD deployment, and pro-North Korean groups that asked North Korean defectors to return to North Korea. Yoon's husband even met with young North Korean defectors in a "house built for the comfort women" and urged them to go back to North Korea.
Image 4 above is an actual photo of young North Korean defectors at the now-infamous "house built for comfort women," where Yoon's husband urged them to return to North Korea.
The most important revelation was the council's dark connections with China.
In 1992, 16 comfort women created a group called the Mugunghwa Chamae Hoe, or Hibiscus Sisters Association in English. In 2004, the association filed a lawsuit against the council and made a public announcement in which they criticized the council for importing "elder women of unknown identity from China" in order to continue on with the council's Wednesday rallies.
Image 5 was taken on May 27, 2020, when South Korean conservatives held a rally in front of Japanese embassy to criticize Yoon for the council's corruption and hypocrisy. The banner in the center says, "Japanese army < Yoon Mee Hyang," meaning Yoon is worse than the Japanese imperial army.
It is time to investigate various civic groups that have been inciting anti-Japanism, their dark connection with South Korea's leftist politicians, and, more importantly, China.
These forces in the two Koreas and China have been using the comfort women issue to further anti-Japanism as a political tool to drive a wedge between Japan-RoK relations and sabotage the U.S.-Japan-RoK alliance. Their efforts present a danger to global security.
Around the world the exploitation of women needs to end. In South Korea, China, and Japan — thanks to Lee Yong Soo, this time at least — the unfiltered voices of these former comfort women will be heard.
Author: Hanjin Lew