South Korea's President Moon Tells Japan 'Let's Talk about History' but Does He Mean It?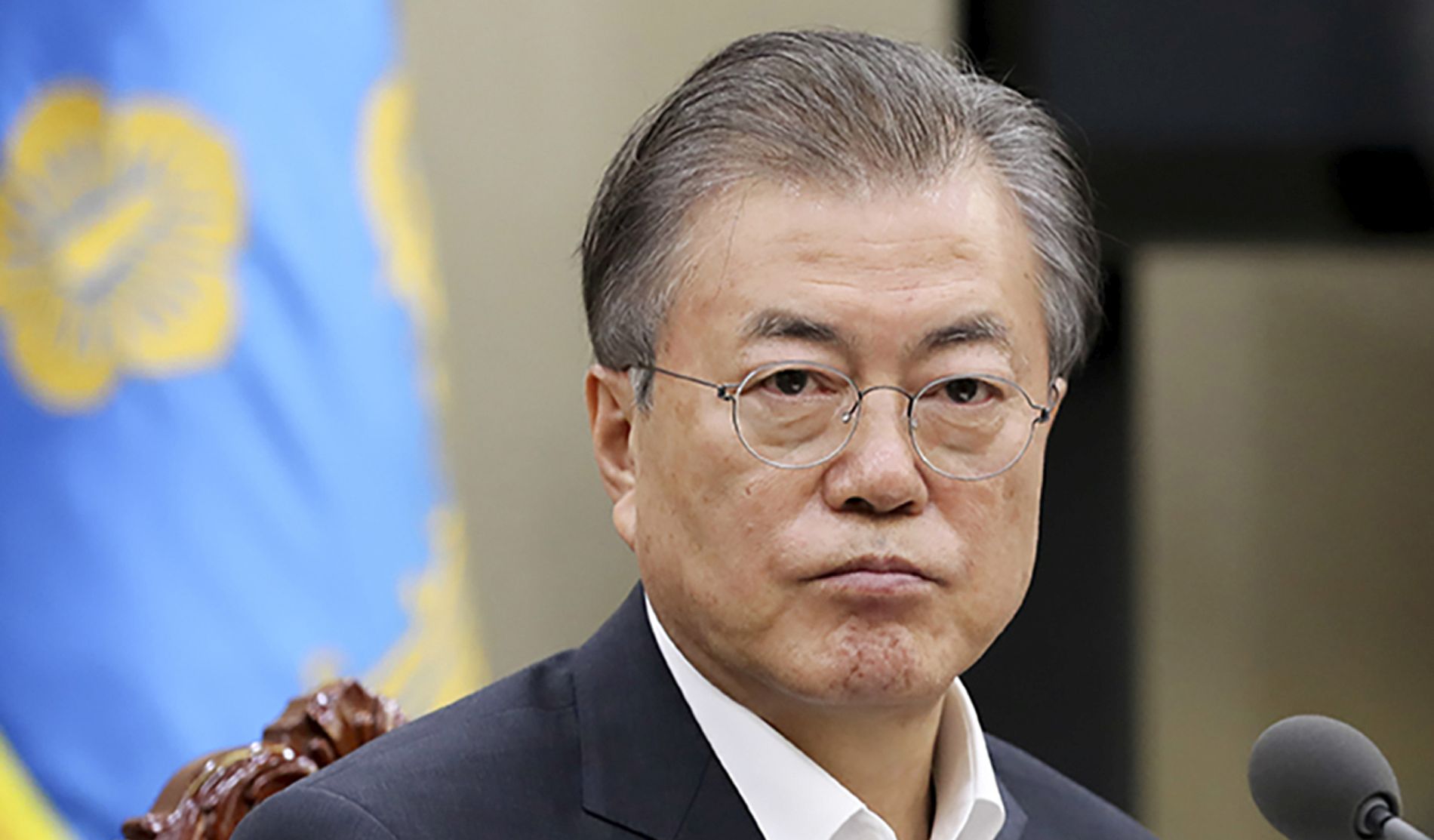 The President of South Korea Moon Jae In made some striking promises during his big televised speech to mark Liberation Day on August 15.
His main pledge was to work towards a peaceful reunification between South and North Korea, despite the fact that North Korea used explosives to blow up their joint liaison office in June. Since then, a united Korea has seemed a very distant dream.
Mr. Moon also said he is working toward creating an economically thriving Korean Republic "brimming with individual freedom and equality". This ambition presents his left wing administration with an enormous challenge. Despite South Korea's success in tackling coronavirus, its economy recently suffered its worst contraction in more than two decades, and social divisions run deep.
Talking to Japan
Mr. Moon made an important commitment in terms of international relations. He said he is ready for talks aimed at a reconciliation with Japan and that he wishes to establish "a bridge for friendship and future cooperation between the peoples of our two countries".
To me, this sounds encouraging. After all, nearly all the South Korean and Japanese people I meet would love to see a better relationship between their nations. Japan could learn much from the South Koreans when it comes to tracing the spread of COVID-19.
Businesses have made it clear they want no further politically motivated trade disputes. A smooth trading relationship in East Asia is also important to other nations. For example, Britain struck a provisional free trade agreement with South Korea last year and is close to reaching a similar deal with Japan. The United Kingdom therefore wants to be friends with both countries.
For the United States, a rift between Japan and South Korea threatens to upset the delicate security balance in the Indo-Pacific region. The American defense secretary, Mark Esper, has called on the countries to resolve their differences and maintain trilateral security cooperation with the U.S.
Mr. Esper said during a trip to Asia last year: "My message to them was, look, I understand the historical issues, but we have far greater concerns that involve Pyongyang and Beijing." He concluded by saying "We have to move forward."
Obstacle to Detente
So is the way now open for detente between South Korea and Japan?
Listening to Mr. Moon's speech carefully, I fear not. There is a major obstacle which stands in the way of his plan to patch things up with Japan.
It all comes down to what he said about the role of the supreme court in South Korea. That court has ruled that Japanese companies, such as Nippon Steel, should pay money to Korea in relation to the colonial era, which ended 75 years ago.
In his speech, Mr. Moon insisted that in South Korea, it is the supreme court which "has the highest legal authority and executory power" in the land. In other words, the buck stops with the court and not with the office of the president.
The government of Japan has made it clear it sees no legal reason why any Japanese company should cooperate with the ruling of the supreme court in Seoul. Nippon Steel has robustly challenged the court's plan to liquidate its assets in South Korea. Tokyo says financial issues relating to the colonial period were settled decades ago.
By siding against Japan, the supreme court has placed a huge barrier in the path towards better international relations. Mr. Moon has not shown the political will to overcome it.
Let us suppose that the government of Japan sends a ministerial delegation to talk with Mr. Moon and his government. Even if negotiations go well, how could any deal be struck without the supreme court agreeing to it? I cannot see any viable basis for discussion here.
I'm sure it frustrates the diplomats on both sides to know that under present conditions, talks between South Korea and Japan would be a waste of time. Yet, if the Japanese side declines the talks, despite Mr. Moon's claim he's "ready" to talk to them, the South Koreans will surely blame Tokyo for the impasse.
The Message from Japan
I noticed that the speech by Japan's Prime Minister Shinzo Abe on July 15 carefully avoided any mention of South Korea. He vowed never to repeat the tragedy of war, while on the same day Emperor Naruhito expressed "deep remorse" over Japan's wartime past.
Mr. Abe said: "Over the last 75 years since the end of the war, our country has consistently valued peace. Under the banner of proactive contribution to peace, Japan is determined to play an even greater role in resolving the challenges the world faces, working together with the international community."
The Japanese government was cautious with regard to the Yasukuni Shrine in Tokyo, where Japan remembers its war dead. Some members of the cabinet went to the site. If Mr. Abe had joined them, it would certainly have raised the tension with South Korea, so he sent a ceremonial gift instead.
It would be wrong to see either Mr. Abe or Mr. Moon as authoritarian rulers who can do as they wish without repercussions, domestically or internationally. They are the elected heads of complex democracies and require the support of the public and the media to survive. Both are struggling in the opinion polls at the moment, particularly as the coronavirus situation in Asia worsens.
Noisy Protests
Emotions are running especially high in South Korea. There were huge anti-government street protests in Seoul over the weekend, despite police concerns that these could lead to the further spread of COVID-19.
Police say more than 20,000 people participated in the marches. The demonstrators included far-right groups, who shouted "President Out" and denounced the recent sexual abuse cases involving members of the ruling political party.
Meanwhile, the Korea Confederation of Trade Unions held a separate protest with around 2,000 workers, calling for closer ties with North Korea and a halt to the joint exercises between the South Korea army and the United States.
In Tokyo, there were small but noisy demonstrations, organized by far right groups who scorn the Japanese government. Although they represent the views of only a tiny minority of Japanese people, they nevertheless gain international attention and are eager to speak to foreign reporters. When their inflammatory comments are reported abroad, they inevitably stoke up anti-Japanese feelings.
In Search of a Solution
So how can we move forward from here?
In my view, it would be wise for the Japanese to keep the diplomatic channels open to South Korea. A forceful but discreet effort is needed to counter the extremism which is a threat to the interests of both countries.
I am pleased that Mr. Moon has spoken about a vision for the future which sees Japan and South Korea as partners and friends. But in order to make history and bring his vision to reality, he will need to see past the restrictive legal system in Seoul, which is doing a disservice to his government and marring relations with a peace-seeking Asian neighbor.
Author: Duncan Bartlett
Duncan Bartlett is a regular contributor to Japan Forward and is the Editor of Asian Affairs magazine. He also hosts the Japan Story website, which includes regular podcasts on political matters.