Speak up Japan, the World is Listening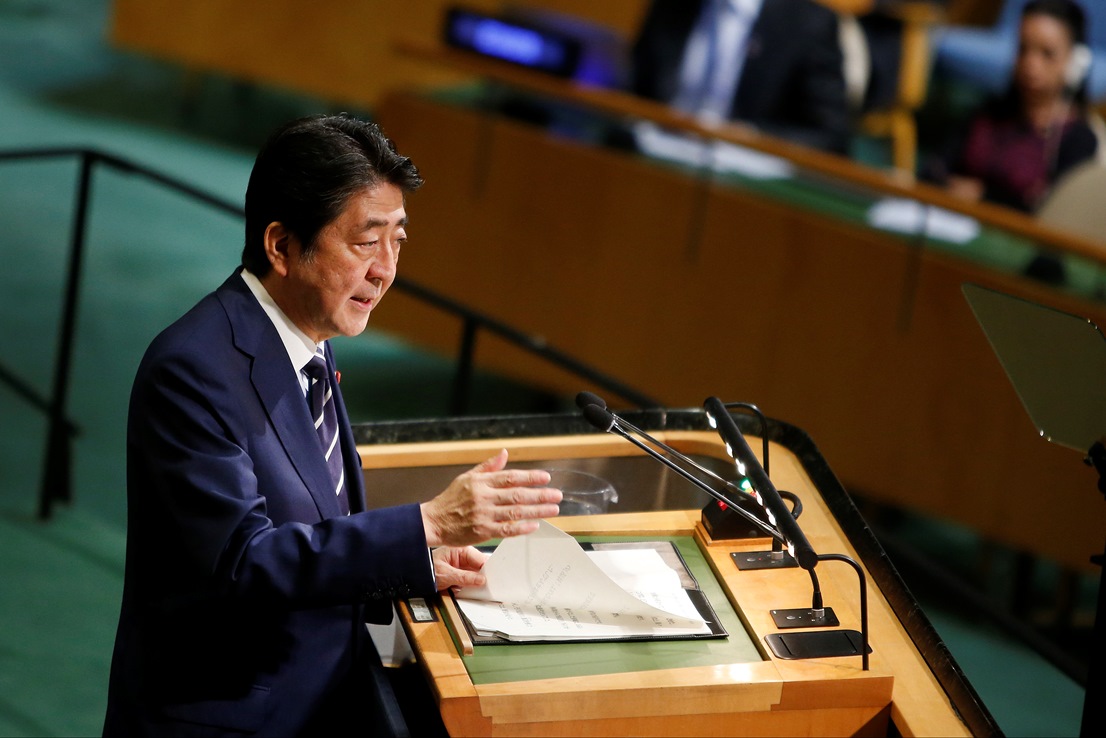 Prime Minister Shinzo Abe is wavering on his strategy in the international community. Meanwhile, the Liberal Democratic Party with its strong support base has forgotten to speak up for national interests.
Threats to Japan
North Korea has launched missiles on seven occasions since July. Although short-range, these missiles are capable of reaching Japan. And, like Russia's Iskander missiles, they are characterized by their low-altitude gliding and irregular trajectory.
Experts have determined that Japan's current missile defense capability cannot handle these missiles. Now, in addition to Chinese and Russian nuclear weapons and missiles, North Korean missiles are posing a serious threat to the lives of Japanese people.
Yet, all the prime minister has done of late is hold just one meeting of the National Security Council. His declaration that North Korea's missile launches were in violation of UN Security Council resolutions is nothing but a "wait and see" approach.
The reason could be that U.S. President Trump does not view North Korea's missile launches as violating any U.S.-North Korea agreements, as long as they are not intercontinental ballistic missiles that can reach U.S. territory. Or perhaps the prime minister himself does not want to jeopardize any opportunity for talks with North Korea to resolve the issue of Japanese citizens abducted by that country.
But in the face of a potential crisis, I seriously doubt this silence is the right move.
Silence is Not the Right Response
First and foremost, Trump's acceptance of short-range missile launches could lead to Japan getting cut off. Trump plays up the United States' close relationship with Japan on the world stage. But, while there are no doubt strong ties between Abe and Trump, if North Korea improves its technology with these repeated launches, Japan will face an even more serious threat.
The "wait and see" approach is not going to be the key to solving the issue of Japanese abductees.
Certainly, the prime minister's approach has had some success. The international community has built a blockade around North Korea and Chairman Kim Jong-un has taken a seat at the negotiating table.
North Korea's Mockery of International Sanctions
However, Kim is not only launching short-range missiles—he is intent on displaying his new military power to the world. In late July and early August, he inspected the construction of a new submarine. And he inspected advanced preparations to fire a super-large multiple rocket launcher and perform a test launch of a submarine-launched ballistic missile (SLBM).
A massive amount of funds is required for these armaments.
On August 5, an expert panel of the UN Security Council announced the possibility that North Korea had stolen a maximum of 2 billion dollars (about 210 billion yen) in cyber-attacks. North Korea's total exports of 2.9 billion dollars plummeted to 200 million dollars due to UN sanctions. They stole the funds to make up for their losses due to sanctions.
Abe's strategy on the issue of abductions is for Japan to support North Korea's economic development with funds and technology transfer in exchange for North Korea returning all victims to Japan.
What the UN report tells us is that Kim is making a mockery of the international response to North Korea, including Japan's proposal. Instead, it is focusing on getting funds to strengthen its deterrent power against the U.S.
It is time for the Japanese government to tighten up the international community's surveillance of North Korea and take action to fundamentally remedy the current vulnerability of our country to external attacks.
The German Precedent
Vice President of the Japan Institute for National Fundamentals, Tadae Takubo, has pointed out the need to remember methods used by West Germany in the 1970s and 80s to overcome the crisis of Soviet medium-range nuclear missiles.
"The moment it became clear that West Germany was in range of SS-20 Soviet medium-range nuclear missiles, Chancellor Schmidt asked the United States to deploy medium-range nuclear weapons. Similar to Japan of the present day, pacifism was at its peak in West Germany at the time. In that context, he decided to bring in American nuclear weapons. It was a bold decision."
The U.S. complied with West Germany's request. Thus, West Germany, borrowing the power of U.S. nuclear weapons, raised the level of military power in Europe to that of the Soviet Union, perhaps even exceeding it.
Meanwhile nuclear disarmament negotiations, based on the "Double Track" approach, were conducted in parallel. These negotiations eventually led to the signing of the U.S.-Soviet Intermediate-Range Nuclear Forces Treaty and abolishment of the SS-20.
Job of Protecting Japanese Citizens
Japan is currently in range of North Korea's nuclear missiles and cannot defend itself against attack. When the lives of Japanese citizens are exposed to such a serious threat, any responsible politician would feel a sense of urgency that keep him up at night.
Yet how many politicians are actually feeling this crisis? It is not the U.S. government that is supposed to protect the lives of Japanese citizens. Have they forgotten that it is the Japanese government's job?
Following the example of West Germany, we have the option to remove the "not introducing into Japan" part of the Three Non-Nuclear Principles, leaving the other two principles, and formally request to United States to bring in nuclear weapons. However, there is not even a hint of discussion of this nature.
Constitutional reform requires an urgent response. Yet there is no movement in the Diet. Why the delay? What is going on?
If the administration must take the "wait and see" approach for diplomatic reasons, the Liberal Democratic Party should come to the forefront and lead the debate. If the party cannot come to a resolution and influence the administration in order to increase Japan's capability to protect itself, where is the value in having a ruling party?
Counting on Japan to Speak Up
With the Trump administration's intentions so hard to read, the international community is counting on Shinzo Abe to speak up.
Hong Kong is desperate in the midst of crisis. As of August 31, weekend protests have gone on for 13 straight weeks, and for the second week in a row, police have fired live rounds into the air. Intervention by the single-party authoritarian government of the Chinese Communist Party is possible based on Article 18 of the Hong Kong Basic Law, under the pretext of "turmoil" and a "state of emergency". We must not allow the people of Hong Kong, who have been taking a stand with the belief that they must protest now or have no freedom tomorrow, to become isolated.
Thirty years ago the world imposed sanctions on China after the Tiananmen Square incident. It was Japan that was the first to lift them and help the Chinese government. That sort of weak behavior is no longer acceptable.
Both the world and Asia are fixated on the words of our prime minister and his self-professed "values-oriented diplomacy". For the freedom of Hong Kong and the future of Japan, the prime minister should issue a statement demanding restraint from the Chinese government.
The Liberal Democrats should take pride in being the ruling party and make bold statements to support the prime minister in protecting our country's interests. And they should keep on doing so. China is now making incursions into the seas around the Senkaku Islands. Today's Hong Kong is tomorrow's Taiwan, and the day after tomorrow, it will be the Senkaku and Okinawa.
(Click here for access to the original Sankei Shimbun special column in Japanese.)
Author: Yoshiko Sakurai