[Speaking Out] Over 10,000 Estimated to Have Died of New Coronavirus in North Korea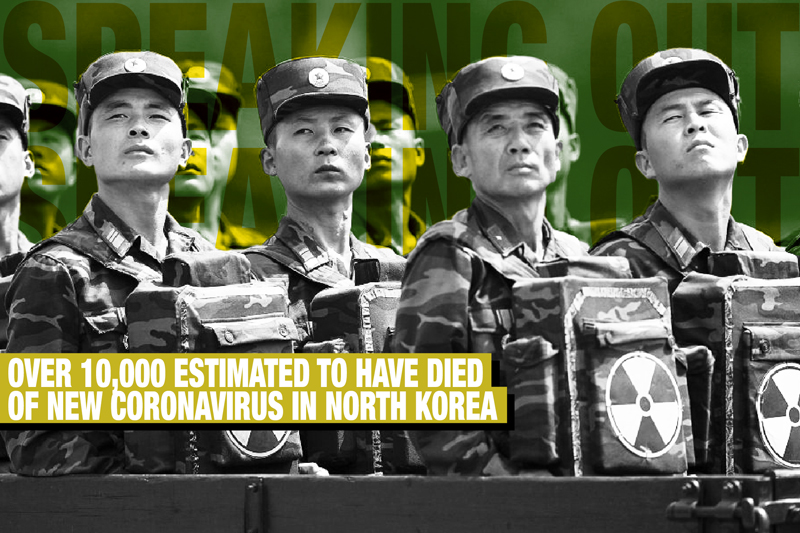 More than 10,000 people had died of the new coronavirus in North Korea by late March, according to insider information that reached me the last week of the same month. Deaths were concentrated in the North Korean capital of Pyongyang, the informants said.
The cause of death is nominally described as "acute pneumonia," but the North Korean leadership recognizes deaths as having been caused mostly by the novel coronavirus disease, they said. As such, North Korea could have posted the world's largest number of deaths from COVID-19 at that point, surpassing Italy.
However, North Korean authorities have continued to lie, insisting that no one has been infected with the coronavirus that originated in Wuhan, China. Collapse of the healthcare system has long been prevalent throughout North Korea. With authorities refusing to recognize any coronavirus outbreak, the country has remained unable to receive any external support to enable it to provide satisfactory healthcare to those infected with the coronavirus.
Hunger Deaths Amid Food Price Spikes
Meanwhile, hunger deaths have been seen on the rise in North Korea, as food price spikes have led merchants to hold food off the market — called Chang Madang — for ordinary citizens, following the closure of the border with China as a measure against the coronavirus in late January.
In late March, Pyongyang issued a political lecture document, calling on all citizens to unite in the struggle against those who earn money by taking advantage of the national health emergency against the coronavirus infection. (Pictured below.)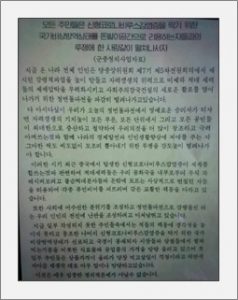 Korean Workers' Party (KWP) Chairman Kim Jong Un has asked China to provide emergency aid. In response, China has transported rice, corn, wheat, and fertilizer into North Korea almost every day by rail since late March.
Supplies have been provided first to KWP, military, and government cadres and security personnel before being released into the market to lower prices. However, the effects of the Chinese aid have yet to spill over to ordinary citizens.
Suspension Thought Control Program
A thought control program for all citizens was suspended in late March for the first time since the Democratic People's Republic of Korea was established by Kim Il Sung in 1948.
In the Kim Il Sung age, including during the Korean War period, citizens met every month to check each other's thoughts under the program. Since the mid-1970s, when his son Kim Jong Il was named his successor, each cell of Korean Workers' Party members, each organization to which non-party members belong, and each unit of housewives and non-working dependents met every week for self-criticism, mutual criticism, and political learning.
Japanese who were abducted and brought to North Korea and have returned to Japan also participated in such weekly meetings, I was told. Now, the weekly meetings have been replaced with the submission of written reports, to prevent the new coronavirus infection. Controls have been loosened substantially.
Flagging Dictatorship
Chairman Kim seems in poor health. Since early February, he has blatantly ceded his authority to his younger sister, Kim Yo Jong. Chairman Kim has ordered his deputies to regard Kim Yo Jong's orders as his own and to obey them. Since then, written orders by "respectable comrade Kim Yo Jong" have begun to be issued.
The Supreme Guard Command for Chairman Kim has been divided into two — one for Chairman Kim and the other for Kim Yo Jong. This means that Kim Yo Jong has been promoted to a position almost equal to Chairman Kim's.
"We have no choice but to die of hunger or pneumonia, but we would not remain silent before dying," North Korean citizens say, according to my informants. "Those two young persons (Chairman Kim and Kim Yo Jong) have destroyed the country."
The State Security Department (political police) in charge of internal security and the Ministry of People's Security (ordinary police) have been on emergency alert since March 22, fearing riots, I was told.
The new coronavirus pandemic directly hits countries with low economic and healthcare levels. North Korea has been hit hard enough to shake its dictatorship.
A version of this article was first published by the Japan Institute for National Fundamentals, Speaking Out #667 Special, on April 1, 2020.
Author: Tsutomu Nishioka
Tsutomu Nishioka is a senior fellow and a Planning Committee member at the Japan Institute for National Fundamentals and visiting professor at Reitaku University. He covers South and North Koreas.