Experts Warn of Widespread Blackouts, Disruptions, If Mount Fuji Erupts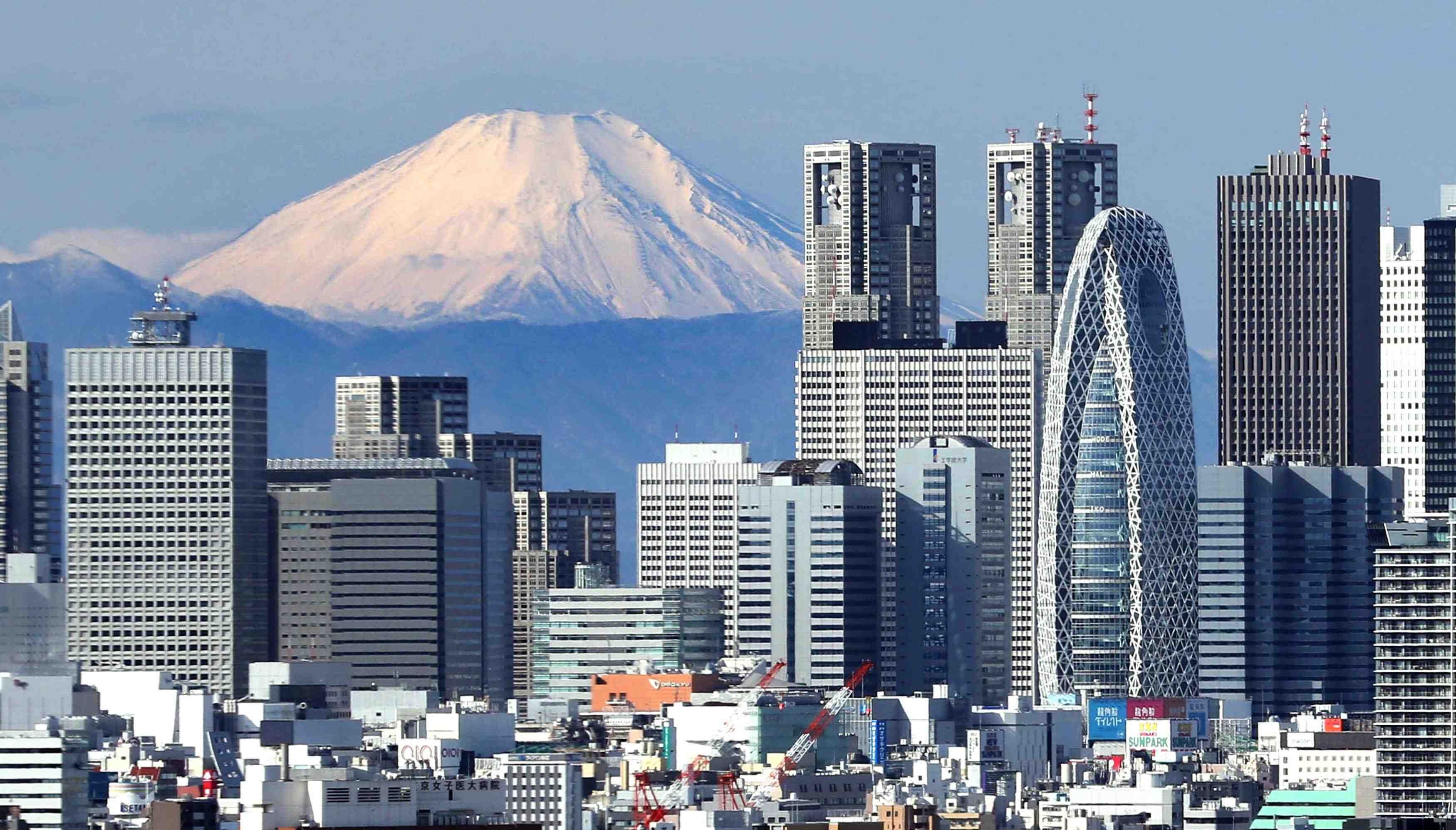 A working committee of the Japanese government's Central Disaster Management Council, chaired by Prime Minister Shinzo Abe, released a report on March 31 on the potential for disastrous consequences in the event Mount Fuji erupts on a massive scale.
Ashfall from an eruption of Japan's highest mountain could cause widespread, protracted social disruption in the daily lives of citizens, including the suspension of railway services, successive road closures, and far-reaching power outages in the Tokyo metropolitan area, the report warns.
In April, the government plans to set up a panel composed of concerned government central and local government agencies, as well as public utilities, including railway, electricity, and highway operators to begin drawing up plans to cope with such an event.
An eruption of Mount Fuji of a magnitude comparable to its past large-scale explosions is projected to produce ashfall measuring 2-10 centimeters deep across the Tokyo metropolitan area and adjacent regions.
According to the latest report, should the 3,776-meter peak some 100 kilometers southwest of Tokyo erupt:
A small amount of ashfall would cause suspension of rail services;

0.3 cm or more ashfall would cause short circuits from the deterioration of electrical insulation, causing power outages;

10 cm of dry ashfall, or as little as 3 cm of ashfall when it rains, would render motorcycles unusable.
The worst case scenario would be an eruption when it is raining with a strong west-southwesterly wind. In such a case, railway services would be halted from Yokohama through Tokyo to Chiba within three hours of the eruption. The greater part of the capital city would suffer power outages, the report says.
The report predicts that 15 days of ashfall would extend the railway disruptions throughout all of the Kanto region. Likewise, power blackouts would spread throughout Kanagawa and Tokyo prefectures and into parts of neighboring Chiba and Saitama prefectures.
Residents of the Tokyo metropolitan area would be urged to evacuate, if possible, in the face of an imminent eruption, while those unable to do so would be urged to move to safer areas as soon as possible after the eruption, making the most of their stockpiles of food and water for survival.
The report projects there would be about 490 million cubic meters of ash requiring disposal, approximately 10 times the quantity of disaster debris that resulted from the 2011 Great East Japan Earthquake and Tsunami.
The volcanic plume from its eruption in 1707, (4th year of Hoei), is estimated to have reached 10,000 meters high, and ejected some 700 million cubic meters of ash and other matter, the report says.
The Mount Fuji Volcanic Disaster Management Committee, composed of central government and municipal representatives in the affected area, issued a report in 2004, estimating that about 12.5 million people would suffer health problems if a similar eruption were to occur in 2004.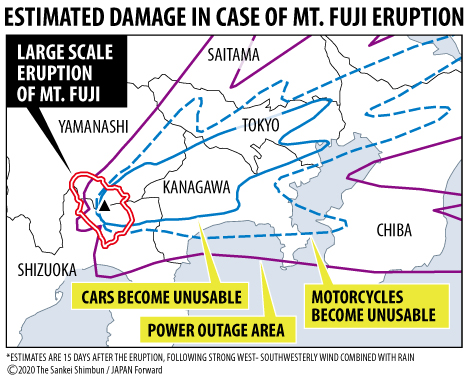 (Click here to read the original report in Japanese.)
Related Report: After Hawaii's Kilauea Erupts, is Japan's Mt. Fuji Next?
Author: The Sankei Shimbun