Station Master Tama the Cat Remains Railroad Goddess After Her Death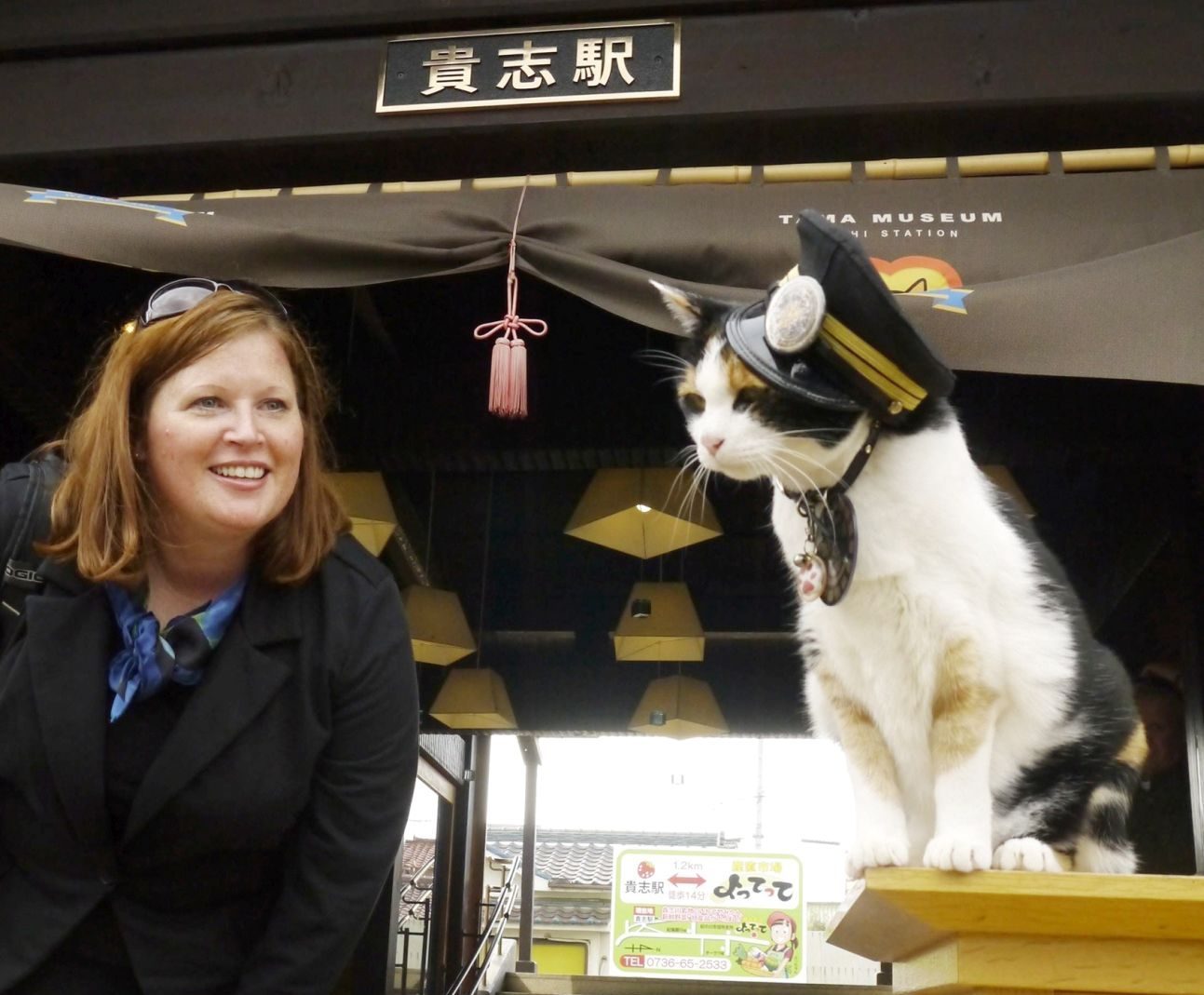 By Kaichi Iwamoto
The popularity of the endearing "station master" Tama, a female calico cat on the Wakayama Electric Railway Kishigawa Line, endures.
While serving as a station master, Tama gained fame for her adorable outlook and attracted plenty of tourists from home and abroad. She frequently appeared in foreign media, causing her to gain an international reputation. Her popularity hasn't faded, despite her death at the age of 16 in 2015.
A pretty 30-minute train ride from the JR Wakayama Station brings you to the unmanned Kishi Station in the town of Kinokawa, Wakayama Prefecture. There you will find a Shinto shrine, with small gates, that holds the spirit of Tama, who was Kishi's "super stationmaster" and became the sprit goddess Tama Daimyojin upon her death.
Tama's Overseas Fans
Wakayama Electric Railway spokeswoman Noriko Yamamoto talked about how much Tama was loved. "I can sense how great 'Tama' was as foreign tourists continue to visit the Tama Shrine, even three years after she died."
She lived a good life at a time when animal station masters were still rare. She was introduced to foreign audiences on TV programs and through the internet. Tourists from all parts of the world came to see her when they visited Japan.
Aside from many interviews, Tama made her "acting" debut in the French documentary film Looking for Cats (La Voie Du Chat) in 2008. The film, shown in France, Germany and Japan, interviewed many cats worldwide to depict the close relationship between cats and humans.
More Offers to Come
In 2017, about two years after Tama died, the search engine giant Google paid tribute to her. Commemorating her birthday, April 29, Google rolled out a special one-day logo of the calico cat in 12 countries, including Japan and several in Europe.
In the past, Google had created special logos to commemorate the fifth anniversary of Astro Boy by Japanese cartoonist Osamu Tezuka (2008) and the 100th anniversary of Japanese filmmaker Akira Kurosawa (2010).
Yamamoto expressed surprise at the honor for Tama, saying, "I did not expect Tama to become so widely known."
Collaboration on a picture book with the famous Chinese animation character "Ali" is now under way. A plan to make an anime film starring Tama has also been discussed.
Plans have also emerged for a documentary film from the paid-membership program Amazon Prime. A U.S.-UK film crew recently visited Wakayama to film Kishi Station and its environs. Amazon has not disclosed details other than to say it plans to release the documentary this summer.
Yamamoto expressed the thoughts of many in Wakayama, saying, "I hope that more foreign tourists will visit the town when the film introduces Tama.
How Tama Solved the Railway Crisis
Tama's mother was an abandoned cat that gave birth to her kittens while living in a kiosk next to Kishi Station. At the time, the Wakayama Electric Railway Kishigawa Line—originally operated as the Nankai Electric Railway—was on the brink of bankruptcy due to continuing annual deficits of as much as JPY500 million (about USD4.5 million) and left the station unmanned. Only Tama was there to greet the trains as they let off passengers.
Tama was loved by local children, and some passengers came to see the station master by train every day. Indeed, her popularity prompted railroad president Mitsunobu Kojima to nominate Tama for the station master position. Thereafter, the number of tourists who wanted to see the adorable station master increased, and the annual number of passengers rose from 1.92 million in 2005 to 2.2 million in 2007.
Tama was promoted to "super stationmaster" in 2014 in appreciation for this achievement.
Inspiring More Animal Station Masters
Since Tama's death, a new cat, Niitama (second Tama), has become the new super stationmaster, while Yontama (fourth Tama) serves as a station master at Kishi Station. Like their predecessor, they are also popular among tourists.
Animal station masters are now gaining popularity in Japan. Ryoma the cat serves as station master at the JR Geibi Line's Shiwaguchi Station, while the rabbit Mochii is station master at the Yamagata Railway line's Miyauchi Station.
Still, railways face plenty of problems.
Wakayama University Faculty of Economics professor Kazuhisa Tsuzimoto said that animal station masters have the effect of enhancing local residents' affection toward railways and work as charms for tourism. He pointed out, though, that it is necessary for local railways to become more accessible to the aging population, as well as provide help accessing tourist destinations along the railways.
Even Wakayama Electric Railway Kishikawa Line is still approximately 300,000 riders short of the annual number of passengers required to make a profit by fare alone.
According to Kansai University professor emeritus Katsuhiro Miyamoto, in the 2007, the year the cat assumed station master duties, Tama's economic effect in Wakayama Prefecture amounted to approximately JPY1.1 billion (just under USD9.5 million). As Yamamoto said, Tama is the railroad's goddess.
Click here to read the original article in Japanese.