Stephen Curry Wraps Up 'Under Armour' Asia Tour in Tokyo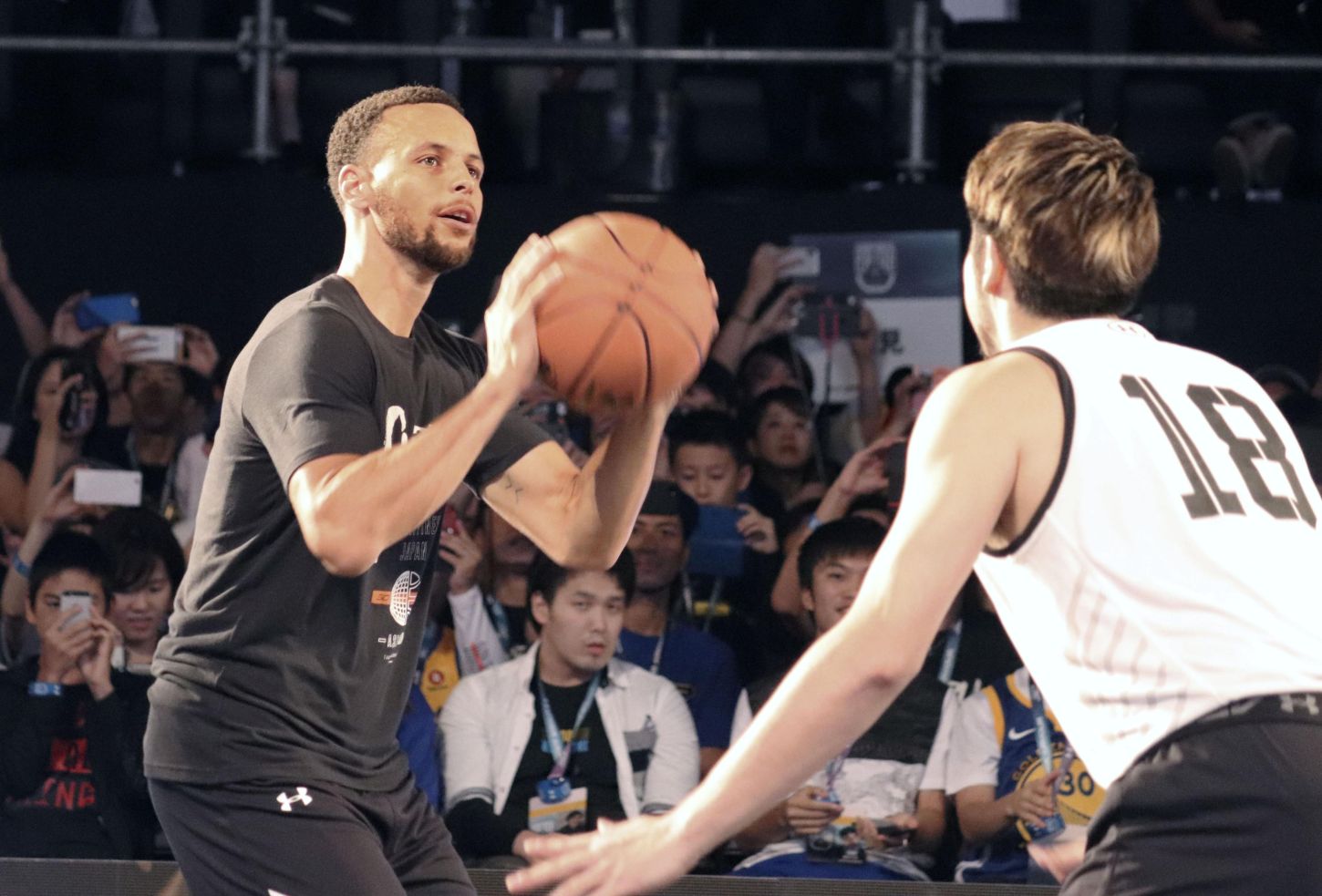 Galileo Ferrari – Tokyo

Stephen Curry crossed the Pacific Ocean for his fourth summer tour in Asia, finishing up his seven-day, three-city tour in Tokyo, Japan, on Wednesday, September 12.
The tour, sponsored by Under Armour, started in Manila, Philippines (Sep 6-8), went on to Wuhan, China (Sep 8-10), before coming to Tokyo.
Curry hosted basketball clinics with his fans, announced the release of new Under Armour products, and promoted an exclusive Tokyo colorway release of his signature UA Curry 5 (V).
The Under Armour Asia tour first kicked off in Tokyo back in 2015, when Curry won his first NBA championship with the Golden State Warriors, beating LeBron James' Cavaliers in six games (4-2) and marking the beginnings of his hall of fame-caliber legacy.
"It's been amazing.This is our fourth tour. I think I said this earlier today — Tokyo was my first ever stop back in 2015. So this is where it started and it's good to be back here. Obviously for my second time it means a lot – and hopefully it won't be my last," he said at the event on Tuesday.
Fan Event in Tokyo
Curry rolled up to the Roppongi Hills Arena in his tour bus, which was customized for this visit. The rooftop was off, giving him a 360 view of the city.
He appreciated the hospitality and the details of the bus: "We were on the top [of the bus], kind of sightseeing, but I never thought I'd have my face on the side of the bus in Tokyo. It's pretty nice."
Part of his entourage was 16-year NBA veteran Dell Curry, his father, who also participated in the festivities. The event kicked off with two energetic dance performances by Nao Uochi and DA PUMP, and got the crowd going wild. Stephen Curry could be seen shimmying on the bus and dancing the same moves as DA PUMP.
Curry alighted from his tour bus and made his way to the center of the arena, expressing his appreciation to his Japanese fans: "Thank you very much for having me here in Tokyo. I'm so excited to be here. We've had a great trip so far and I know tonight's going to be amazing. You guys' energy and passion for basketball is unmatched. Thank you very much, let's have some fun tonight." The crowd's energy level grew higher and the arena filled with cheers.
The event was also a charity fundraiser for the Japan Special Olympics.
"I'm just excited, man. This is what we're here for and we're going to do it big, and continue to grow the game of basketball and give back," he said. All the proceeds of the ticket sales for the event were donated.
The SEA 3×3 tournament finals were played in front of Curry, and the finalists were awarded a pair of signed Curry 5s. Curry played briefly in the team with his namesake "Team Curry," making a long range shot way beyond the arc, much to the audience's delight. He quietly subbed himself out during a timeout and returned to his coaching role.
The crowd finally got what they came for when the 3-point contest began shortly after the 3×3 match concluded. Dell Curry and local players faced off, and everyone in the arena was treated to naked-eye NBA championship-level three-point shooting. It looked effortless for Steph as he splashed consecutive shots at ease with the crowd growing more and more excited as the ball hit the bottom of the net.
The event drew to a close when Curry passed around t-shirts and basketballs to people in the stands, and one lucky fan was gifted a signed pair of UA Curry 5s in Tokyo limited edition colorway.
The Curry 5s are the latest in Steph's signature shoe series and means a lot to him: "We're all just trying to get better. I think for me, every time I've had an opportunity to build a shoe or to bring something to the world, it's all about trying to make you better on or off the court, so that's what these are about. It's really special to know that I won a third championship in them, too. So that makes it even better."