Cure to Japan's Falling Birthrates? Daimaru Offers Adult Toys for Women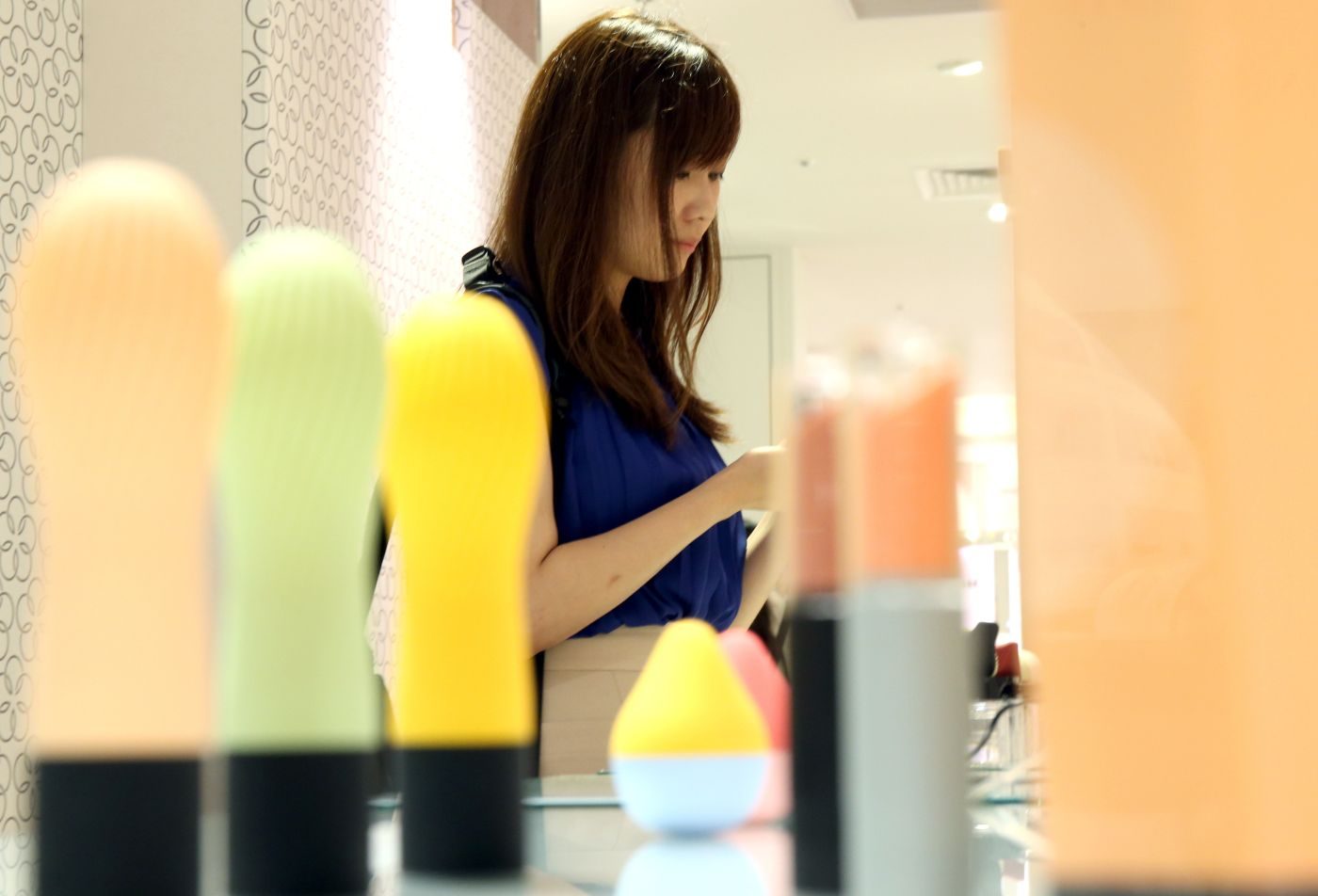 By The Sankei Shimbun
Daimaru Umeda opened a pop-up shop of the women's adult toy brand Iroha for the first time on August 22.
Welcoming the controversial shop, the landmark Osaka department store also used it as an opportunity to emphasize the importance of marital love — especially with the increase in sexless and infertile lifestyles that has led to declining birth rates in Japan.
The pop-up shop was located for two weeks in a special spot beside the escalator on the fifth floor, a women's floor named Ufufu Girls. Both men and women could be seen going through a dusky pink noren divider into a modern Japanese interior surrounded by vertical wood lattice. The gaps in the lattice allowed a glimpse of the interior while obscuring the identity of anyone inside, for privacy.
"Women find it difficult to enter adult toy stores, so most of them buy these products online. We've always hoped to give women the opportunity to see and touch these toys directly, but this was the first time we had the chance to offer our products in a store that women can enter comfortably," said Maori Kudo, 26, the public relations manager for TENGA, which runs Iroha.
There was no precedent for opening their store in a department store, making it impossible to predict how many customers they would attract.
The first day, however, brought in 60 customers. Sales of 34 products were made to 24 customers, amounting to about JPY100,000 (about USD900) in revenue for the day.
Kudo was thrilled with the positive reaction: "This was beyond our expectation. Not only did we attract customers in our target range of 20- to 30-year-olds, but customers of many different ages and even couples visited the shop."
Enhancing Marital Love
There is a good reason for selling adult toys for women in a department store. The idea came from two male employees who are in charge of the Ufufu Girls floor of Daimaru Umeda.
One of them, Hiroyuki Sawai, 30, explains: "Clothes are not the only products for women. Our starting point was the desire to offer a new dimension."
Sawai and his wife have been unable to have children and are currently undergoing infertility treatment. In Japan, a country that is suffering a low birthrate, it is estimated that more than 10% of couples struggle with infertility.
According to a survey on "male and female lifestyles and attitudes" conducted by the Japan Family Planning Association (Tokyo) in 2016, 47.2% of married couples reported that they did not have sex for the past month — a 12.6-point rise compared to 10 years ago (34.6%).
Sawai believes that "these products can help couples enhance their marital love."
Most pop-ups using the special venue at the mall require 45 days of preparation. However, this time it took an exceptional four months to prepare the opening as the type of shop was unprecedented, generating considerable debate within the company.
In addition, most pop-up shops are open for only a week. Iroha, however, was open for two weeks from August 22 to September 4. The reason for lengthened operating time was the remarkable quality of the sales area that TENGA had designed. "Their earnestness was tangible," Sawai said in praise.
'Sex and the City' a Big Influence
"For the past two or three years, we have seen a rise in positive attitudes towards these kinds of products," said Kudo, TENGA's spokeswoman.
According to Kudo, the turning point in Japan was the American hit TV series Sex and the City, which broadcast in Japan from the year 2000. The story of a single woman working as a sex columnist and her three girlfriends struggling in their workplace and with love was well-received by Japanese women.
"Uninhibited women became a stylish role model for them," she explained.
In addition, the number of young women who openly talk about their sex life on social media has increased, spreading the idea that sex is no longer a taboo subject.
Since TENGA launched Iroha for women in 2013, female staff members have been in charge of planning and designing its products, focusing on product safety as well as design. They made 80,000 sales of a lipstick-shaped product that was sold for JPY1,296 in 2016.
Sawai from Daimaru Umeda said: "We have already offered products that enhance the mood, such as alcoholic drinks, fragrances, and lingerie. We hope that this collaboration will help couples reignite the spark."
Click here to read the original article in Japanese.