SUMO | Former Ozeki Terunofuji Captures July Grand Sumo Tournament Title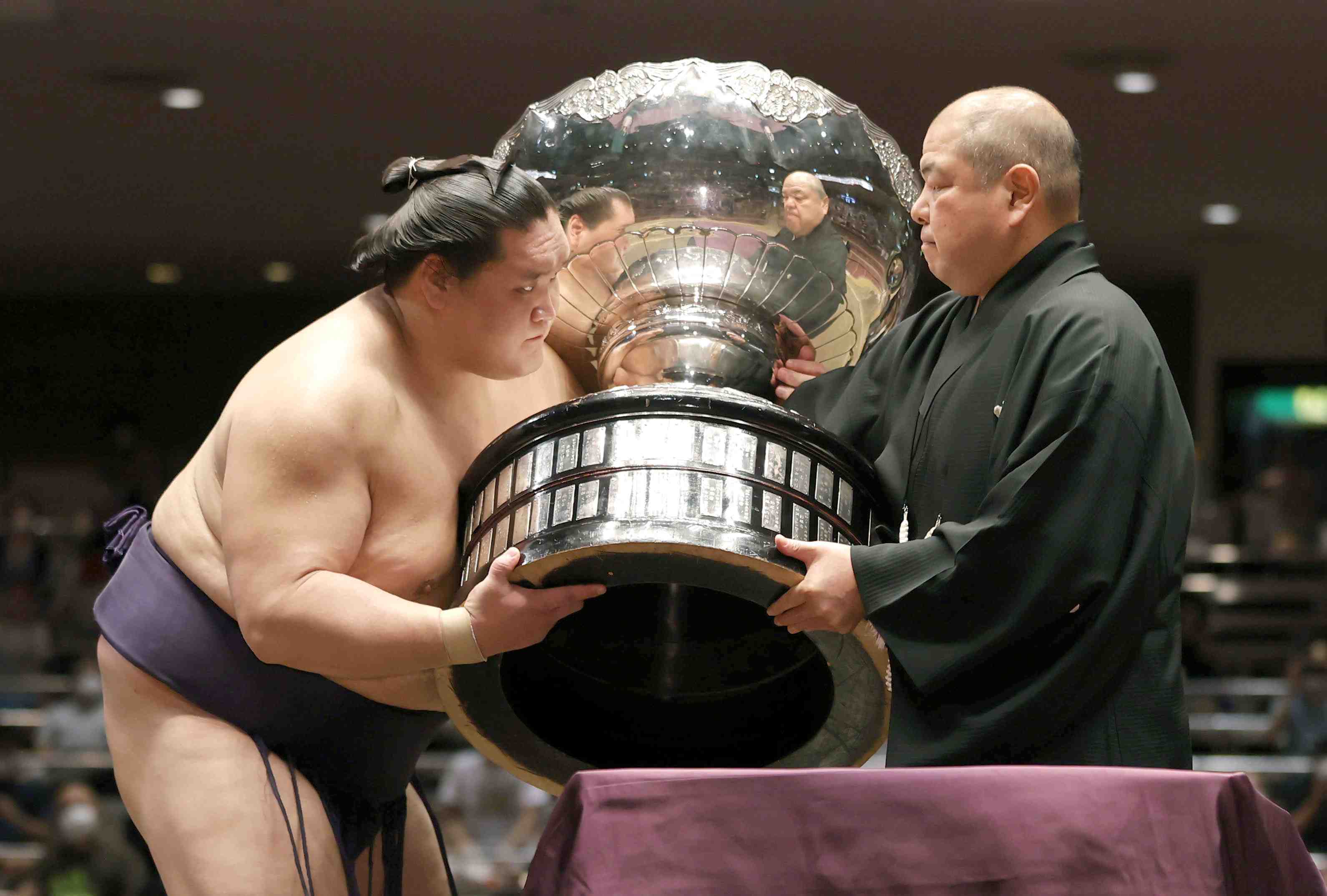 ~~
Perseverance paid off for former ozeki Terunofuji.
The former ozeki, who has contemplated retirement in recent years, earned his first title since 2015 on Sunday, August 2 at Tokyo's Ryogoku Kokugikan.
Competing as the East No. 17 maegashira, Terunofuji outmuscled sekiwake Mitakeumi in the next-to-last bout of the July Grand Sumo Tournament to clinch the title. The 28-year-old Mongolian finished with a 13-2 record in the first grand sumo tournament since March. May's Summer Basho was canceled due to the COVID-19 outbreak.
The July Basho was held with a scaled-down audience at the Japan Sumo Association. It had been scheduled to be held in Nagoya, but that plan changed in an effort to limit travel from the Kanto region and help combat the spread of COVID-19.
RELATED STORY: SUMO | Spectators Permitted to Attend July Grand Sumo Tournament
The arena capacity of around 10,000 was limited to about 25% for spectators for the 15-day spectacle, at which fans were required to wear face masks and where social distancing was utilized in setting up the seating arrangements.
Even without the injured yokozuna pair of Hakuho and Kakuryu in action on the final day, there was plenty of drama as the tournament came closer to the final moments.
If Terunofuji had lost to Mitakeumi, it would have made things very interesting: a three-way tie for the lead. Mitakeumi and Asanoyama were both 11-3 through Day 14.
Instead, Terunofuji avoided creating additional drama with a methodical victory over Mitakeumi. Using an outside belt grip, Terunofuji seized control quickly and shoved his foe out of the raised ring.
Terunofuji earned his first Emperor's Cup since the 2015 Summer Grand Sumo Tournament.
Ozeki Asanoyama finished 12-3 by beating sekiwake Shodai (11-4) in the final match of the tournament. The tourney marked Asanoyama's debut as an ozeki, sumo's second-highest rank.
Komusubi Daieisho (11-4) won six straight matches to close the tourney. On the final day, the 26-year-old held off No. 10 Myogiryu (10-5) and collected the Outstanding Performance award.
Terunofuji's Epic Comeback Journey
Before this tournament, Terunofuji hadn't wrestled in the makuuchi (elite) division since January 2018.
Terunofuji coped with diabetes and other health issues, including knee injuries, and there were serious questions about the viability of his sumo career as a top-level performer.
After all, following the 2018 May Basho he had been dropped from the second-tier juryo division. And he skipped four straight tournaments before launching his return at the 2019 Spring Basho in the jonidan division, the sport's second-from-bottom ranking. In his comeback, Terunofuji started out at No. 48.
Terunofuji became the first wrestler to compete in the jonidan division after previously doing so in the makuuchi division.
Then, fighting in the second-tier juryo division in January and March, the Isegahama stable wrestler posted 13-2 and 10-5 records, respectively.
"When I went down the ranks, there were people who were rooting for me: my family, my stablemaster, and all the members of my stable. Thanks to their support I was able to come back," Terunofuji told reporters.
"So many things have happened, but at the very end, I finally faced this day. I believed this day would come where I could smile, that if I worked hard, I would be rewarded."
Injuries Forced Hakuho, Kakuryu to Pull Out
As the tournament inched closer to its final day, it was without its two biggest names, Hakuho and Kakuryu.
Yokozuna Hakuho withdrew from the July Basho on July 31 due to a right knee injury. He was 10-2, including consecutive defeats on July 29 and 30, before pulling out.
Miyagino, Hakuho's stablemaster, told reporters that the legendary yokozuna endured a lot of pain throughout the tournament.
"He needed medical treatment to get this far. His knee injury worsened when he fell (during the bout against Mitakeumi on July 30)," Miyagino said, according to Kyodo News.
"It's too bad because Hakuho said he was in good condition. We were gunning for the championship in this basho."
Yokozuna Kakuryu exited the tournament on Day 2, after suffering an elbow injury. Takakeisho, Abi and Kotonowaka also withdrew due to injuries.
Author: Ed Odeven
Follow Ed on JAPAN Forward's [Japan Sports Notebook] here on Sundays, in [Odds and Evens] here during the week, and Twitter @itsjapanforward.