SUMO | Sekiwake Mitakeumi Maintains Unbeaten Run At New Year Tourney
The Dewanoumi stable wrestler has a one-win lead over Terunofuji at the midway point.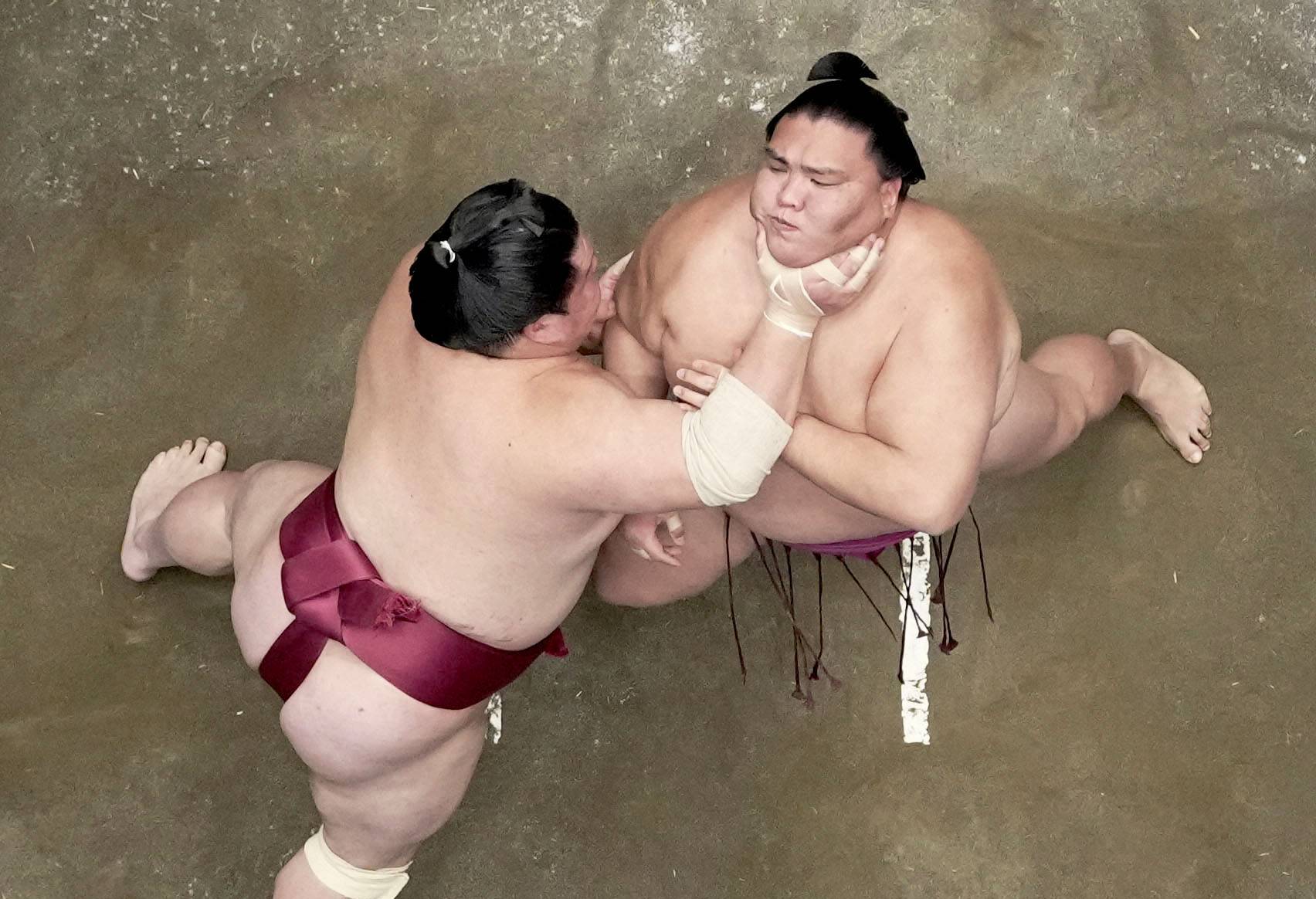 ~~
~
Sekiwake Mitakeumi overpowered Daieisho on Sunday, January 16 to maintain sole possession of the lead with an 8-0 record at the midway point of the New Year Grand Sumo Tournament.
Mitakeumi fought off a ferocious series of arm thrusts to the head and upper body and then got both arms around his opponent and used a frontal push-out to wrap up a winning record in the 15-day basho.
"I was able to stay patient and that was key," Mitakeumi said. "I just tried to stay focused and want to do my brand of sumo. I'm not thinking of anyone else's record."
Komusubi Daieisho, who went on the attack from the face-off and briefly had Mitakeumi on the ropes, dropped to 3-5.
Mitakeumi is bidding for his third title in the elite makuuchi division following championships in July of 2018 and September of 2019.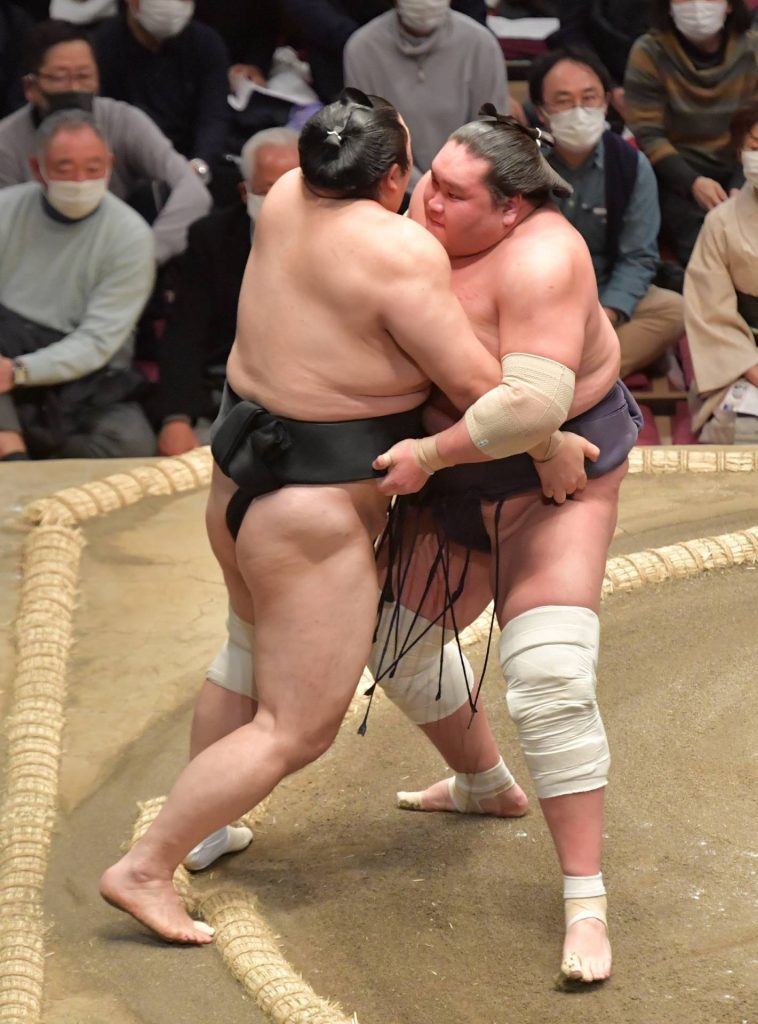 In the day's final bout at Ryogoku Kokugikan, lone grand champion Terunofuji quickly got both hands on the belt of Okinoumi and drove the fourth-ranked maegashira out to improve to 7-1 for sole possession of second place.
Terunofuji is vying for his third straight Emperor's Cup since being promoted to sumo's highest rank in July.
In other major bouts, ozeki Shodai put a halt to a three-bout losing streak when he got a right-hand grip on the belt of Endo (2-6) and used a frontal force-out to dispatch the No. 3 maegashira and move to 4-4.
It was a welcome win for Shodai, but with four losses in the first week of the tourney he has virtually taken himself out of contention for the Emperor's Cup.
No. 6 maegashira Abi was handed his second straight loss and fell to 6-2.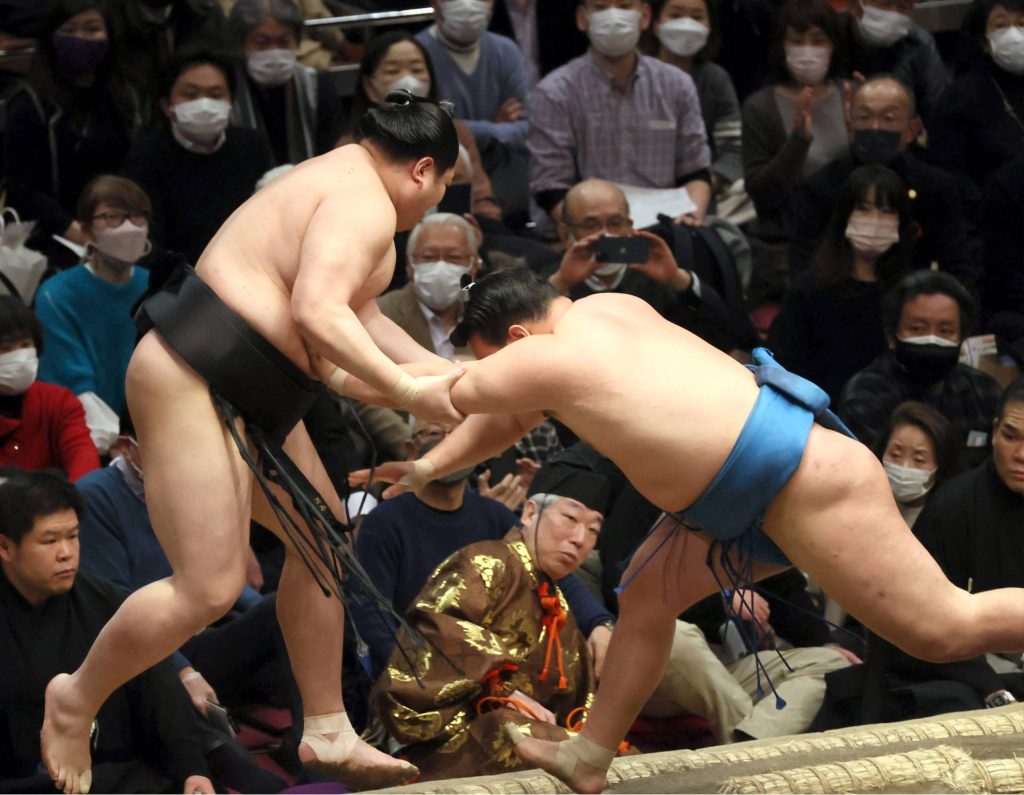 Abi went with his trademark double-arm thrust to the upper body but Hoshoryu read it like a book and used a frontal force-out to send Abi out in a matter of seconds.
Mongolian Hoshoryu, also a No. 6 maegashira, improved to 5-3.
Abi lost for the first time to Onosho on Day 7. Abi has been in top form since returning from a three-tournament suspension for violating coronavirus protocols in July 2020.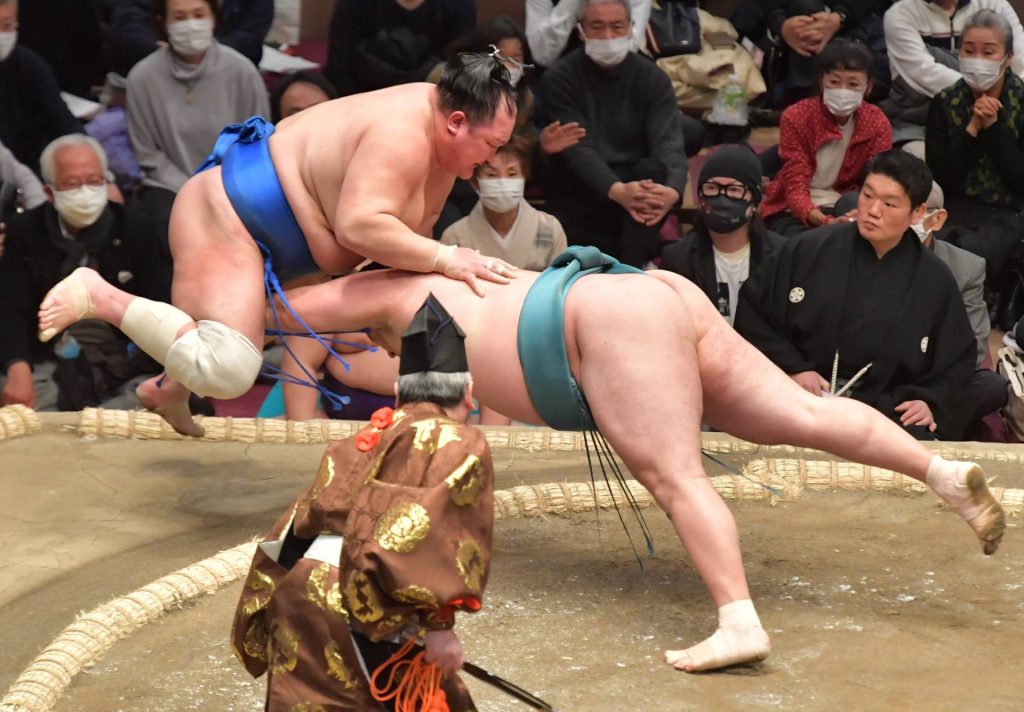 Tamawashi, the oldest wrestler in the elite makuuchi division at 37, used his trademark powerful thrusting technique to send Hokutofuji toppling off the raised ring.
No. 3 maegashira Tamawashi, who beat Terunofuji on Day 6, picked up his sixth win against two losses while fourth-ranked Hokutofuji fell to 3-5.
No. 7 maegashira Takarafuji swatted down ninth-ranked Shimanoumi (4-4) to keep pace at 6-2.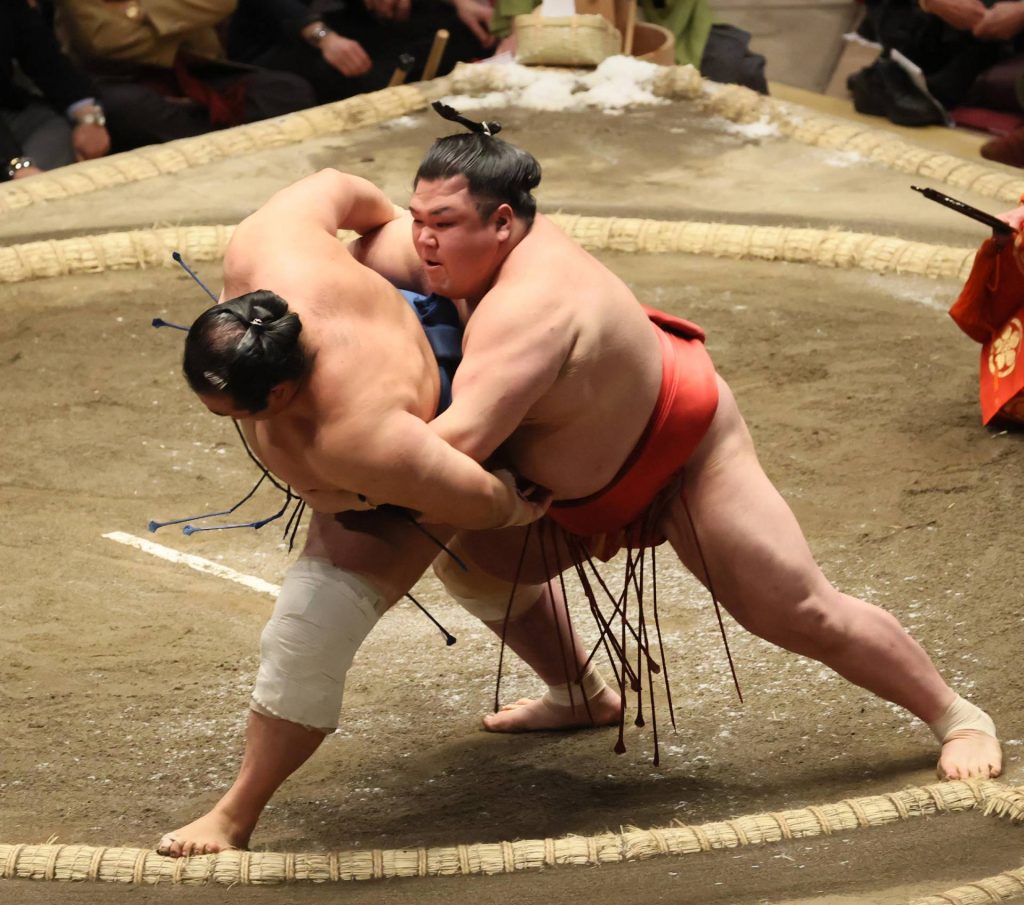 Onosho, a fifth-ranked maegashira, maintained his two-loss record and improved to 6-2 when he toppled winless ninth-ranked Chiyonokuni from behind.
Top maegashira Wakatakakage pulled off a great escape when he was forced to the edge by 206-kilogram Ichinojo, but deftly dodged to his side and thrust the No. 2 maegashira down to improve to 3-5. Ichinojo was handed his fourth loss against four wins.
Further down the ranks, makuuchi division debutante Oho, a No. 18 maegashira, overpowered Ichiyamamoto to improve to 5-3. No. 14 Ichiyamamoto stands at 4-4.

Probe Results Revealed
There was also some news in sumo outside the ring.
Late Saturday, January 15, Kyodo News reported that a Japan Sumo Association probe has discovered that two wrestlers ー Hidenoumi and Shiden ー have taken part in illegal gambling.
The two wrestlers reportedly entered an illegal gambling establishment and are being questioned by police.
Both wrestlers are sitting out the New Year tourney on the orders of their stablemaster.

Three Stars
First Star: Mitakeumi. The sekiwake wrestler showed incredible poise in fighting off a barrage of arm thrusts by a determined Daieisho to maintain his lead heading into the second half of the basho.
Second Star: Hoshoryu. The nephew of former yokozuna Asashoryu turned in a superb performance in beating in-form grappler Abi.
Third Star: Tamawashi. The 37-year-old veteran continues to impress, and did so again on Day 8 with a hard-fought win over Hokutofuji. Tamawashi crashed to the dohyu and was winded, but walked off with a clutch win.


Author: Jim Armstrong
The author is a longtime journalist who has covered sports in Japan for more than 25 years. You can find his articles here, on JAPAN Forward.