SUMO | Shodai Claims First Emperor's Cup Title at Autumn Basho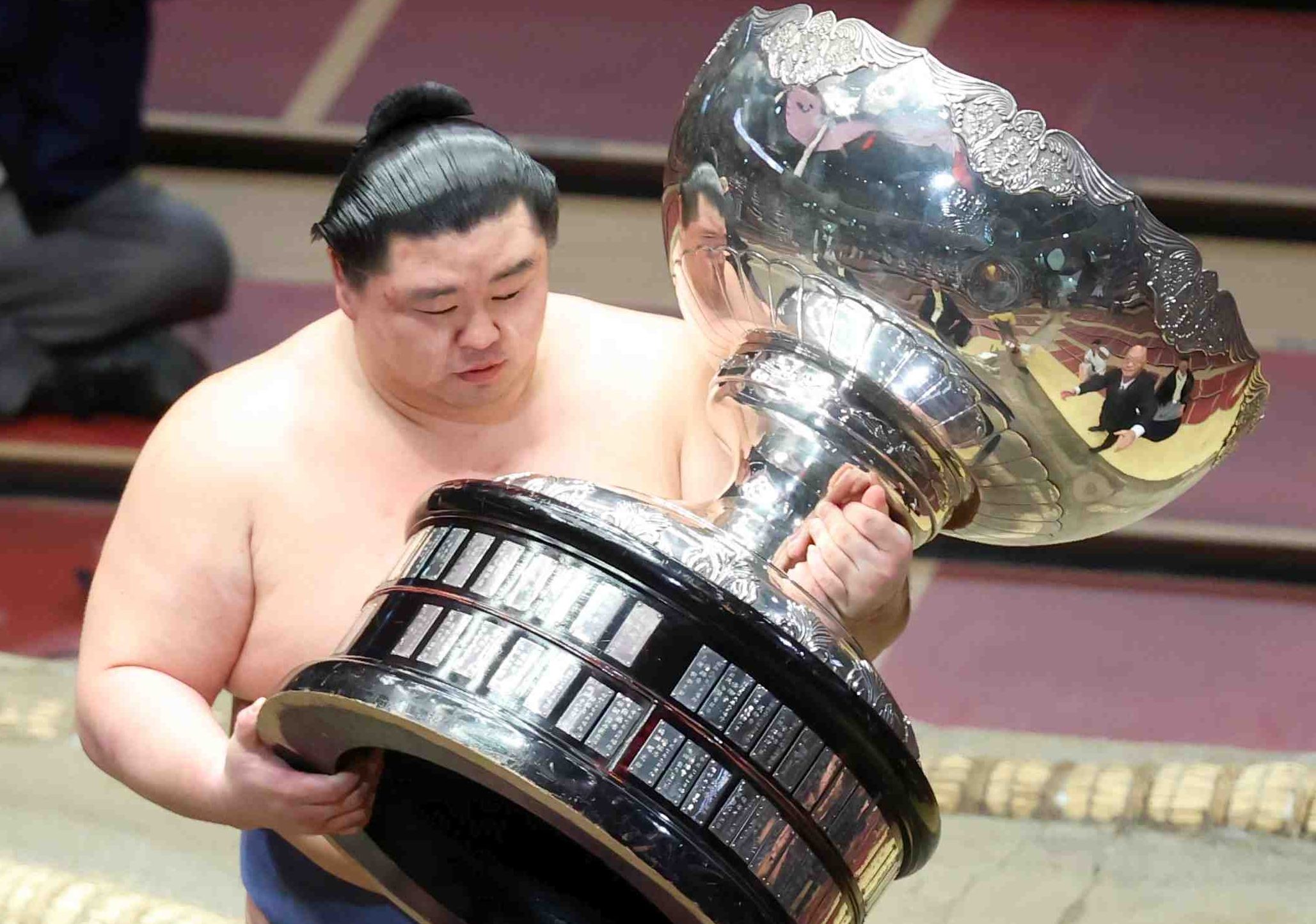 Shodai completed a dramatic title chase by snatching his first Emperor's Cup on Sunday, September 27.
The 28-year-old sekiwake, who wrestles out of the Tokyo-based Tokitsukaze stable, finished the 15-day Autumn Grand Sumo Tournament with a 13-2 record at Ryogoku Kokugikan. Yokozuna Hakuho and Kakuryu didn't compete in the Autumn Basho due to injuries.
What's more, Shodai became the first Kumamoto Prefecture-born wrestler to win a grand tournament title.
In his last match of the tournament, Shodai outmuscled No. 14 maegashira Tobizaru, also 28, who energized sumo fans and created a stir by putting himself in title contention as a makuuchi debutante. Shodai pushed him down after a spirited exchange of muscular shoves.
Seconds earlier, Shodai dodged the metaphorical bullet after being forced to the edge of the ring by Tobizaru. He recovered and seized control.
The exclamation point of Shodai's title-clinching victory then occurred at the edge of the raised ring, as if to proclaim that nobody else was to stand on his throne.
Shodai defeats Tobizaru on Day 15 of the Autumn Grand Sumo Tournament on September 27 at Ryogoku Kokugikan. With his final victory of the event, Shodai finished with a 13-2 record and won the title.
It was the first head-to-head duel between Shodai and Tobizaru, and the former spoke about their encounter in a post-tournament interview on NHK:
It was my first time to meet [Tobizaru] and it was actually very difficult for me. I think I may have been the most nervous I've ever been in my sumo career.
In January and also July I came close but failed. But I think those experiences really helped me win this time.
Shodai, who stands 6 feet and ½ inch (184 cm) and weigh 370 pounds (170 kg), referenced his solid performances at the New Year Grand Sumo Tournament, where as the West maegashira No. 4, he posted a 13-2 record, and the July Basho, when he went 11-4 as the East sekiwake No. 1.
In between, the pride of Uto, Kumamoto Prefecture, finished with an 8-7 mark at the Spring Grand Sumo Tournament as the West sekiwake No. 1. This year's May tournament was canceled due to the COVID-19 pandemic.
After capturing his first title, more prestige will follow for Shodai. He's on the verge of earning promotion to ozeki, the only ranking below yokozuna in the traditional sport's pecking order. A decision will be formally made at the Japan Sumo Association meeting on Wednesday, September 30.
As the second week of the Autumn Basho marched on, the title race was wide open. On Day 9, six wrestlers—July Basho winner Terunofuji, Takakeisho, Shodai, Wakatakakage, Onosho, and Tobizaru—were tied for the lead with 7-2 records. By Friday September 25, two grapplers were at the top of the leaderboard: Shodai, after beating ozeki Takakeisho (who dropped to 10-3) with a well-timed push with his left hand, and Tobizuaru, who upset No. 1 maegashira Takanosho.
Terunofuji missed the final two days of the tourney due to a knee injury. He went 8-5-2.
Two days later, Shodai received the Fighting Spirit Prize for the sixth time, and the Outstanding Performance Prize for the first time in his pro sumo career, which began in March 2014.
When the final day's in-the-ring activities at the Autumn Basho were completed, tears of joy streamed down Shodai's face as he hugged a member of his wrestling stable and walked toward his dressing room after a TV interview.
A Wrestler Since Boyhood
Shodai wrestled throughout his boyhood while growing up in Kyushu, competing in the elementary school, junior high school and high school ranks. He also wrestled while attending Tokyo University of Agriculture, and distinguished himself as a collegiate yokozuna.
If Tobizaru had beaten Shodai, the two men would have wrestled again in a playoff to determine the champion.
Instead, Tobizaru came short of an unlikely feat: becoming the first wrestler since Ryōgoku in 1914 to win the Emperor's Cup in his debut at makuuchi (sumo's top division).
But he completed the tourney with a confidence-boosting 12-3 record. Takakeisho also finished with a 12-3 mark. Both men entered Day 15 trailing Shodai.
For Tobizaru, an Oitekazo stable wrestler who hails from Tokyo, the Autumn Grand Sumo Tournament was a joyride.
He called it "the most fun I've had in a tournament," Kyodo News reported.
"I really want to continue (winning). I want to make sure people don't think this was just a fluke," added Tobizaru, who was promoted to maegashira after recording a 9-6 record in the jūryō division at the July Basho, which was also held at Ryogoku Kokugikan.
Shodai's Promotion to Ozeki
Upon the formal announcement after the aforementioned JSA meeting, Shodai will become the first new ozeki since Asanoyama moved up the second-highest rank for this year's Spring Basho. Moreover, he'll be the first Kumamoto ozeki since Tochihikari was given the nod in 1962. Tochihikari was the sixth Kumamoto wrestler to hold that distinction.
"[Ozeki is] definitely something that I aspired to be," Shodai told reporters. I think it's something every rikishi wants. The idea that I might achieve that rank is unimaginable."
Also of note, No. 1 Takanosho (10-5) ended the tourney on a high note by beating No. 7 Aoiyama (7-8). With 10 or more wins in the Autumn Basho, he fulfilled the JSA criteria for promotion to komusubi, the bottom ring of the sanyaku ranks for the November Grand Sumo Tournament.
Author: Ed Odeven
Follow Ed on JAPAN Forward's [Japan Sports Notebook] here on Sundays, in [Odds and Evens] here during the week, and Twitter @itsjapanforward.