[JAPAN SPORTS NOTEBOOK] Shohei Ohtani's Batting Struggles Magnified in Shortened Season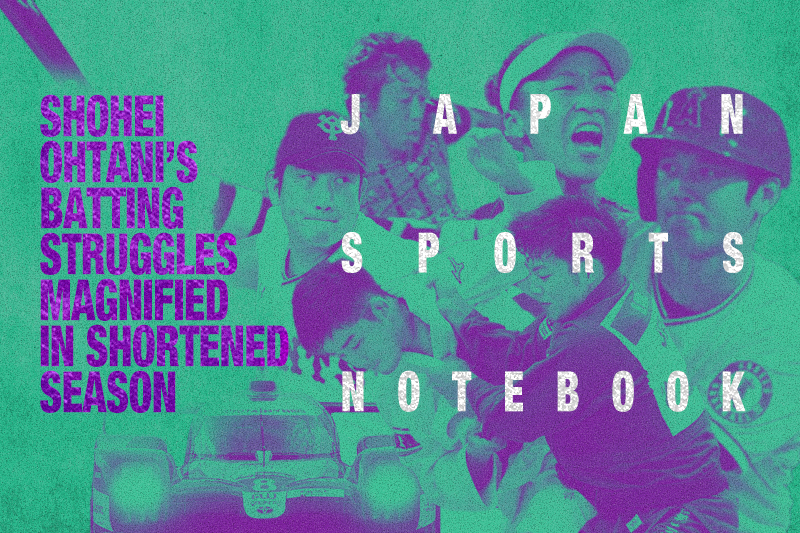 In his first two MLB seasons, Shohei Ohtani was a more consistent hitter and produced better numbers at the plate.
Now, in this pandemic-shortened 60-game season, Ohtani has struggled to produce comparable offensive numbers.
In short, Ohtani's struggles have been magnified because of the compact nature of the season. There's been much less time for him to get on a tear at the plate and raise his batting average. Remember: the normal season is 162 games.
In 2018, the Los Angeles Angels designated hitter had a .285 batting average with 22 home runs and 61 RBIs in 326 at-bats. He was named the American League Rookie of the Year, which also recognized his role as a starting pitcher for the Angels. (This season, he stopped pitching on August 2 due to elbow pain.)
In 2019, strictly as a batter after undergoing Tommy John surgery in October 2018, Ohtani finished with a .286 batting average with 18 home runs and 62 RBIs in 384 at-bats.
Through games of Friday, September 25, Ohtani was batting .193 with seven homers, 24 RBIs and 28 hits, including six doubles, in 145 at-bats, while striking out 47 times.
What's more, the left-handed slugger has been ineffective against left-handed pitching, hitting .167 against southpaws. Against righties, he has a .206 average.
Both figures are down considerably from his 2018-19 totals: .284 against right-handed pitchers (610 at-bats) and .239 vs. lefties (243 at-bats). He hit .282 against left-handers a season ago.
But the 26-year-old Iwate Prefecture native went 2-for-3 with a homer against the Texas Rangers on September 19, his first game in seven days.
Angels manager Joe Maddon opted to keep the struggling DH out of the lineup for a full week.
Then, on September 23 against the San Diego Padres, he connected off Adrian Morejon in the second inning sending the ball over the right-center field fence with one on and no outs.
Maddon's judgment last week was that Ohtani needed time to focus on his craft without playing in games.
"Quite frankly, he's not swinging the bat well, and you could actually get even worse by facing some guys now that would make it even more difficult for him," Maddon was quoted as saying by the Los Angeles Times. "So, back off, let him regroup a little bit."
Mike DiGiovanna, who covers the Angeles for the California newspaper, explained in a recent article that Ohtani's swing mechanics are causing problems for him.
"Ohtani has fallen into a bad habit of pulling off toward the first-base line as he swings against left-handers, especially on breaking balls, making it difficult to hit sliders near the plate and nearly impossible to hit those that break outside," DiGiovanna reported.
To his credit, Ohtani has remained upbeat and confident in his ability to handle whatever struggles come his way.
"I'm just trying to grind and be better every day," Ohtani said, according to the Los Angeles Times. "When I'm going well, I don't think it matters, right or left. When I'm seeing the ball well, I take good swings either way."
The Angels were scheduled to play their regular-season finale on Sunday, September 27 against the National League West champion Los Angeles Dodgers.
Yomiuri Giants Ace Sugano Improves to 11-0
Tomoyuki Sugano's skills and success on the mound are no secret tale.
Nippon Professional Baseball fans have seen the right-hander excel since he made his Yomiuri Giants debut in 2013. He won 13 games as a rookie.
In 2017, Sugano went 17-5, posting a career-high total in victories and earning his first of two back-to-back Sawamura Award-winning seasons.
This season, Sugano has been spectacular. He improved to an NPB-best 11-0 on September 15 in the Giants' 6-3 comeback victory over the Hanshin Tigers at Tokyo Dome.
It wasn't Sugano's best start, but it tied a franchise record for most consecutive wins for the team's Opening Day starter. Victor Starffin also recorded 11 straight winning decisions in 1938.
Sugano yielded three runs and seven hits in six innings, while striking out five and walking one.
"Today was probably the most dicey start he (Sugano) has had this season," Giants manager Tatsunori Hara was quoted as saying by Kyodo News. "He's done well but it goes to show how he's not solely responsible for all those wins. It's a team effort."
In his next start, Sugano got a no-decision. He gave up six hits and three runs in eight innings on Tuesday, September 22 against the visiting Hiroshima Carp. He fanned seven batters. The Giants won 5-4.
Sugano went 11-6 in 2019, but had a career-worst 3.89 ERA.
This season, he's pitched 101 1/3 innings in 14 games. He's held opponents to 70 hits and 16 walks while striking out 95. His ERA is 1.78, which is fantastic in any era.
Sugano turns 31 on October 11. With a 98-47 overall record, he's won 51 more games than he has lostー another reminder of his stellar career and exceptional talent.
Auto Racing
Toyota Wins 24 Hours of Le Mans for Third Straight Year
Weeks after Takuma Sato won the Indy 500 for the second time, Toyota Gazoo Racing zoomed to its third consecutive victory in the 24 Hours of Le Mans endurance race on Sunday, September 20.
Kazuki Nakajima and Sebastian Buemi have been a part of all three title-winning races for the Toyota No. 8 car. Brendon Hartley filled the lineup void after Fernando Alonso departed following last year's win at Circuit de la Sarthe in Le Mans, France.
The 35-year-old Nakajima, a former Formula One driver, wrapped up the Toyota Gazoo Racing team's triumph, collecting the checkered flag after the No. 8 car had endured 36 pit stops and 387 laps.
"Our race was a real roller coaster, but everyone did a fantastic job and sometimes it seems we have a bit more luck than the other guys," Nakajima, an Aichi Prefecture native said, according to Agence France-Presse, referring to Toyota's No. 7 car, which began the race in pole position.
But engine problems forced a 30-minute pit stop, and the No. 7 Toyota, guided by Britain's Mike Conway, Hyogo Prefecture native Kamui Kobayashi and Argentina's Jose-Maria Lopez wound up in third place.
The 88th 24 Hours of Le Mans was contested in September for the first time in 52 years. The race is normally held in June.
In May 1968, civil unrest, strikes and riots began in France and lasted for several weeks. As a result, the race was held that September.
The 24 Hours of Le Mans is part of the FIA World Endurance Championship. The circuit's 2019-20 season, an eight-race spectacle, began in September 2019 and is scheduled to wrap up with its upcoming, and final, event (8 Hours of Bahrain), on November 14.
Soccer
Vissel Kobe boss Thorsten Fink Steps Down
Thorsten Fink, manager of the J. League's Vissel Kobe, stepped down on Tuesday, September 22 after 15 months in charge.
The 52-year-old German mentor led the club to its first-ever Emperor's Cup title in January.
In February, Vissel Kobe defeated J. League champion Yokohama F. Marinos in the Fuji Xerox Super Cup.
"It is not easy to say goodbye to this city, this team or these supporters but I have decided to return to my family," Fink said in a statement.
"I still believe the team can achieve good results in the league and the Asian Champions League, and I wish the club the best of luck."
In his time in charge bridging the 2019 and 2020 seasons, Vissel Kobe had a record of 14 wins, 11 draws and 14 losses in J1 matches.
Ex-Japan midfielder Atsushi Miura was named Fink's replacement on Thursday, September 24.
Before becoming the new manager, Miura, 46, worked as the squad's sporting director.
"As our sports director since 2018, Miura knows the characteristics of the soccer and kind of team we're aiming for. He's the most qualified person," team president Yozo Tachibana told Kyodo News.
Vissel Kobe, 4-3 winners over Sagan Tosu on September 23, sit in 11th place in the 18-team first division with 23 points (five wins, eight draws, seven losses).
Kawasaki Frontale's Hot Streak Continues
The J. League-leading Kawasaki Frontale extended their winning streak in league matches to six on Wednesday, September 23, defeating Yokohama FC 3-2 at Todoroki Stadium.
Frontale manager Toru Oniki's club holds a commanding advantage at the top of the J1 standings with 50 points with 19 matches (16-2-1) completed.
Second-place Cerezo Osaka has 39 points (12-3-4) and FC Tokyo is a point further adrift (11-5-4).
Tennis
Osaka listed among Time's Most 100 Influential People
Time magazine publishes an annual list that generates plenty of publicity and plenty of debate. The 100 Most Influential People of 2020 includes two-time U.S. Open women's singles champion Naomi Osaka.
The magazine organized its list under the following categories: Pioneers, Artists, Leaders, Titans and Icons.
Osaka was selected as one of the icons.
WNBA star Maya Moore penned the short article about Osaka that appears in Time's print and online editions this month.
"Seven matches. Seven masks. Seven names," wrote Moore.
"Watching Naomi Osaka play the U.S. Open, I was inspired by how beautifully she wove her dominant athletic performance into another narrative.
"Believe me: it wasn't easy. It took incredible focus, courage and intentionality to carry herself the way she did. To use her gifts and talents, her voice and her platform, to honor the preciousness of Black and brown lives.
"It took humility and grace to point beyond what she was doing, winning on one of the biggest stages in her craft, at something more important.

For Osaka, it's the second year in a row she's made the Time 100 list. In 2019, tennis legend Chris Evert wrote a two-paragraph introduction to Osaka for the magazine.
RELATED COVERAGE:
Judo
Tokyo Grand Slam Called Off Due to COVID-19 Fears
The Tokyo Grand Slam, a marquee event held each year, has been canceled, the International Judo Federation confirmed on Tuesday, September 22.
This year's event was scheduled to be held December 11-12, but COVID-19 fears sparked the decision to call off the event.
IJF President Marius Vizer and All Japan Judo Federation President Yasuhiro Yamashita discussed the issue last week on the telephone and reached an agreement together, NHK reported.
"The most important role of the International Judo Federation, and in this situation particularly, is to protect our sport and our athletes," Vizer said in a statement.
"In coordination with all stakeholders, we will continue to make everything possible to ensure the safety of all."
Meanwhile, the IJF hasn't officially finalized plans for the next big event on the judo calendar.
The Budapest Grand Slam is on the docket for October 23-25, but the Hungarian government could decide otherwise, according to published reports.
Tokyo Olympics
IOC Chief Bach, Prime Minister Suga Hold Talks
Prime Minister Yoshihide Suga and International Olympic Committee President Thomas Bach on September 23 spoke for the first time since Suga replaced Shinzo Abe the previous week.
The two leaders conversed for about 15 minutes, and Bach described it as a "historic" event for the nation, according to the Foreign Ministry, local media reported. Their discussion included talk about the coordination efforts between the Tokyo Metropolitan Government and Tokyo 2020 organizers.
Bach informed Suga of his possible plans to visit Japan in late October and hold more extensive talks.
In related news, Tokyo 2020 CEO Toshiro Muto said organizers proposed to an IOC task force the idea of permitting international athletes to train while under a two-week quarantine period before the pandemic-delayed Olympics start on July 23, 2021.
"We have to consider the uniqueness of the athletes and also their activities," Muto was quoted as saying by The Associated Press.
There are concerns about COVID-19 testing, with different levels of testing around the world.
"Depending on the country, the reliability of the testing is still an issue," Muto stated. "The accuracy of the tests may not be uniform."
Editor's note: Interested in submitting a news item for possible inclusion in the Japan Sports Notebook? Send an email with relevant information to e.odeven@japan-forward.com, or JAPAN Forward's comment's page or Facebook page and look for future editions of Japan Sports Notebook on our website.
Author: Ed Odeven
Follow Ed on JAPAN Forward's [Japan Sports Notebook] here on Sundays, in [Odds and Evens] here during the week, and Twitter @itsjapanforward.