SUMO | Surprise Leader Hokutofuji Still Unbeaten at Midway Point of Autumn Basho
The No. 8 maegashira is off to his best start ever and is one win ahead of Tamawashi at the 15-day tournament.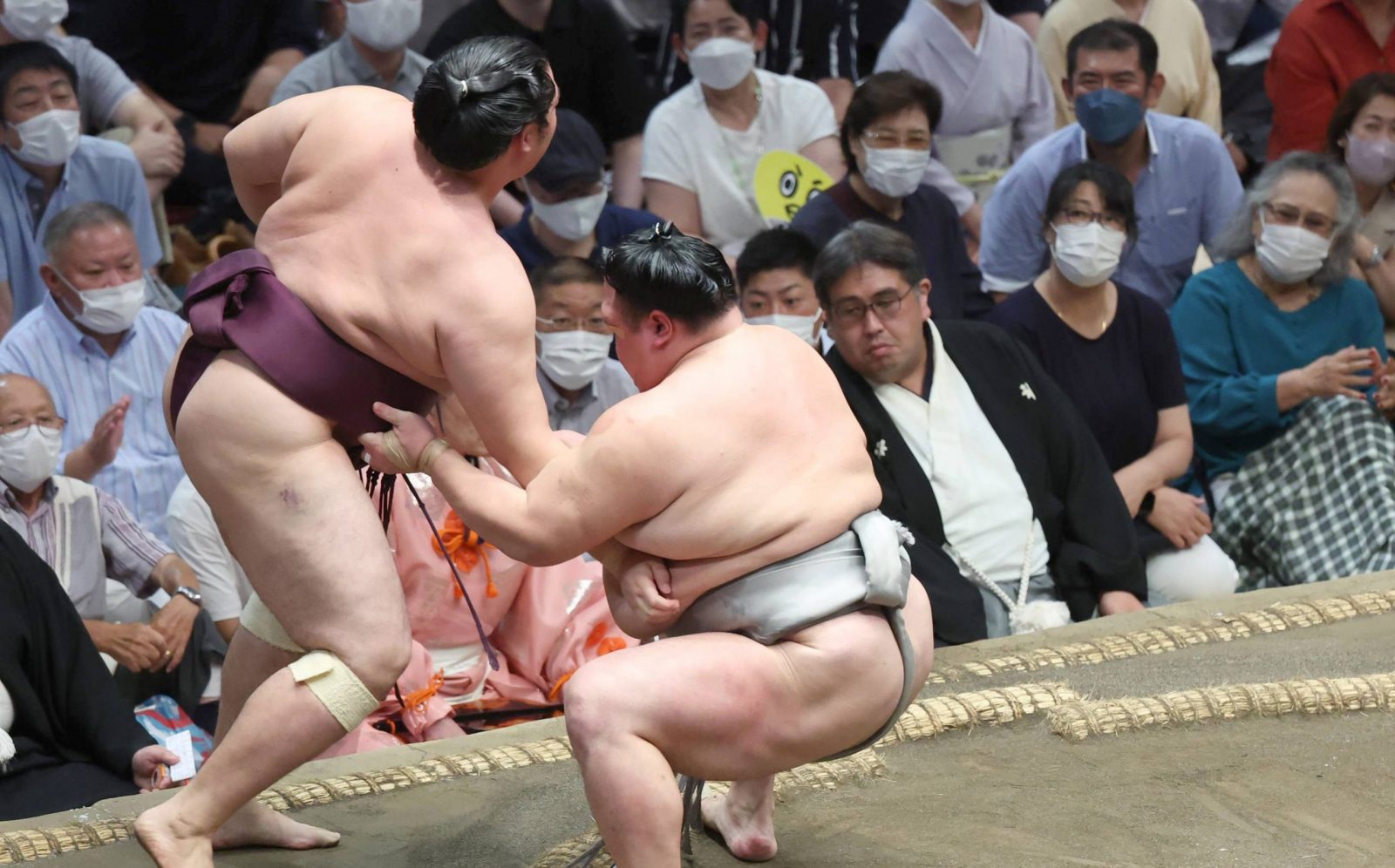 Unheralded Hokutofuji defeated fellow rank-and-filer Endo on Sunday, September 18 to maintain sole possession of the lead at the midway point of the Autumn Grand Sumo Tournament.
Eighth-ranked maegashira Hokutofuji got a right-hand inside grip on the belt of Endo and drove the No. 6 maegashira out with a frontal force-out to improve to a perfect 8-0 and wrap up a winning record.
"I had seven in a row before but this feels totally different," Hokutofuji said. "I tried to make sure I advanced forward and was able to do that. My face-off was a little bit slow but I was able to fight my brand of sumo."
With seven days left in the 15-day tournament at Tokyo's Ryogoku Kokugikan, Hokutofuji has a one-win lead over Tamawashi.
Veteran No. 3 maegashira Tamawashi used a powerful arm thrust to the neck of Sadanoumi to drive the fifth-ranked maegashira out in a matter of seconds to improve to 7-1. No. 5 Sadanoumi fell to 4-4.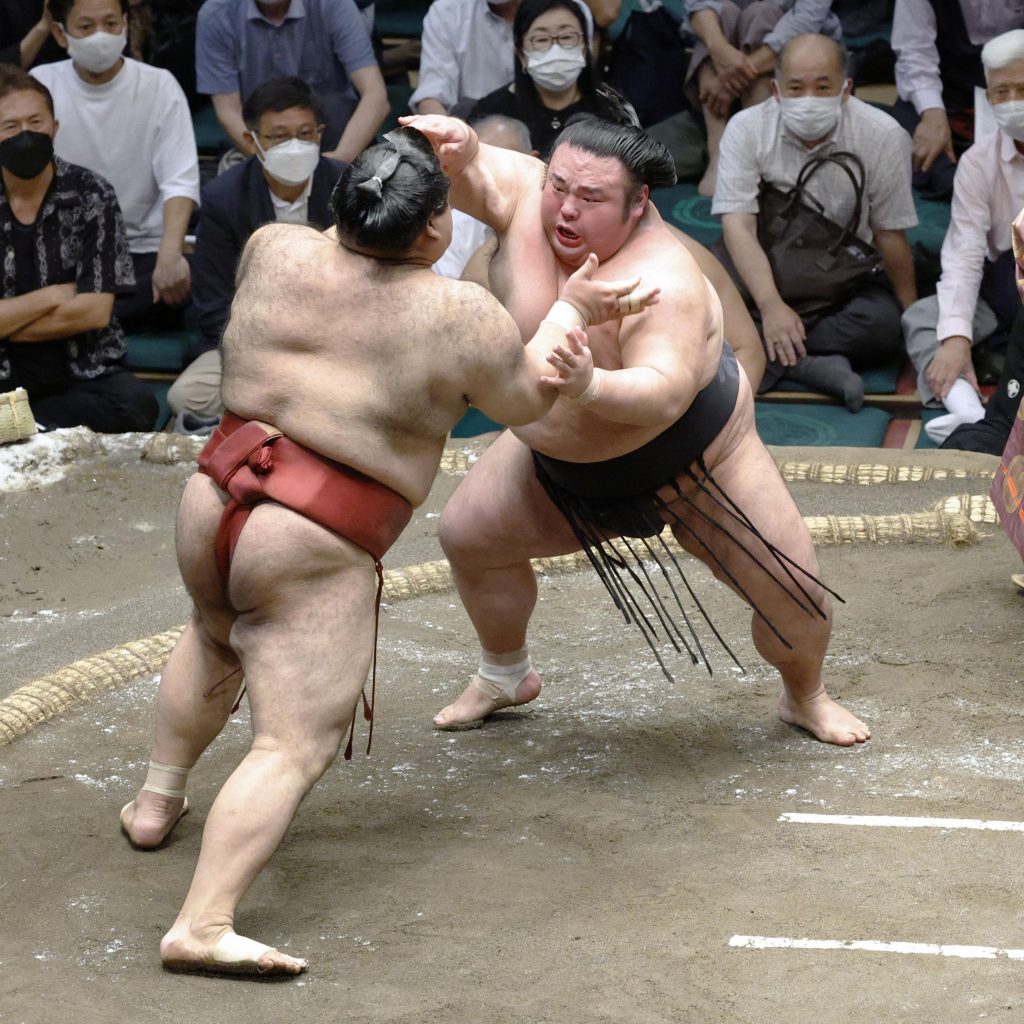 Ozeki Takakeisho shifted to his left at the edge and hauled down fourth-ranked maegashira Takayasu to give both wrestlers a 6-2 record.
Takakeisho and Takayasu are among six wrestlers two wins off the pace at 6-2.
Former ozeki Takayasu had Takakeisho on the ropes several times but couldn't get the job done and dropped a further win off the lead.


Terunofuji Improves to 5-3
In the day's final bout, lone grand champion Terunofuji used an impressive left-hand overarm throw to dispatch Nishikigi and pick up his fifth win against three losses. No. 4 Nishikigi stands at 4-4.
Top maegashira Tobizaru brushed off an 80-kilogram weight difference and recorded an impressive rear push-out victory over July championship winner komusubi Ichinojo.
Tobizaru took advantage of his superior mobility to spin Ichinojo around and picked up his fifth win against three losses. Mongolian Ichinojo was handed his sixth loss against a pair of wins.
Maegashira No. 3 Ura got his hips lower than Hoshoryu and used a powerful thrusting attack to shove the sekiwake out and improve to 5-3.
Mongolian Hoshoryu was 4-1 at one point and looked ready to challenge for the silverware but has lost three straight now and dropped to 4-4.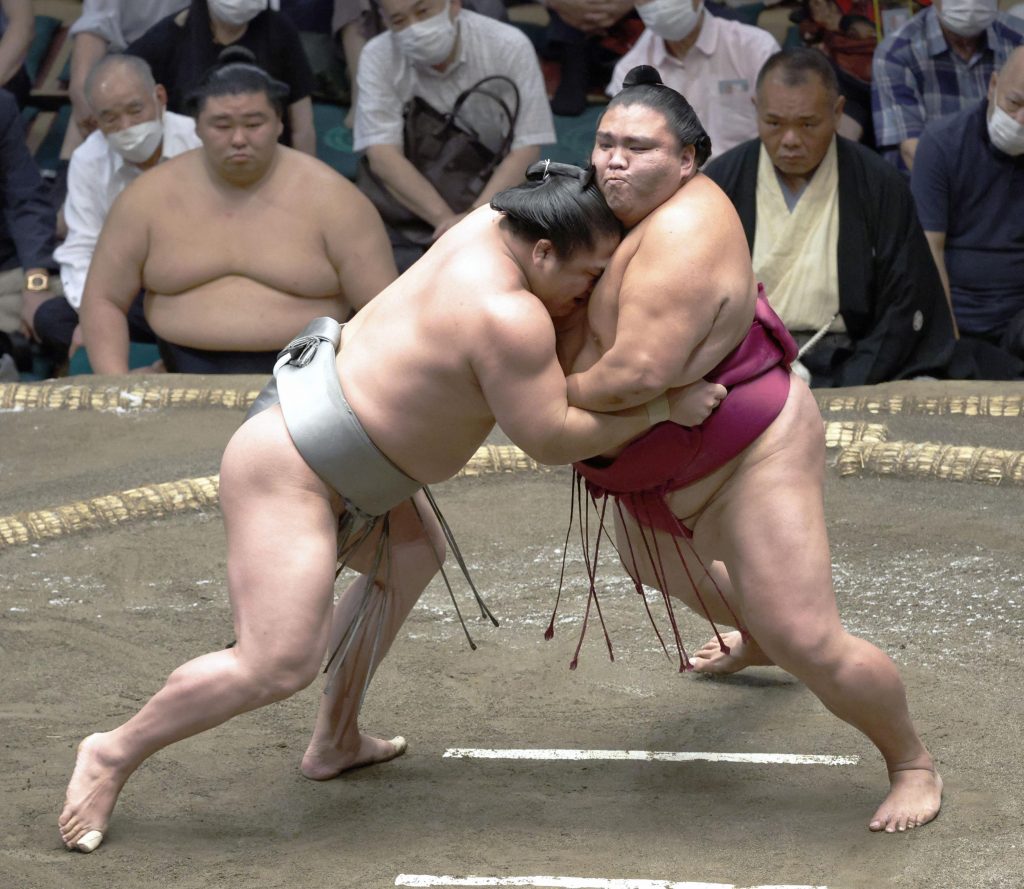 Patience Pays Off for Wakatakakage
In a marathon bout, sekiwake Wakatakakage stayed patient, got a double-handed grip on the belt of Mitakeumi and hoisted the kadoban ozeki out over the straw ridge.
Wakatakakage (5-3) has now won five in a row after losing three straight while Mitakeumi, who needs a winning record to keep his ozeki status, fell to 3-5.
"I was able to do my sumo," Wakatakakage said. "I'm just trying to attack from the lower part. I haven't changed anything, I just feel my body is moving better now."
In a showdown of struggling grapplers, sekiwake Daieisho took advantage of a superior face-off and used a series of powerful arm thrusts to dispatch ozeki Shodai and improve to 2-6.
Shodai (1-7) has lost seven straight and is on the brink of being saddled with a losing record. He would have to win all his remaining bouts to salvage a winning record.
Follow daily coverage of the Autumn Basho, here, on JAPAN Forward's dedicated sports website, SportsLook.

Author: Jim Armstrong
The author is a longtime journalist who has covered sports in Japan for more than 25 years. You can find his articles here.