SUMO | Top Maegashira Tobizaru Upsets Grand Champion Terunofuji on Day 2 of Autumn Basho
Sumo's Flying Monkey gave the fans a thrill with the biggest victory of his career on this second day at Ryogoku Kokugikan.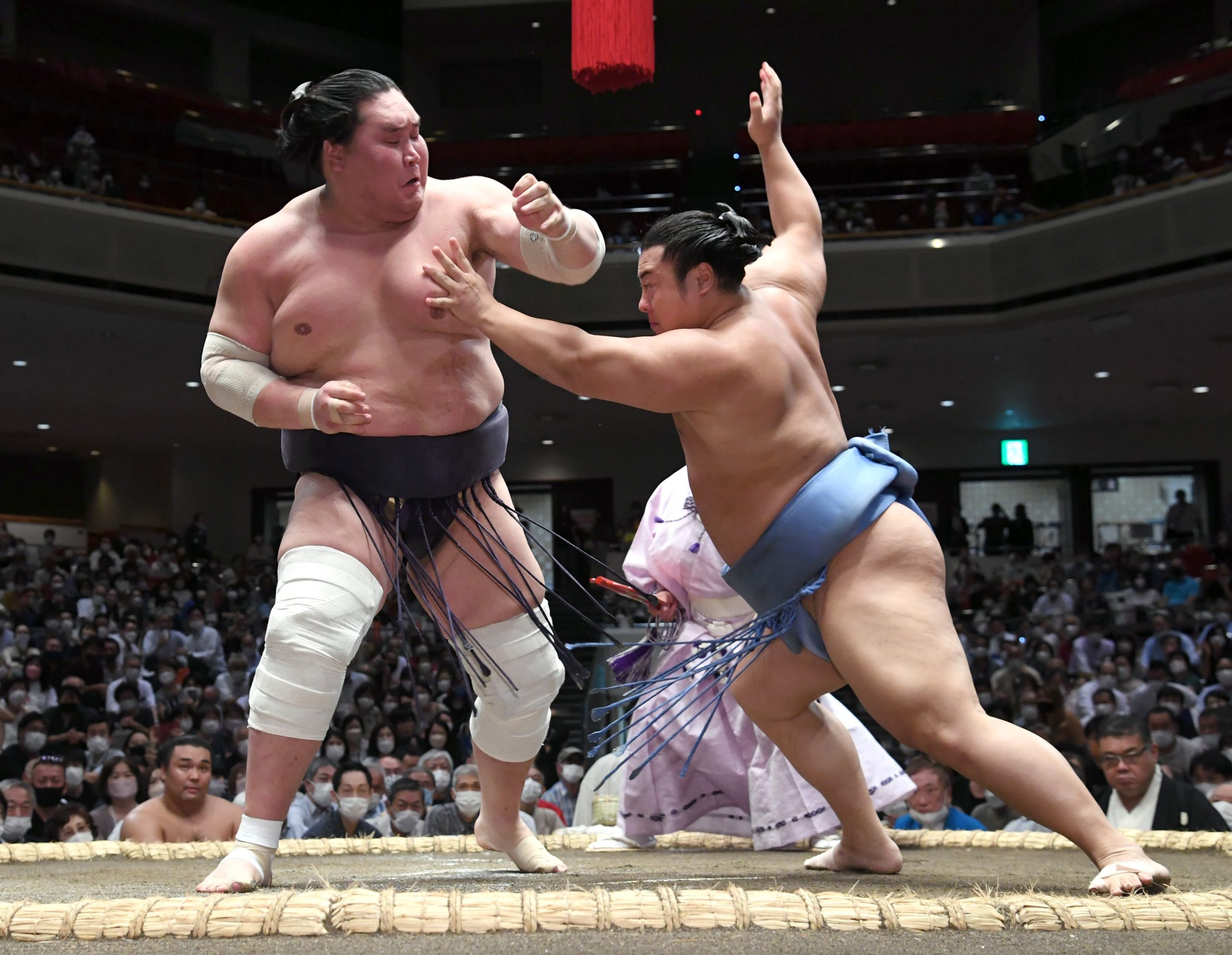 Sumo's Flying Monkey Tobizaru defeated grand champion Terunofuji on Monday, September 12 for a stunning upset on Day 2 of the Autumn Grand Sumo Tournament.
In the day's final bout at Tokyo's Ryogoku Kokugikan, top maegashira Tobizaru maintained separation from the much larger Terunofuji after the face-off and waited for his chance to pounce.
When Terunofuji swung and missed with a swat to the head, Tobizaru got both arms around the upper body of his opponent and waltzed the stunned grand champion out over the straw ridge much to the delight of the near-capacity crowd.
Terunofuji, who was 4-0 against Tobizaru heading into Monday's bout, dropped to 1-1 while Tobizaru improved to 1-1 with his first "kinboshi" win over a yokozuna.
"I just did not want the yokozuna to get any grip on the belt, that was my game plan," an elated Tobizaru said. "I'm happy to beat the yokozuna and feel that I am getting stronger. My pushing attack is improving day by day."
Terunofuji is bidding for his eighth Emperor's Cup in the Autumn Basho and is still favored to win but will be anxious to avoid any more setbacks like the one he suffered on Day 2.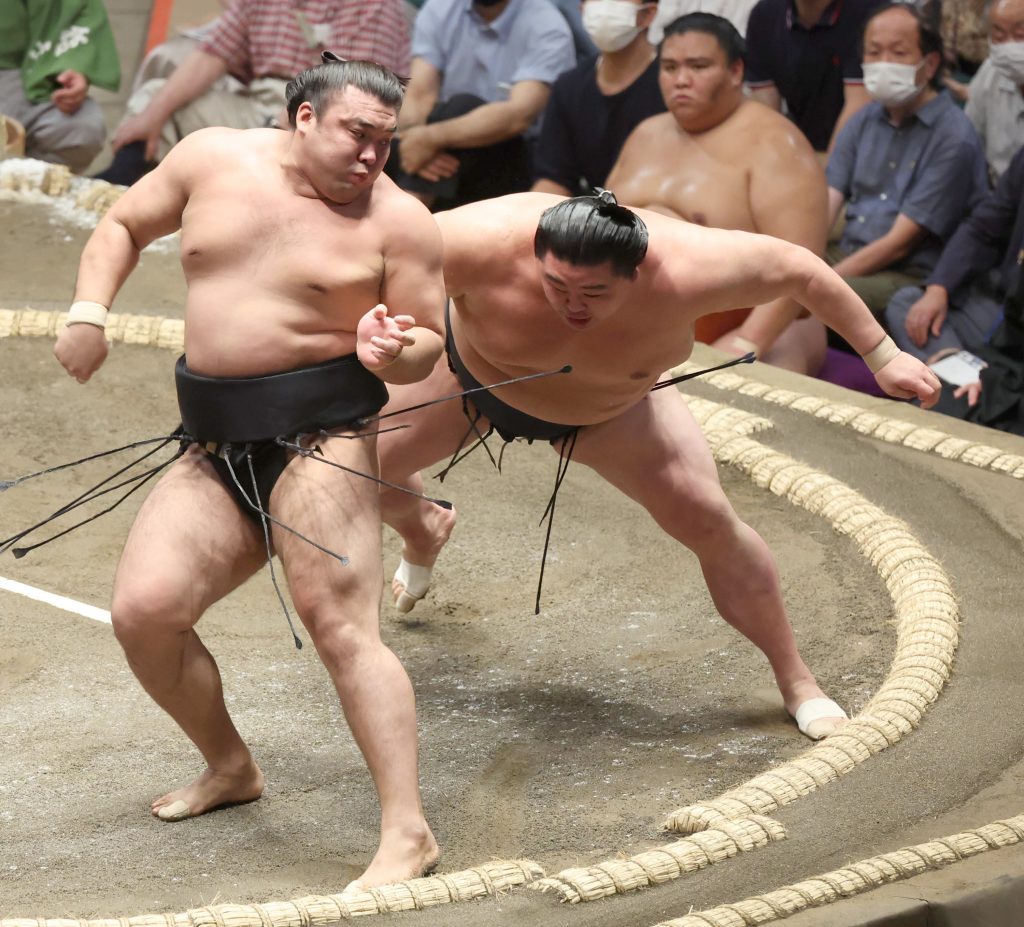 Kiribayama Gets His Balance
In other major bouts, Mongolian komusubi Kiribayama displayed superb balance and fighting spirit when he got a right hand grip on the belt of Shodai and bulldozed the ozeki out to give both wrestlers a 1-1 record.
Kiribayama was pushed back to the edge by Shodai but somehow managed to stay in the ring before dispatching his opponent.
"I felt I had a chance today," Kiribayama said. "I am just trying to take it one day at a time. Everything worked today and I'm moving well."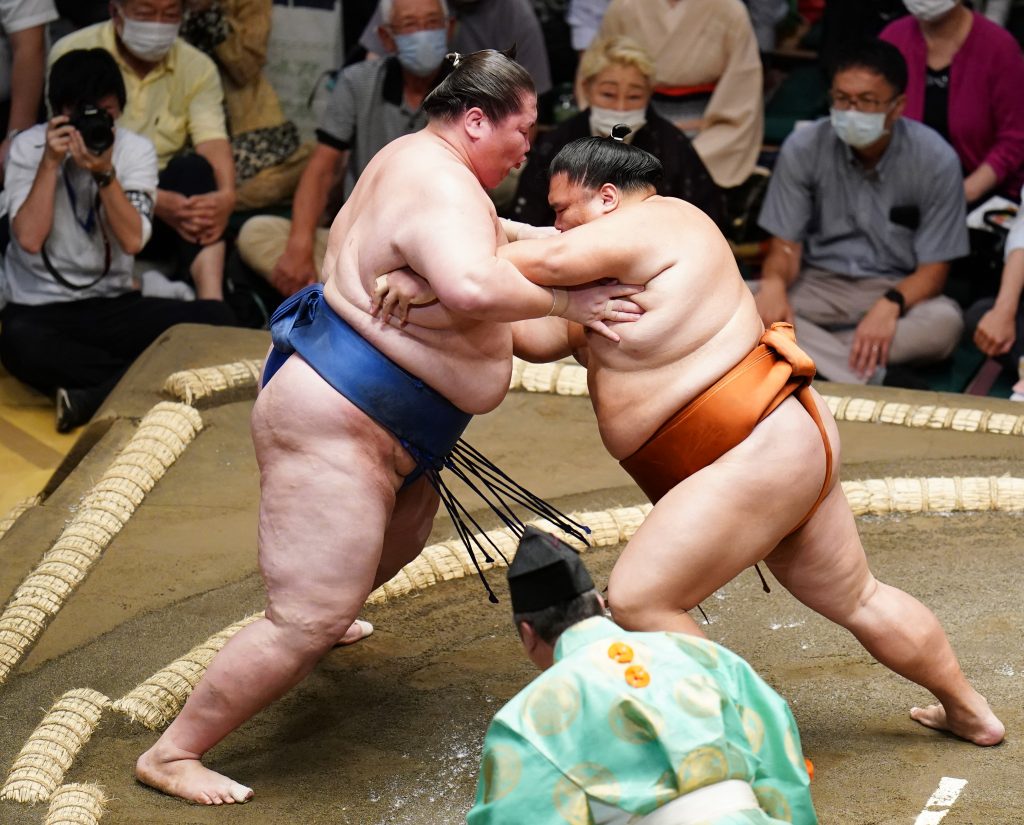 Ozeki Mitakeumi fought off an arm throw attempt at the edge and shoved out July tournament winner Ichinojo to improve to 2-0.
Mitakeumi was forced to pull out of the July tournament due to a COVID-19 infection at his stable and needs a winning record in this tournament to maintain his ozeki status.
Komusubi Ichinojo was riding a wave of confidence after beating Takakeisho on Day 1 but didn't have the strength to defeat the determined Mitakeumi and fell to 1-1.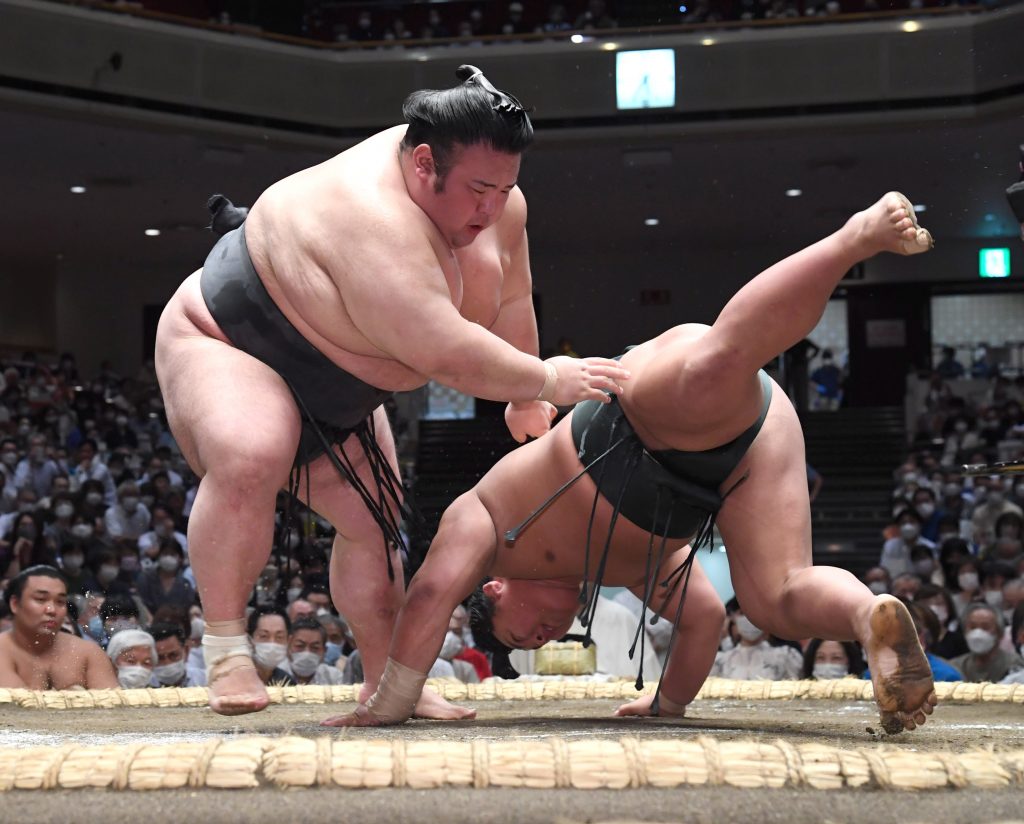 Ozeki Takakeisho (1-1) bounced back from his opening day loss to Ichinojo and took advantage of a 50-kilogram weight difference to swat down top maegashira Midorifuji, who fell to 0-2.
Sumo officials are hoping to avoid the mass coronavirus withdrawals that hit July's Nagoya tournament. So far, a full complement of top tier wrestlers has taken part.


Other Top Showdowns
In another top-tier showdown, Hoshoryu, the nephew of former yokozuna Asashoryu, used a frontal crush-out against rising star Kotonowaka to pick up his first win.
Sekiwake Hoshoryu defeated Kotonowaka for the sixth straight time. No. 2 Kotonowaka dropped to 1-1.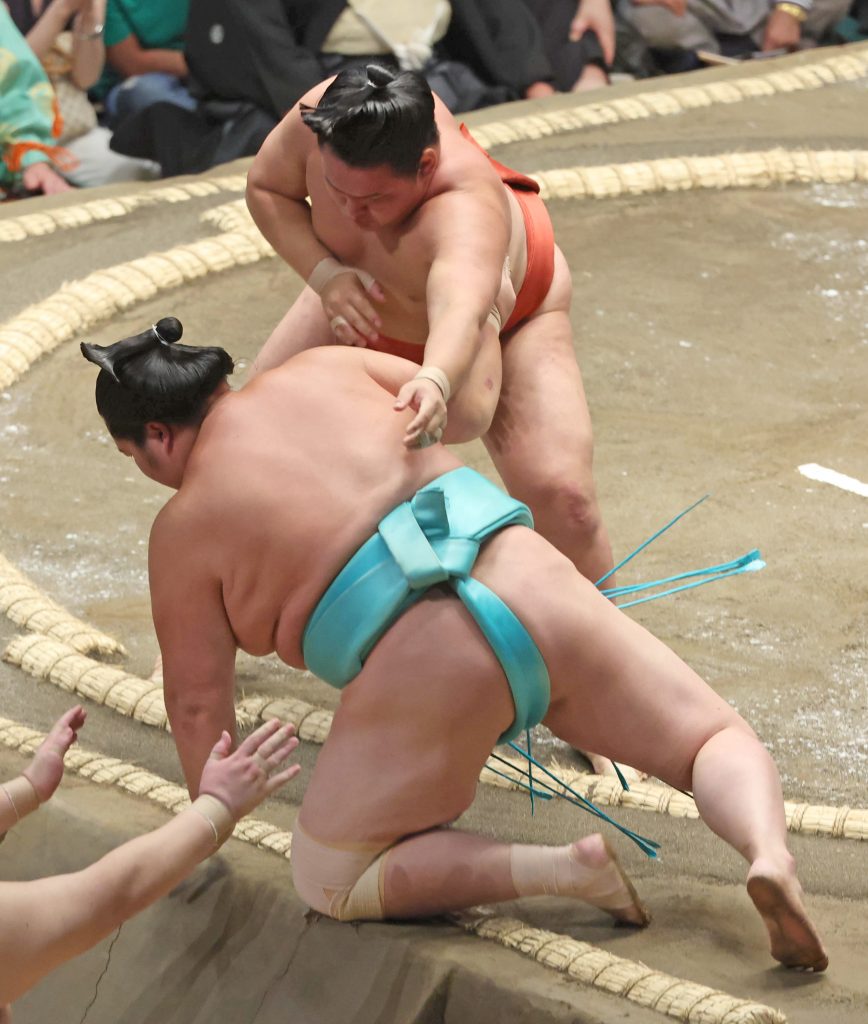 No. 2 maegashira Meisei overpowered winless Wakatakakage at the face-off and then used a series of powerful arm thrusts to send the sekiwake out for his first win of the tournament.
Veteran No. 3 maegashira Tamawashi improved to 2-0 when he spun Daieisho (1-1) around with a swat to the head before shoving the sekiwake out over the edge.
Third-ranked maegashira Ura used his trademark leg pick, coming in low at the face-off and quickly grabbing a hold of Takayasu's leg before shoving the No. 4 maegashira out.


RELATED:
Follow sumo coverage throughout the year, here, on JAPAN Forward's dedicated sports website, SportsLook.


Author: Jim Armstrong
The author is a longtime journalist who has covered sports in Japan for more than 25 years. You can find his articles here.