SUMO | Veteran Grappler Tamawashi Stuns Terunofuji On Day 6
The No. 3 maegashira knocks the lone grand champion out of the lead with a huge upset.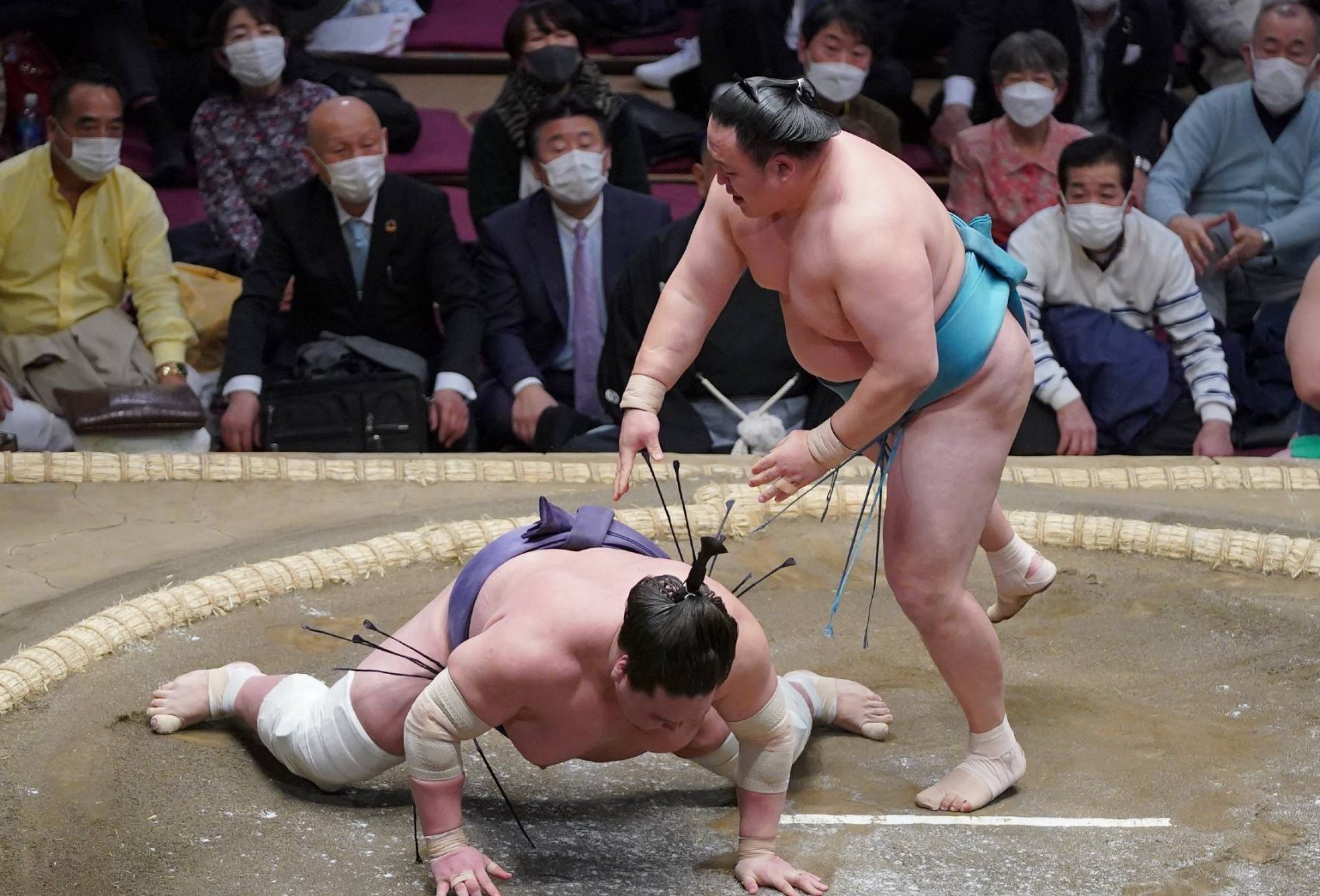 ~~
~
Tamawashi upset Mongolian compatriot Terunofuji on Friday, January 14 to hand the grand champion his first loss of the New Year Grand Sumo Tournament.
Tamawashi stunned the yokozuna with a powerful arm thrust to the neck in the day's final bout at Ryogoku Kokugikan.
After forcing Terunofuji to the edge, the 37-year-old Tamawashi used a thrust down technique to record the "kinboshi" win over the grand champion who lost for the first time in 23 bouts going all the way back to Day 12 of the September tournament in 2021.
No. 3 maegashira Tamawashi is now tied with Terunofuji at 5-1.
"I've faced Terunofuji many times in the past and I guess I was on today," Tamawashi said. "I have been feeling good lately and just want to continue my brand of sumo and have a good time on the dohyo."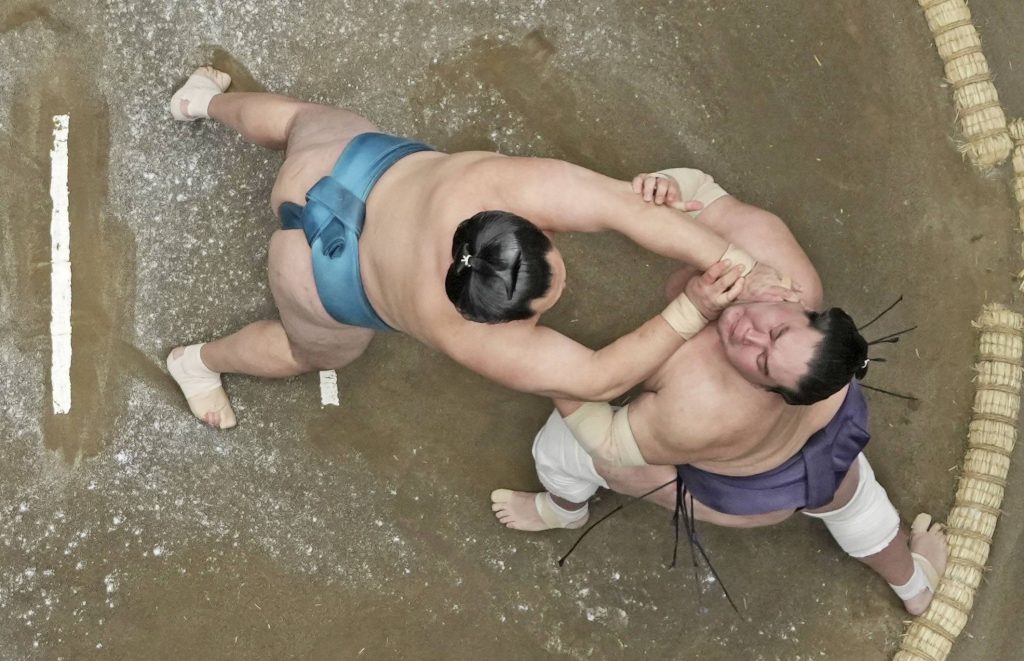 Terunofuji's shock defeat means that Abi and Mitakeumi now share the lead with perfect 6-0 records.
Terunofuji, who seemed to lose his balance, is bidding for his third straight Emperor's Cup. Despite Friday's setback, many would still consider him the odds-on favorite to take home the title in the 15-day New Year Basho.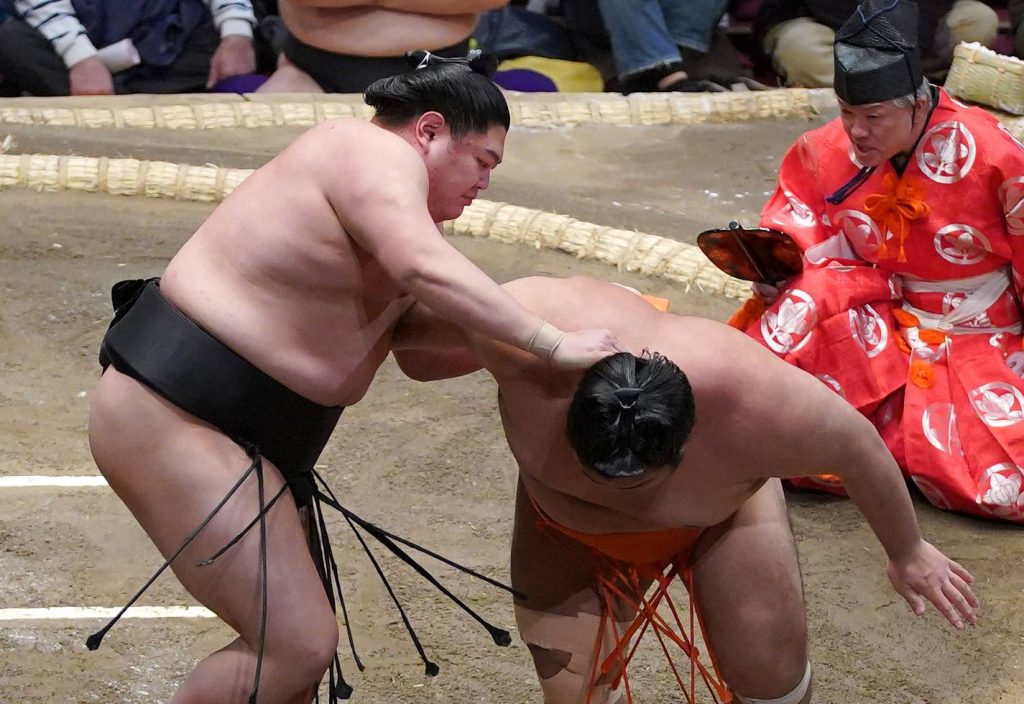 In other major bouts, Abi displayed deft footwork on the edge when he stepped to his side after being shoved back and used an arm throw to dispatch Shimanoumi to improve to 6-0. Shimanoumi, a ninth-ranked maegashira, dropped to 3-3.
Abi, who went 12-3 in the November meet, faces Onosho on Day 7.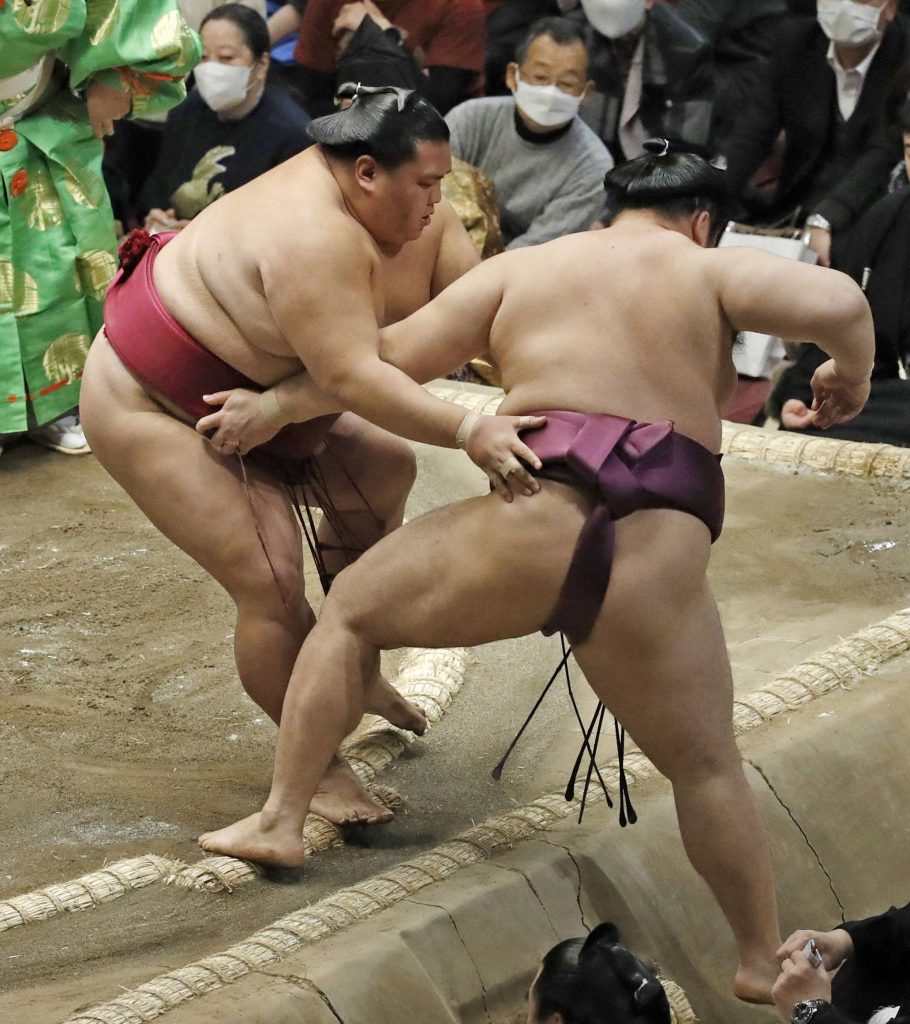 Sekiwake Mitakeumi butted heads with Endo at the face-off and drove the No. 3 maegashira out with a frontal push-out to keep pace at 6-0.
Endo put up little resistance and saw his record fall to 2-4.
Ichinojo dealt Shodai a serious setback to his hopes of contending for the title when he used a frontal force-out in the day's penultimate bout to hand the ozeki his third loss.
No. 2 maegashira Ichinojo also stands at 3-3.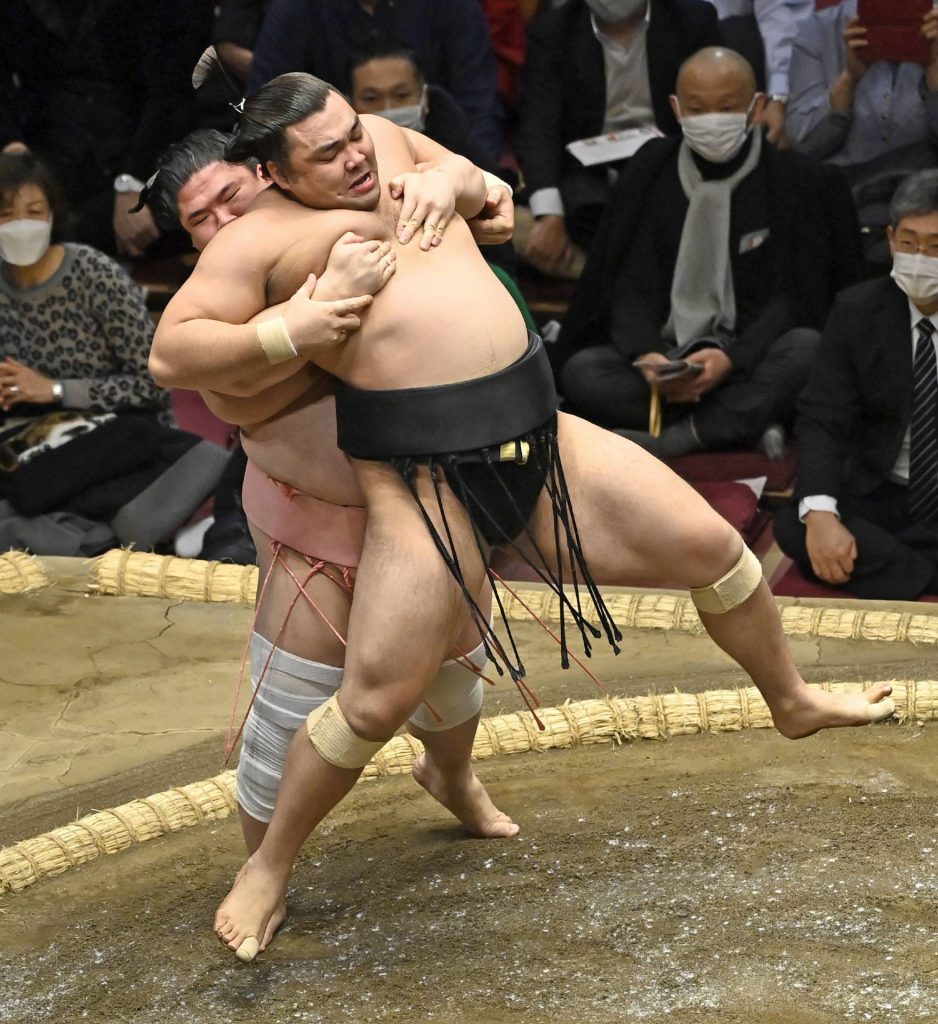 Dynamic young wrestler Ura dipped into his bag of tricks when he got both arms around his opponent and lifted top maegashira Kiribayama out from behind to the delight of the crowd.
No. 2 maegashira Ura won for only the second time but continues to entertain the fans with his unorthodox brand of sumo. Kiribayama fell to 1-5.
Chiyoshoma got a hold of Onosho's belt and used a frontal crush-out to send his fellow fifth-ranked maegashira toppling while picking up his third win. Onosho was handed his second loss.
Top maegashira Wakatakakage won his second straight bout when he used a powerful arm thrust to send Meisei over the edge and improve to 2-4. Komusubi Meisei fell to 3-3.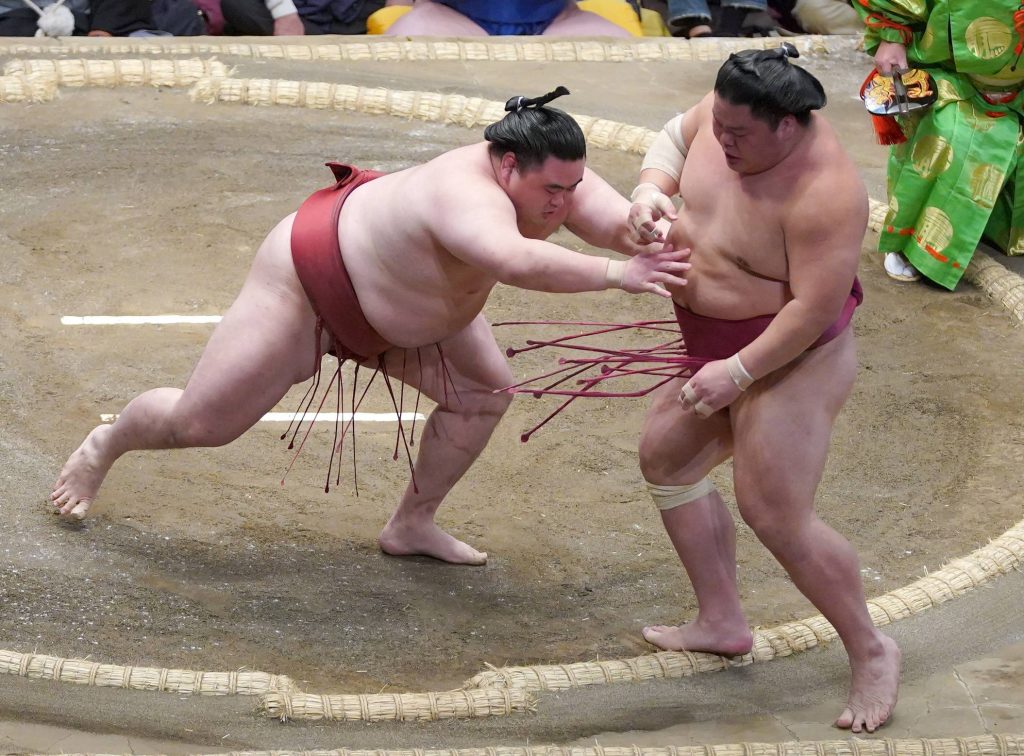 Takanosho bounced back from two straight losses when he used several powerful arm thrusts to the upper body to send Daieisho backpedaling out of the ring.
Sekiwake Takanosho earned his third win against three losses while komusubi Daieisho dropped to 2-4.
No. 18 maegashira Oho got back into the win column after two straight losses.
Oho took advantage of a frontal force-out to defeat No. 15 Tochioshin and improve to 4-2. Tochinoshin fell to 2-4.

Three Stars
First Star: Tamawashi. It doesn't get any bigger or better than beating a yokozuna, and Tamawashi is hands down the first star of Day 6.
Second Star: Mitakeumi. With a one-sided win over Endo to stay undefeated, Mitakeumi showed he is all business in this tournament and intends to challenge for the title.
Third Star: Abi. The No. 6 maegashira continues to impress and hasn't been seriously threatened since Day 1.


Author: Jim Armstrong
The author is a longtime journalist who has covered sports in Japan for more than 25 years. You can find his articles here, on JAPAN Forward.