SUMO | Yokozuna Terunofuji Handed Opening-Day Defeat at Nagoya Basho
The lone grand champion got off to a solid start but couldn't finish off his opponent.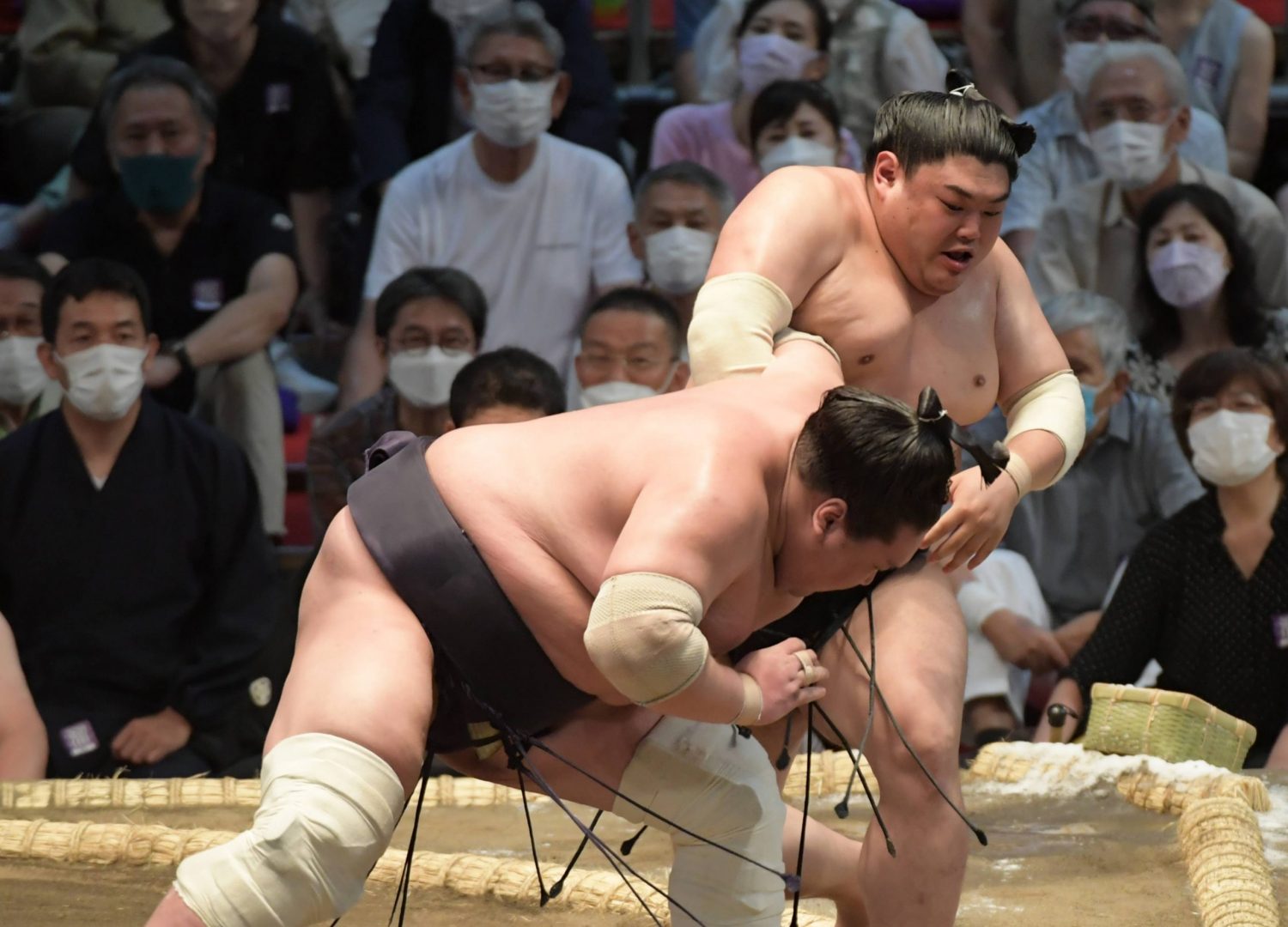 Lone grand champion Terunofuji was upset by komusubi Abi on Sunday, July 10, the opening day of the Nagoya Grand Sumo Tournament.
Terunofuji, winner of the Summer Basho in May, came charging out of the face-off in the day's final bout at Aichi Prefectural Gymnasium.
He pushed Abi back to the edge, but it was there the komusubi dodged to his side and shoved the stunned yokozuna out with a rear push-out to pick up the opening-day win.
"It all happened so fast I don't really remember what happened but I just tried to do my best," Abi said.
Terunofuji won his seventh Emperor's Cup in the previous tournament when he also lost on the first day of action.
Sunday's upset at the hands of Abi is no reason to panic but it was hardly the start the Mongolian-born wrestler wanted.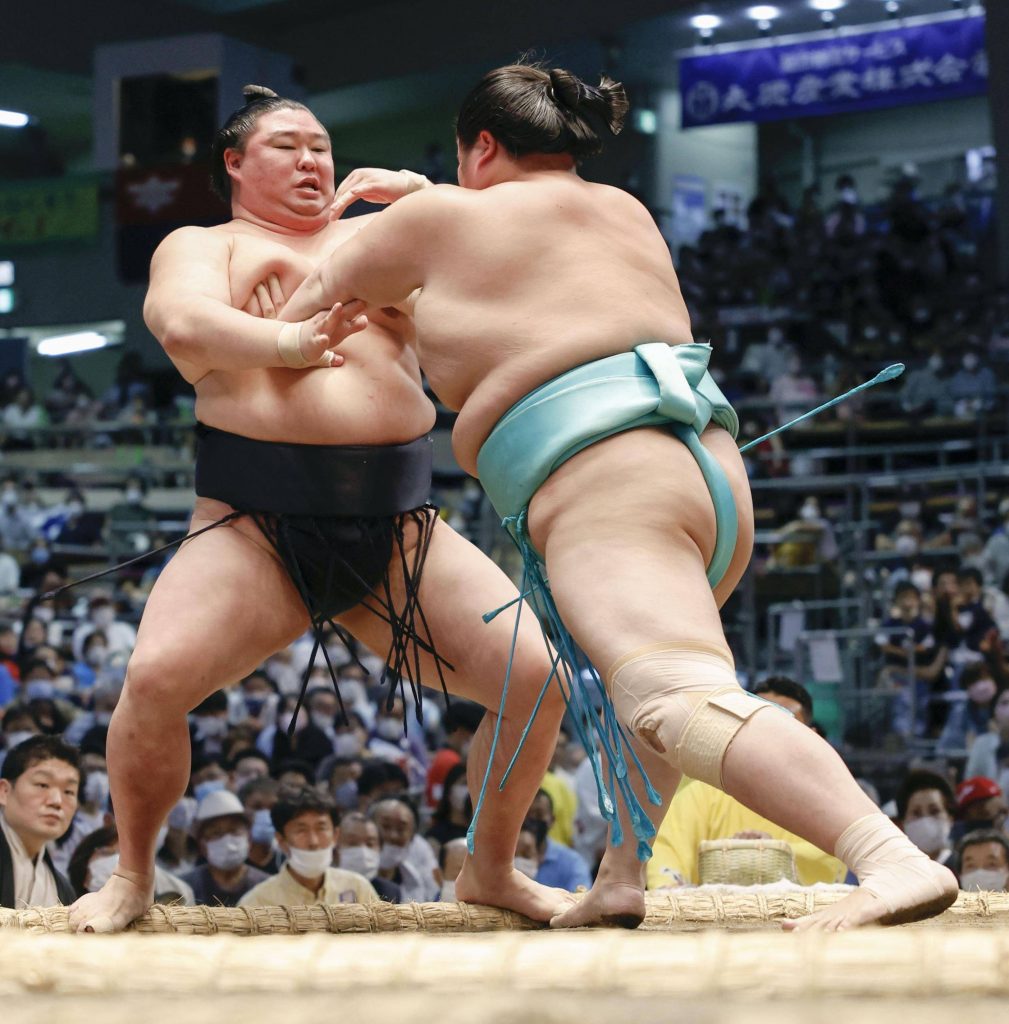 Kotonowaka Stays Unbeaten Against Shodai
In other major bouts, No. 2 maegashira Kotonowaka improved to 4-0 against Shodai when he forced the relegation-threatened ozeki out over the edge with several powerful arm thrusts.
Shodai needs at least eight wins in this tournament to maintain his ozeki status but didn't get off to the start he wanted and dropped to 0-1.
Kotonowaka, meanwhile, continues to impress against top wrestlers and will be aiming for the sanyaku ranks with a strong result in this tournament.
"I wanted to apply pressure on the ozeki by moving forward at the outset," Kotonowaka said. "I need to fight my brand of sumo in this tournament. I will aim for a winning record first and then try to get as many wins as I can after that."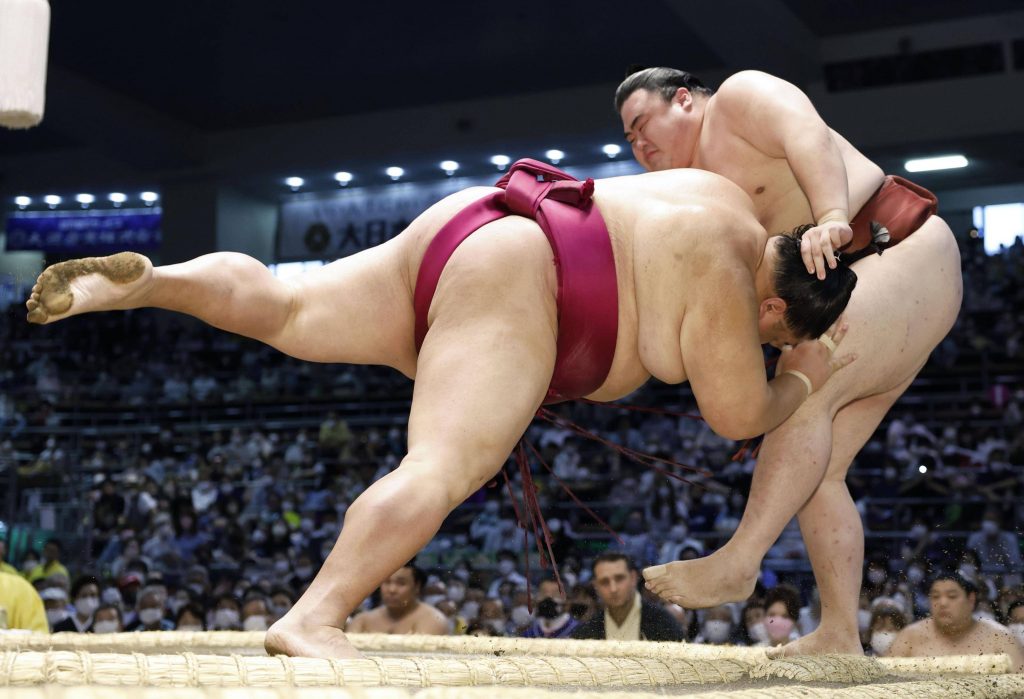 Ozeki Mitakeumi, who is also facing demotion, got a shallow inside grip and shoved top maegashira Takanosho out over the edge to start on a winning note.
Takanosho has moved up the ranks for this tournament after a strong 11-4 record last time out.
Mongolian Kiribayama, also a top maegashira, got a double inside grip to force out ozeki Takakeisho. Takakeisho is the only ozeki wrestler in this tournament not facing demotion.
"I practiced a lot before this tournament," Kiribayama said. "It was important to get off to a good start and a win over ozeki will be good for my confidence going forward."

Ichinojo Makes Winning Start
Mongolian Ichinojo got a left-hand grip on the belt of Wakatakakage immediately after the face-off and then used his 80-kilogram weight advantage to force the sekiwake out.
No. 2 maegashira Ichinojo sat out the previous tournament due to a coronavirus infection and was eager to get the opening-day victory.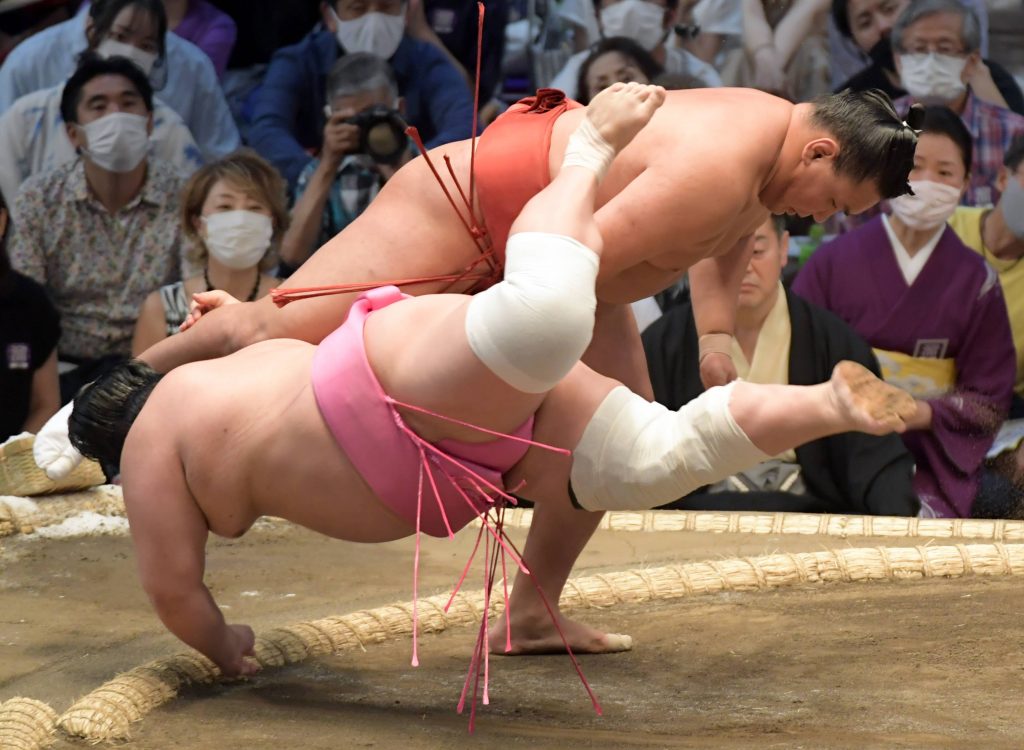 Komusubi Hoshoryu dodged to his side at the edge and hauled down third-ranked maegashira Ura to kick off his Nagoya campaign with a win.
Third-ranked maegashira Tamawashi swatted down sekiwake Daieisho, who comes into the tournament with high expectations after going 11-4 and winning an Outstanding Performance award in the Summer tourney.
Daieisho beat Terunofuji on the opening day of the Summer Basho and is hoping to be in the thick of the title chase in Nagoya.
The 15-day Nagoya tournament is the first tournament with no limits on spectator numbers since the coronavirus pandemic began. There was a near-capacity crowd on hand for the opening day.
Further down the ranks, sumo's Flying Monkey Tobizaru, a sixth-ranked maegashira, got off to a flying start with a hard-fought pulldown victory over No. 7 Okinoumi.
Bulgarian Aoiyama, a No. 6 maegashira, displayed deft footwork at the edge of the ring, where he swatted out fifth-ranked Sadanoumi to earn a win on Day 1.
Former ozeki Takayasu and the rest of the Tagonoura stable were forced to miss the Nagoya tourney due to coronavirus infections.

Follow the action in the Nagoya Basho here, on JAPAN Forward's dedicated sports website, SportsLook.


Author: Jim Armstrong
The author is a longtime journalist who has covered sports in Japan for more than 25 years. You can find his articles here.