Sumo's Flying Monkey Gives Japan's Ancient Sport a Jolt of Youthful Exuberance
Although small by sumo standards, the 175-centimeter Tobizaru electrified fans when he went 11-4 in the Autumn Grand Sumo Tournament in September.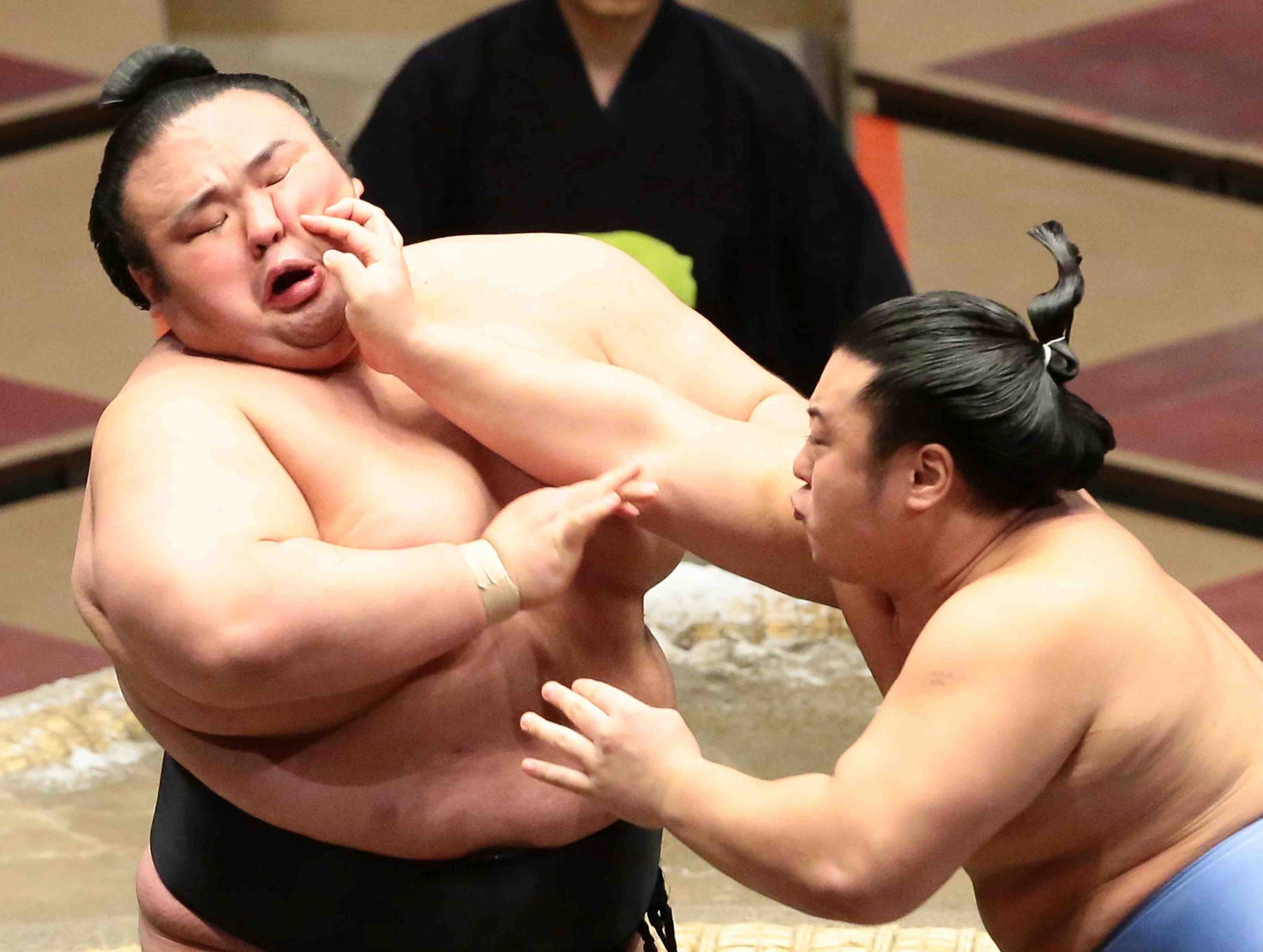 ~~


As sumo struggles with the coronavirus and the uncertainty over the future of its two aging grand champions, one up-and-coming wrestler has given the sport a breath of fresh air with a dynamic fighting style that has fans on the edge of their seats.
The arrival of Tobizaru, whose ring name translates as Flying Monkey, couldn't have come at a better time.
Although small by sumo standards, the 175-centimeter Tobizaru electrified fans when he went 11-4 in the Autumn Grand Sumo Tournament in September, narrowly missing out on becoming the first wrestler in 106 years to win the Emperor's Cup in his top division debut.
In the end, he finished the tournament two wins shy of ozeki Shodai but was awarded the tournament's Fighting Spirit Prize and reignited interest in sumo along the way.
The 28-year-old Oitekaze stable wrestler was as thrilled as sumo fans with his performance. "I think that's the most fun I've ever had in sumo," he told reporters after the tourney. "I was able to entertain many fans."
"The fact that he was in the (title) race and could have been the first rookie or debutant in the top division in 106 years to win a tournament meant the pressure was definitely on him and he went very close," said NHK sumo announcer Murray Johnson. "I think he stayed true to himself and entertained the fans."

Following his impressive run, Tobizaru moved up the rankings for the following tournament in November where he faced stiffer competition. He got off to a slow 1-5 start but managed to salvage five wins in the second half to finish with a 6-9 record.
While Tobizaru faces an uphill battle to reach sumo's highest ranks, there is no questioning his popularity.
"The fact that he is 28 probably means he's got three to five years left in him," Johnson said. "He may get up to san'yaku which includes komusubi … but for a long time ahead now he will be popular."
Of his 11 wins in the Autumn meet, Tobizaru showed off eight different "kimarite," or winning techniques, proving that he is a versatile wrestler who can beat you many ways.
"He is exciting because even though he is a pusher-thruster he tries to work on the mawashi as well, he's not just a one-trick pony," added Johnson.
Tobizaru also has an outgoing personality that appeals to sumo fans both at home and abroad. He recently started studying English and during the September tourney he won over fans by wearing a bright blue belt to show his appreciation for healthcare workers who have been fighting the COVID-19 pandemic.
His arrival comes at a critical time. Grand champion Hakuho was diagnosed with the coronavirus in early January. Even before that, he has been hampered with a series of injuries and faced an uncertain future.
Fellow yokozuna Kakuryu has also faced criticism recently over missing tournaments due to injury. Both grand champions are clearly on the downside of their careers and will likely retire in the not-too-distant future.



An Early Start in Sumo
Tobizaru was born in the Year of the Monkey ー 1992 ー and credits his colorful ring name to his unique moves on the dohyo. Given his unorthodox style, it's easy to see why sumo fans are so excited by his performance.
Born in Tokyo's Edogawa Ward, Tobizaru started practicing sumo in his first year of elementary school when he was coached by his older brother Hidenoumi, a former makuuchi division wrestler who is now in the juryo ranks.
Tobizaru made his professional debut in 2015 after graduating from Nihon University, a school known for producing top sumo wrestlers. He entered the Oitekaze stable after graduating from college.
After entering sumo, it took Tobizaru two-and-a-half years to reach juryo and another three years to make it to the top makuuchi division.
Sumo officials would love nothing more than to see some of the younger wrestlers emerge to give the sport a fresh look and Tobizaru is among the rising stars who fit the bill.
"He'll be one of those guys who every time he steps on the dohyo fans at home and in the venue will love to see him perform," Johnson said.
Tobizaru will enter the New Year Grand Sumo Tournament, which begins on Sunday, January 10, as a No. 7 maegashira. While he may be a long way off from promotion to the elite ranks, for now the sky's the limit for sumo's Flying Monkey.


Author: Jim Armstrong
The author is a longtime journalist who has covered sports in Japan for more than 20 years.