teamLab Borderless Continues to Educate and Entertain in the Age of Corona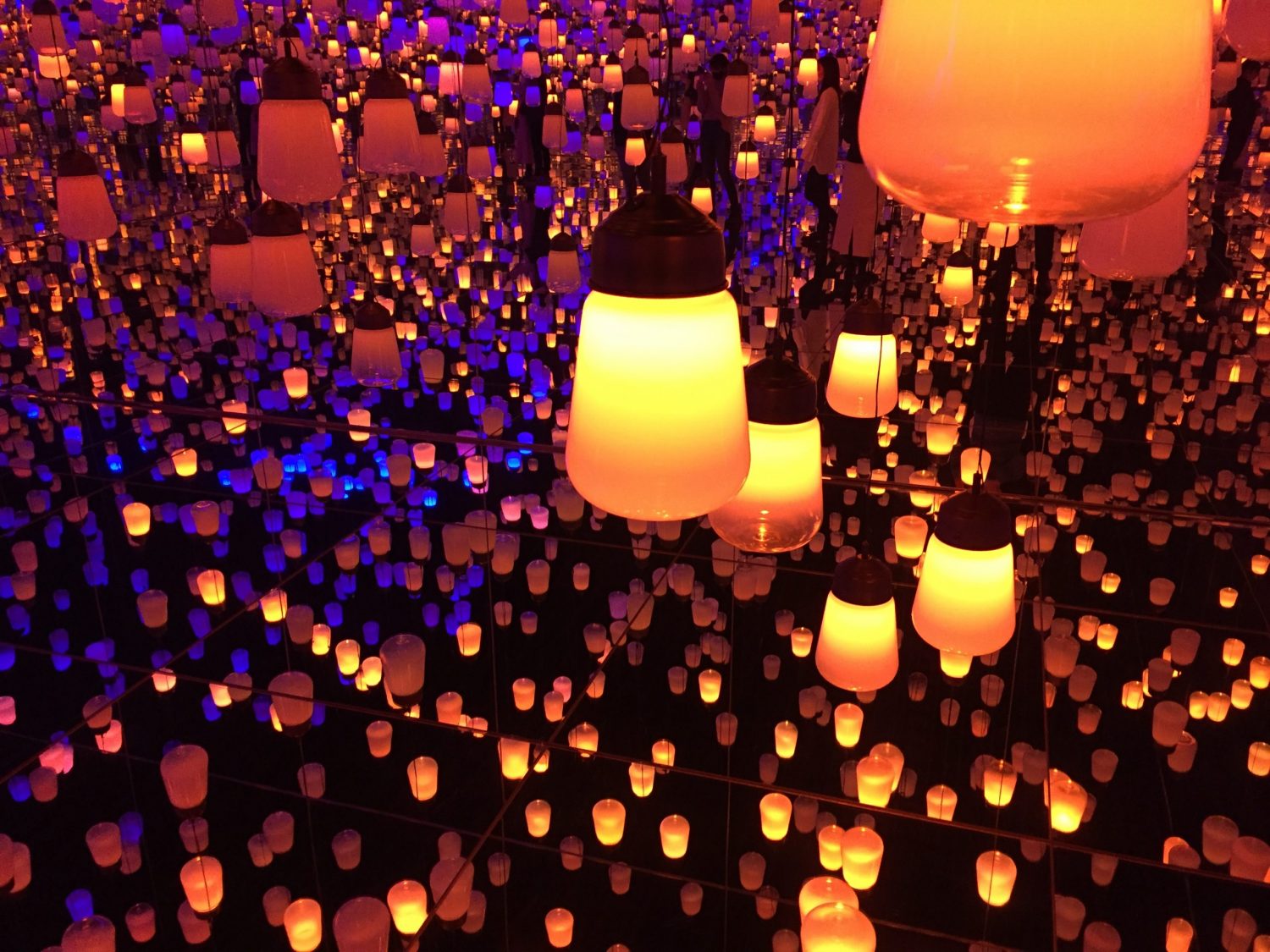 The room is dark. A waiter arrives with bowls of green tea and ice cream.
The tea itself is thick and foamy. Within the bowl, something is stirring. Take a closer look. Incredibly, a chrysanthemum blossoms and blooms inside your glass.
Turn to your ice cream. A latticework of flowered vines and tendrils sprouts suddenly from the base of the bowl.
From your neighbor's bowl, a butterfly flutters and flies, alighting on your own.
We are in the tea house of the Mori Building Digital Art Museum: teamLab Borderless in Tokyo's Odaiba entertainment district.


An Interactive Ecosystem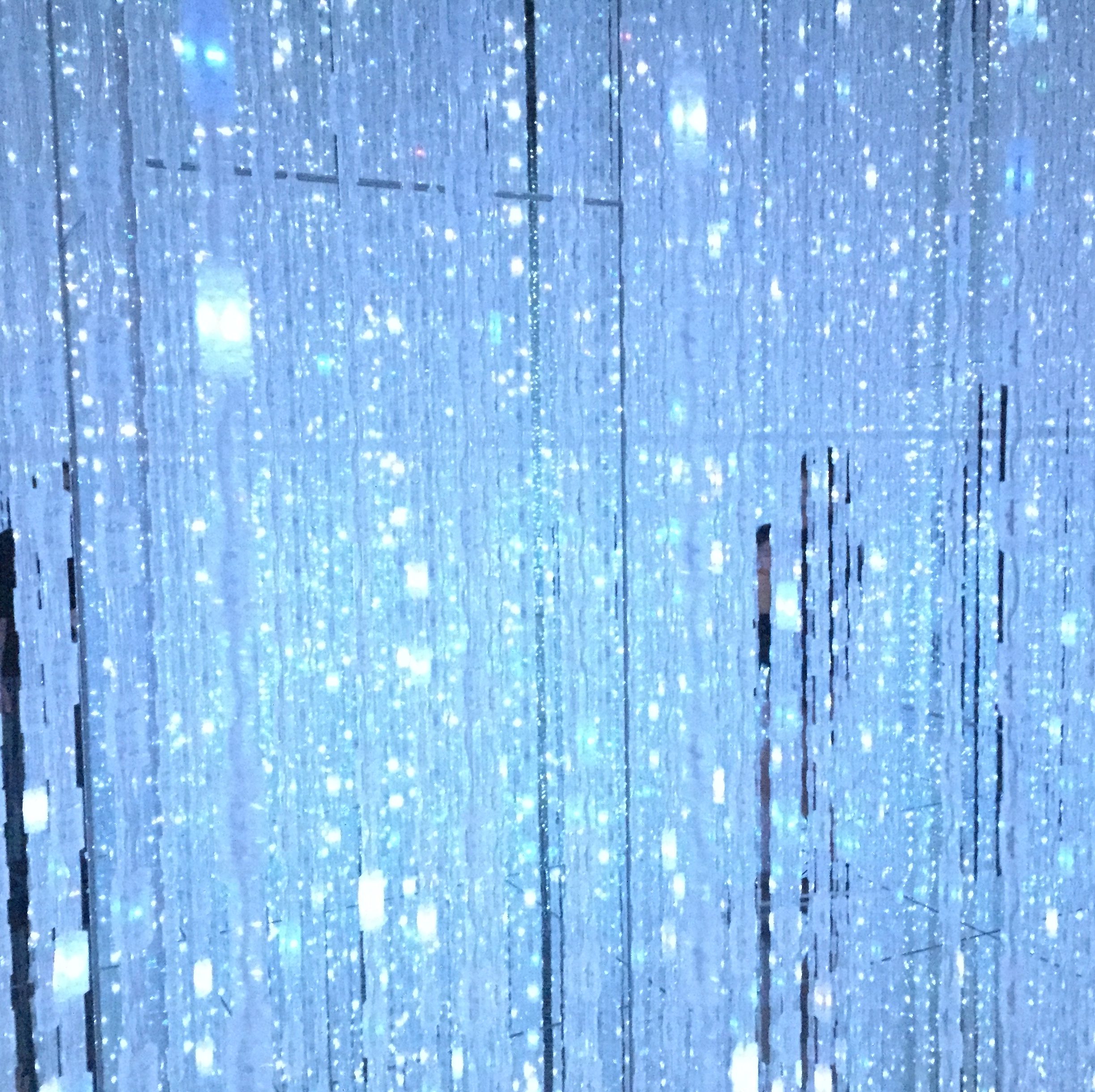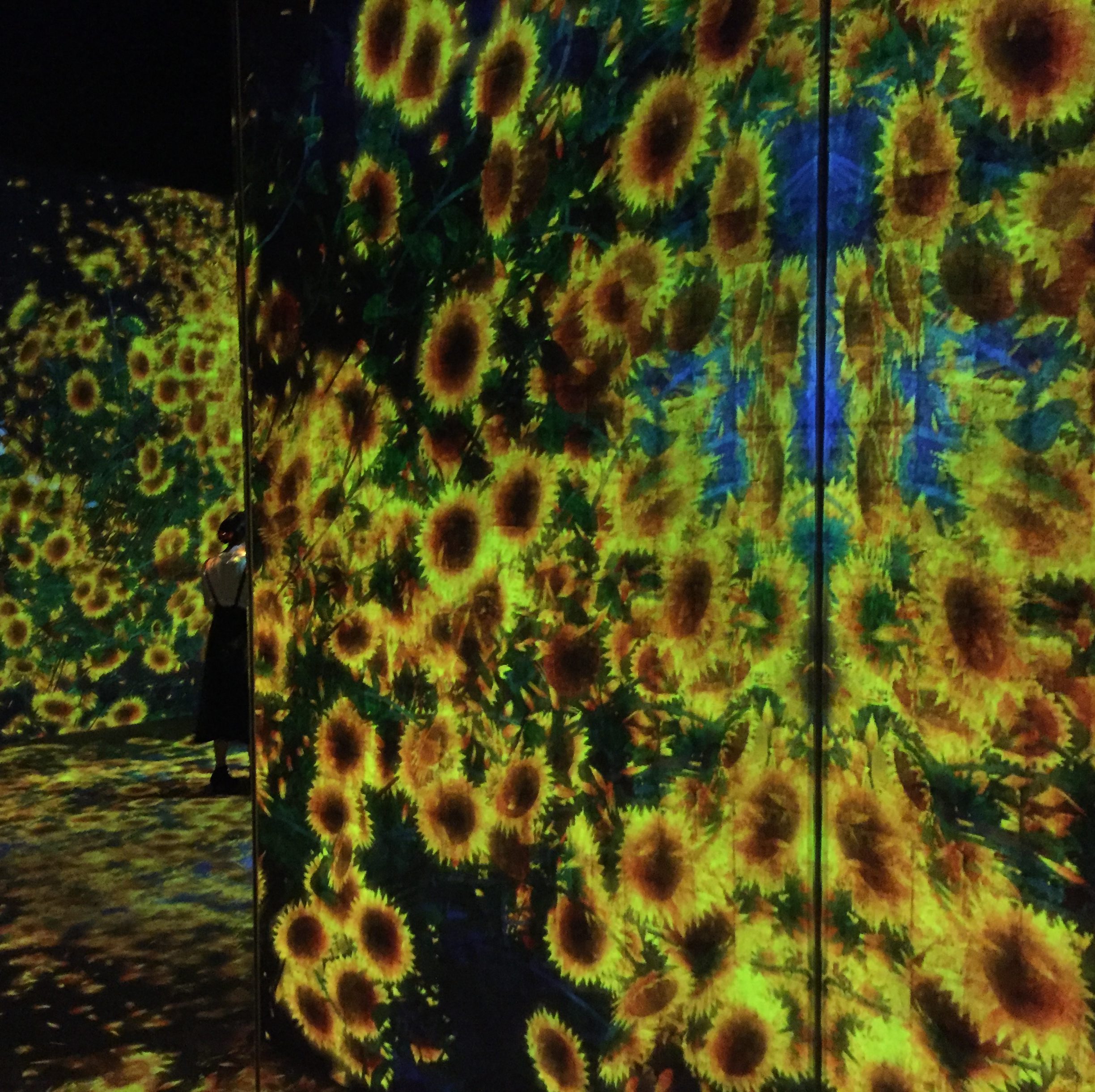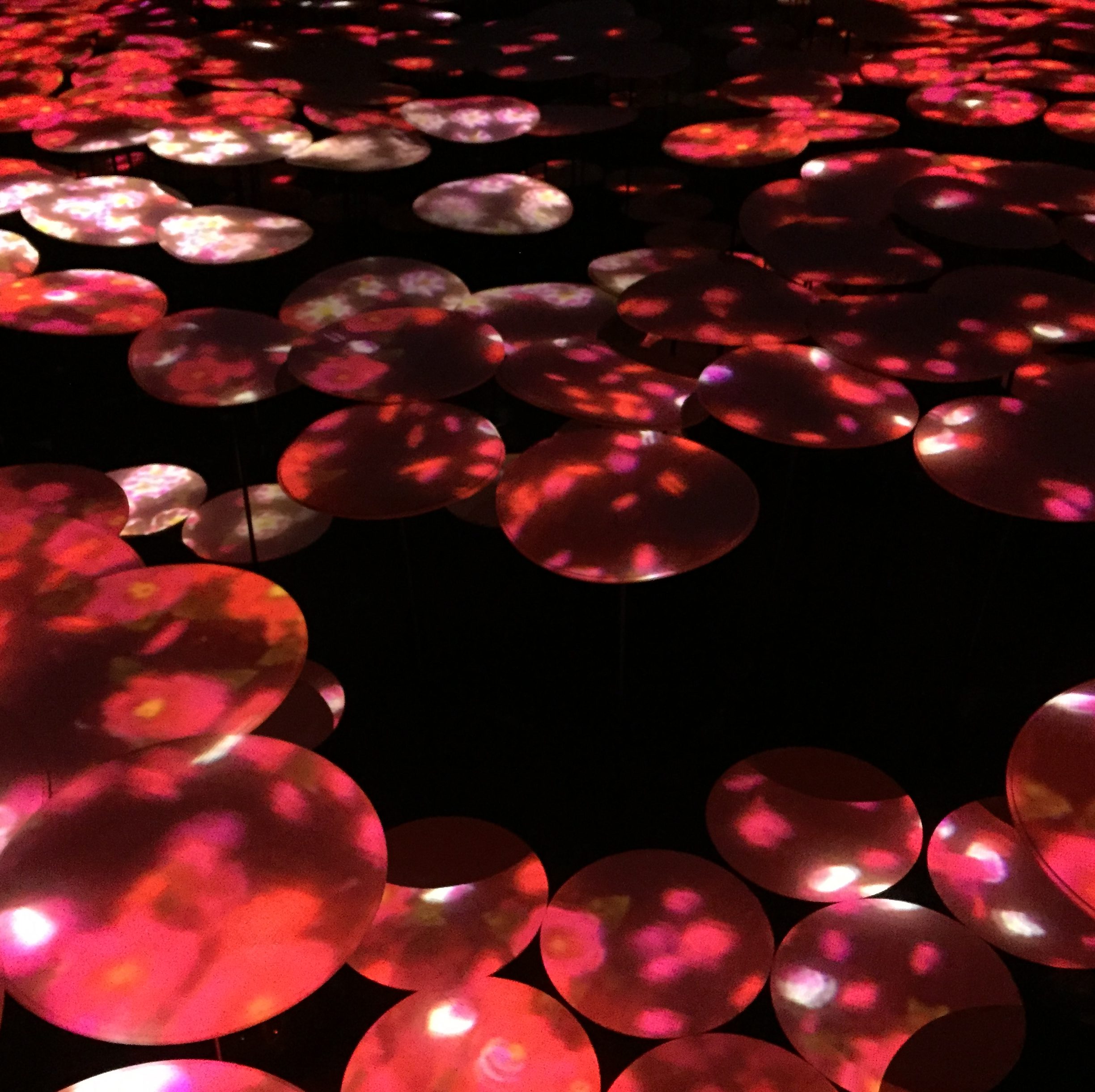 Exiting the tea house, we discover some of the most impressively interactive installations of the teamLab Borderless project.
Aimed predominantly at children, these works emphasize the educational aspect of the exhibit.
In one room, young visitors construct their own vision of a city. Moving various foam structures and buildings around the room, they watch on as railway tracks, roads and highways appear, connecting each separate feature into a network.
Similarly, in the vast main hall, young visitors choose an outline of an animal, which they color in, scan, and then release into the wild of the exhibition space.
Their creation immediately becomes part of the wider ecosystem comprised of other visitors' animals.
Adults and children alike have a great time following their creations around the hall, watching them interact with – often eating or being eaten by – the other animals.


Education and Wonder in Restricted Times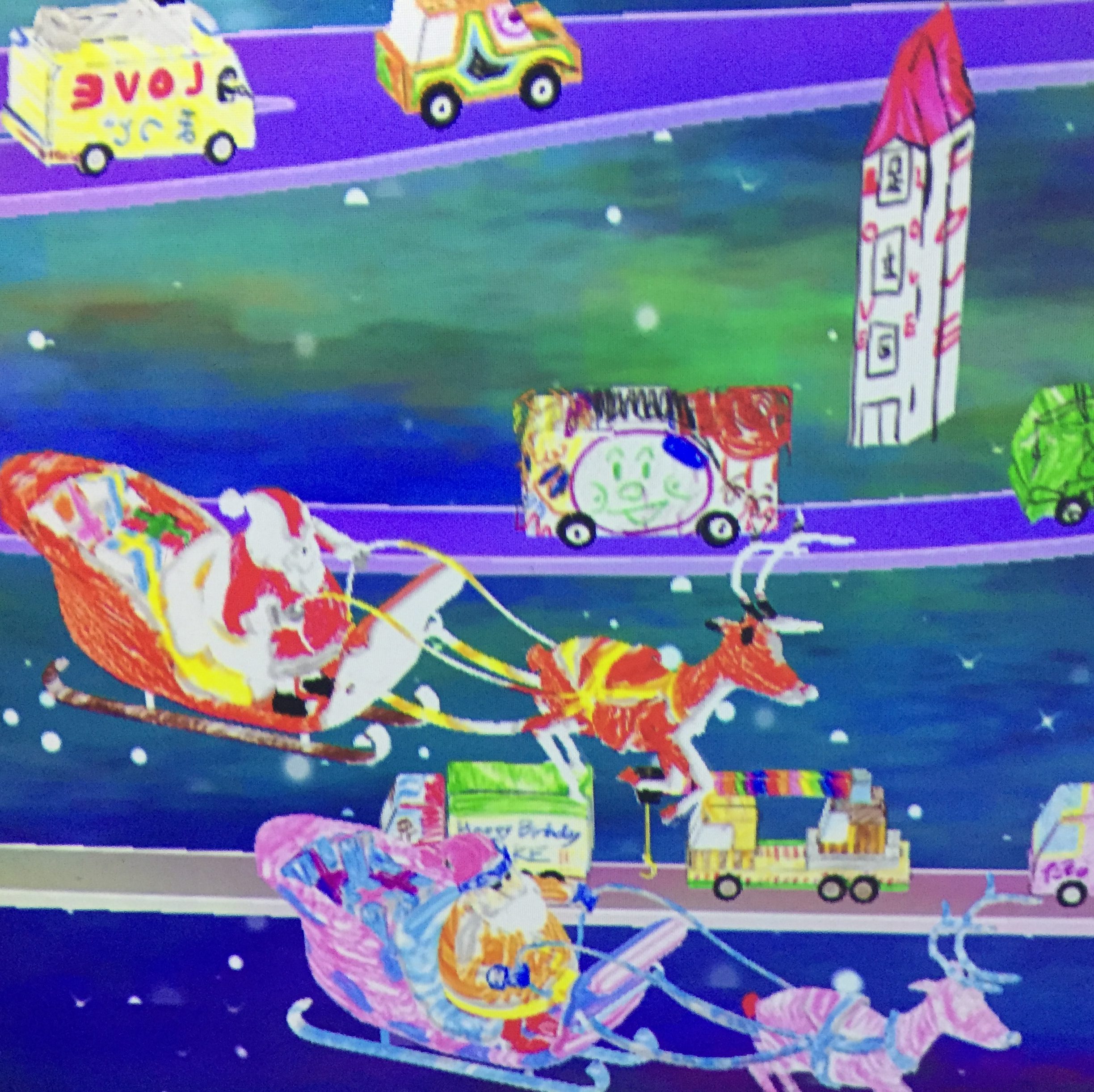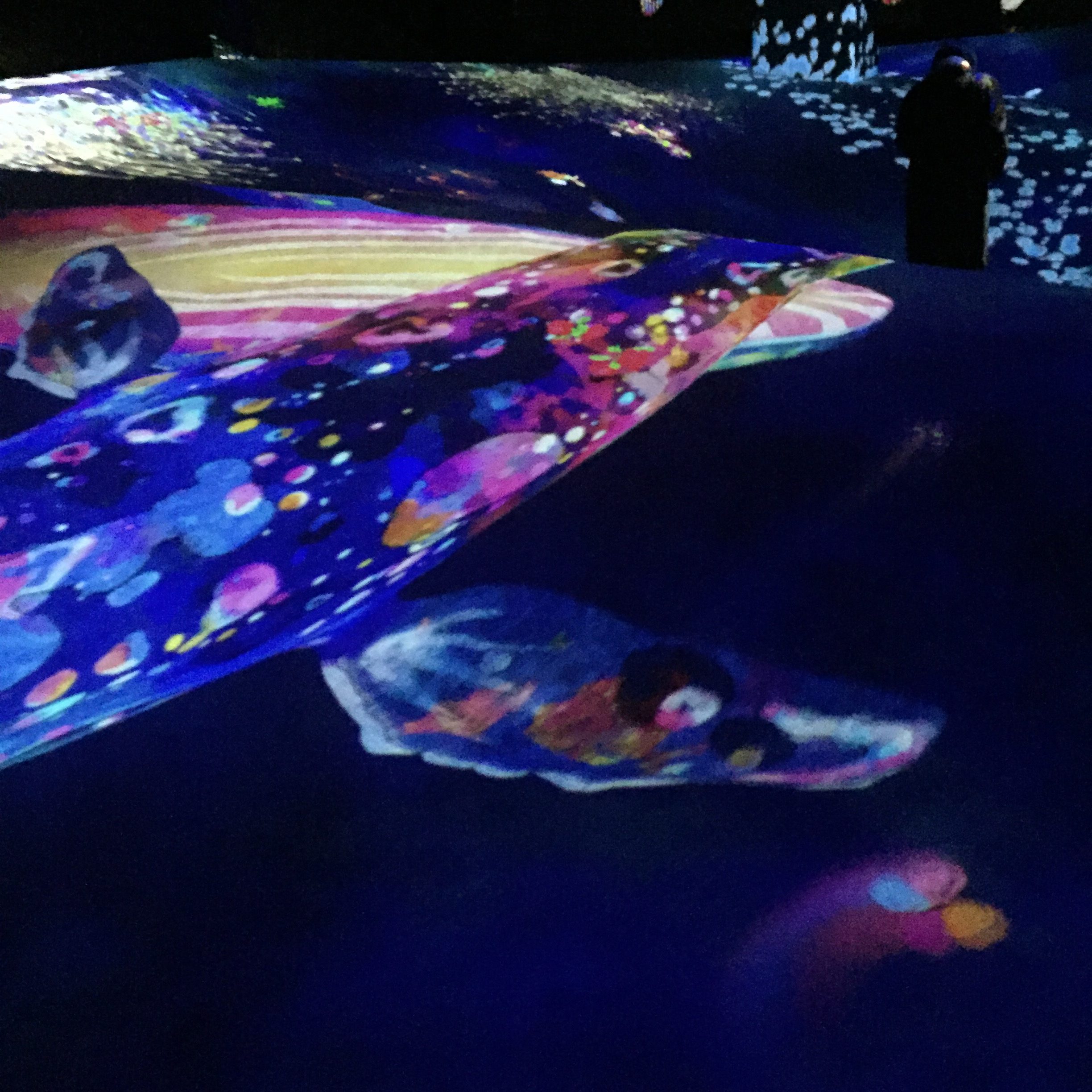 Kazuna Takahashi, Head of Communications for the Mori Building Digital Art Museum teamLab Borderless, emphasized the exhibition's capacity to lift the spirits of visitors during the corona-era.
"Culture is an important factor in enriching life," she stated during an interview with JAPAN Forward.
"In particular, the works on display at this museum are not only art pieces. They are artworks based on the concept of co-creation. They encourage us to think freely and enjoy sharing ideas with others."
For those cooped up at home during the long months of the coronavirus, the exhibition also offers education and wonder to those denied the opportunity to travel or to experience life as freely as they would like.
"We think that there are people living under various difficult circumstances.
"There are those who want to continue to give their children educational opportunities with the peace of mind that they are safe. There are also those who have spent a long time at home living under conditions of great self-restraint.
"We are implementing the highest level of safety measures in our aim to remain a facility where everyone can enjoy our art world with peace of mind."


Wow – What Is It?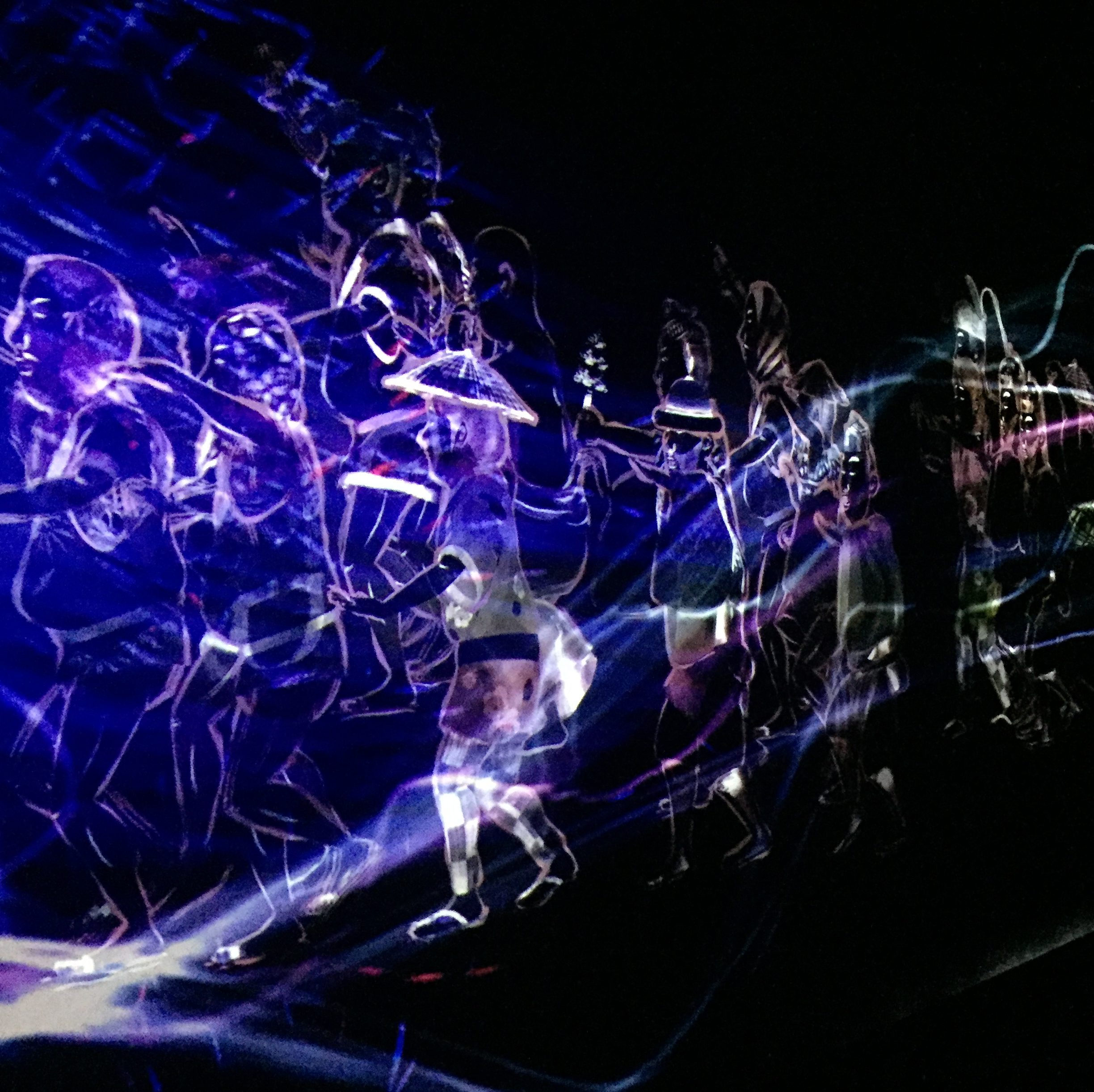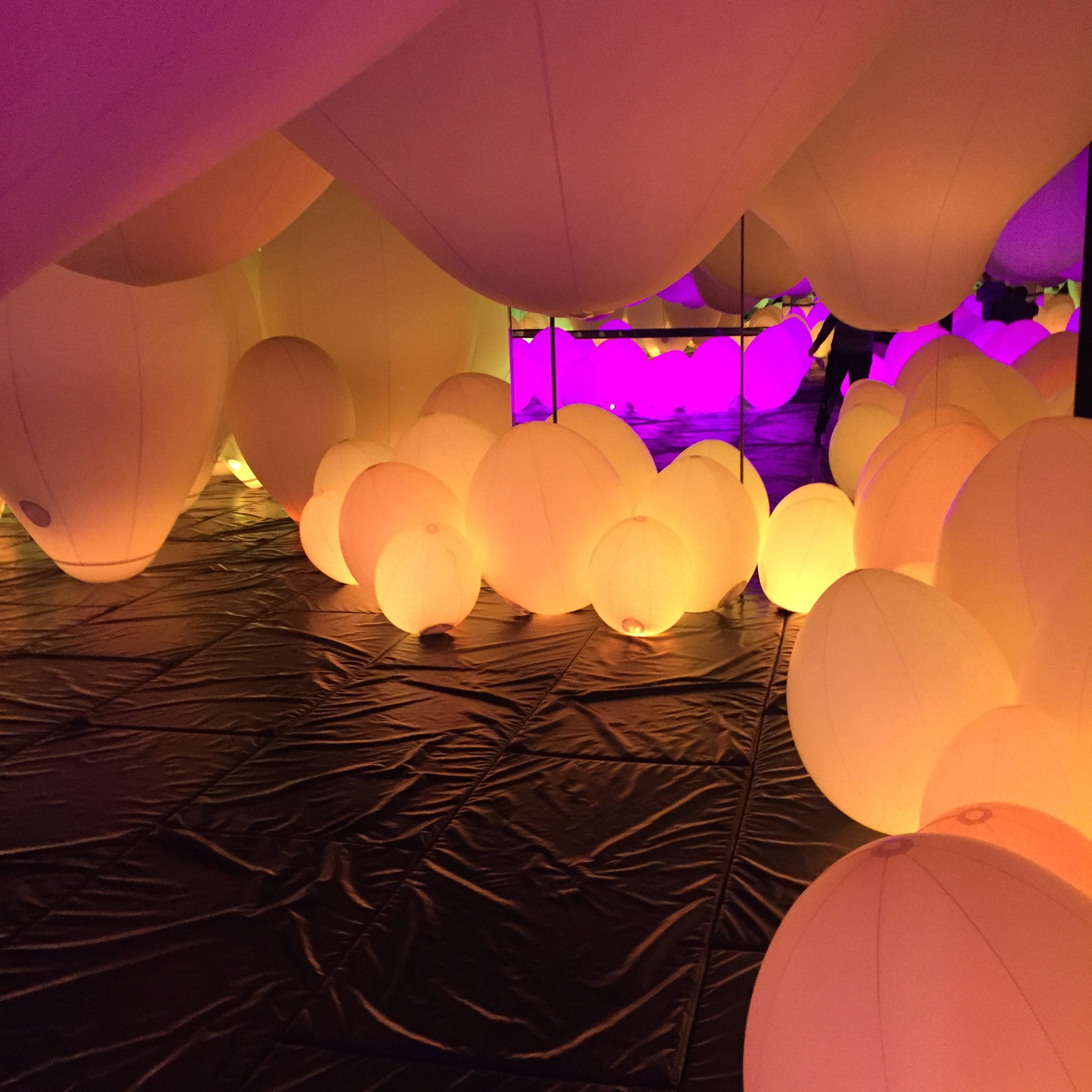 teamLab Borderless has been wowing art-goers in record numbers since June 2018.
One of the most-visited exhibition spaces in the world, the Borderless concept features two floors of highly interactive light-based installations spread over a huge hangar in the Pallette Town area of Tokyo's Odaiba district.
From the very first room, visitors find themselves submerged in a uniquely fluid and engaging art space. Butterflies alight on those who stay in one place too long, patches of flowers growing about their feet.
Bands of traditional dancers and characters from Japanese mythology roam throughout each room, turning to engage with their audience if approached and tapped upon the shoulder.


Matchlessly Interactive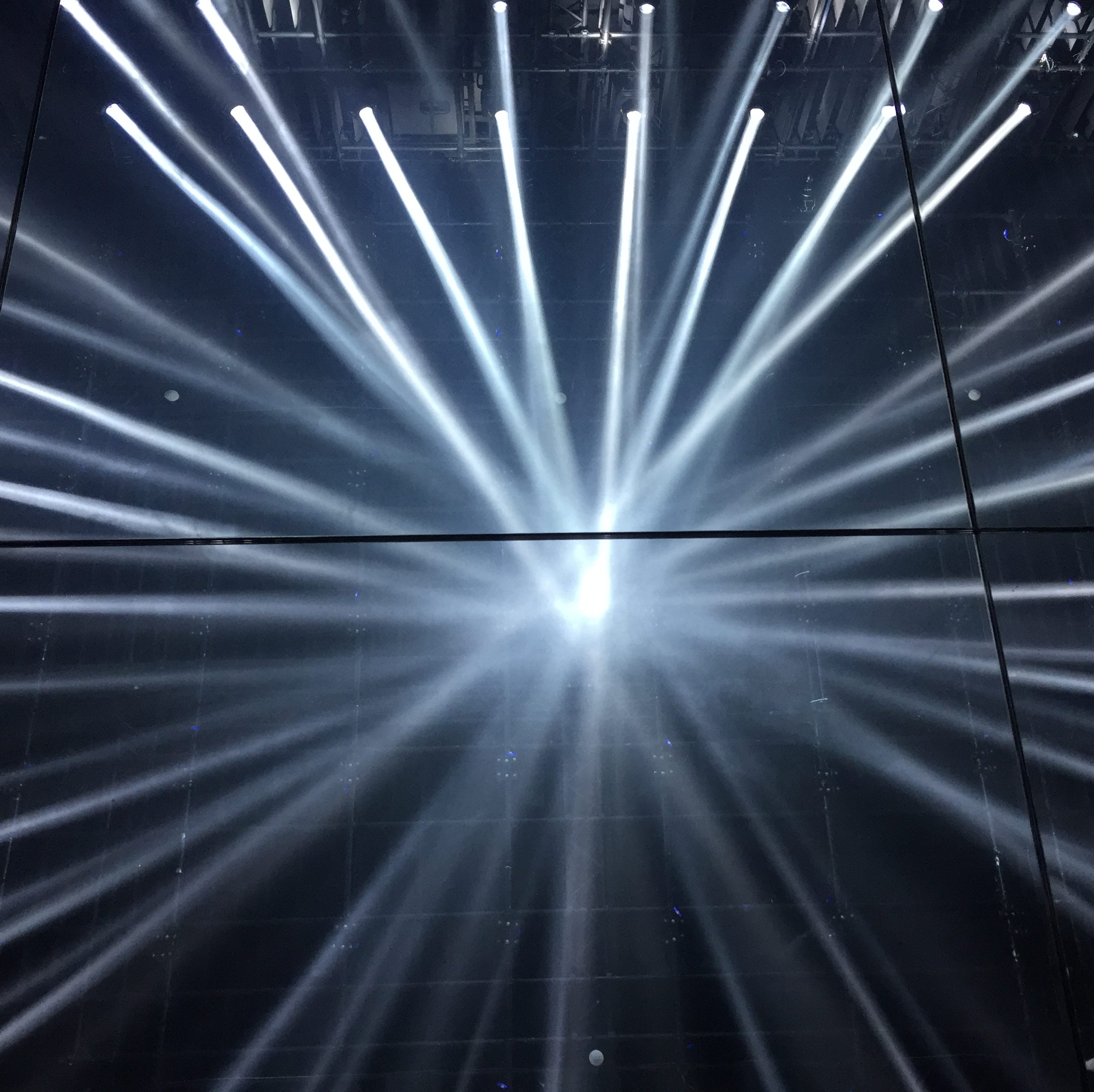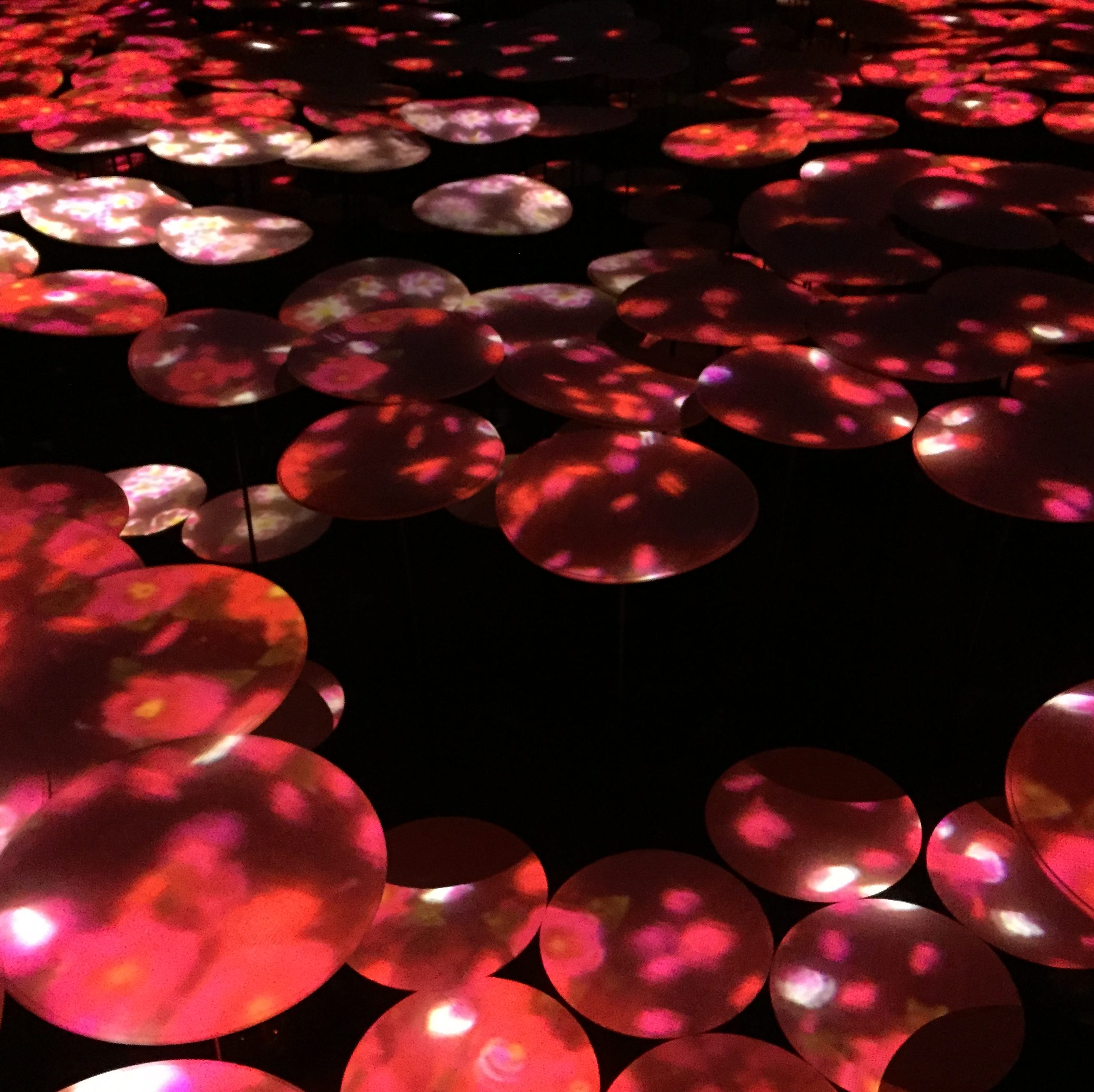 Prior to the global COVID-19 outbreak, approximately 50% of the visitors to teamLab Borderless hailed from overseas, many of them traveling to Tokyo specifically to visit the exhibition.
Undoubtedly, it is the unparalleled opportunity to engage with the works of art offered by the Borderless concept that appeals to both domestic and overseas visitors alike.
Each and every installation is, quite literally, borderless.
Via a complex system of algorithms guiding the exhibition's hardware, light installations move throughout the space at random, altering their trajectory based on interactions with both visitors and other installations alike.


Necessary Adaptations for the COVID-19 Era
As an innovatively engaging approach to the presentation of art, the Borderless concept is unrivalled anywhere.
And yet, the exhibition, like all walks of life throughout the world, has felt the effects of the ongoing coronavirus crisis.
Various travel restrictions were introduced to Japan in April 2020. Since then, foreign tourists have been denied entry, a precaution that is likely to continue until at least April 2021.
This has meant that overseas visitors to the exhibition, other than those already resident in Japan, have all but disappeared.
Similarly, as part of its own COVID-19 precautionary measures, the Mori Building Digital Art Museum that houses the exhibit reduced allowable entry numbers by half.
Exhibit organizers also applied special anti-viral coating to the interactive surfaces throughout the exhibition, while full refunds are offered to those feeling unwell prior to visiting.
Additionally, a small proportion of the exhibit's most interactive attractions – the Light Forest 3D bouldering installation, for example – are currently closed.


A Great Time to Visit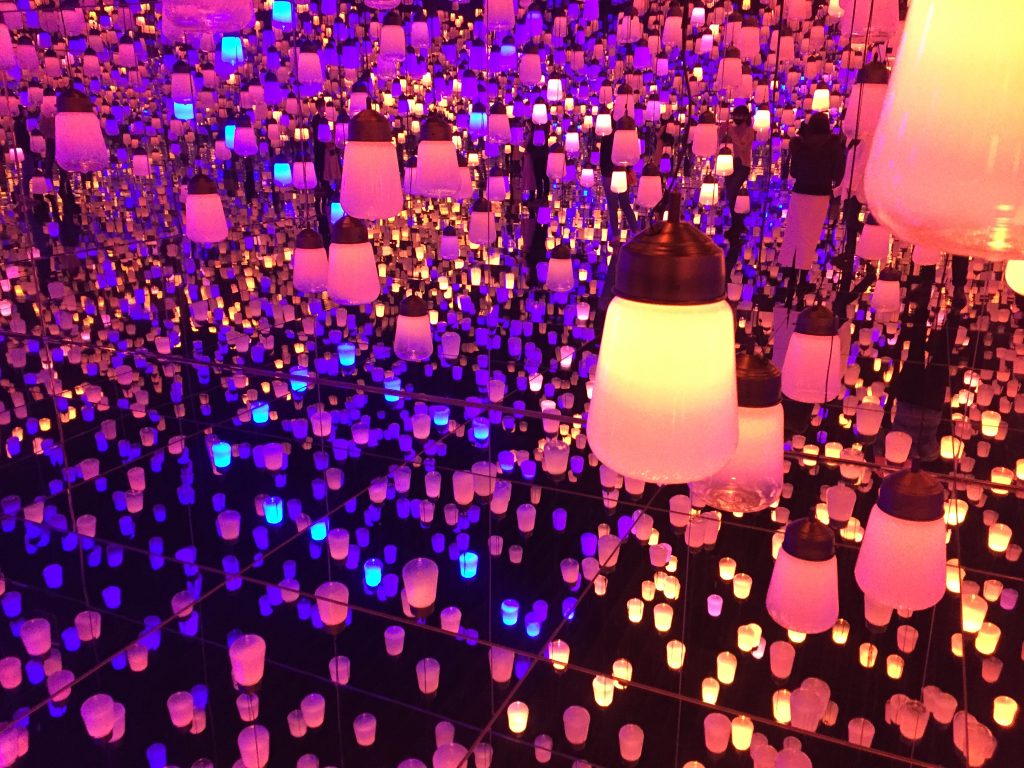 Residents of Japan are of course fortunate that, for the most part, the country has not seen quite the same levels of disruption to daily life experienced elsewhere.
Museums and exhibitions, while operating under restrictions, for the most part remain open. An important point to note is that tickets are not sold at the museum. Buy your tickets online, here. Also check the website for current prices and for any available discount programs.
With travel restrictions continuing to inhibit inbound visitors to Japan, there are currently none of the usual lines and waiting times for the exhibition's most popular installations – The Forest of Lamps, for instance, during non-corona peak hours typically has a waiting time of at least 20 minutes – making this the perfect time to visit for those in the Tokyo area.
Finally, after months of COVID-enforced gloom, the light and wonder of the teamLab Borderless exhibit offers much welcome respite.
A day trip to Odaiba is therefore highly recommended for both adults and children alike.

teamLab Borderless is a permanent exhibition held at the Palette Town District of Odaiba, Tokyo. Open 9.00 – 18.00 Saturday to Monday, 11.00 – 17.00 Wednesday, and 11.00 – 20.00 Thursday and Friday. Closed on Tuesdays. (Information valid as of January 2021, but opening and closing hours may vary with the season so make sure to check the page for details).

Access to the exhibition is easy. It is a 3 minute walk from Aomi Station on the Yurikamome Line, or a 5 minute walk from Tokyo Teleport Station on the Rinkai Line. Additional information on access and a map are available here, under "Visit Us".

Mori Building Company is a property management firm based in Tokyo.

teamLab is an international art collective working in various mediums, including art installation, sculpture and architecture.


Author: Will Fee