teamLab Borderless Says Goodbye to Odaiba, to Reopen with New Cutting Edge Art
After opening four years ago as the world's first digital art museum, teamLab Borderless is now set to close its Odaiba location and open new frontiers.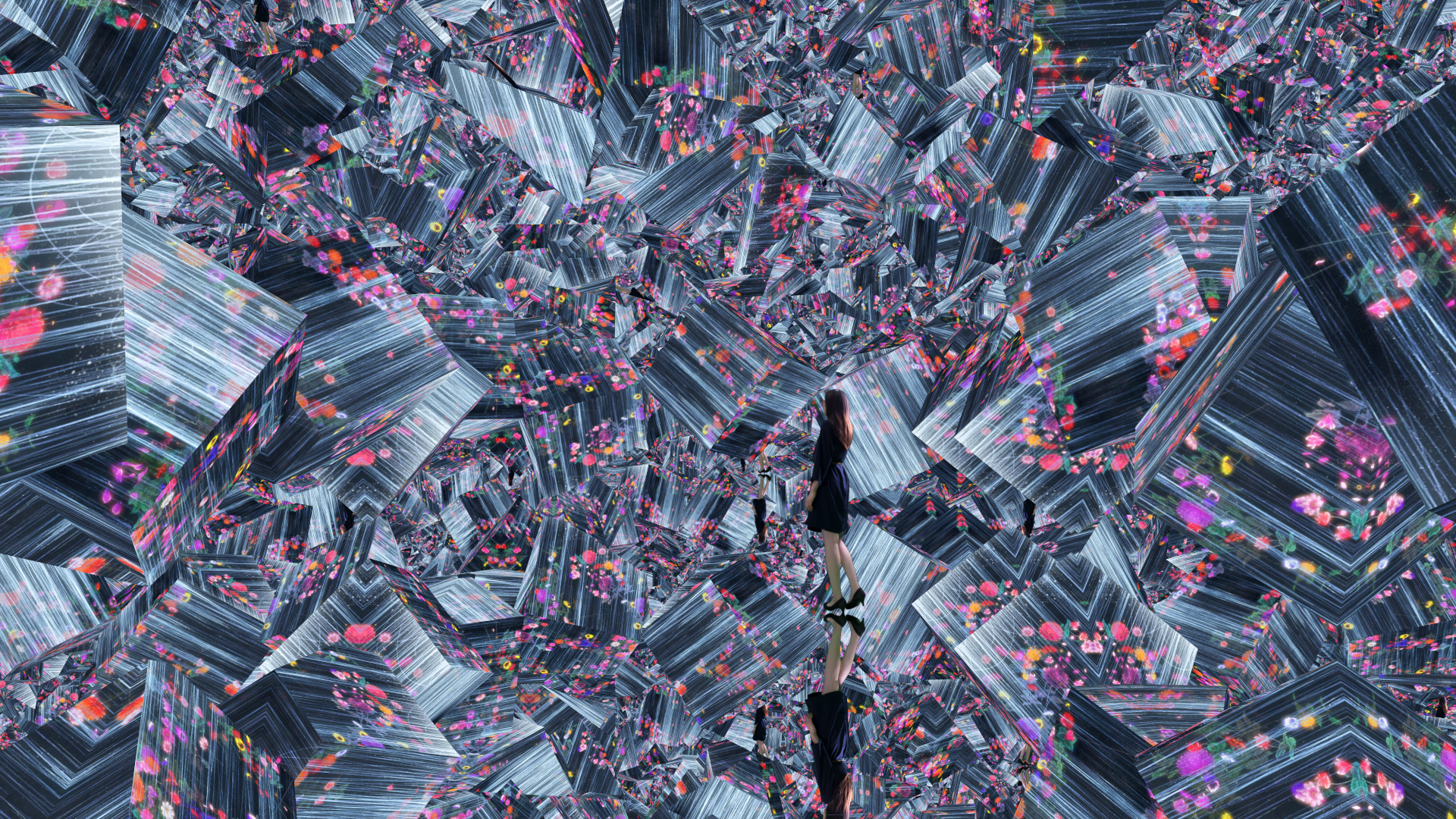 August 24 – Japanese digital art collective teamLab announced that it will reopen in a new museum in central Tokyo in 2023, which will feature immersive installations using advanced technology.
teamLab was established with the aim of creating a new destination by presenting cutting-edge art, culture, and technology from Tokyo to the world, thereby enhancing the city's dynamism.
The art collective's immersive art attractions have become extremely popular. So much so that the Odaiba facility broke the world record as the most visited museum in the world.


Local and International Attractions
The museum received visitors from 160 countries during its first year of operation, according to Ou Sugiyama, senior manager of the Experience Planning Unit in the Mori Building Company, parent company of the museum.
United States travelers accounted for the majority of international visits, followed by Australians, with Canadians in third place.
"Over 50% of our visitors are from overseas, and we found out that half of them came to Japan mainly to visit the teamLab installation," Sugiyama told the press.
Numerous celebrities have visited the museum, including Will Smith, Justin Bieber, Kendrick Lamar, and Brad Pitt.
In the area around teamLab's Odaiba facility, Ome Station's visitor traffic has increased by 1.9 times since the teamLab installation arrived. And Palette Town, the commercial facility where the museum has been located, has experienced a 1.5-fold increase in visitors.


Relocation in Central Tokyo
Borderless, however, will not be able to remain in its current location, which is part of an ongoing redevelopment project in Odaiba Palette Town.
In recent months, there has been much speculation regarding where teamLab would move its popular experience, with most of the focus on the location of a new permanent teamLab museum in Tokyo.
The August 24 press briefing provided some of the information everyone wants to know. A new teamLab Borderless museum will reopen as part of the Toranomon-Azabudai Project in 2023, but the company is making sure a lot of information remains under wraps for now.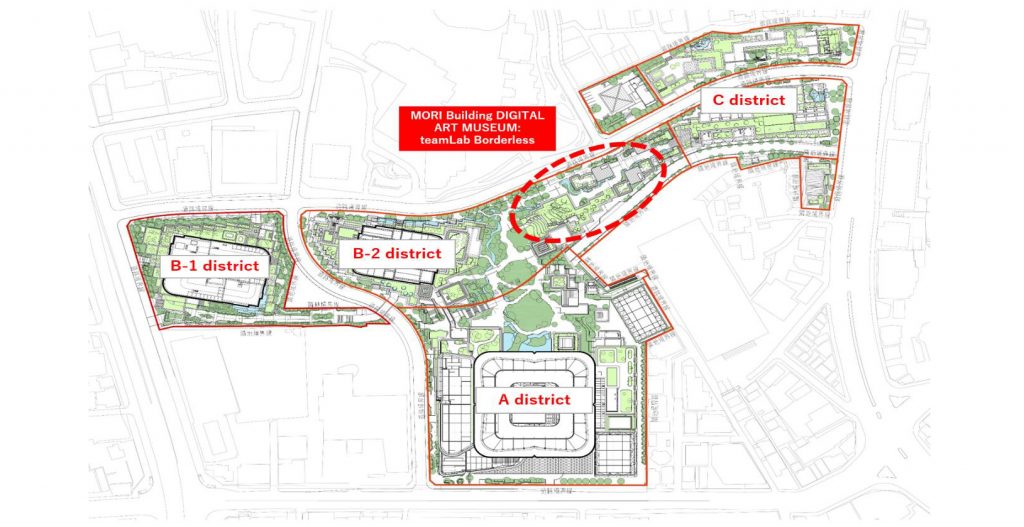 Toranomon-Azabudai is a project on approximately 8.1 hectares of land, to be developed between the neighborhoods of Toranomon and Azabudai in central Tokyo at a projected cost of some $580 billion USD.
As part of the project, schools, commercial facilities, residences, and offices all will be built in conjunction with teamLab Borderless's new underground venue.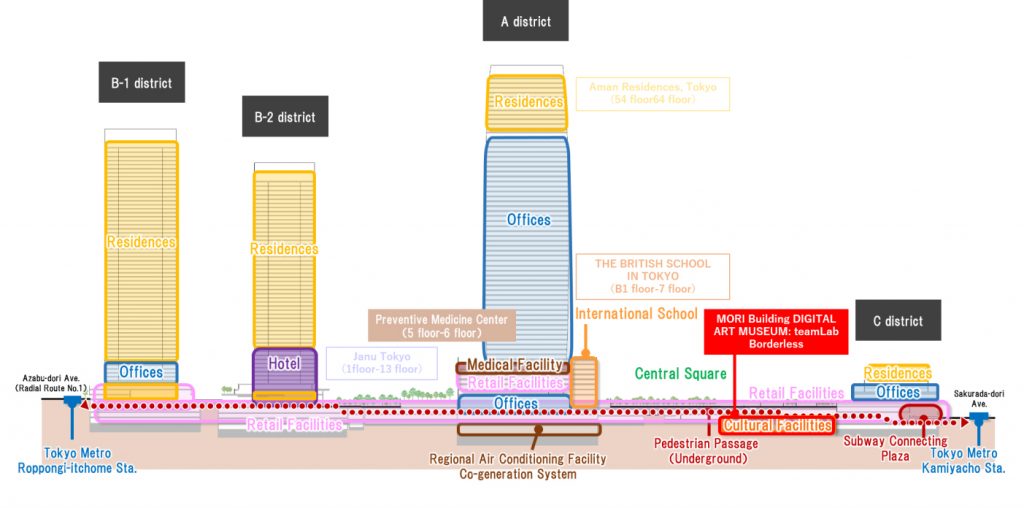 In collaboration with Keio University, a core medical facility will be linked through a membership program with the site's spa, fitness clubs, food market, restaurants, central square and vegetable gardens.
Working with external facilities and medical institutions, the project envisages an urban environment that will enable all those living and working on-site to enjoy true wellness.
It is slated to be an experiment in redefining city life by providing people with additional opportunities to encounter art and greenery in public areas.
Although the concept is based on Green and Wellness, teamLab will be located underground, which at first glance does not seem to be directly aligned with the concept.
The reason for this remains unannounced but is sure to include new surprises, so stay tuned.


Where You Can Still See teamLab Exhibits
While teamLab Borderless in Odaiba will close at the end of August, 2022, there are still plenty of teamLab exhibits in Japan.
The teamLab Botanical Garden opened recently in Osaka. You can also find the 'teamLab: A Forest Where Gods Live' exhibition at Mifuneyama Rakuen in Saga Prefecture from July to early November, 2022.
Mori Building Company's Palette Town has been home to multiple attractions: the Team Lab, Venus Fort Mall, and the Daikanransha Ferris Wheel that gives Odaiba its color.
New construction has already caused the closure of the Venus Fort. The Ferris Wheel is set to close on August 31, the same day as teamLab.
Even though Odaiba will be looking a bit lonely during its facelift, the development plans are also attracting expectations for the near future.
RELATED:
Author: Shaun Fernando