Changes Coming as teamLab Borderless Digital Art Museum Reimagines Its Future
Shutting in August for new quarters: "What we can say now is that it will still be called teamLab Borderless, and it will still be in Tokyo" (Yoko Kuwabara)
How many museums in the world can instill that sense of childish wonder, where visitors feel like they are floating in an imaginary world?
This is the appeal of MORI Building DIGITAL ART MUSEUM EPSON teamLab Borderless, the revolutionary interactive art exhibition in Odaiba, on Tokyo Bay. The museum has opened its doors to visitors since summer 2018.
The project is led by Mori Building Co., Ltd, an urban landscape developer, and teamLab, a digital art collective, both pioneers in their respective fields.
teamLab announced in 2021 that the permanent exhibition in Odaiba will close in August 2022, to then restart in a new form in another location in central Tokyo. Fans are already buzzing for what the art collective will bring next.
"What we can say now is that it will still be called teamLab Borderless, and it will still be in Tokyo," said Yoko Kuwabara, who spoke to JAPAN Forward on a media day on April 13.
Commenting on the rare relocation of such an exhibition, Kuwabara continued: "Our team wants to keep alive the Borderless concept, because art is borderless, as so is the relation between us and art."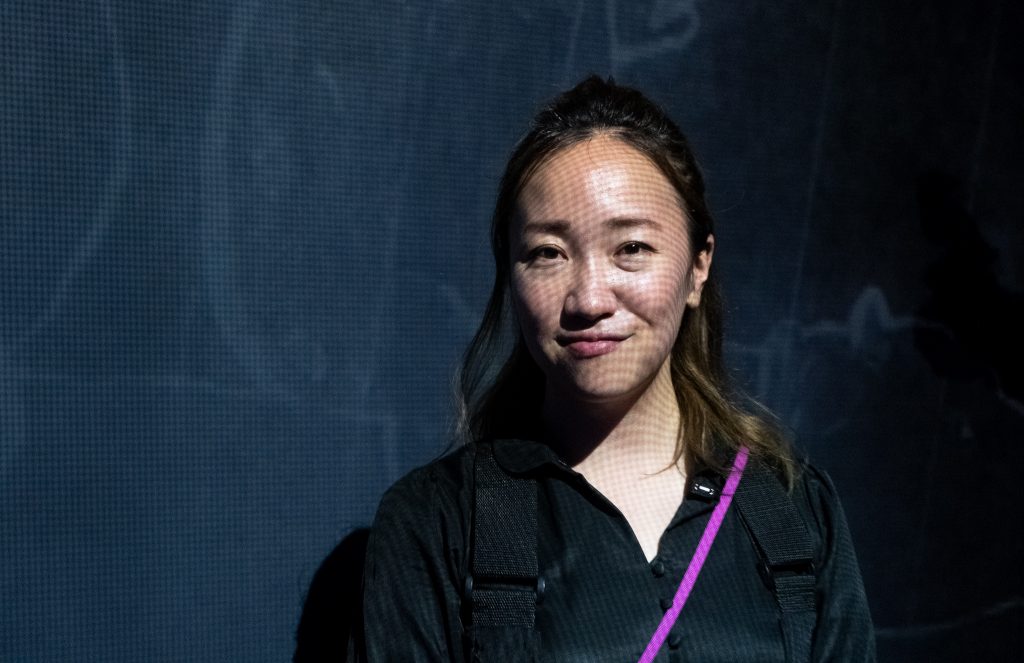 An Innovative Way of Doing Art
The Digital Art Museum has awed countless people from all over the world in just four years since its opening in June 2018.
The venue received the Guinness World Record as "Most visited museum" in the category of single art group in 2019, with 2,198 million visitors over the calendar year.
The numbers beat strong competition from the Van Gogh Museum in Amsterdam, the Netherlands, and the Picasso Museum in Barcelona, Spain.
And it's easy to see why. There are over 60 art pieces in the two-story teamLab Borderless exhibition, spread over 10,000 square meters.
"Until now, when you went to a museum and saw for example the Mona Lisa [by Leonardo da Vinci], you were seeing the same art piece which existed 100 years ago, right?" said Kuwabara.
"This [exhibition] is different," she continued, "it changes with time, with the season, with visitors interacting, and then the impression visitors get from the art changes as well. It's the idea that you participate in art."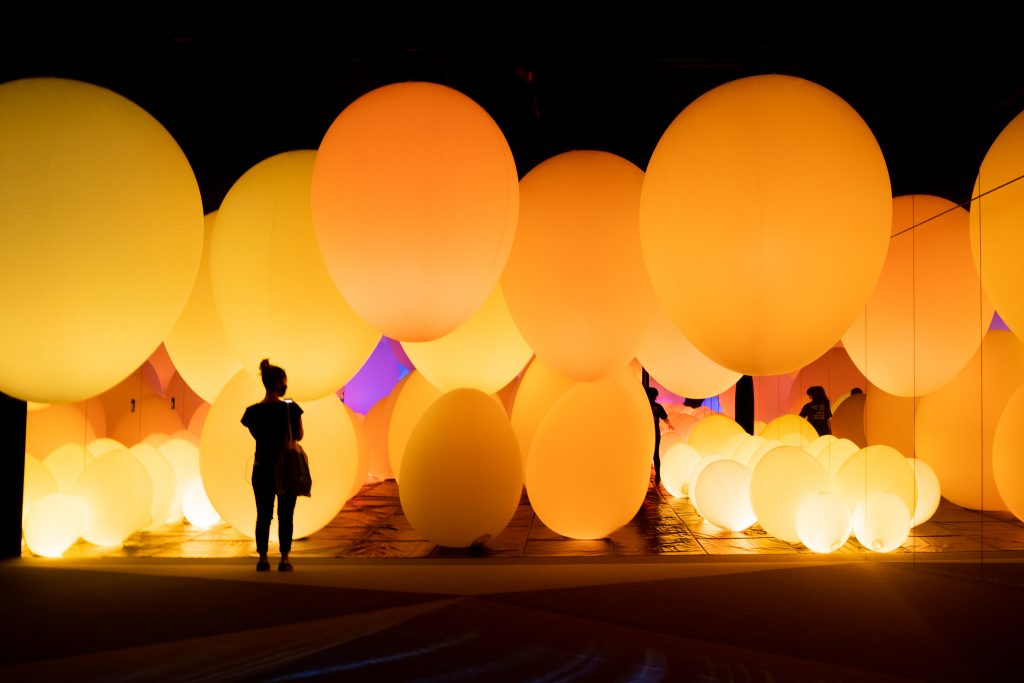 Truly Borderless
The name of the exhibition is also spot on, as the whole museum is an embodiment of "borderless." There are no maps to get around, but just arrows on how to go to other spaces. Many rooms have mirrors, sounds, and lights that make visitors forget where they are, as if they were in a parallel universe.
On the second floor, there is an aquarium themed room, with fish projections moving across the walls. The fish can be drawn on the spot and then scanned, so that they materialize as projections.
There is something for everyone, no matter the age, nationality or taste, bringing an innovative experience to all the senses. There is a trampoline with space-themed projection mapping, a room with massive floating balloons, and even a café where one can enjoy interactive projections while sipping a cup of coffee.
The over 500 projectors, and 420 computers are operated by Epson, providing a high-quality performance, 365 days a year.
"The fact of being able to present such a beautiful project, with such high quality [technology], it's not something which is possible everywhere, and I think it's a point of pride for these art pieces," said Kuwabara gratefully.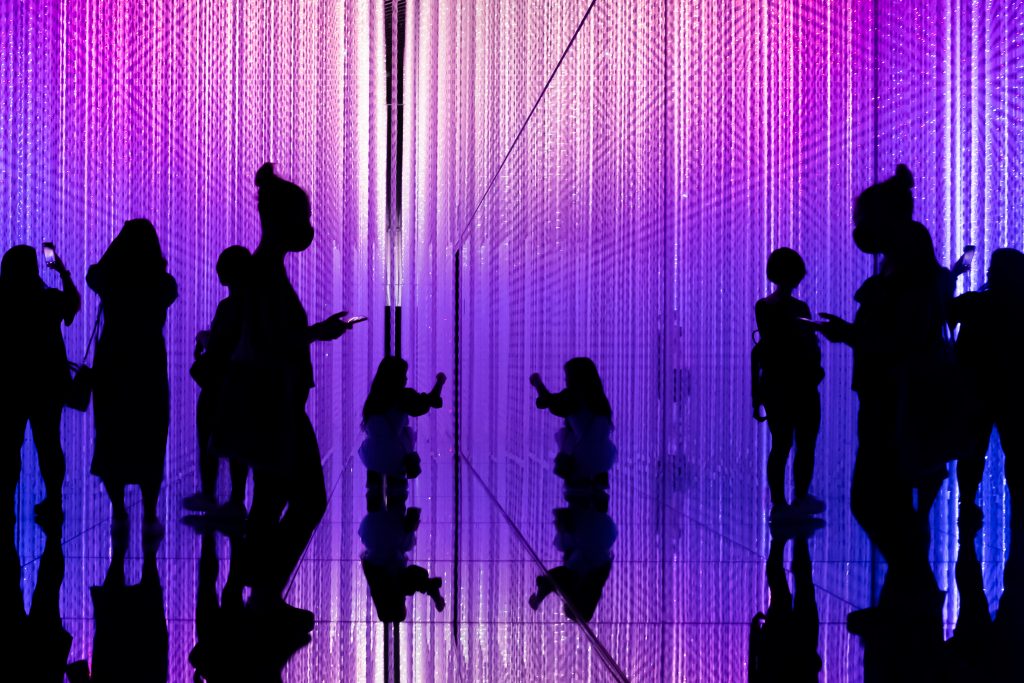 Welcoming Social Media
teamLab Borderless had its roots in exhibitions abroad, such as in Singapore starting in 2016.
The art collective teamLab itself was born in 2001. It had the ambitious aim of bringing new art experiences to the world.
Following exhibitions abroad also in the United States, France, and Hong Kong, the collective decided that they wanted to create a flagship exhibition in their home country, Japan, in Tokyo.
"We wanted to do something bigger, and therefore we prepared for the Tokyo [2020] Olympics and Paralympics, so that we could show off our art to the world," said Kuwabara.
Kuwabara also elucidated that teamLab had the ambition to reshape the world's perception of Japanese art: "For visitors to Japan one can go and see [Katsushika] Hokusai [woodblock prints], or temples in Kyoto. But we wanted to be part of the modern art movement, so that in the same spirit of Yayoi Kusama, teamLab could spread around the world."
And teamLab's most powerful weapon? In keeping with the times, social media.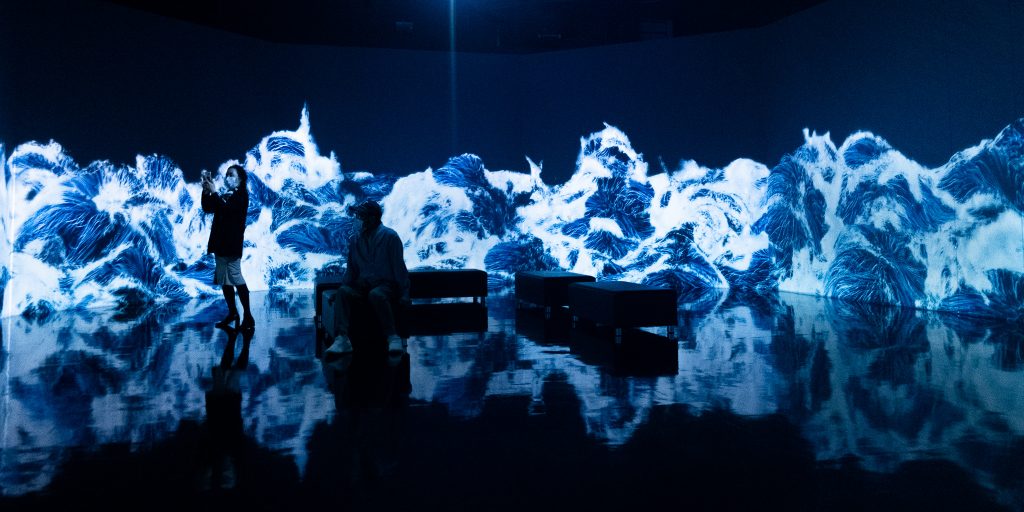 Instant Success
When the museum opened its doors in 2018, it was a rare example of a place where pictures were allowed everywhere. The flood of colors, lights, interactions between visitors and artwork, make it the ultimate Instragrammable destination.
Kuwabara illustrated what felt like the overnight success of the permanent exhibition:
"Before we knew it, celebrities such as Flying Lotus, Pharrell, the Weekend, Angelina Jolie, they visited, and uploaded their pictures, and the word just spread like crazy everywhere. People were like 'what is this?! We have never seen anything like it!'"
Many other VIPs also walked through these same colorful-lit corridors, including Will Smith, Kim Kardashian West, and the former first lady, Melania Trump. As pictures of these celebrities were posted, the appeal for people wanting to visit the museum from overseas increased.
In its first year since its opening, Mori Building revealed in a press release that half of 2.3 million visitors were from overseas. Among them, 50% came to Japan with the main purpose of visiting the museum.
"From one day to the next, we became famous abroad, and I think [teamLab Borderless] became the must-visit place for people coming to Tokyo," concluded Kuwabara.

Going Forward, Keeping The Concept of Borderless Alive
Like all museums around the world, teamLab Borderless has taken a hit during COVID-19, and has had to introduce measures for visitors to feel safe during the pandemic.
Yet, the pandemic hasn't stopped the creative flows of the art collective. During COVID-19, teamLab inaugurated a project called Flower Bombing Home in 2020. Users could draw a flower on their cell phone, and all the entries were put together in a YouTube video of flowers blooming. The idea was that as people were restricted from going out, art could still be created and enjoyed from the comfort of your own televisions.

"Since COVID-19, the world has put up many borders, and has become more divided," explained Kuwabara. "We want now, more than ever, to convey the concept of Borderless, and communicate the importance of art."
The art collective is showing no signs of slowing down going forward. teamLab is already scheduled to have a Massless exhibition in Beijing in 2022, and a Borderless exhibition in Jeddah, Saudi Arabia by 2023, and Hamburg, Germany, in 2024.
teamLab is also constantly pushing itself with new frontiers in art. In February 2022, it unveiled its first non-fungible token (NFT) artwork, called "matter is void."
The idea is that anyone can see and download the NFT. But only those who bought the digital artwork have the right to modify it.
"It's like everyone is groping for art, and everyone is exploring it together," commented Kuwabara.
What else does teamLab have in store for the world?
Find more information on the exhibition set to close in August 2022 at MORI Building DIGITAL ART MUSEUM EPSON teamLab Borderless.

RELATED:
Author: Arielle Busetto
Video: Shaun Fernando