TENNIS | Naomi Osaka Captures Second U.S. Open Title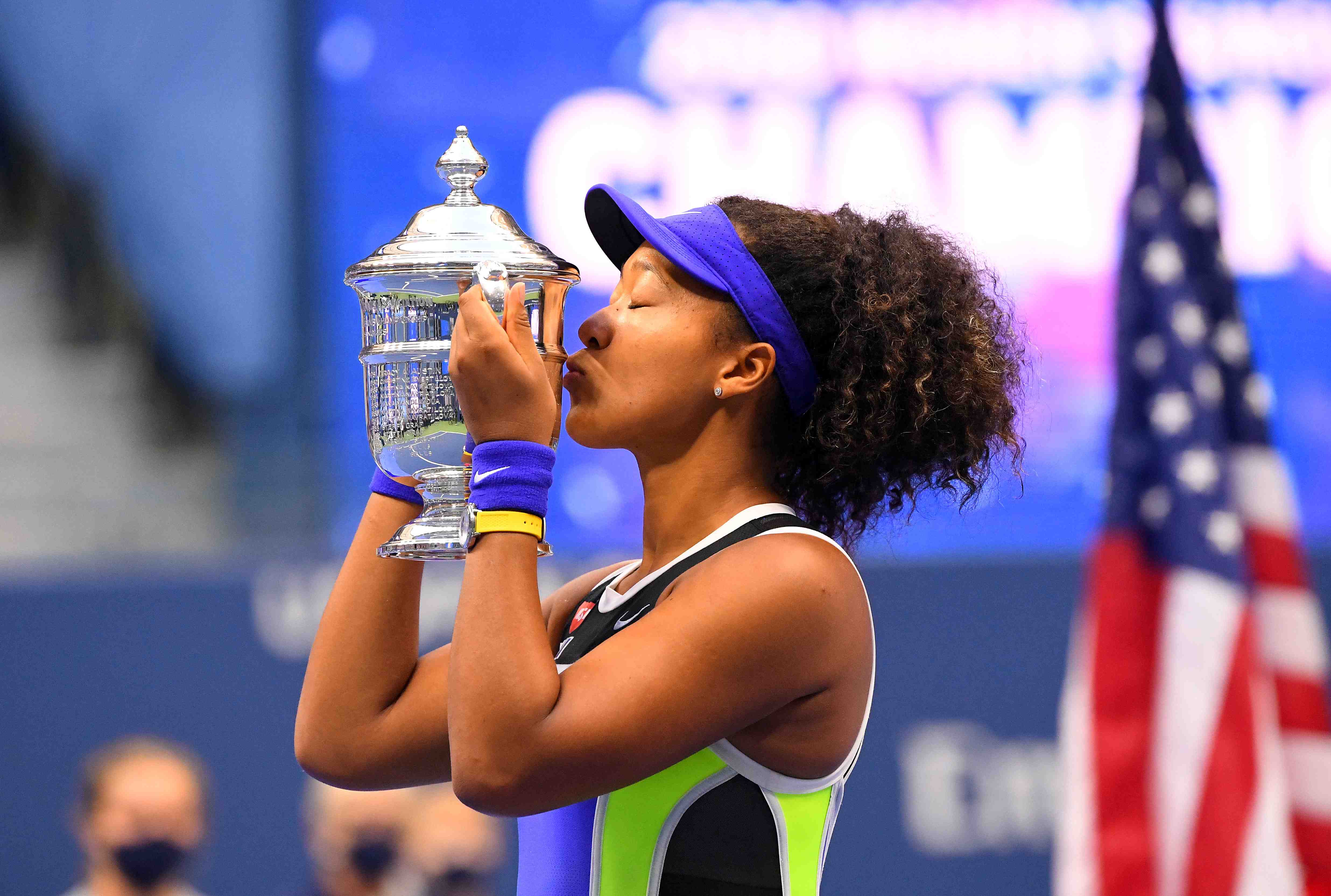 After a lousy start, Naomi Osaka outmuscled and outplayed Victoria Azarenka in the U.S. Open Women's singles final in New York on Saturday, September 12.
For Osaka, the dramatic 1-6, 6-3, 6-3 verdict produced the third Grand Slam title of her career, after ascending to stardom with back-to-back triumphs at the 2018 U.S. Open and the 2019 Australian Open.
The world No. 9 regained her form in the second set, then steamrolled past Azarenka, a 31-year-old from Belarus at the USTA Billie Jean King National Tennis Center.
In doing so, the 22-year-old Osaka delivered what has been a rare type of victory in the women's finale at this tournament: a comeback.
Since Arantxa Sanchez Vicario defeated Steffi Graf in 1994, no woman has lost the first set and then won the event's final.
''I wasn't really thinking about winning. I was just thinking about competing,'' Osaka said later. ''Somehow, I ended up with the trophy.''
Osaka had 13 unforced errors in the first set, which lasted 26 minutes. She dug herself a big hole early on.
"I thought it would be embarrassing to lose in an hour, so I had to change my attitude," Osaka told reporters. "In the first set I just was so nervous. I was too much in my own head. I just didn't want to lose 6-1, 6-0."
Indeed, the Japanese-Haitian was determined to turn the tide, and recovered en route to victory in 1 hour, 53 minutes.
"I didn't really enjoy that. It was a really tough match for me," Osaka admitted afterward.
Osaka earned $3 million USD for winning the U.S. Open. Azarenka collected $1.5 million. Watch the trophy presentation here.
Above: With determination and focus after losing the first set, Naomi Osaka rallied to beat Victoria Azarenka. The World No. 4 made 13 unforced errors in the first set, then cut it down to five in the second set as she rallied to even the match.
Playing before 23,000 fans at the 2018 final, when Serena Williams drew attention to herself for her barrage of verbal abuse at the chair umpire, Osaka experienced a different atmosphere against Azarenka. With no general audience, there were approximately 200 tournament workers at Arthur Ashe Stadium to watch the match—another reminder of the COVID-19 pandemic and the uniqueness of the current global crisis and sports landscape.
It was also a U.S. Open unlike past editions based on the tourney field. Six of the top 10 women in the world rankings, including No. 1 Ash Barty, decided not to compete due to the coronavirus.
"It was different because I feel I'm a different person than I was back then," the fourth-seeded Osaka commented afterward. "This one feels different because of the circumstances I'm under. There (was) a lot of stuff going on the last time."
The turning point in the match occurred after Osaka fell behind 2-0 in the second set.
Osaka took a 4-3 lead after breaking Azarenka's service twice. She also cut down on her unforced errors in the second set, making just five, and began accumulating points on a more consistent basis as her powerful returns produced the intended results. A backhand winner pushed the advantage to 5-3 in the second set, and it was clear that Osaka had rediscovered her focus.
In the decisive third set, Osaka jumped to a 3-1 lead, which was punctuated with a memorable 17-shot exchange that she won.
The former world No. 1 had broken Azarenka's serve, then fell behind 0-40 in the next game.
Osaka went on to win the game to make it 4-1, with Azarenka squandering three break points along the way. Moments later, Osaka completed her title quest.
While the unseeded Azarenka got off to a strong start in the championship match, she couldn't add to her collection of Grand Slam titles. She was the 2012 and 2013 Australian Open champion, with those wins followed by defeats in the U.S, Open title match later in both years.
Osaka, on the other hand, utilized her smashing forehand and effective backhand with more consistency and capitalized on her serves, too.
Despite the disappointment of her result against Osaka, Azarenka relished the opportunity that presented itself.
''I'm very grateful for the opportunity to play in front of millions of people watching on TV,'' Azarenka told reporters. ''Unfortunately, they're not here.''
Sharing the Spotlight
Azarenka and Osaka were also scheduled to meet in the Western & Southern Open final on August 29. Azarenka won it in a walkover after Osaka pulled out of the match due to a left hamstring injury.
After actually playing Osaka in a final two weeks later, Azarenka summed up the experience of meeting her and following her run through the tournament this way in a ceremony on the court: "Congratulations to Naomi. Congratulations on an incredible two weeks for you. I hope we can meet in some more finals."
Throughout the U.S. Open, Osaka wore protective face masks that shined a spotlight on the Black Lives Matter movement. Before each match, Osaka showed up on the tennis court with a different mask, with another name on it in bold letters, the victims of police brutality and racial violence on display: Philando Castile, Trayvon Martin, Ahmaud Arbery, George Floyd, Breonna Taylor Elijah McClain, and Tamir Rice.
It was a powerful symbol of protest with the big spotlight on her during the two-week tournament.
"The point is to make people start talking," Osaka said of her decision to wear the customized masks, according to The Associated Press.
Reflecting a bit more on that point, Osaka had this to say in front of TV cameras:
Everything that I was doing off the court was sort of on the court at the same time too. It made me stronger because I felt like I have more desire to win because I want to show more names.
When it was over, Naomi Osaka laid down on the court for nearly a minute and soaked it all in, absorbing the totality of emotions that had fueled her victory.
What's more, she wanted to experience what she's seen numerous champions do over the years: after a title match: lay down and savor the moment.
"I saw them look to the sky," Osaka told reporters, referring to past champions. "I always wanted to see what they saw. I'm really glad I did it."
Without fans in the stands to cheer, this was, obviously, a more personal moment than past tournaments. But it still had the focus of big media coverage back home in her native Japan and throughout the world.
Author: Ed Odeven
Follow Ed on JAPAN Forward's [Japan Sports Notebook] here on Sundays, in [Odds and Evens] here during the week, and Twitter @itsjapanforward.