[JAPAN SPORTS NOTEBOOK] Koji Murofushi Steps Into Top Job at Japan Sports Agency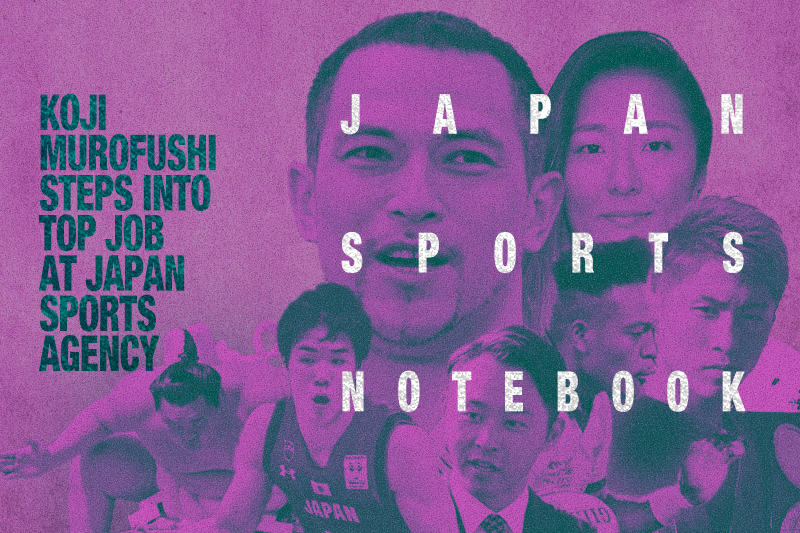 Koji Murofushi, the departing sports director for the 2020 Tokyo Olympics and Paralympics, has acquired big responsibilities as the new head of the Japan Sports Agency, the nation's governing body for sports.
The national government on Friday, September 11, appointed Murofushi 45, to serve as the JSA's next commissioner. He replaces ex-swimmer Daichi Suzuki, who held the position for the past five years.
Suzuki's contract concludes at the end of September.
While Murofushi's Tokyo 2020 job is ending, a new challenge awaits.
"I know that Mr. Murofushi will prove a dependable partner at the helm of Japanese sports administration as we work together toward the success of the Tokyo 2020 Games," Tokyo 2020 President Yoshiro Mori said in a statement.
Murofushi is a well-known figure in the Japanese sports world from a family of athletes. He is a four-time Olympian hammer thrower who nabbed the 2004 Athens Games gold, and the bronze at the 2012 London Games.
In recent years, Murofushi, who has a PhD in sports biomechanics, has worked as a professor and chief of the Sports Science Center at Tokyo Medical and Dental University, while also serving on the Japanese Olympic Committee board.
The Japan Sports Agency previously existed as a smaller operation. It was known as the Sports and Youth Bureau under the Ministry of Education, Culture, Sports, Science and Technology's organizational charge before being rebranded as a separate government entity in October 2015.
Indeed, Murofushi is quite familiar with the leadership landscape of Japanese sports. Preparing for the Tokyo Games—before and after the delayed start in July 2021—he's been around and a part of big decisions.
In short, he appears to be Suzuki's logical successor.
Baseball
Hara Surpasses Kawakami as Giants' All-Time Winningest Manager
The title-chasing Yomiuri Giants chalked up another victory on Friday, September 11, and manager Tatsunori Hara recorded another milestone as the dugout boss.
The Giants' 2-1 victory over the Tokyo Yakult Swallows was Hara's 1,067th regular-season win at the helm, giving him one more than legendary skipper Tetsuharu Kawakami, who led the team from 1961-74.
"I can't believe I have surpassed manager Kawakami, my predecessor who shined like a god," Hara was quoted as saying by The Yomiuri Shimbun. "I will always treasure this, while continuing to fight on and take on challenges."
Ex-teammate Sadaharu Oh, baseball's all-time home-run king, appeared on a congratulatory video after the game.
"The job of Giants manager among the 12 pro teams is extremely tough with immense pressure," Oh commented on the video, according to The Yomiuri Shimbun. "For a Giants manager to reach 1,067 wins, he has to overcome obstacles..."
Hara is in his third stint in charge of NPB's most storied franchise, having returned to the high-pressure job before the 2019 season.
Kawakami guided the Giants to 11 Japan Series titles, including nine straight from 1965-73.
This year's Giants have the best record in NPB (44 wins, 22 losses, four ties) through September 12.
Akiyama Adjusts to MLB Pitchers
Cincinnati Reds outfielder Shogo Akiyama is paid to get hits and to get on base as often as possible.
On-base percentage is one statistic that gives a pretty good indication of a hitter's tendencies, including if he draws walks—that is, gets on base consistently by making a pitcher pay for throwing too many balls.
Through September 10, Akiyama had a solid .483 on-base percentage in his past 10 games. This included eight hits and five walks in 29 plate appearances.
Akiyama, who's in his first season with the Reds after a long, productive career with NPB's Saitama Seibu Lions, had a pair of hits in back-to-back games earlier this week against the Chicago Cubs.
In a 3-0 loss on Tuesday, September 8, he went 2-for-4 with a walk. A day later, he finished with two hits in four at-bats in a 3-0 victory.
In analyzing his hitting this season, the Cincinnati Enquirer noted that the 32-year-old "worked on improving against fastballs at the top of the strike zone. That was a weakness for him at the start of the season."
Akiyama elaborated on that point in comments published by the Ohio newspaper.
"I'm really focusing on not trying to ground out every time, but in the first half of the season, I was getting beat and swinging-and-missing on high fastballs," Akiyama was quoted as saying. "I was trying to swing from the top a little bit, but, because of that, it was easier to hit the ball into the ground."
He continued: "I didn't really know if swinging and missing on high balls was due to my bat speed, or not being able to understand the top of the strike zone."
RELATED COVERAGE: [JAPAN SPORTS NOTEBOOK] MLB Rookie Shogo Akiyama Prepares for Season Despite Unknown
Darvish Win Streak Ends
Chicago Cubs hurler Yu Darvish's seven-game winning streak came to an end on Wednesday, September 9.
Darvish (7-2) allowed a three-run homer to Mike Moustakas with two outs in the first inning of a 3-0 loss to the Cincinnati Reds at Wrigley Field. He pitched six innings, striking out nine and walking three.
NPB Batting Leaders
Masataka Yoshida of the Orix Buffaloes leads NPB in batting with a .363 average through September 11, with 93 hits in 256 at-bats.
Among Central League batters, Yokohama DeNA BayStars standout Keita Sano is No. 1, hitting at a .350 clip (97-for-277).
Boxing
Inoue-Maloney Title Fight Set for October 31
Bantamweight champion Naoya Inoue is scheduled to defend his IBF and WBA titles against Australian Jason Moloney on October 31 in Las Vegas, it was announced on Wednesday, September 9.
Inoue (19-0, 16 knockouts) will be making his U.S. debut at the MGM Grand Conference Center on Halloween. The highly anticipated bout will be held behind closed doors.
The popular 27-year-old fighter, who's known as "The Monster," previously captured the WBC light flyweight and WBO super flyweight titles.
In an online news conference on the day that the fight was announced, Inoue said he wants to entertain boxing fans who watch the fight away from the venue.
"I want to put on a fight that gets the people watching on video pumped up," Inoue told reporters, according to Kyodo News. "The catch is there won't be a crowd. Whether I end it decisively or not, I want to fight with great expectations."
Moloney, who is 21-1 with 18 KOs as a pro, said he's confident that he can defeat Inoue.
"I think Inoue is a great fighter and right now the No. 1 bantamweight in the world and probably pound-for-pound top 5," the 29-year-old Moloney was quoted as saying by BoxingScene.com.
He is very explosive and has a lot of power, but I also see him as another man with two arms and two legs.
I think every fighter has weaknesses and every fighter can be beaten. I believe that I have what it takes to beat Inoue and this is my big opportunity to prove it.
Inoue expects punching power to be a key factor in the fight's outcomes.
"Moloney has stamina, and if we get tangled up in the second half of the fight it's going to turn into a mental battle," Inoue said.
But he said he'll be ready to rumble.
"I'll be in perfect condition (for the fight)," he predicted.
Soccer
Women's World Cup Winner Nagasato Joins Men's Amateur Team
Veteran forward Yuki Nagasato, who competed for Nadeshiko Japan at the 2011 Women's World Cup, has finalized a deal to play for the Kanagawa Prefecture League's Hayabusa Eleven, a men's amateur team.
The deal, which was announced on Thursday, September 10, has generated attention within the global soccer community. After all, it's not a typical contractual signing.
Nagasato, 33, has played for the Chicago Red Stars of the National Women's Soccer League since 2017. She earned 132 caps and scored 58 goals for Japan from 2004-16.
"My performance and condition are improving as I get older," said Nagasato, who went by her married name (Ogimi) from 2012-16 before getting divorced, said at a press conference. "I'm looking forward to taking on the challenge."
"Honestly speaking, I don't know how well I will be able to play on the men's team, but I will do my best to make the most of my experience," she added, according to The Associated Press. "My performance and conditioning are getting better as I get more experienced."
ESPN's Graham Hays noted that Nagasato would not be the first woman aiming to play on a men's semi-pro or pro squad.
"Earlier this year," he wrote, "the Netherlands FA announced 19-year-old Ellen Fokkema would be allowed to play for VV Foarut in the domestic ladder's ninth tier as part of a pilot program. Women were previously barred from playing for Category A teams beyond the under-19 age group. Current North Carolina Courage and Canada goalkeeper Stephanie Labbe also attempted to play for a men's team, Calgary Foothills FC, in 2018. She went through training with the team but was ultimately prohibited from continuing by league rules regarding gender."
Swimming
ISL Reveals New Team Will Be Called Tokyo Frog Kings
The International Swimming League, an upstart circuit with franchise-based teams on three continents, is making preparations for the 2021 season.
The ISL's second season is slated to start on October 16 with 10 teams.
The Toronto Titans are one of two new expansion teams.
The other? The Tokyo Frog Kings, whose moniker is a tribute to general manager Kosuke Kitajima. He was known as the "Frog King" during his ultra-successful swimming career, which included four Olympic breaststroke gold medals.
The Frog Kings have hired longtime former University of Southern California swimming coach Dave Salo to serve in that role.
Sumo
Coronavirus Forces Tamanoi Stable to Skip Autumn Basho
After 19 wrestlers from Tamanoi stable recently tested positive for COVID-19, the Japan Sumo Association confirmed on Thursday, September 9 that the stable will not participate in the upcoming Autumn Grand Sumo Tournament.
The stable's cluster infection also affected juryo wrestler second-division Fujiazuma, the JSA reported.
The 15-day event begins on September 12 at Ryogoku Kokugikan in Tokyo.
In related news, yokozuna rivals Hakuho and Kakuryu, as expected, have both withdrawn from the Autumn Basho due to injuries. The two Mongolians also pulled out of the July Grand Sumo Tournament due to knee and elbow injuries, respectively.
Which means ozeki Asanoyama and Takakeisho are expected to be the top title contenders at Ryogoku Kokugikan.
Rugby
Matsushima Appears in French 14 Season Opener
Kotaro Matsushima, a fan favorite at the 2019 Rugby World Cup, brought his high-speed version of the game to France for the just-underway season.
In Clermont's 33-30 victory over defending French Top 14 champion Toulouse on September 6, Matsushima displayed his energy and athleticism in the early going before sustaining a right thigh injury in the 16th minute.
"I had a short time on the ground today but I played well and put on a good show," Matsushima, who scored five tries in the 2019 RWC, told reporters after the match. "The fans were cheering like crazy and it's been a lot of fun playing here," said Matsushima, who was instrumental in helping the Brave Blossoms reach the Rugby World Cup quarterfinals for the first time last year.
"I came into the match in really good form. I felt like I played perfectly until I got hurt," he added, according to Kyodo News.
Basketball
Yudai Baba Travels to Australia, Begins Quarantine Period
Shooting guard Yudai Baba, who has signed a contract to play for Melbourne United, departed Japan on Monday, September 7 to begin a 14-day quarantine period in Australia, LivOn Global Sports Management, which represents him, announced on the same day.
Baba spent the 2017-18 and 2018-19 seasons with the Alvark Tokyo. The Toyama native was named MVP of the B. League championship game in his second season with the squad, then competed for the NBA G League's Texas Legends in 2019-20.
Australia's National Basketball League is tentatively set to begin its season in December.
RELATED COVERAGE:
BASKETBALL | Yudai Baba Signs Deal with NBL's Melbourne United
[ODDS and EVENS] Yudai Baba Plays Waiting Game as Melbourne United Copes With COVID-19 Crisis
Editor's note: Interested in submitting a news item for possible inclusion in the Japan Sports Notebook? Send an email with relevant information to e.odeven@japan-forward.com, or JAPAN Forward's comment's page or Facebook page and look for future editions of Japan Sports Notebook on our website.
Author: Ed Odeven
Follow Ed on JAPAN Forward's [Japan Sports Notebook] here on Sundays, in [Odds and Evens] here during the week, and Twitter @itsjapanforward.