The Abe Legacy: How Japan Got its Mojo Back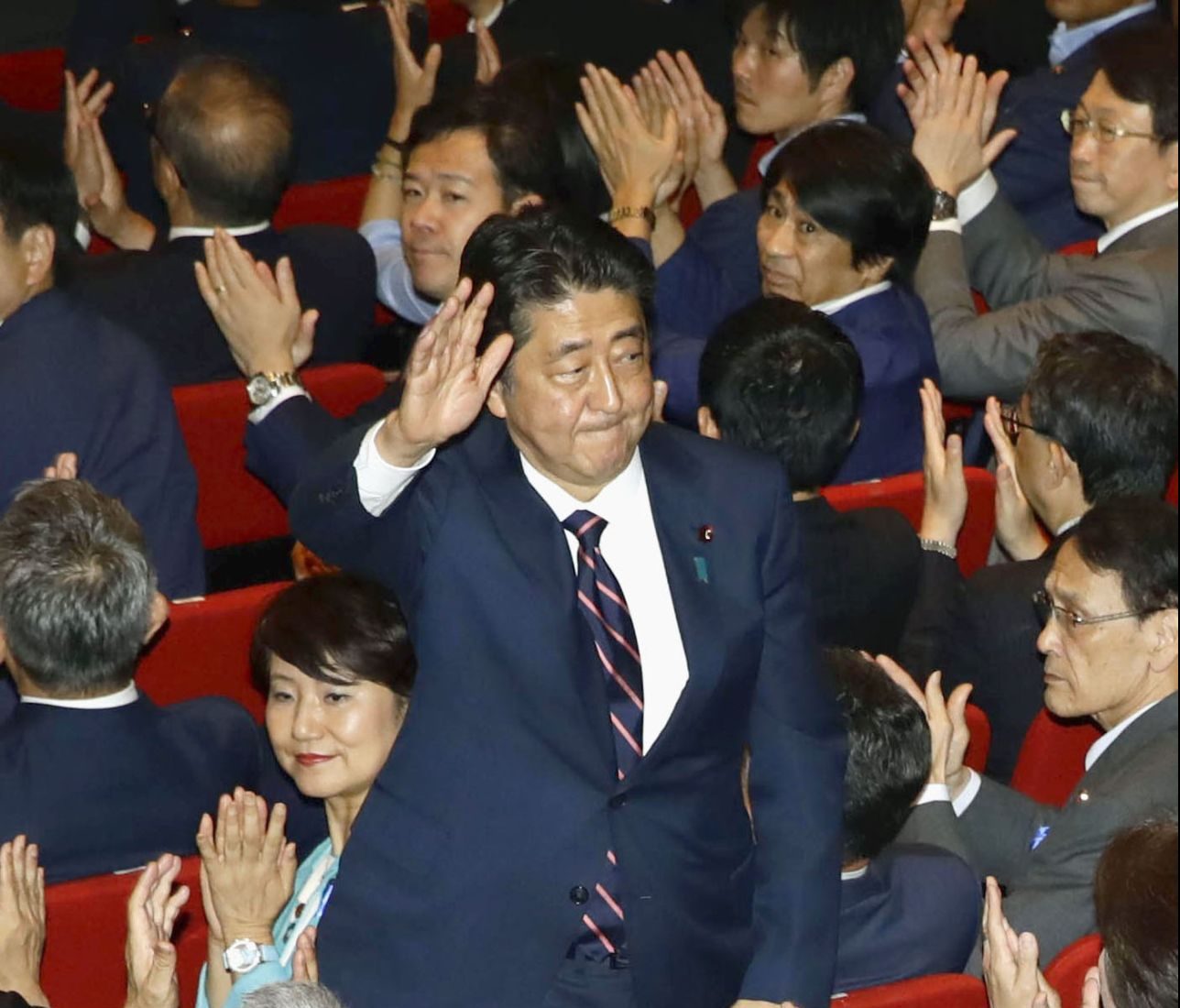 I first met Shinzo Abe when Japan's bubble economy was at its zenith. Not yet a politician himself, he was deputizing for his father as the guest of honor at the wedding of one of my colleagues.
The widely respected Shintaro Abe was foreign minister at the time and tipped as a future prime minister. Shinzo, his second son, was pleasant and polite at the wedding, but gave little indication of being the man to shake Japan out of a two decade malaise and preside over radical change in macro economic policy, the labor market, corporate behavior and foreign policy settings, as well as transforming the role of prime minister itself.
Of course, the necessity for such a shake-up was hardly imaginable back then. But the collapse of Japan's real estate market and stock market was to plunge the economy into a self-perpetuating cycle of financial crisis and deflationary stagnation.
Just as the bad times were getting started, Shintaro Abe passed away at the relatively young age of 67, leaving his son to take over his constituency in Yamaguchi Prefecture, in the far west of Japan's largest island.
My awareness of Abe revived at the turn of the century, when he challenged the establishment consensus on the issue of Japanese citizens abducted by North Korean agents. At the time, left-wing friends assured me that no abductees existed. The whole story had been concocted by South Korea's CIA, they said, in order to discredit the North Korean regime. Japan's top police and security officials must have known differently, but they chose to say nothing, while one heavyweight in the ruling Liberal Democratic Party appeared, disgracefully, to have a financial relationship with the North Koreans.
The mainstream view was "don't rock the boat." Abe disagreed and rocked the boat hard.
Eventually North Korean leader Kim Jong Il, (father to current leader Kim Jong Un,) admitted the abductions and some of the abductees were allowed to return to Japan. Others, tragically, remain unaccounted for.
The issue propelled Abe into the public eye. It also confirmed in my own mind that he was an unusual kind of Japanese politician, one who found aspects of the status quo unacceptable and was determined to change them, even if it meant butting heads with senior figures in his party. He was much tougher than he looked.
In 2007, Shinzo Abe was the first post-bubble politician to become Japanese prime minister. This first stint in office lasted just one year. It was not a success, mainly because Abe had no plan for economic revival, and without that any notion of bolstering Japan's national confidence and global presence would remain a pipedream. Health problems flared up, appearing to end Abe's career as a frontline politician.
Once again, I had underestimated the man's tenacity and sense of mission. Second acts are rare in Japanese politics, but Abe returned to the party leadership in 2012, this time armed with a radical programーsoon to be dubbed "Abenomics"ーwhich aimed at shaking Japan out of its economic doldrums. He had assembled a small group of economic thinkers who were sophisticated and talented, but outside the circle of conventionally-minded policy advisors who seemed resigned to "managing decline" rather than reversing it.
In the December general election, Abe ended the Liberal Democratic Party's three year spell in the wilderness with a landslide victory. It was to be the first in a string of such electoral triumphs. Japan, it seemed to me, had been secretly yearning for something like this for a long time. For that very reason, I had little doubt that the new approach would work.
Even so, it took a great deal of courage and commitment, as well as organizational ability, to make it happen. Media pundits, bureaucrats and even some high-profile investors warned that Japan was on the path to national destruction, that the yen would slump to 360 to the dollar, that the bond market would collapse and interest rates soar to double digit levels.
So what important changes took place during Abe's second spell as prime minister?
The past, they say, is another country. And sometimes it is hard to recall how bad things were in 2012, when Japanese nominal GDP was no higher than it had been in 1992. The Nikkei Index of stock prices stood at 9,000, the same as in 1984. Today it tops 23, 000.
Even after the ravages of Covid-19, there are more job vacancies than applicants, and the unemployment rate of 2.9% is well down on the 4.2% that prevailed in 2012.
The improvement in the social mood can be gauged by the suicide statistics, which are closely related to economic conditions. In 2012, the number of Japanese who ended their lives by their own hands was 30, 651. In 2019, it was 19,959, the lowest level since records started in the late 1970s.
Far-reaching structural changes have happened too. Tourist arrivals in 2012 were just 8 million. In 2019, the number was 32 million. The number of foreign workers has doubled to 1.7 million, to the extent it has become common to hear foreigners of different nationalities conversing in Japanese.
By taking on the effective leadership of the Trans Pacific Partnership free trade agreement (now called the Comprehensive and Progressive Agreement for Trans-Pacific Partnership) and negotiating zero-tariff deals with the EU and the UK, Japan is committing itself to further economic restructuring in the years ahead.
"Womenomics" is still a work in progress. But over time, Japan's endemic labor shortage will surely require Japanese companies to take Abe's "hataraki kaikaku" (reform of working practices) seriously and offer more flexible and attractive employment conditions to an increasingly diverse workforce, including women, foreigners and elderly people.
In foreign policy, Abe had the difficult job of boosting Japan's security relationship with the U.S. while simultaneously hedging against its demise. Hyper-active personal diplomacy bore fruit, particularly with India, Australia and Vietnam, natural allies against an increasingly assertive China.
Thanks to Covid, there was no opportunity for the badly-needed reform of Japan's U.S. imposed constitution, one of the few in the world never to have been amended. This too should be a question of time. According to a Nikkei poll, 46% of people in the 18-39 age bracket support constitutional reform against 30% who oppose it. For the over-60s, the proportions are reversed - 32% pro and 44% anti. Interestingly, it is the older people who are most opposed to the increase in foreign workers too. They like things the way they were.
Not everything was perfect in Abe's second premiership. Two unnecessary hikes in the consumption tax sucked the life out of the economy's reflationary momentum. Some trivial, but poorly-handled financial scandals perpetrated by associates eroded his political capital.
All in all, though, he leaves office with his country in a much better place than he found it.
How many political leaders can you say that for these days?
Author: Peter Tasker