The 'Attractiveness' of Japan: JPX chief Akira Kiyota Talks About New Reasons to Invest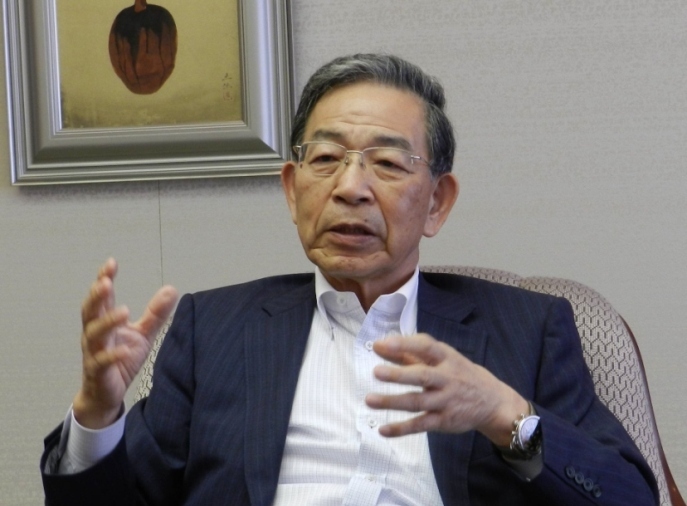 Japan may be facing a population decline, and observers say this could limit its inherent potential for economic growth, but Akira Kiyota can convince you that this is not the right way to look at investment prospects here. There is a certain "attractiveness" about Japan that has to be highlighted, he says, and points to Saudi Aramco's planned initial public offering (IPO) as an example.
The chief executive officer of the Japan Exchange Group, of which the Tokyo Stock Exchange is one component, sat down with JAPAN Forward for an interview. He spoke about the IPO of Saudi Aramco that is expected in 2018, among other things.
"I got the sense that they are looking positively at this [listing on the Tokyo Stock Exchange]," he said. If it comes to pass, "It will be completely different from previous listings on the TSE by foreign companies. It will mean that the capital market in Japan has gained global recognition."
Here are excerpts of Kiyota's interview with Sankei Shimbun's Akihiro Morita:
You are involved in wooing the Saudi Aramco IPO to the TSE. What has been the response?
Last year, at the end of December, I visited the Saudi capital Riyadh and met with Deputy Crown Prince Mohammad bin Salman Al Saud. At that time I received a statement from the Deputy Crown Prince that the TSE was being actively considered as an important candidate. Then, in April this year, Koichiro Miyahara of the TSE visited Riyadh and met with the Chief Executive Officer and Chief Financial Officer of Saudi Aramco. He too received the impression that there was positive consideration [of listing on the TSE].
In any event, in addition to the TSE, the London Stock Exchange, the Hong Kong Stock Exchange, and the New York Stock Exchange were already working to attract Saudi Aramco. There are also some reports that the Toronto Stock Exchange is active, but we have not verified this. At the very least, it is certain that currently the TSE is one of the important candidates. I would say that, if London and New York are chosen [for the Saudi Aramco listing], selecting either Tokyo or Hong Kong would be advantageous in terms of trading hours.

There are various views as to what the market capitalization of Saudi Aramco will be. We really do not know. But the IPO is certain to be of history-making proportions. The exchange that will set the value will be New York. There will probably be only one US listing. Second to New York in terms of market capitalization is Tokyo. London is only half the scale of Tokyo. They could go ahead without Tokyo, but to exclude Tokyo from an IPO of this scale would be taking a big risk.

In the case of the TSE, what special qualities does it have?
In 2015 there were the three IPO by the Japan Post Group. The greater part of the stock was sold to individual investors. If Saudi Aramco lists on the TSE that would strengthen its appearance as a stock for individual investors. This would be quite different from Hong Kong, London, or New York, all of which are noted for institutional investors. I explained to the Saudis our view that if Tokyo was excluded it would close off investor diversification. I asked that they consider listing on the TSE from the perspective of investor diversity.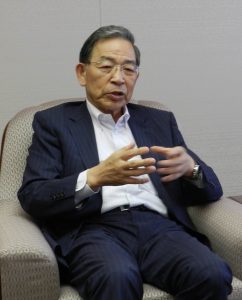 What significance will it have for JPX and the TSE if the Saudi Aramco listing on the TSE comes to fruition?
Because it can be expected that the IPO will be in the trillion yen category, it will be of a completely different order of magnitude from previous foreign company listings on the TSE. Previous listings by foreign firms were at most in the billion yen range. The peak year for foreign firms was in 1991 with 127 listed. But those listings were not really a true utilization of the TSE. At that time the Japanese economy was getting very high marks and listing was a matter of status or brand image. If it comes to pass the Saudi Aramco listing will be orders of magnitude greater. It will have meaning as an IPO rooted in the Japanese capital market. It will also push up the overall market capitalization of the TSE.


In other words there is the expectation that this would make a significant contribution to raising the international standing of JPX and the TSE.
JPX was inaugurated in 2013. From the beginning it was our goal to be "The Most Preferred Exchange in the Asian Region." If we are successful in wooing Saudi Aramco, it will be proof that we are being selected and we will have achieved a major goal. Moreover, this will mean that the Japanese capital market has global recognition and it will a major boost to structuring Tokyo as an international financial center.

The number of foreign companies listed on the TSE has fallen to five.
If we are able to woo Saudi Aramco, that will lead to a re-evaluation of the TSE overseas. We can expect that foreign companies will want to utilize the Japanese capital market. I think this will be the beginning of a TSE resurgence. Of course there is no guarantee that we will be selected, and as a consequence we must make every effort until the very end.
It is a change of subject, but I understand that you have a strong interest in the declining population of Japan.

A fundamental reason for the lack of vitality in the Japanese economy is the declining population. Despite facing population decline, nothing was done and that has come to haunt us. The current Japanese population is roughly 127 million, but there is a high probability that by 2055 it will be less than 90 million.

It is not possible to solve the declining population of Japan with immigrants. It may be appropriate to somewhat relax immigration policy, but there is no necessity of following the path of major western countries either in approach or scale. What they have done is not something we should do.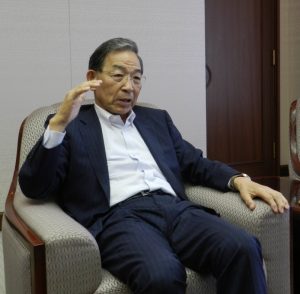 In the face of population decline, what should be done for Japan to regain strength?

Just because the population is declining is no reason for thinking negatively. Recently thinking about how to express what is good about Japan has changed. As one example, I would offer what is covered by the term Cool Japan: foreign interest in animé, Japanese cuisine, and traditional crafts. This is another push factor. In 2016, the estimated number of foreign visitors to Japan was 24 million. In 2006, at the beginning of the first Abe government, the number was somewhat over 7 million. There has been more than a threefold increase.

Previously the source of self-confidence for Japan was its rank as the number two economy in the world. Now, as we move away from economic strength as the indicator, there is the question of how we present the appeal of Japan. What has been created in the two thousand years of Japanese history is leading to a re-evaluation of Japan. Japan is a country without natural resources, but we have geography, environment, and climate. These were not previously thought of as resources, but they fascinate foreigners. A new opportunity to consider how to project Japan has presented itself, an opportunity to consider the appealing aspects of Japan that were ignored when only economic strength and the size of the GDP were being considered.


Mr. Akira Kiyota has been the Group Chief Executive Officer of Japan Exchange Group, Inc. since June 16, 2015 and serves as its Representative Executive Officer. Mr. Kiyota served as the Chief Executive Officer and President of Tokyo Stock Exchange, Inc. until June 16, 2015. Mr. Kiyota served as the Senior Managing Director of Daiwa Securities Group Inc. and served as its Chairman from July, 2008 to April 2011.
(Click here to read the article in Japanese)
Interviewer: Akihiro Morita, a staff writer of Sankei Shimbun, Economical department