The Hot Spring Summit, Part 2: "I Will Not Leave this to the Next Generation"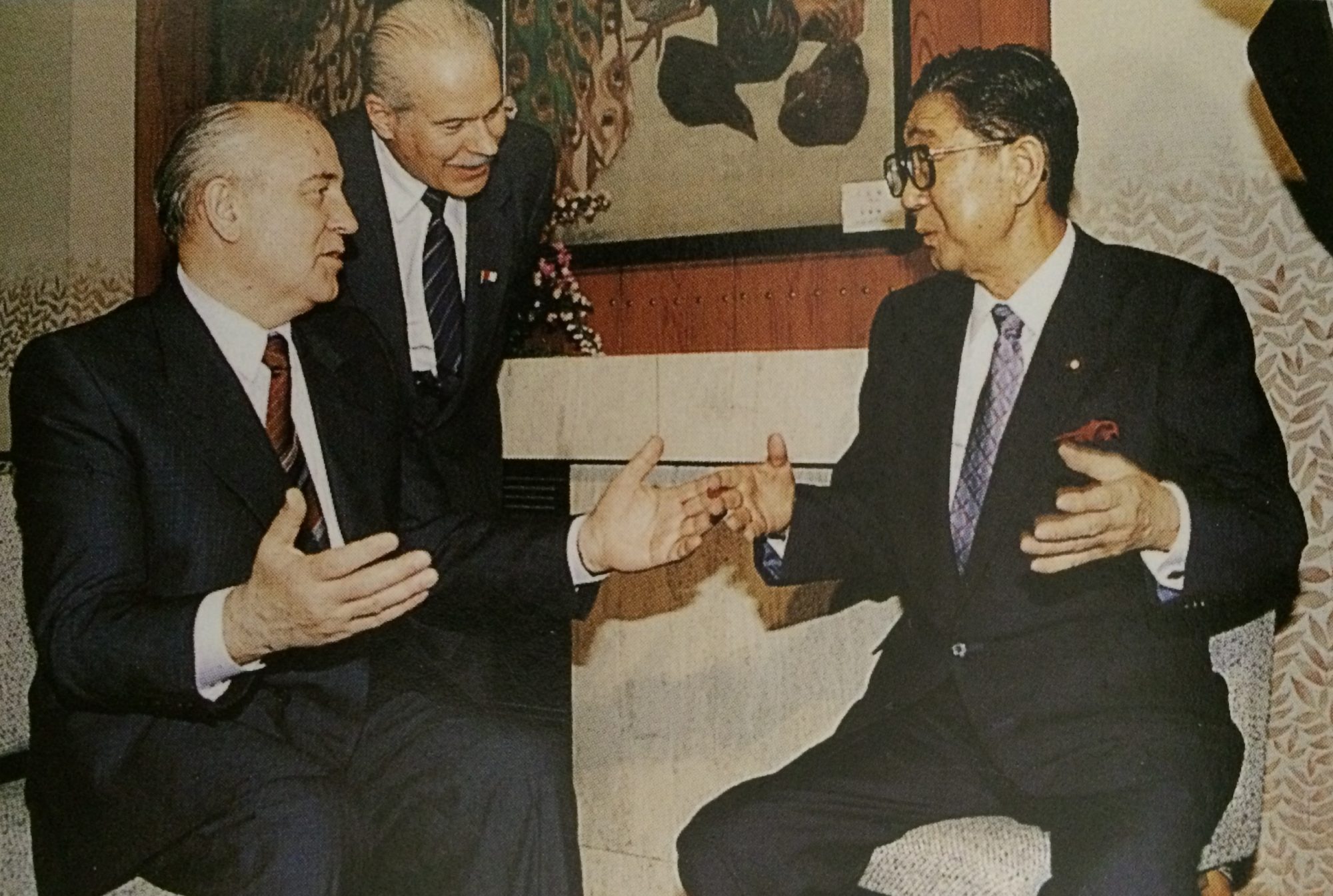 This is the second in a two-part series. You can read part one here
On January 19, 1960, four years after the Japan-Soviet Joint Declaration, Prime Minister Nobusuke Kishi was visiting the White House and signed an amended version of the U.S.-Japan Security Treaty, strengthening the U.S.-Japan alliance and putting the relationship between the two countries on a more equal footing. But it also put negotiations between Japan and the Soviet Union over the issue of the return of the Northern Territories into a stalemate.
Andrei Gromyko, the Soviet Union's Minister of Foreign Affairs, hand-delivered a memorandum to the Japanese ambassador to the Soviet Union, Suemitsu Kadowaki, informing him that due to the amendment to the U.S.-Japan Security Treaty, the transfer of the islands of Shikotan and Habomai, which the Soviet Union had promised in the Japan-Soviet Joint Declaration, had been cancelled.
In August 1961, Anastas Mikoyan, the first deputy premier of the Soviet Union and the first Soviet leader to visit Japan, announced, "The Soviet Union will not return Shikotan Island or the Habomai Islands until the U.S.-Japan security arrangement is dissolved." When Mikoyan visited the United States three years later, he brusquely told Prime Minister Hayato Ikeda that, "Etorofu and Kunashiri may be small islands, but as they are the gateway to Kamchatka, we are not going to give them up."
It was in March of 1985, with the inauguration of Mikhail Gorbachev as the leader of the Soviet Union, that the doors of dialogue began to reopen. Under the banner of Gorbachev's "new thinking in foreign diplomacy," Eduard Shevardnadze, the Soviet Union's minister of foreign affairs who had replaced Gromyko, visited Japan in January 1986.
In May of the same year, Shintaro Abe, then-minister of foreign affairs and father of current Japanese Prime Minister Shinzo Abe, visited Moscow. Gorbachev had told Foreign Minister Abe of his interest in visiting Japan, saying, "It is good that contacts between Japan and the Soviet Union are tending to broaden." But he adopted an icy tone on the territorial issue: "Japan is trying to bring up issues which should not be brought up."
In May 1989, while Minister of Foreign Affairs Sosuke Uno was visiting the Soviet Union, he broached the possibility of rethinking of the prevailing notion that "economics and government cannot be separated, thinking instead that prioritizing the strengthening of economic ties could help encourage an ultimate resolution of the territorial question. For his part, Shevardnadze signaled his belief that it would be possible to conclude a peace treaty even while the U.S.-Japan Security Treaty was still in effect. This was the first time that the Soviet Union had officially accepted the U.S.-Japan alliance.
In the midst of such warming relations between the Soviet Union and Japan, Gorbachev visited Japan on April 16, 1991, his first visit to Japan as leader of the Soviet Union, coming 35 years after Prime Minister Ichiro Hatoyama's visit to the Soviet Union. This was a major opportunity for a breakthrough in Japan-Soviet relations. It had been Shintaro Abe who had been working behind the scenes to make this visit a reality. Wracked by illness, Abe had nevertheless visited Moscow the previous year and personally negotiated with Gorbachev, urging him to visit Japan by saying, "Please, you must come to Japan in the spring of next year, when the cherry blossoms are blooming."
The summit between Gorbachev and Prime Minister Toshiki Kaifu stretched over three days and six separate sessions, for a total of 12 hours and 40 minutes. Gorbachev had said, "There are no forbidden topics between Japan and the Soviet Union. Let us talk about any issue you wish," thus publicly confirming, for the first time, the existence of a dispute over the Northern Territories. In a joint statement, the locations indicated by the term "Northern Territories" were clarified as being the islands of Etorofu, Kunashiri, Shikotan, and the Habomai. The joint statement also included the acknowledgement that a resolution to the Northern Territories issue was a prerequisite to the completion of a final peace treaty between the two countries.
At a welcome lunch to begin the summit, Gorbachev told Abe, "The cherry blossoms are getting ready to bloom. You see that I have kept my promise." Abe responded with a smile, but this was all that his body could manage—he died only a month later. The Soviet Union collapsed in December of that same year and Gorbachev was overthrown. The Northern Territories issue were once more sent back to the drawing board.
The first president of the new Russian Republic, Boris Yeltsin, deepened his personal relationship with his Japanese counterpart Ryutaro Hashimoto. Hashimoto visited Krasnoyarsk in eastern Siberia, in November 1997 where he spent eight hours with Yeltsin , even fishing in the Yenisei River. With a light rain falling outside, Yeltsin pounded the table in the boat and exclaimed, "I want to make this Yenisei River meeting an historic one." Hashimoto answered with, "The territorial issue is not one that we should pass to the next generation" and continued, "I will do everything in my power to conclude a peace treaty by the year 2000." This became known as the "Krasnoyarsk Accord."
At a meeting the following year, Hashimoto offered, "If it can be clearly stated in a peace treaty that the national border between Russia and Japan is a line drawn between Urup Island and Etorofu Island, then we will acknowledge Russia's control over the four Northern Territories islands for the time being, until a separate agreement can be reached." Yeltsin responded, "That is an interesting proposal," as he leaned forward. But at that point, presidential spokesman Sergey Yastrzhembsky whispered something into Yeltsin's ear, after which Yeltsin said, "I will go back to Russia and think about it," and the conversation ended.
In his book "Secret Stories of Russo-Japanese Diplomacy," former ambassador to Russia Tamba Minoru (who passed away October 7) recalls the meeting between then-prime minister Hashimoto Ryūtarō and Russian president Boris Yeltsin in April of 1998: "I still think of that time, when things might have gone in a different direction if Yastrzhembsky hadn't have been there beside Yeltsin. That was a moment when we came very close." The proposal was rejected soon after. Hashimoto was forced to resign following his party's losses in that year's election while Russia was slowly beginning to move towards new leadership under Vladimir Putin.
It was Yoshiro Mori, who became prime minister in April of 2000, who formed a friendship with Putin, who had just been elected the next president of Russia. When the allotted 30 minutes for their first meeting had elapsed, an aide came to say that time was up, but Putin brushed him away. The main purpose of Mori's visit to Russia was to discuss Putin's visit to Japan, but the following general meeting ended without a date having been set. The Russian side had promised to provide an answer before Mori returned to Japan, but at the joint press conference after their meeting Putin said, "The time for my visit to Japan will be decided by the foreign ministries of both countries," reading directly from a memo by Ministry of Foreign Affairs which had been handed to him immediately beforehand.
That night, Mori and Putin watched the ice hockey World Championship, which St. Petersburg was hosting. During a break in the game, Mori buttonholed Putin and tried to get him to make a definite promise to visit Japan, but someone intervened and blocked Mori's move. Mori, a former rugby player, approached Putin anyway, saying to the unknown Russian interloper, "Get out of the way. I've got something to discuss with Vladimir" and then told Putin, "I think you really want to visit Japan, but that the people around you won't let you go. That's how things used to be done in the old Soviet Union. This is Russia now, not the Soviet Union. This can't be how things are."
Putin ultimately accepted Mori's invitation to have direct talks, and announced his intention just before his visit to Japan. "This wouldn't be rude, would it?" Putin had asked. "I don't mind at all," Mori answered, smiling. Finally, on September 3, Putin descended the staircase from his presidential plane at Haneda Airport and shook hands with Mori, who was waiting to welcome him. Mori continued to deepen his friendly relationship with Putin thereafter, saying "Putin is like a Japanese person from the old days. Maybe it's because he does judo. In some ways he can be hard to please, but he's a man who keeps his promises."
A year after he became prime minister, Mori visited Irkutsk signed a statement with President Putin that affirmed, in writing, the legal validity of the Japan-Soviet Union Joint Declaration, and the two nations agreed to the handover of Shikotan Island and the Habomai Islands following the conclusion of a Russia-Japan peace treaty.
However, Mori resigned just one month later and the Japan-Russia negotiations were handed over to Junichiro Koizumi, who was unable to continue progress on the territorial issue. Dmitri Medvedev became the Russian president in 2008, at which point the Northern Territory issue retreated fully into the background.
When Shinzo Abe made his comeback in 2012, becoming prime minister for a second time, he publicly announced that the resolution of the Northern Territories issue was a "political mission." With the help of his predecessor, Mori, Abe has deepened his friendly relations with Putin, who had assumed office for a second time like Abe. Will this be the moment that the territorial issue can be resolved?
Masataka Mine is a political staff writer with the Sankei Shimbun