The Truth About Comfort Women Statues: Setting the Record Straight 
Finding many contradictions in the stories of the comfort women, Kim Byungheon and colleagues are traversing South Korea to correct the historical record.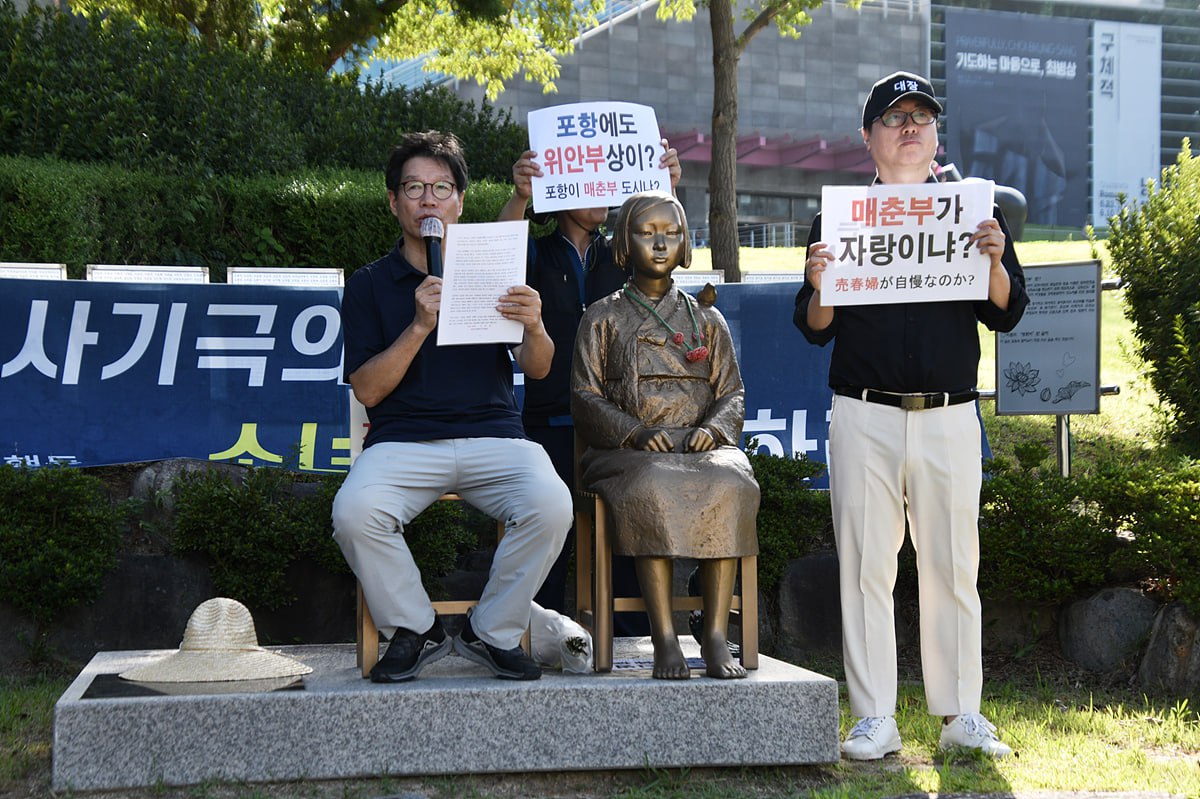 Off the coast of the Korean Peninsula, on Jeju and Ulleung islands, sit life-size statues of a young girl. These matching five-foot bronze monuments are called the "Statue of Peace." They symbolize Korean women who were allegedly abducted and sexually enslaved by the Japanese military as "comfort women" during the Pacific War.
Their image seems serene. However, the monuments have ignited a significant chasm between Japan and South Korea over the last decade.
The first statue was erected in 2011 in front of the former Embassy of Japan in Seoul. That one commemorated the 1000-week anniversary of the Korean Council's Wednesday rallies. Since then, the design has proliferated at an unprecedented rate.
According to a recent book by Japanese writer Kenshiro Hino, there are 155 similar sculptures erected across South Korea alone.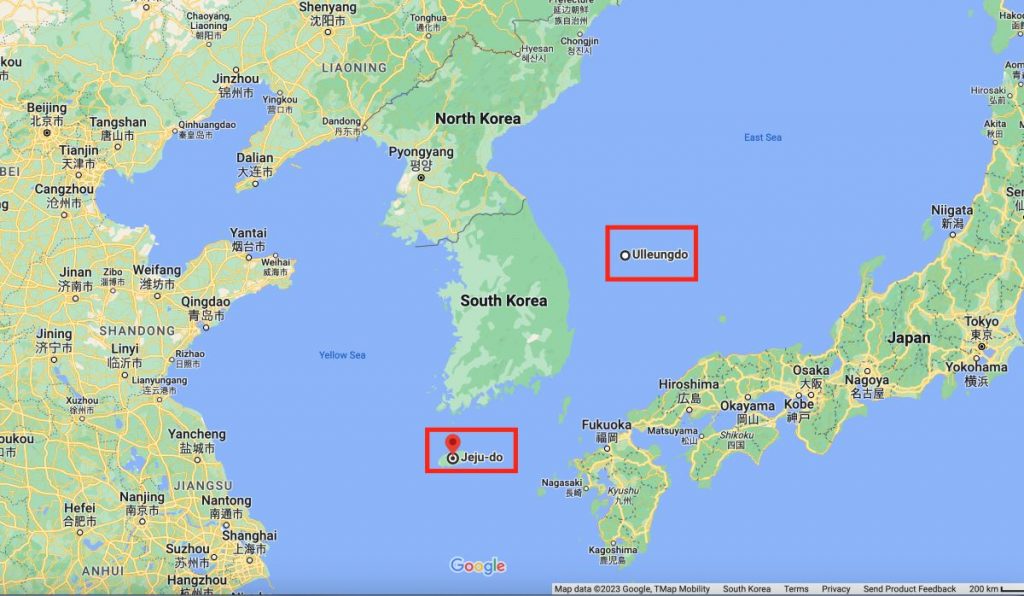 Confronting the Statue of Peace
Starting in 2019, several academics and activists in South Korea began disputing the statute for what they claim is its erroneous and distorted representation of history. Specifically, they contest the monument's inscription that falsely accuses the former Japanese military of kidnapping and sexually exploiting women from its erstwhile colonies.
The group also argues that the naive and youthful effigy misrepresents the majority of former Korean comfort women. Many of them, they contend, were professional wartime sex workers in their 20s.
Spearheading this movement is Kim Byungheon, educator and director of the Korean History Textbook Research Institute. For the past few years, Kim and his team have organized "anti-Statue" rallies in Seoul and throughout the Peninsula. So far, they've hit 30 cities.
"It's my ultimate goal to visit every single one of them within the next few years," said Kim in an interview with JAPAN Forward.
On June 21, Kim's team flew to Jeju International Airport. From there, they then drove several miles south to Bangilri Park. There lies a Statue of Peace erected in 2015 by the student councils of four universities. It was carried out with the collaboration of Jeju Peace Butterfly Network.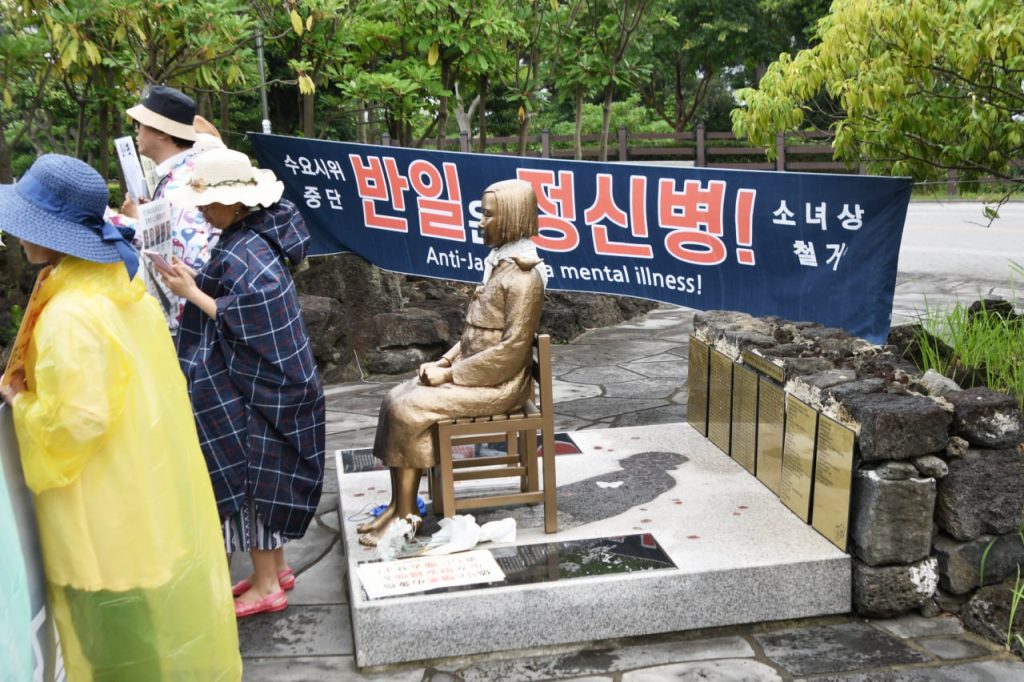 A Site of Forced Abduction?
Jeju Island, besides its ravishing beaches and volcanic landscape, is also the site where 14-year-old Kim Bok-Dong was purportedly "dragooned" by Japanese soldiers. A painting produced by Kim Bok-Dong in January 1988 shows two men in military uniform armed with bayonets pursuing her in a traditional Korean garment. She dubbed her artwork "The Day a 14-year-old Girl Was Taken."
Upon closer examination, one notices that the scenery in the painting has a striking resemblance to Seongsan Ilchulbong and Yuchae Flower Field, renowned tourist sites on Jeju Island.
But there's something quite baffling about this painting. Kim Bok-Dong has publicly claimed to have been born and raised in Yang-sang, a city in mainland South Korea. Moreover, public records indicate that Kim herself has never spoken about coercion by the Japanese military. Her testimonies and the image depicted in her sketch, therefore, are completely contradictory. And no one, until Kim Byungheon's recent examination, has raised the evident discrepancies.
As Kim Byungheon points out, Kim Bok-Dong's painting, her oral testimonies, and a book by Yoon Mee Hyang, former head of the Korean Council (comfort women advocacy group), all tell contradicting stories.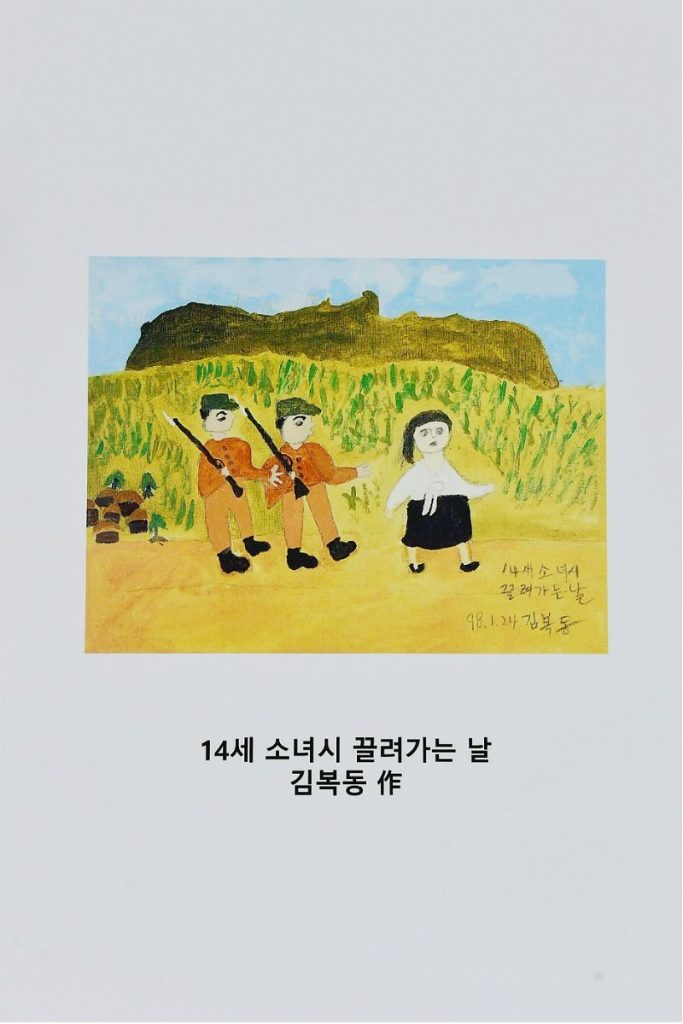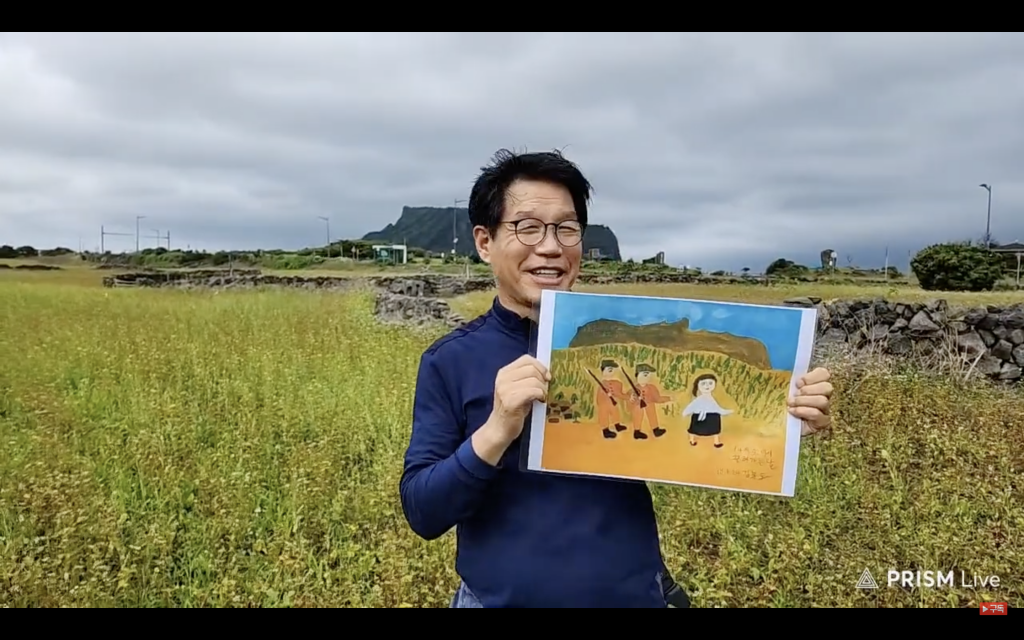 Shifting Testimonies
In an oral testimony at the 1st Asian Solidarity Conference in 1992, Kim Bok-Dong recalled that "a village leader and a Japanese man wearing a yellow attire without a [military] rank" forced her mother to sign a document releasing her to the Volunteer Corps. The year was 1941 and Kim was 16 years of age.
Up until the turn of the century, Kim Byungheon contends that her story remained consistent. However, things started to change eight years after her initial public appearance. "A transcript of Women's International War Crimes Tribunal in 2000 reveals Kim Bok-Dong testifying that a 'village headman' took her away to the Volunteer Corps when she was 15," Kim says. (He referred to the December 4, 2001 oral judgment quoting her earlier testimony, published by the Women's Caucus for Gender Justice.)
Kim Byungheon goes on: "Fast-forward many years, in an interview with Yoshiaki Yoshimi in 2012, she claimed to have been coerced in the same manner at the age of 14. But this time by four men, two in an unranked military uniform, one police, and a village leader." While the distinction may seem trivial, Kim says it's crucial to scrutinize these testimonies for accurate historical records.
Kim Bok-Dong's saga is further complicated by Yoon Mee Hyang's 2016 book, 25 Years of Wednesday. Yoon writes that it was in fact the Japanese military and a village foreman who compelled Kim Bok-Dong to serve in the Women's Volunteer Corps. This, of course, is at odds with what Kim Bok-Dong has said in the past.
The Corps here refers to the Korean Women's Volunteer Corps, better known as teishintai in Japanese. The Women's Volunteer Labor Ordinance, which officialized the Volunteer Corps, was promulgated by the Japanese government on August 23, 1944, not 1941. Here lies another inaccuracy.
'Anti-Statue' Journey Continues
On August 16, Kim Byungheon and his colleagues made another distant trip. This time they traveled to the eastern coast of the Korean Peninsula, to Ulleung Island. The island is located 75 miles off the mainland in the Sea of Japan. Moreover, it requires a 3-hour ferry ride to reach there. And this is where South Korea's easternmost Statue of Peace is erected.
In 2019, Songdam Silver Town, a local nursing home, purchased the Statue of Peace for $30,000 USD. They placed it on their private land. It has since been open for public viewing, mixed in among other sculptures and artistic objects.
When the team finally arrived after an exhaustive trip, they were disappointed. Unexpectedly, the entire monument was covered in a black fabric. The nursing home had obtained information about Kim's visit beforehand and decided to veil the statue.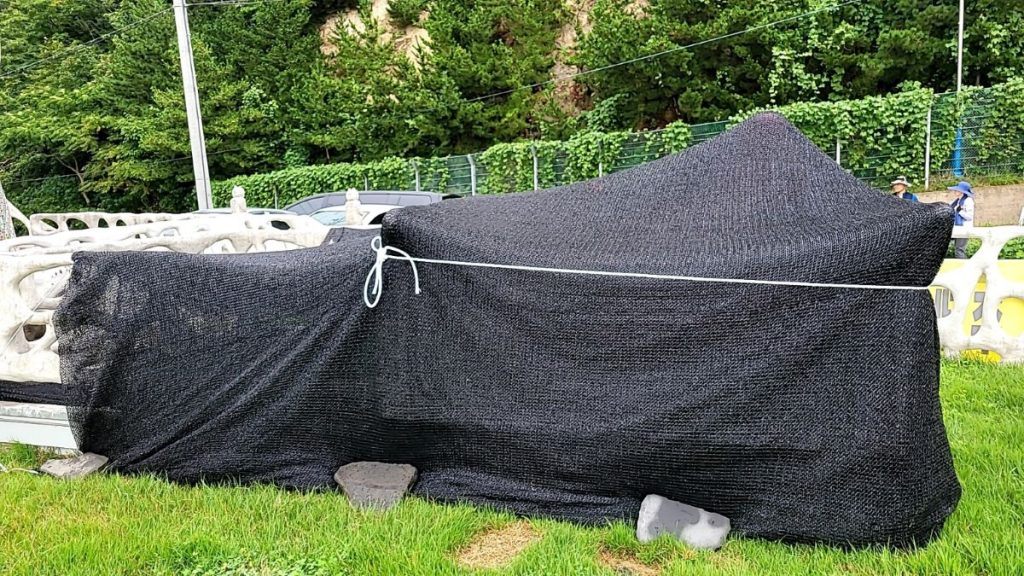 Contacted by a reporter, a staff member at the nursing home explained: "Our Statue of Peace is private property owned by our director. We shielded it fearing the activists might damage the sculpture."
On this, Kim says: "This is the first time we've encountered such a situation. I can understand their concerns, but it's really unwarranted. I conducted hundreds of similar rallies at home and abroad, but never vandalized the monument or intended to do so. Masking a statue seems to defeat its true purpose, does it not?"
Setting the History Straight
The unexpected situation didn't stop the determined Kim from pushing ahead. The 8-member crusaders stood across from the nursing home and continued their planned protest.
As with the monument on Jeju Island, the one on Ulleung Island is accompanied by a contentious epitaph. It includes in English:
December 14, 2011 marks the 1000th Wednesday Demonstration for the solution of Japanese Military Sexual Slavery issue after its first rally on January 8, 1992 in front of the Japanese Embassy. This peace monument stands to commemorate the spirit and the deep history of the Wednesday Demonstration. [Grammar and punctuation original.]
"The term military sexual slavery, could not be further from the truth," Kim stated during the rally. He added, "Korean comfort women were professionals who signed contracts with comfort station owners. And they were only permitted to work upon obtaining a license."
Kim also rebuked the image of a young budding girl being memorialized as a comfort woman. He further demanded the statue's proponents cease propagandistic activities. "The comfort women statues installed here and abroad were manufactured based on distorted and bogus knowledge possessed by the sculptors. […] Therefore, we urge Ulleung County and the organizers to quit deceiving their citizens and remove the Statue of Peace immediately," he chastised.
For his next destination, Kim plans to tackle statues constructed near school districts. He believes that inculcating young minds with erroneous historical views that trigger unnecessary anti-Japanese sentiment is simply cruel and misplaced.
RELATED:
Author: Kenji Yoshida