"This Nobel Prize in Arts is a great honor" ; The Praemium Imperiale Awards Ceremony – Joint Press Conference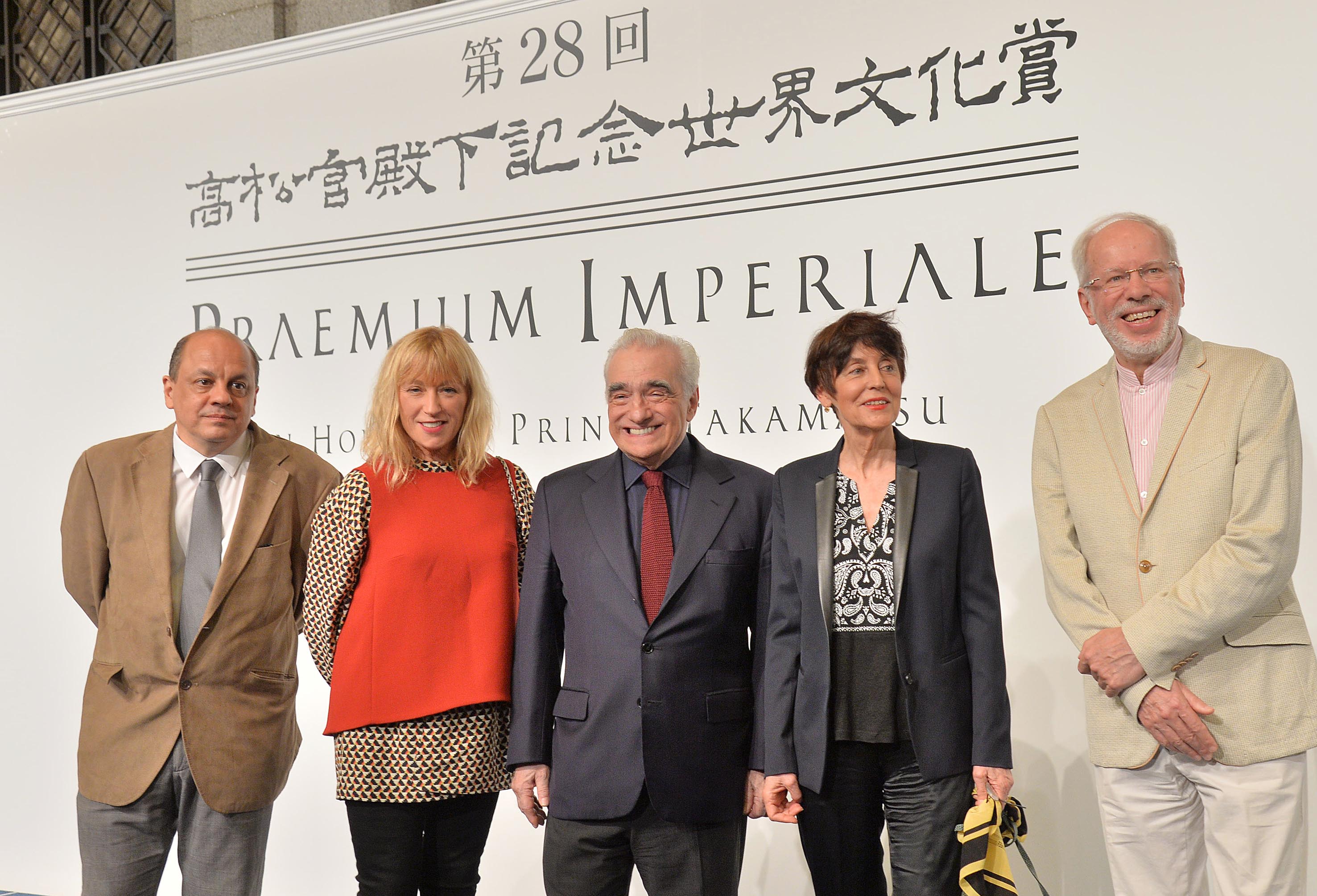 "Japanese culture has had a significant impact on me" – Martin Scorsese, American Theater & Film Director
The Praemium Imperiale, a global arts prize (sponsored by the Japan Art Association, with Honorary Patron H.I.H.  Prince Hitachi) which is rewarded annually to world famous recognized artists, held a joint press conference to honor the recipients of its 28th awards ceremony and its respective international advisors, on October 17th at Hotel Okura Tokyo in Toranomon, Tokyo. The four laureates in the following four categories were present: Painting – Cindy Sherman (age 62) from the USA, Sculpture – Annette Messager (age 72) from France, Music – Gidon Kremer (age 69) from Latvia/Germany, Theater/Film – Martin Scorsese (age 73) from the USA.  Architect Paulo Mendes da Rocha (age 87) from Brazil was not present due to health reasons.
Artist Ms. Sherman stated at the conference that she was greatly honored to receive this prize, which is also known as the Nobel Prize of Arts, amongst renowned artists. Contemporary artist Ms. Messager expressed with a smile how much she loved Japanese literature and cinema, and that it was worth growing old to receive a prize in a country she regards with respect.
Violinist Kremer, who is Latvia's first-time prize winner, said that he was full of gratitude to be awarded with an honorable prize that has also been received by other recognized musicians. One of America's most significant and influential film makers in cinema history, Scorsese, expressed his appreciation on how he had felt the great impact of Japanese culture as a teenager ever since watching the film "Tales of Moonlight and Rain" (Jpn. Ugetsu Monogatari) by Japanese film director Kenji Mizoguchi.  Scorsese was very touched to receive a prize in the country that had enriched his life. Moreover, architect da Rocha's son Pedro (age 54) who was present on behalf of his father, conveyed his father's wish to dedicate his prize to the people who supported his work.
International advisors, consisting of former prime ministers of the represented countries, as well as former Japanese Prime Minister Yasuhiro Nakasone and the four foreign laureates were present at the event, with each of them sharing their views on the significance of this prize.