Tokyo's Memory Piano is Becoming a Hot Topic in Japan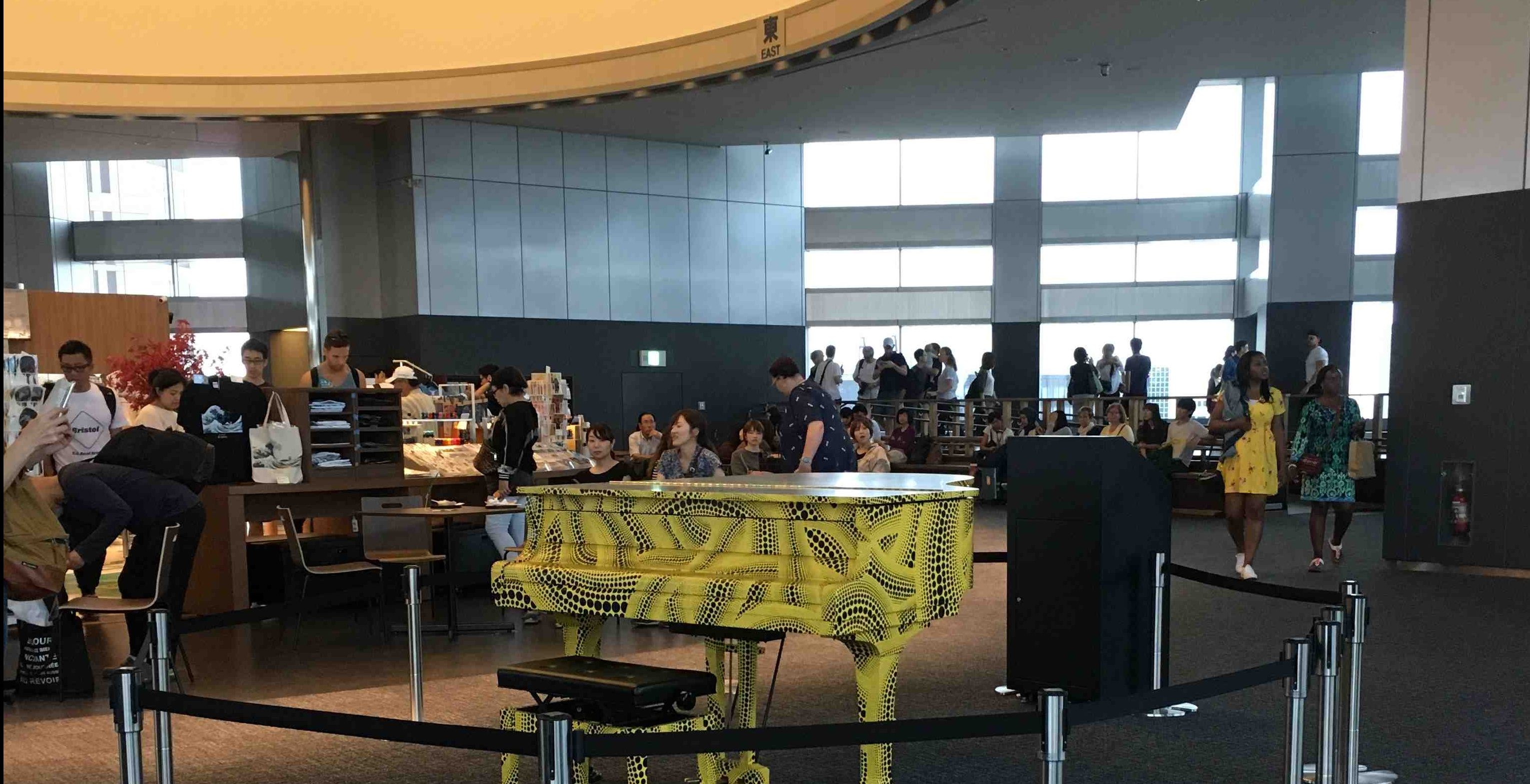 On a cloudy day in late September, I headed for the Tokyo Metropolitan Building (Tocho) to see the famous 45th floor where there is an amazing public viewing area with a full 360 degree view of Tokyo. There, off to one side, I noticed an unusual piece of furniture that seemed to be a center of attention. When I reached it, I found a crowd of visitors around the Memory Piano.
The grand piano, a gift from a Tokyo resident, was revealed last April 8 at the reopening of the remodeled public space in the Tokyo government's Building Number 1, with the hope that it would draw Tokyoites to play and enjoy the beautiful sounds and views.
Japanese artist Yayoi Kusama designed the piano's brightly-colored finish, turning it into a stunning piece.
As I arrived, the room was filled with visitors. Among them were a few dozen volunteers waiting in line for their five minutes of playing time, while the rest of us enjoyed the colorful visual and acoustical performance space.
While I was waiting, I had heard several different languages, suggesting that not only Japanese people but also foreigners visited the observatory. It seemed like a great opportunity to speak to some of them.
First, I spoke to one of the female staff and learned that it was a particularly crowded day, with many pianists and foreigner visitors. Sundays seem to be especially popular.
Feeling more confident, I approached a woman who had just finished playing Für Elise. She said she had played this song many times and could play it without looking at the musical score. She likes playing musical instruments, so she often visits the Memory Piano.
Next, I spoke to a couple of young people waiting in line for their five minutes to play and asked what was their favorite song. Also, I wanted to know if they would share their own childhood memories about piano music. The young woman played Clair de Lune, and the mellow melody created a fantastic atmosphere. She had taken piano lessons from her elementary school days to 11th grade and played Clair de Lune, in a piano competition when she was an 11th grader. Although she has stopped practicing the piano, she has not forgotten this song because she has special feelings for it.
Subsequently, I interviewed her friend. He played Paprika by Kenshi Yonezu, and arranged the song in his own style. It was so cool! He told me that started to play piano from 3 years old and I felt that the piano was important to him.
Both love piano. They first came to see the Memory Piano on the day the space opened in April. They said that in the beginning there were only a few people who wanted to play the Memory Piano. However, the numbers increased gradually over the summer vacation. Now, there is a particularly long waiting time to play the piano over the holidays.
One Youtuber named Harami-chan agreed to my interview. She posts videos in which she plays the piano. At that time on the Memory Piano she played the Japanese song "Shiso Games" (シーソーゲーム~勇敢な恋の歌) by Mr. Children, and "Cinderella Girl" (シンデレラガール) by King and Prince. She explained that the first was a popular song for listeners and the second was chosen for young people. She really showed how she values her fans by the songs she selected to play.
Finally, I approached a woman from Australia who was visiting Tokyo for the first time on a sightseeing tour. She didn't know about the performances until she arrived, but became engrossed in listening. She also shared that there are free pianos all over her city in Australia. Listening to Tokyo's Memory Piano became an unforgettable experience for her in Japan.
On that day, it seemed the pianists and other visitors created a space where feelings and memories mixed warmly.
Do you want to try to play the Memory Piano in the Tokyo Metropolitan Government's observatory 220 meters above the ground while enjoying beautiful views of Tokyo? Why not give it a try?
ADDITIONAL INFORMATION:
Exhibition: Memory Piano (Tokyo Omoide Piano)
Where: Tokyo Metropolitan Government Building South Observation Deck
Access to Observation Decks: To access the Observation Decks, take the Observatory Elevator from the 1st floor of Main Building No. 1.
Please note that the North Observation Deck is closed for renovation between 1 May 2019 (Wednesday) and mid-January 2020.
When: April 8, 2019 - almost every day (more information here)
Please note that the observation decks may be closed at short notice due to bad weather.
Please check the TMG observation deck twitter account @tocho_tenbou (in both English and Japanese) for information on closures etc.
Hours:Morning: from 10 a.m. to noon
Afternoon: from 2 p.m. to 4 p.m.
*Rules: Playing Memory Piano maximum 5 minutes, please take turns
*Reservations are not accepted
Observatory Hours: 9:30 A.M. – 23:00 P.M. (last entry 22:30 P.M.)
Closed: The first and third Tuesday (except holidays, when closed day shifts to next day) Specific dates can be checked here.
Admission Fee: Free of charge
Access to Tocho Building: Shinjuku Station (multiple lines) 10-minute walk from Shinjuku West Entrance
Information on access by bus can be found here
Address: 8-1 Nishi-Shinjuku 2-chome, Shinjuku-ku, Tokyo 163-8001
Additional Information: Check these links for additional information on Access and the Memory Piano.
Author: Misaki Hashimoto for JAPAN Forward
Misaki Hashimoto is a 3rd year student in the Department of English Language and Communications at Showa Women's University