Tokyo's Museum for Borderless Digital Installations Promises New Experiences for Visitors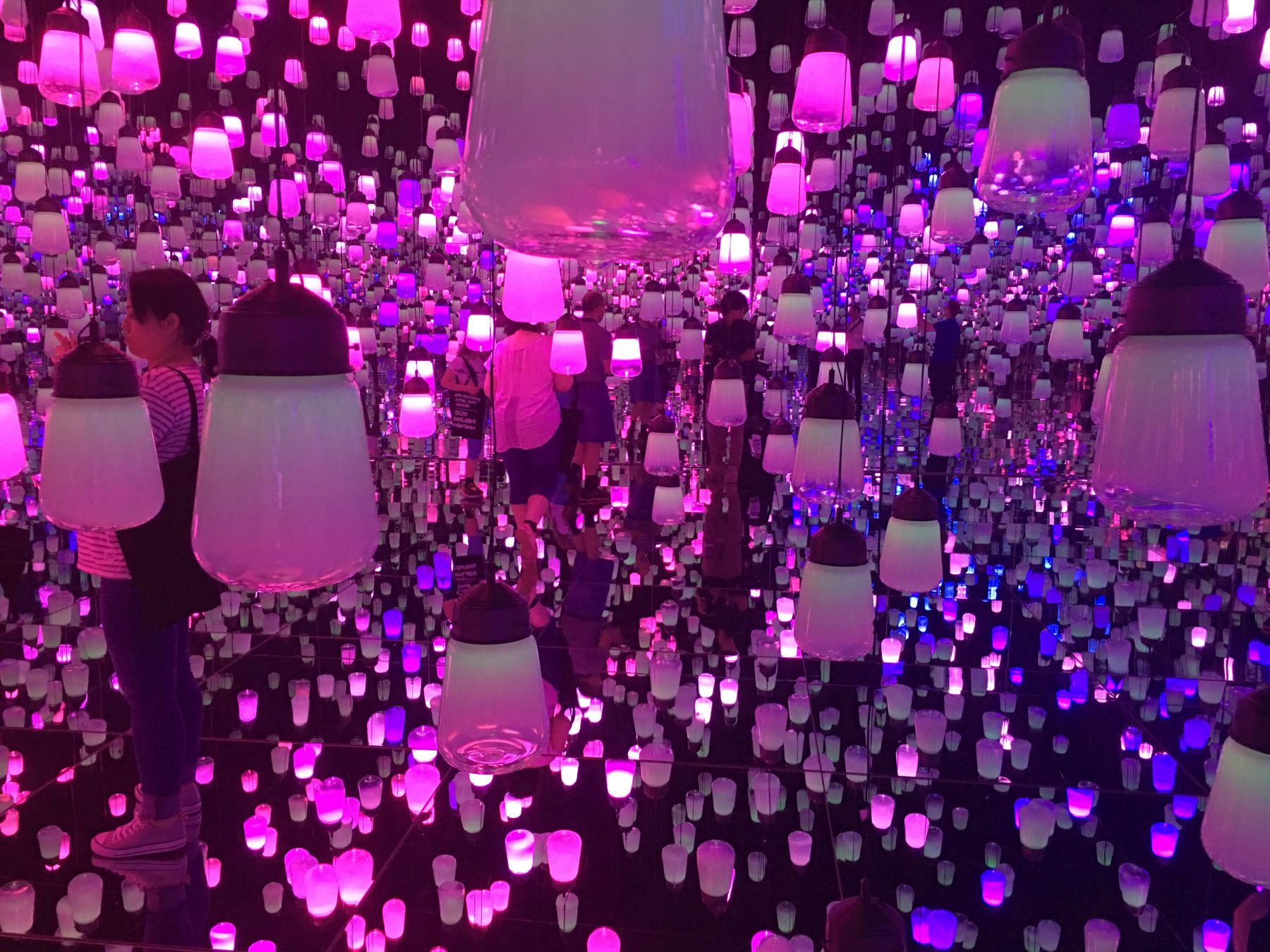 MORI Building Digital Art Museum: teamLab borderless, a museum jointly operated by Mori Building and teamLab, celebrated its first anniversary on June 21, promising to put Tokyo on the map during the 2020 Tokyo Olympics and Paralympics and, beyond that, launch more exhibits and explore new experiences for visitors.
The basic concept of the museum is "borderless" digital installations, which interact physically with visitors, making it an awe-inspiring experience for people of all ages, irrespective of nationality.
The museum is jointly operated by the Mori Building Co., Ltd, an urban landscape developer, and teamLab, a digital art collective. Both are pioneers in their respective fields.
Journalists who were invited to a celebration on June 20 were welcomed by a queue of visitors that went all the way to the parking lot, demonstrating the broad appeal of the museum.
In its first year, the collaborative museum welcomed 2.3 million visitors from more than 160 countries. This is roughly the same number of people who visit other major, well-established museums, such as the Tokyo National Museum and the 21st Century Museum of Contemporary Art in Kanazawa.
On top of this, half of the visitors in the first year were from outside Japan. According to a survey conducted by the museum, 50% of these visitors said their main purpose in coming to Japan was to visit the museum. More than a quarter of visitors (27%) were from the United States alone, showing how popular the concept is across the Pacific.
An example of its appeal could be found during U.S. President Donald Trump's state visit to Japan in early June, when First Lady Melania Trump expressly asked to visit the museum. The exhibition provokes interaction with visitors, and in this case it was particularly interesting for elementary students visiting the museum who shared the experience as Melania Trump and Japanese First Lady Akie Abe admired the installations.
The reception has been so good that there has even been a tangible invigoration of the area around the museum since it opened in 2018, including the scenic waterfront around Odaiba. The nearest train station — Aomi Station on the Yurikamome Line — has welcomed 50% more visitors than it had before the museum's opening. And the nearest retail complex has seen a 20% increase in customers since last year.
The Mori Building Co. is an innovative urban developer based in Tokyo. It aims to maximize the power of cities by creating safe, sustainable, and cosmopolitan spaces. The company's leading projects include Roppongi Hills and the Shanghai World Financial Center.
TeamLab started in 2001 as an art collective with technology as a major theme. It uses the confluence of art, science, technology, design, and the natural world to create new artistic experiences.
The title of the museum itself is "borderless" as it aims to break the preconceptions of barriers between humans and nature, as well as between individuals and the world. The format is itself innovative. It's a space where people can move freely, take pictures as they like, and make use of social media. In short, a form of art truly in pace with the times.
teamLab's work has been the subject of numerous exhibitions at venues worldwide, including the Learn and Play! teamLab Future Park at the National Museum of Emerging Science and Innovation, in Tokyo, which has welcomed over 470,000 visitors. It also appeared at the Expo Milano 2015 Japan Pavilion, and the exhibition PLANETS Art by teamLab had up to a five-hour queue.
teamLab has also permanent exhibitions in Australia, San Francisco, New York, and Istanbul.
MORI Building DIGITAL ART MUSEUM: teamLab Borderless
Location: 2nd Floor, Palette Town, Odaiba, 1-3-8 Aomi, Koto-ku, Tokyo
Hours:
10 A.M. to 7 P.M. Mondays to Fridays

10 A.M. to 9 P.M. Saturday, Sunday, and holidays

10 A.M. to 9 P.M. Mondays to Fridays from July 13 (Fri) to September 1 (Sun) 2019
Closed: 2nd and 4th Tuesdays (except August 13) of every month, and June 22 (Sat) and August 10 (Sat)
Admissions:
Regular Fare
Adults and high school/university students ¥3,200 (tax included)

Children (age 4 to grade 9): ¥1000 (tax included)

Disability Ticket: ¥1,700 for visitors with a physical disability certificate and one companion
Night pass ticket (after 6 P.M.)
For adults and high school/university students ¥2,900

For people with a disability and one companion for ¥1,500 from July 13 to September 1, 2019
Sales Outlets:
Museum's official website for ticket sales and goods can be reached here. (https://www.teamlab.art/e/borderless/)
Tickets are also available here and through Lawson and 7-Eleven.
Official Website: For more information about the museum and the teamLab Borderless exhibits, follow this link.
Author: JAPAN Forward