Umi No Hi Festival A Different Way to Experience Tokyo in the Summer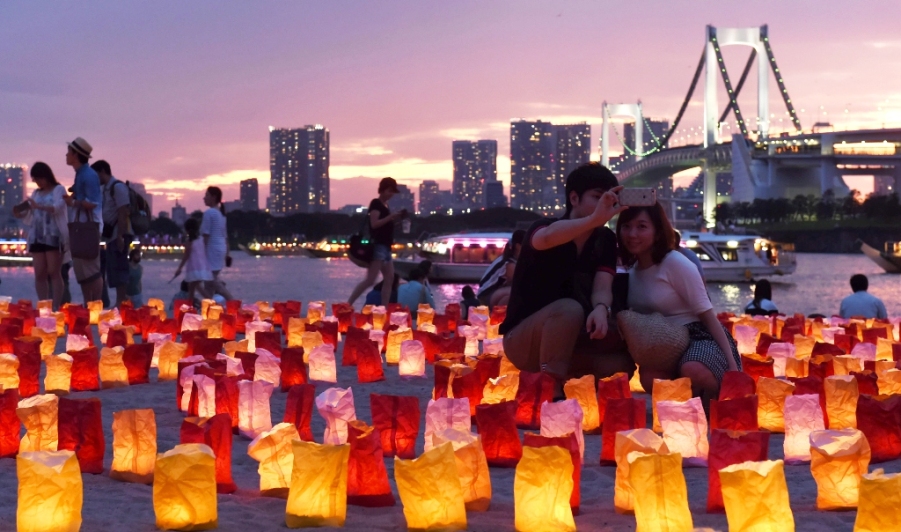 Arielle Busetto
I found out about this event by accident through a friend. The Umi No Hi festival, now in its 15th year, is celebrated with by decorating the beach of Odaiba Bay with paper lanterns.
The event name itself is interesting as it plays on the same sound of hi, which means both lantern, as in "Lantern of the Sea," and day, as it falls on Seaside Day, a Japanese national holiday. To a literature nerd like me, this was already enough to make it enticing.
In addition, the pictures looked pleasing—the perfect Insta opportunity. And, if you have to do it for the 'gram, then you have no choice but to go, right?
The weather, though, proved to be a major obstacle in building up anticipation for the event. Japan is experiencing a somewhat unprecedented heat wave. The normally stifling humid weather is made worse by unusually high temperatures.
Yet, my company of four was undeterred. We headed to the festival, braving the boiling weather and even sporting colorful summer yukatas. We needn't have worried and the view was worth every drop of sweat.
The very suggestive night view of Odaiba and Tokyo Bay provided the perfect background to a small beach covered in multicoloured paper lanterns. The multi-colored paper bags were displayed in clever ways so as to delineate various shapes and designs. Onlookers like us were somewhat stumped trying to figure out what kind of designs we were looking at, as the view from ground level is not quite the same as from a drone above.
Thankfully, a screen halfway down the promenade had a helpful video showing the designs from past years up to the present. I discovered that what I thought looked like a piano was, in reality, a panda. Clearly I missed the creative design class in high school.
Researching a little, we found that 2018's theme was "Tokyo 150 Years Celebration." Hence, the lanterns portrayed some of Tokyo's characteristic landmarks and favorite features, including Shan Shan the panda and the towering Sky Tree, just to name a few.
Another interesting feature of the festival was that it provided the perfect opportunity for people to take pictures in their beautiful yukatas. Everyone improvised into professional photographers and models, and in general the warm magical atmosphere was a crowd-pleaser—for amateur instagrammers and professional photographers alike. The broad appreciation of the beauty of this scene was quite infectious.
It was on to explore other aspects of the festival when we had enough of the flickering candle lanterns. There were of course food stalls and mercifully cold kakigori to keep everyone entertained. A stage had also been set up, giving way to band singing, and even a man who balanced himself over a stack of 10 chairs.
All in all, this was a small, cute event, which was very popular with foreign tourists—attested to by the fact that it appeared on TOKYOCHEAPO, a favorite website for goings-on in Japan.
If you are in town for Umi no Hi next year, even if the temperatures are stifling, I highly recommend going to this event. It will give you a slightly different view of Odaiba Bay and Tokyo summer festivities.