Why the US Should Not Depend on China to Sanction North Korea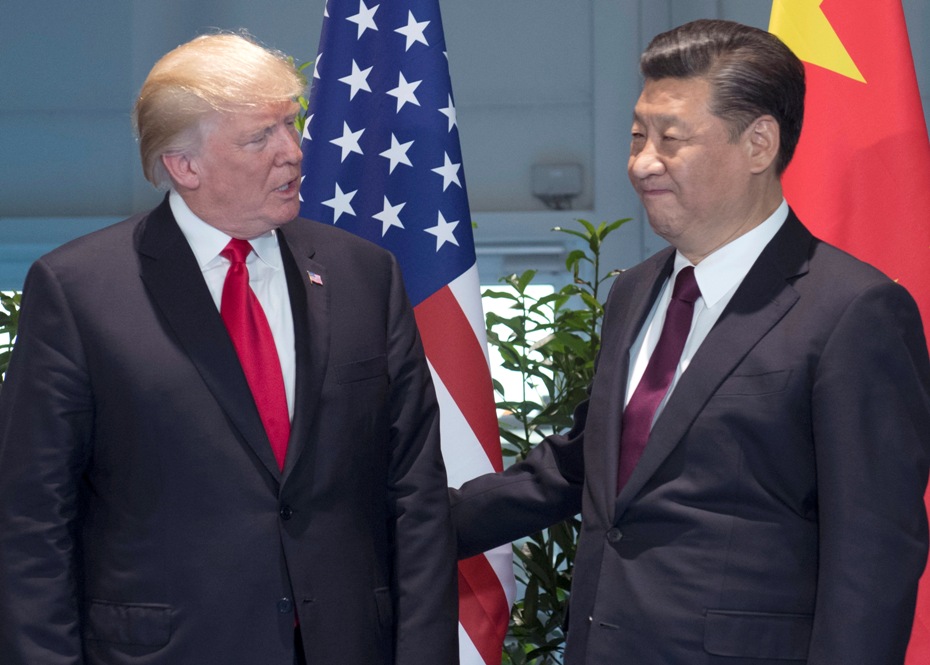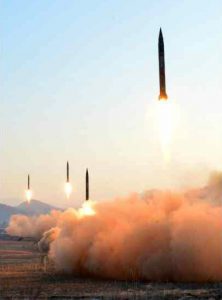 One of United States President Donald Trump's current international security objectives is the dismantling of North Korea's nuclear stockpile. In a recent series of talks at the G20 in Hamburg, Trump expended much energy on this subject, and stressed heavily that Chinese pressure on Pyongyang would be necessary to accomplish nuclear disarmament. However, his diplomacy is running out of options to deal with North Korea's missile launches and nuclear tests.
On April 6th and 7th, President Trump met with Chinese Communist Party chairman Xi Jinping for bilateral talks in Florida. He hoped that China would agree to strengthen sanctions against North Korea and thereby force it to abandon its nuclear program. But after the talks, while America and Japan stepped up their sanctions on North Korea, China quietly increased imports and exports to the rogue country. Secretary of State Rex Tillerson told the United Nations Security Council that China had become responsible for 90 percent of all trade with North Korea, and President Trump criticized China for increasing its trade with North Korea by 40 percent in the first quarter of 2017.
Since the end of April, the Trump administration, threatening to put "all options on the table," has sent two aircraft carriers and a submarine to the Japan Sea, conducted joint operations with South Korea, and sent out bombers for coercive flights near North Korean airspace. But North Korea, refusing to be cowed by America's "gunboat diplomacy," has continued to launch its ballistic missiles. If, at this point, North Korea were to conduct another nuclear test, America would be virtually out of responses.
While President Trump has warned Xi Jinping that "if China refuses to take action on North Korea, America will do it alone," this has not produced any results thus far. When he was asked by the G20 press corps whether he had given up pressuring China, Trump sullenly replied the day he would give up was still far from coming.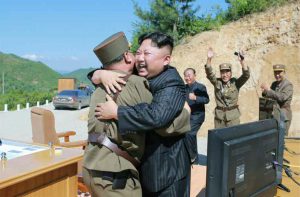 Regime of Thorough Sanctions Needed
Unfortunately, the Obama administration's policy of "strategic patience" did nothing to stop these developments on the Korean peninsula. On the contrary, it only bought North Korea time to further develop its missiles. President Trump has declared that "the time for patience is over," but, in fact, with his options exhausted, the time for patience is continuing.
America ought to be able to shake the North Korean regime to its foundations. The Trump administration does not appear to be aiming sanctions at elites, like the Bush administration did with its effective sanctions against the Macao bank Banco Delta Asia. More thorough sanctions must be imposed on all financial institutions that do business with North Korea.
Similarly, Japan's sanctions on North Korea remain too soft. 30 to 40 percent of the nation's 15,000 pachinko parlors are said to be run by North Koreans, and the profits from these gray-market operations are believed to flow directly to North Korea. Direct remittances from Japan are strictly regulated by sanctions, but there are also underground routes using offshore accounts in places like Macao. Japan must start by fixing the leaks in its own system.
In fact, President Trump's attempt to put the burden on China to make North Korea stop its nuclear program is a dangerous kind of diplomacy that threatens to lower America's prestige throughout Asia. If Chairman Xi were to say "Let China take responsibility for this" and actually halt trade with North Korea, and if that were to cause North Korea to give up its nuclear program, what would that actually mean?
China would be able to boast that they had brought peace to all of East Asia. Their influence on the Korean peninsula would grow, even including South Korea, and they would be able to demand a halt to deployment of the THAAD missile system.
What's more, China would be able to make credible demands to stop the United States from moving its ships freely through the South China Sea, halt the provision of weapons to Taiwan, and cause America to withdraw from the Senkaku Islands.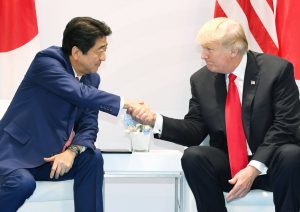 Japan, US, South Korea Should Lead
China will not miss a chance to demonstrate that it is a country which is able to take responsibility for all of East Asia's security, and demand a withdrawal of American presence from East Asia. Chairman Xi already suggested to former President Barack Obama at a summit in June 2013 that "the Pacific be divided between America and China, with China governing the West Pacific." In 2014, at another international conference, he suggested that "Asian security should be agreed upon by Asians," implying that America should stay out of it.
The real danger is that President Trump's "China-addicted diplomacy" is not admitting the possibility that the existence of America's West Pacific region might be denied in this way. Japan's Ministry of Foreign Affairs as well as Prime Minister Shinzo Abe must not overlook the dangers involved in America's China addiction.
For the time being, we can recognize that domestic Chinese politics make it impossible for Chairman Xi to acknowledge America's pressure and pressure North Korea accordingly. China may be changing its diplomatic posture. America and Japan must reconsider the "China addiction policy" as soon as possible, and cooperate with South Korea to work out a new solution to the North Korea problem.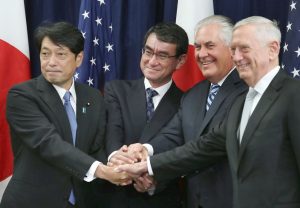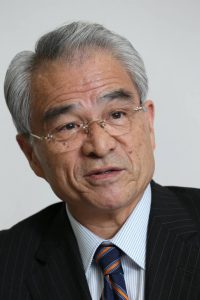 Dr. Masashi Nishihara is president of the Research Institute for Peace and Security. Previously, he served as president of the National Defense Academy, where he was also a professor of international relations. Among others, Nishihara is a member of the Trilateral Commission as well as the U.K.-Japan 21st Century Group. From 2004 to 2006, he served as a member of the Weapons of Mass Destruction Commission chaired by former Swedish Foreign Minister Hans Blix. Nishihara has published extensively on Japanese foreign and security policy issues and has contributed to international newspapers.
(Click here to read the original report in Japanese.)