Women's Empowerment is 'Smart Economic and Defense Policy,' Says Ivanka Trump at G20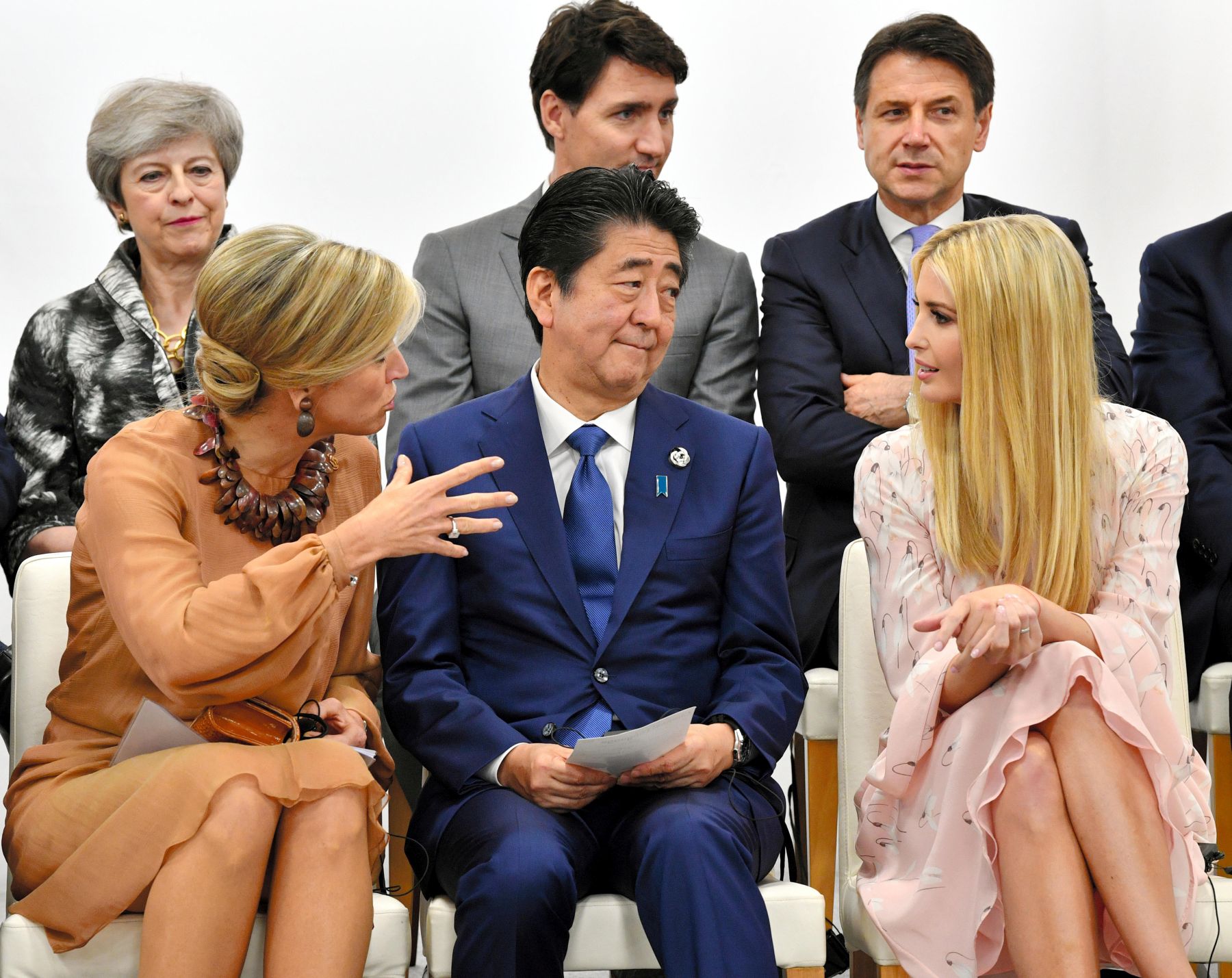 Women's empowerment had been a key element on the G20 agenda in the last few years, and the 2019 summit in Osaka was no exception.
Representatives of the G20 member countries, together with international organizations such as the World Trade Organization (WTO), World Bank, and the International Monetary Fund (IMF), gathered Saturday morning, June 29, for a special event on women's empowerment in the global economy.
Keynote speeches by Japanese Prime Minister Shinzo Abe, U.S. Advisor to the President Ivanka Trump, and Queen Maxima of the Netherlands highlighted the importance of gender equality. Representing the key regions of Asia, the Americas, and Europe, the three energized the audience and encouraged all countries to do more to promote equal opportunities for women.
Prime Minister Abe, presiding as host for this year's G20, encouraged others to join him in keeping the Brisbane commitment of "25 by 25." This was a pledge announced in 2014 aiming to reduce the gender gap in labor force participation by 25% by 2025.
Abe also repeated his determination to guarantee girls' access to quality education for at least 12 years — a pledge he had forwarded to Nobel Peace Laureate Malala Yousafzai when she came to Japan in late 2018.
He concluded by emphasizing the importance of the education project, saying, "I believe that such an effort will serve as a driving force for further development of the G20 as a whole."
Queen Maxima of the Netherlands, making a special appearance in support of the event, has worked extensively on the promotion of women's rights through her efforts as the United Nations Secretary-General's Special Advocate for Inclusive Finance Development.
In virtue of her role, she brought attention to the steps which must be taken to better include women in finance, saying, "We must remove legal and regulatory barriers which obstruct women's financial inclusion and economic empowerment." Examples she raised included ownership of financial accounts, cyber security, and online banking, among others.
On that front, she also brought up a noteworthy project known as We-Fi (Women Entrepreneurs in Finance), housed by the World Bank. The project aims to unlock the potential of women by financing women-led businesses in developing countries. We-Fi started in 2017 following the G20 in Hamburg and has allocated $249 million USD to programs which will benefit 114,000 business and hopefully mobilize $2.6 billion USD.
On the U.S. side, presidential advisor Ivanka Trump spoke passionately to ask parties to extend their efforts to unlock the economic potential of women. "We believe that women's inclusion in the economy is not solely a social justice issue, which of course it is. It's also smart economic and defense policy," she said.
According to the figures presented both by Queen Maxima and presidential advisor Trump, if women take on identical roles in the economy as men, there is a potential economic boost of an additional $28 trillion USD per year before 2025.
"This is a legacy worth fighting for, and a future we can be proud to leave to our children," Ms. Trump said.
Concrete Efforts to Improve
According to reports shared with the press at the G20 event, economic opportunities for both men and women seem to be improving. But there seemed to be a consensus that there remains more to be done.
An International Labour Organization (ILO) and Organisation for Economic Co-operation and Development (OECD) report — Women at Work in G20 Countries: Progress and Policy Action — points to the fact that the gender gap has decreased in almost all countries of the G20 for which recent data is available, with the exception of Russia. The data also note that there have been particularly noticeable reductions in the gap in Japan, Argentina, Brazil, and South Korea, while conversely Mexico and Saudi Arabia fared the worst.
To give some context, Japan currently has a difference of about 15% in labor force participation by women compared to men. More than 70% of women are now in the labor force, versus just over 85% of men.
Meanwhile, in Saudi Arabia there is a difference of more than 50% labor force participation, with only 20% of women participating in the workforce.
Not All Rosy
The same ILO and OECD report also points out that there have been issues which still need progress. These have been "only very modest progress in closing the [wage] gap," for instance. This is attributed to the fact that women are overrepresented in low-paid work and part-time jobs, and underrepresented in managerial jobs. Furthermore, women are overrepresented in the care sectors and in general long term-care of family and loved ones.
Suggestions in the report included strengthening long-term care and leave provisions, encouraging flexible hours and entrepreneurial work, and trying to diminish gender segregation by occupation.
In general, while problems remain, there have been progress. Some of the difficulties also appear practical, as the report pointed to the sheer lack of data in some countries.
On the other hand, there could be wider problems in seeking consensus on solutions to the problem of gender equality. There were hints about this at the Leaders' Special Event on Women's Empowerment, as three major actors were missing from the list, including China, South Korea, and Russia.
This suggests that, although in general everyone seemed to agree there is a problem that needs to be solved, in practice it might be a bit trickier than expected.
Author: Arielle Busetto