Yoko Kamikawa Brings a Fresh Perspective to International Relations as Foreign Minister
Japan's new top diplomat Yoko Kamikawa insists that women must play an active role in achieving sustainable peace in the world.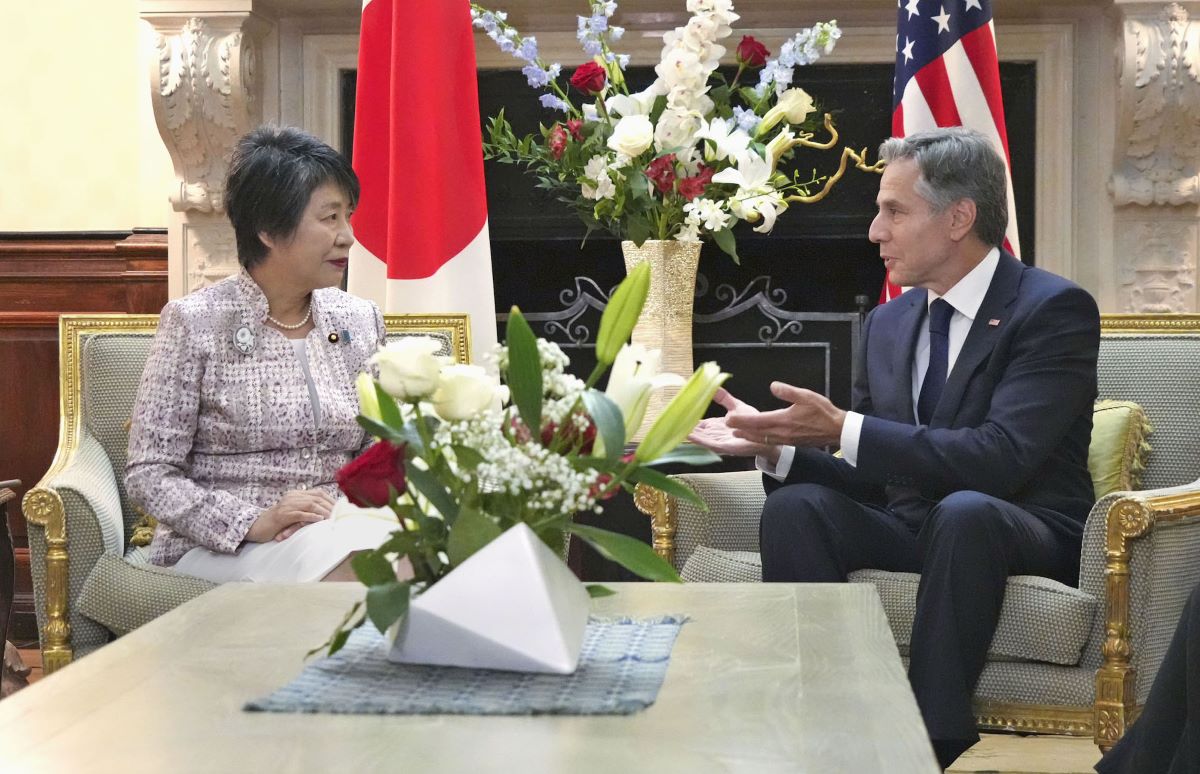 As soon as she took up her new role of representing Japan as its Foreign Minister, Yoko Kamikawa made it clear that she was bringing a female perspective to diplomatic policy.
She emphasized this in a speech she delivered in New York on September 21, during her first foreign mission.
There must be more protection of women and girls in conflict areas, she told her audience. She also called for a strident international effort to prevent gender-based violence. In addition, Kamikawa spoke of the important role that women play in peacebuilding.
Her remarks echoed comments she had made in Tokyo a few days earlier. At that time she said that she sees her role as promoting Japan's national interest, as well as seeking to "bring peace to the world."
Experienced Politician
Ms Kamikawa, 70, is a highly-regarded politician within the Liberal Democratic Party. She is a long-standing member of the House of Representatives and has previously served three terms as justice minister.
In her New York speech, she said: "We must not overlook the various problems caused by the lack of women's perspectives. There are still many things that can be done together."
The United Nations is strongly committed to including women in its peace and security work. Ms Kamikawa was a keynote speaker at an event focussed on women, peace, and security which took place during the annual session of the United Nations General Assembly.
The meeting was attended by the United States Secretary of State Antony Blinken. Romanian Foreign Minister, Ms Luminița Odobescu, and various high-level UN officials were also present.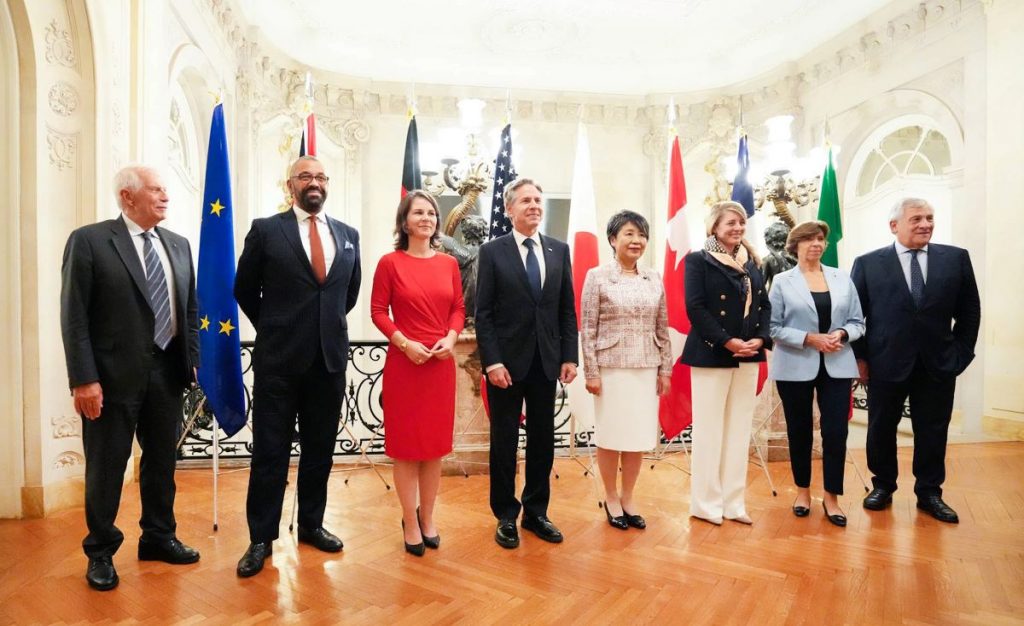 Chairing the G7
Another of Ms Kamikawa's responsibilities in New York was to chair a meeting of the foreign ministers of G7 countries. Japan holds the rotating presidency of that group this year.
It was an opportunity for the ministers to express a resolute and united response to Russia's invasion of Ukraine.
Ms Kamikawa said: "Russia's prolonged war of aggression has not only cost thousands of lives and inflicted immense suffering on the people of Ukraine, but has also imperiled access to food and energy across the world, exacerbating an already dire humanitarian crisis. In this regard, the G7 members strongly condemn Russia's unjustified and intensified attacks."
They also issued a warning against Russia's "irresponsible nuclear rhetoric" and its threat to deploy nuclear weapons in Belarus. Foreign Minister Kamikawa said that any use of chemical, biological, or nuclear weapons by Russia would meet with severe consequences.
Tricky Relations with China
One of the trickiest areas for Ms Kamikawa and her team of diplomats at the Japanese Ministry of Foreign Affairs is to decide how best to handle relations between Japan and its East Asian neighbors, China and South Korea.
The Japanese position on China was reflected in the statement which was issued by the G7 in New York on September 18. It had the full endorsement of Foreign Minister Kamikawa.
The G7 members reaffirmed the importance of engaging candidly with China. They also acknowledged the need to work together on global challenges and areas of common interest.
Their statement said that the group is prepared to "build constructive and stable relations." However, it also expressed serious concerns about the situation in the East and South China Seas. And it strongly opposed any unilateral attempts to change the status quo by force or coercion.
The G7 members called upon China to press Russia to stop its military aggression and withdraw troops from Ukraine.
There is no indication that China has any intention of doing so. Indeed, soon after the G7 foreign ministers met, Vladimir Putin announced that he would go to China to meet Xi Jinping later in September.
It will be his first trip abroad since he was made subject of an arrest warrant for war crimes.
China's top diplomat, Wang Yi, snubbed the UN General Assembly. He preferred instead to go to Moscow. His trip took place soon after a week-long visit to Russia by the North Korean leader, Kim Jong Un.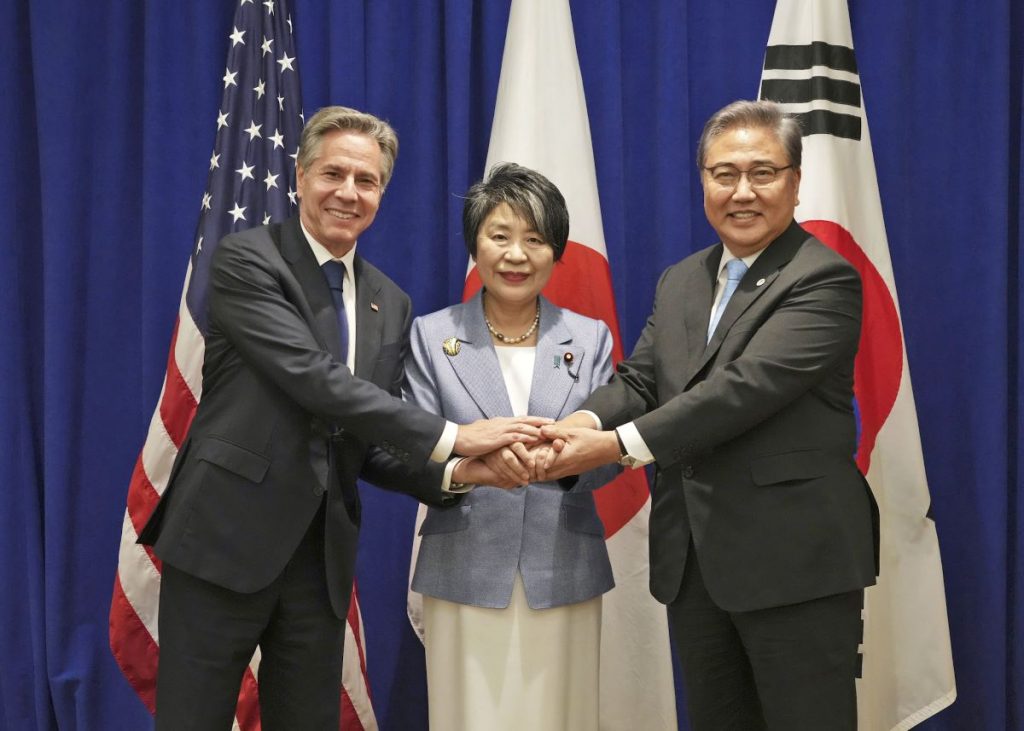 Building on Improved Relations with South Korea
In terms of the Japan-South Korea relationship, Foreign Minister Kamikawa will work to build on the achievements of her predecessor, Yoshimasa Hayashi.
She had a friendly meeting with her South Korean counterpart, Park Jin in New York on September 21. Mr Park congratulated Ms Kamikawa on becoming Japan's top diplomat. They furthermore agreed to work together in addressing North Korean threats.
The two ministers also talked about a summit involving Japan and China which could take place in South Korea later this year. It is not clear who China might send to such a meeting, or whether it would involve heads of government.
As Ms Kamikawa returns to Japan, she will consider a complex set of issues. Her next meeting with the G7 foreign ministers will take place in Tokyo on November 7th, where once again she will take the chair.
As in New York, that event will have an interesting gender mix. Britain and the United States are represented by men. However, women are there to explain the positions of Germany, Canada, France, the EU and Japan. Italy's foreign minister, Antonio Tajani, is a man who serves in the cabinet of Prime Minister Giorgia Meloni.
RELATED:
Author: Duncan Bartlett, Diplomatic Correspondent
Mr Bartlett is the Diplomatic Correspondent for JAPAN Forward and a Research Associate at the SOAS China Institute. Read his articles and essays on JAPAN Forward.