100-Year-Old Secret of Baumkuchen Puts Japanese Island Village on the Map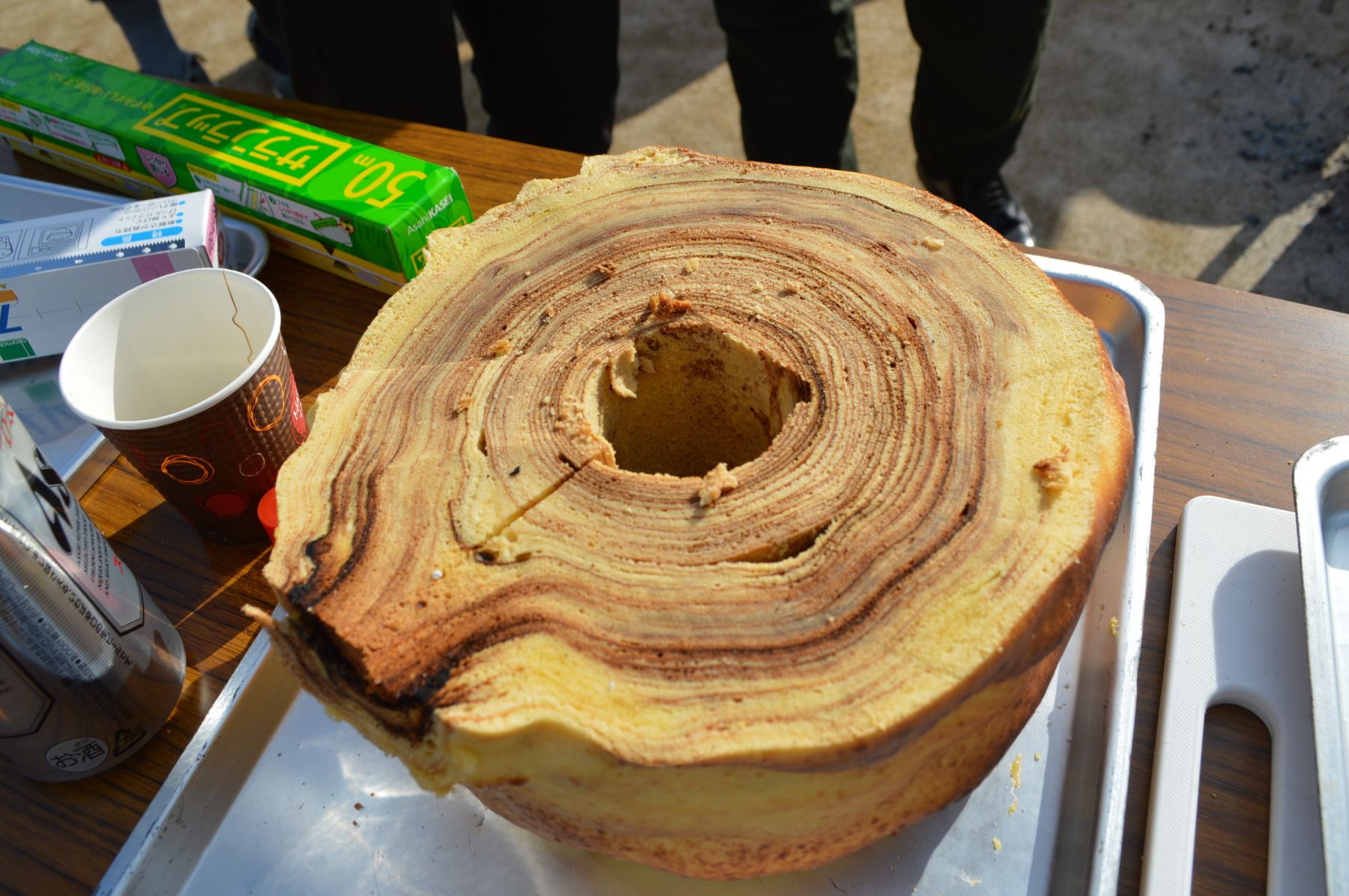 This year marks the 100th year since Baumkuchen, the German version of a spit cake, was introduced to Japan.
Ninoshima, located in the Seto Inland Sea (part of Hiroshima's South District), is considered to be the location where German baker Karl Juchheim (1886-1945) first baked a Baumkuchen in Japan. Though Ninoshima is a small village of mainly senior citizens, it has set out to gain publicity as the "birthplace" of Baumkuchen, offering various opportunities to experience making the cake hands-on.
The small island of Ninoshima can be reached by boat from the port of Hiroshima in about 20 minutes. The island's circumference is 16 km, area 3.8 square km.
Located in front of the boat landing is the sign, "Welcome Ninoshima." The office serves as the base for the region's revitalization project group. Here, hands-on baking workshops take place and group member Kenji Komatsu, 42, has been baking Baumkuchen.
The cake dough — made from eggs, sugar, and weak flour — is hung on a 20-cm long pole and baked in a specialized gas oven. "The pole is made from an enhanced taiko drum stick," said Komatsu. In about one hour, the 10-cm diameter Baumkuchen is ready.
It is said that in March 1919 Juchheim baked the first Baumkuchen as a treat for the other prisoners while he was detained in Ninoshima's prisoner of war camp.
After that, Juchheim opened coffee shops in Yokohama and Kobe that thrived, thanks to the popularity of Baumkuchen and marron glacé, among other specialty items on their menus. After Juchheim died, the coffee shop staff founded the Western-style confectionery manufacturing company "Juchheim" in the central district of Kobe.
Related to this history, Hiroshima initiated its own event to celebrate the 100 years of Baumkuchen. In March 2019, the Hiroshima Minato Festival was held at the park of the same name in Hiroshima's South District. Participants collectively competed a cake 20 meters by 27 cm long, and succeeded in setting a new Guinness world record for the world's longest Baumkuchen.
A giant 100-layer Baumkuchen boasting a diameter of about 40 cm was also made in Ninoshima. But "the request to Guinness to make thickness a category was not granted," said Komatsu, a resident of the island.
An Island of Mostly Elderly Residents
Ninoshima is the former location of an army quarantine camp. It flourished greatly, particularly after World War II, when sea sand mining and similar activities were in demand. However, now its economic base is limited to fishing industries like oyster farming.
The population has decreased severely, and over half its residents are over the age of 65. Some say the island has fallen into the category of "genkai shūraku," meaning its depopulation and aging residents leave the community in danger of disappearing.
Because of this, Komatsu, who moved to Ninoshima in September 2018, has been launching public relations initiatives like hanging up banners that say "the Birthplace of Baumkuchen," in addition to expanding community gardens, rentals of fishing poles and bicycles, and the sale of grilled oysters.
"Originally, the island didn't devote its energy to tourism, but Baumkuchen is becoming a big subject," noted Komatsu. It helped draw about 400 people from both on and off the island to the Hanover Day German cultural exchange event held in June.
"The ultimate aim is to increase migrants to the area. But, before then, it is important that people know about the island. Baumkuchen-making workshops could be a start," Komatsu said with hope.
ADDITIONAL INFORMATION
The price for attending a Baumkuchen-making workshop is ¥2,000 JPY for an original (plain) cake, ¥2,500 JPY for chocolate and matcha flavors.
No reservation is necessary.
Contact: Welcome Ninoshima (080-6308-9868)
(Click here to read the article in its original Japanese.)
Author: Sankei Shimbun