2020 Paralympic Games Medals Feature Japanese Folding Fan Designs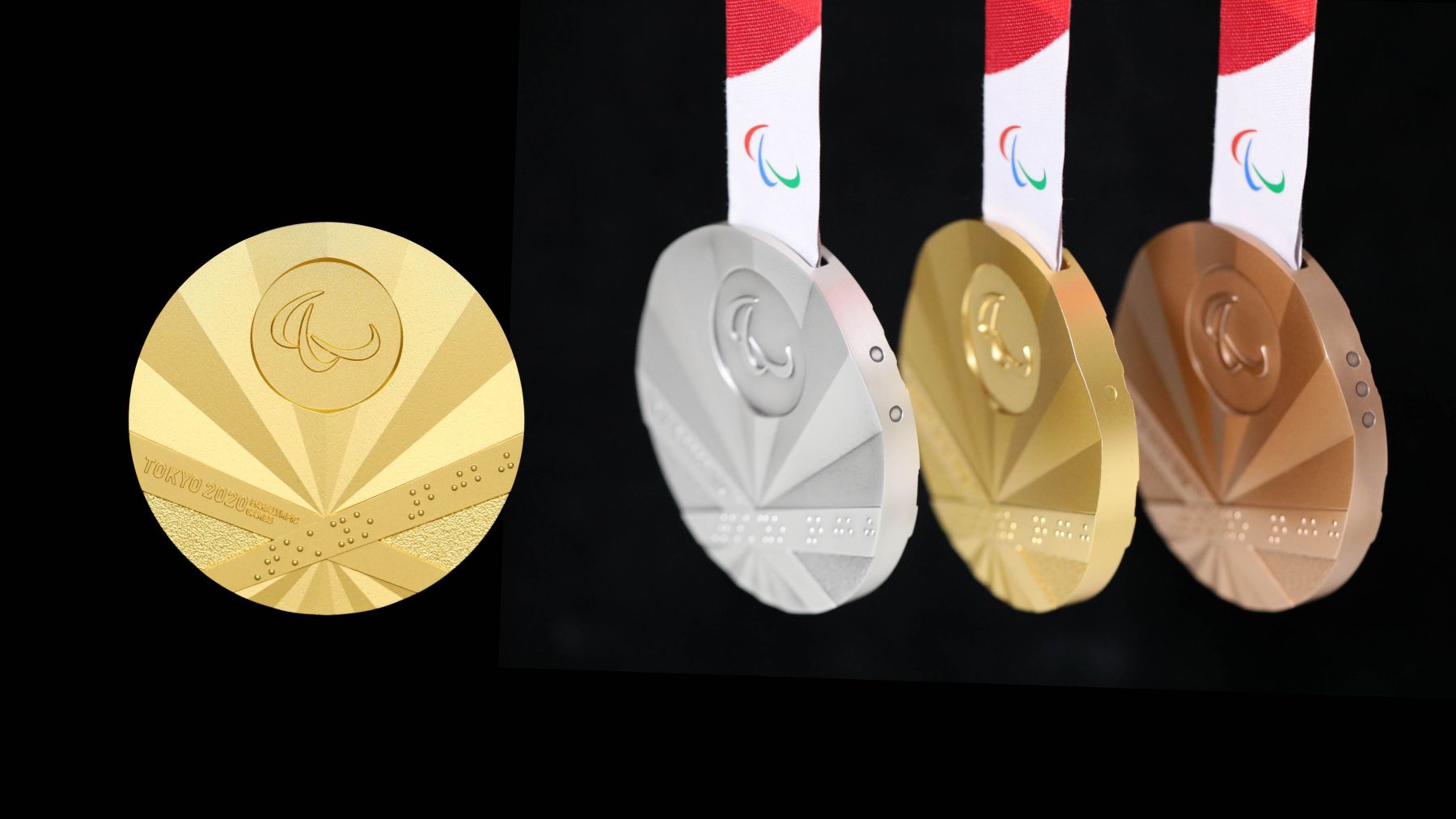 Exactly one year before the August 25, 2020, kickoff of the Paralympic Games, the Tokyo Organizing Committee of the Olympic and Paralympic Games unveiled designs for the gold, silver, and bronze medals to be awarded to the winning athletes.
Designed around the motif of a traditional Japanese ogi, or folding fan, the medals' kaname, or the pivot point, represents the athletes that bring together the hearts and minds of people, regardless of nationality or ethnicity.
The Paralympic Games symbol of "three agitos" is featured on the medal faces, along with braille letters that spell out "TOKYO 2020." On the reverse side, in addition to the checkered Olympic Games emblem, the leaves in the folding fan motif are engraved with depictions of Japan's natural environment in the form of rocks, flowers, trees, leaves, and water.
Each medal is 85 mm in diameter, the same size as the Olympic medals that were introduced in July. Just slightly lighter than the Olympic medal, the Paralympic gold medal weighs about 526 grams, the silver 520 grams, and the bronze 430 grams.
The gold medal will have one, the silver two, and the bronze three circular indentations on the sides. It is a new design idea introduced for the first time in the Tokyo Games. The feature will allow the type of medal to be distinguished by touch.
A total of 421 people submitted their designs for the medals. In the end, the review committee, consisting of past Olympic medalists and experts in the field, selected the design submitted by Hakuhodo Products Inc. in-house designer Sakiko Matsumoto, 30, from Urayasu in Chiba Prefecture.
"I will be delighted if the medals become a force to bring together the athletes and all those involved, generating a new breeze in their hearts," Matsumoto said upon hearing of her selection.
For the first time in the history of the Olympic and Paralympic Games, the 2020 Tokyo medals will be made from recycled metals collected from small electronic appliances, such as used cell phones. Approximately 5,000 Olympic and Paralympic medals will be produced from the recycled gadgets.
(Click here to read the article in its original Japanese.)
Follow JAPAN Forward for information on preparations for the 2020 Tokyo Olympic and Paralympic Games at this link.
Author: The Sankei Shimbun