Meet Japan's 2019 Rugby World Cup Juggernaut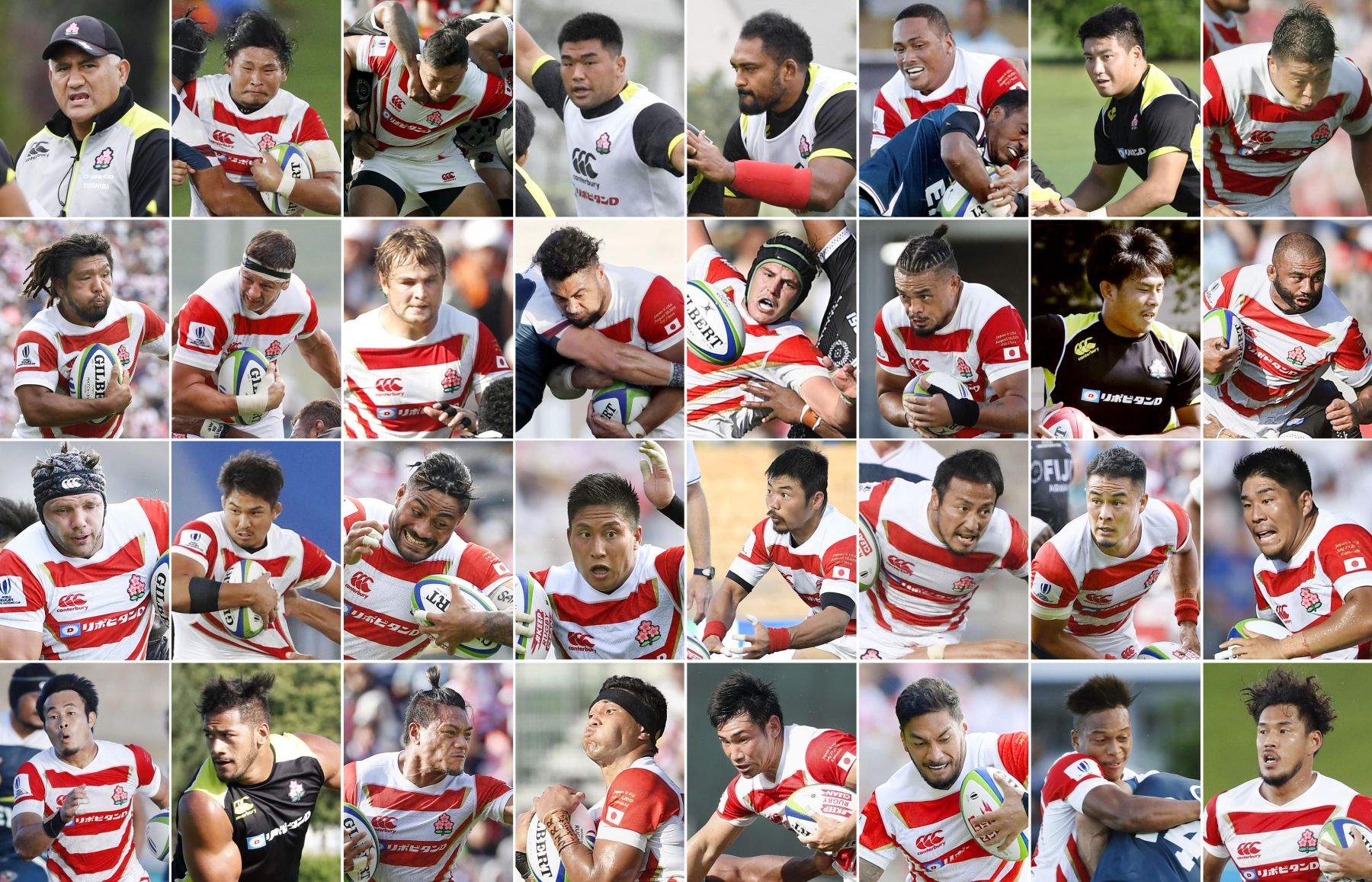 The Japan Rugby Football Union announced on Thursday, August 29, the 31-man roster (18 forwards, 13 backs) for a national team that is determined to advance to the 2019 Rugby World Cup Final 8 for the first time in history. The quadrennial tournament is being held in Japan this autumn.
Nicknamed the "Cherry Blossoms," Japan's squad will be a mixture of veterans and new faces. But probably its most unique characteristic is that a record-breaking 15 of the 31 team members were born abroad. The hope is that diversity will become Japan's ticket to the top ranks of the rugby world.
Among the best known places are captain and flanker Michael Leitch, 38-year-old Luke Thompson (who has appeared in four straight World Cups), and Fumiaki Tanaka (three straight World Cups).
"Foreign players are going to continue to be absolutely essential for Japanese rugby, and the public understands that," Leitch said on August 18 at the Japanese team's training camp in Abashiri, Hokkaido.
According to the international rugby regulations, even if a player is not native-born, if he has lived in a country for 36 months continuously and fulfills certain other prerequisites, he is qualified to represent the country in international competition.
Leitch, a native of New Zealand, first played for Japan in the 2011 World Cup, when he was one of 10 foreign-born players. He remembers many Japanese fans grumbling that there were "too many foreigners" on the national team.
Leitch later became a naturalized citizen of Japan. Nevertheless, he says that when he was chosen to be captain of the Cherry Blossoms in April 2014, he could not help but worry about how fans would react to a "foreigner" becoming team captain.
However, the prevailing atmosphere changed with the 2015 World Cup, when Japan pulled off arguably the "biggest upset in rugby union history" by toppling mighty South Africa and winning three victories. Moreover, the hearts of many Japanese fans were won over by the sight of foreign-born players shoulder-to-shoulder with Japanese teammates respectfully singing Japan's national anthem "Kimigayo" and giving their all on the pitch.
Building Harmony Into the Team
Again at the helm as captain for this year's World Cup, Leitch goes out of his way to help foreign-born players understand Japan — for example, by bringing to training camp a red traditional suit of armor and helmet to stand as a symbol for the samurai spirit. And when the team was holding a training camp in Miyazaki Prefecture in July, he took the team to the Omi Shrine in Hyuga City, where they stood in front of a huge boulder of naturally-fused pebbles said to be the very sazare-ishi mentioned in the lyrics of the "Kimigayo," and sang the national anthem together.
New members of the team have also been eagerly trying to fathom Japanese culture. Pieter Labuschagne from South Africa and James Moore from Australia, for example, have taken to watching YouTube renditions of "Kimigayo" with the lyrics in Romanized script and practicing by singing along.
Harmony has been only one side of the rugby man's life in Japan. There has also been no lack of bitterness and dissension. Leitch, who has seen it all, admits that that used to be what the Japan team was known for. However, he hastens to add that, thanks to the influence of straight-shooting foreign players, at present team ranks are harmonious and everyone is working to point out problems and build good human relations.
Leitch is philosophical about the situation: "The time is fast approaching in Japan when [more than before] Japanese will have work together with foreigners. I would like sports to showcase how this can work."
As the record 15 foreign born players don jerseys with the rising sun on the back to represent the host nation in the 2019 Rugby World Cup, hopefully their effort and individual talents will brilliantly fuse to create a powerhouse national side that will win the respect of a global audience.
Meet the team roster and the pro teams in Japan the players are associated with:
FORWARDS
Keita Inagaki (Panasonic Wild Knights)

Isileli Nakajima (Kobelco Steelers)

Jiwon Koo (Honda Heat)

Yusuke Kizu (Toyota Verblitz)

Asaeli Ai Valu (Panasonic Wild Knights)

Takuya Kitade (Suntory Sungoliath)

Atsushi Sakate (Panasonic Wild Knights)

Shota Horie (Panasonic Wild Knights)

Luke Thompson (Kintetsu Liners)

Wimpie van der Walt (NTTDOCOMO Red Hurricanes)

Uwe Helu (Yamaha Jubilo)

James Moore (Munakata Sanix Blues)

Hendrik Tui (Suntory Sungoliath)

Yoshitaka Tokunaga (Toshiba Brave Lupus)

Michael Leitch (captain; Toshiba Brave Lupus)

Pieter Labuschagne (Kubota Spears)

Kazuki Himeno (Toyota Verblitz)

Amanaki Lelei Mafi (NTT Communications Shining Arcs)
BACKS
Kaito Shigeno (Toyota Verblitz)

Fumiaki Tanaka (Canon Eagles)

Yutaka Nagare (Suntory Sungoliath)

Yu Tamura (Canon Eagles)

Rikiya Matsuda (Panasonic Wild Knights)

William Tupou (Coca-Cola Red Sparks)

Ryoto Nakamura (Suntory Sungoliath)

Timothy Lafaele (Kobelco Steelers)

Kenki Fukuoka (Panasonic Wild Knights)

Ataata Moeakiola (Kobelco Steelers)

Lomano Lava Lemeki (Honda Heat)

Kotaro Matsushima (Suntory Sungoliath)

Ryohei Yamanaka (Kobelco Steelers)
RELATED STORIES:
(Click here and here to read the related articles in their original Japanese.)
Author: Shinya Okumura