A Day Trip to Kamakura and Enoshima: History, Beaches, and Some Fresh Air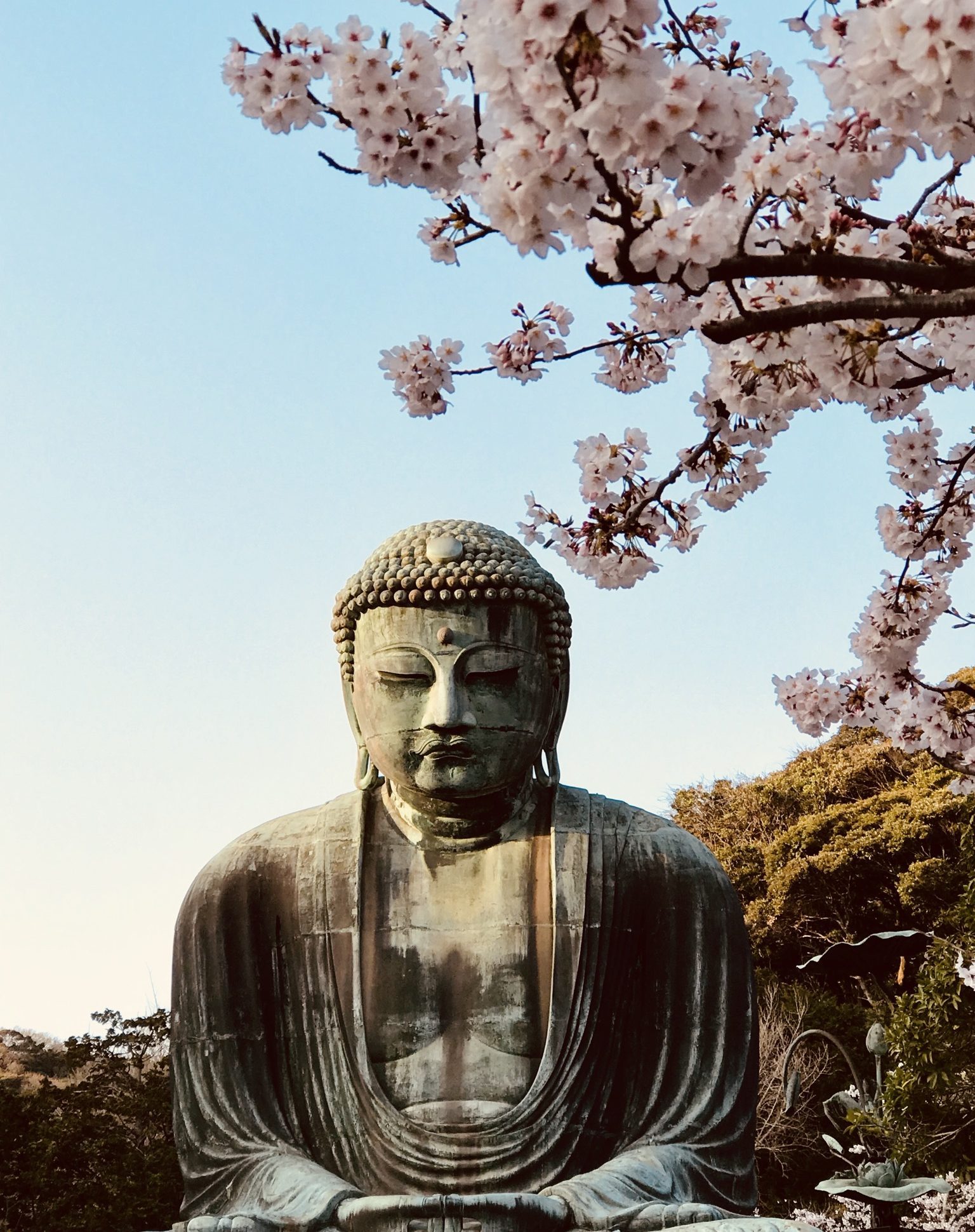 Photograph of "The Great Buddha," courtesy of AAlmaguer.
For most people living in or visiting the Kanto region of Japan, the most interesting place is probably Tokyo. This, however, should should not trick anyone into believing that it is the only fascinating thing to see. There are a lot of small places all around the greater metropolitan area which are easy to access and well-worth the effort.
Not far from the buzzing city centers of Tokyo and Yokohama, a small town with a big history called Kamakura lies along the Pacific Coast of Kanagawa prefecture. The town was the de facto capital of Japan during the Kamakura period (1192-1333), and many well-preserved temples and shrines can still be found there.
Close to Kamakura lies the small island Enoshima, also a popular sightseeing spot.
Both places are very close to the Tokyo-Yokohama metropolitan area, which makes them perfect for a nice day trip.
Surrounded by several hills, Kamakura is located at Sagami Bay in the southern part of Kanagawa Prefecture and is easily accessible from both Tokyo and Yokohama. It takes about 60 minutes from Tokyo station and about 25 minutes from Yokohama station using the JR Yokosuka Line, and about 60 minutes from Shinjuku station by the Shonan Shinjuku Line.
The best starting point for exploring Kamakura is JR Kamakura station. Conveniently located at the city center, you can reach many tourist attractions by foot from there, and it gives access to a variety of buses which connect the station with sightseeing spots a little farther away.
The most famous point in Kamakura is probably the huge statue of a Buddha called Kamakura Daibutsu (大仏, meaning a large Buddha statue) inside the Kotokuin Temple. It is, as the name suggests, an impressively huge statue of a Buddha made of bronze, about 11 meters high, and weighing about 121 tons. The statue's current form was built in 1252 and is regarded a national treasure by the Japanese government. The inside of the statue is hollow and can be visited for a small fee.
Other interesting Buddhist temples are the Kenchoji Temple, the first of the five big Zen temples in Kamakura, and the Hokokuji Temple, which is located up a big hill and hosts a beautiful bamboo garden. All three are easily accessed by train or bus.
The Tsurugaoka Hachiman Shrine, located about 10 minutes by foot from JR Kamakura station, is another important sightseeing spot in Kamakura. This shrine was set up as the center of the city by the Kamakura Shogunate and played an important role as a religious authority and within politics of the Kamakura Period.
The shrine is large with many Shinto-style red buildings. The main building is located at the top of the staircase and is impressive to look at from underneath. Kamakura's main street, called Wakamiya-oji, connects the shrine with JR Kamakura station and is lined with sakura trees. Parallel to Wakamiya-oji runs Komachi-dori, a popular shopping street with many stores and restaurants offering souvenirs and meals that range from traditional to modern.
Kamakura is a fascinating place to visit. Due to its countless shrines and temples, it gives an impression of how Japan looked and felt about 800 years ago. Everything is more or less conveniently close to the city center and not as overrun by tourists as other ancient capitals, such as Kyoto. However, since some of the temples and shrines close around 4:00 PM or 5:00 PM, it is a good idea to come early and enjoy the whole package.
Close to Kamakura, within Sagami Bay, lies the small island of Enoshima, a nice spot to breath some fresh air outside the big cities. From Kamakura, it is a 20-minute ride by train on the Enoden Line, from which you have a beautiful view of Enoshima and the Pacific Ocean. The island itself can be easily accessed by a bridge, so no need to worry about a ferry schedule or fee.
Despite being quite small, Enoshima has much to offer. Many of its attractions spiral around a small mountain in the center of the island. From the end of the bridge, a small shopping street leads up to the main buildings of Enoshima shrine—dedicated to Benten, the goddess of the island. Visitors are offered a variety of interesting sea related souvenirs and foods, such as dried octopus crackers (Tako Senbei) along the way.
After climbing several small stairs, you can drop in at the lighthouse and observation tower, which lie inside a nice botanical garden. Access is also available by escalators inside the mountain which, like the tower and garden, require a small fee. Other interesting places to visit are the Iwaya Caves and the small yacht harbor.
Kamakura and Enoshima provide a pleasant contrast to Tokyo and Yokohama and relief from the busy city life. Being located near very nice beach areas, both places combine history and sightseeing with marine activities, such as swimming and surfing, especially during the summer. The combination makes them popular with both Japanese and foreign tourists and is the reason why they are among the most enjoyable places to visit in Kanagawa Prefecture.
So, if you like to relax at the beach after a long day of temples, shrines, and traditional Japanese culture, Kamakura and Enoshima are definitely worth a visit.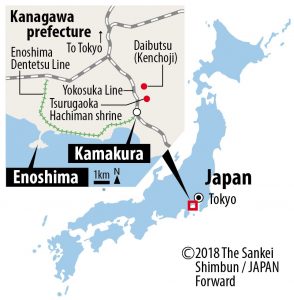 Luca Vogel is a former exchange student at Waseda University and intern with JAPAN Forward. He is originally from Hamburg, Germany.