Confluence of Interests: Indian Foreign Minister's Visit Strengthens Bond With Japan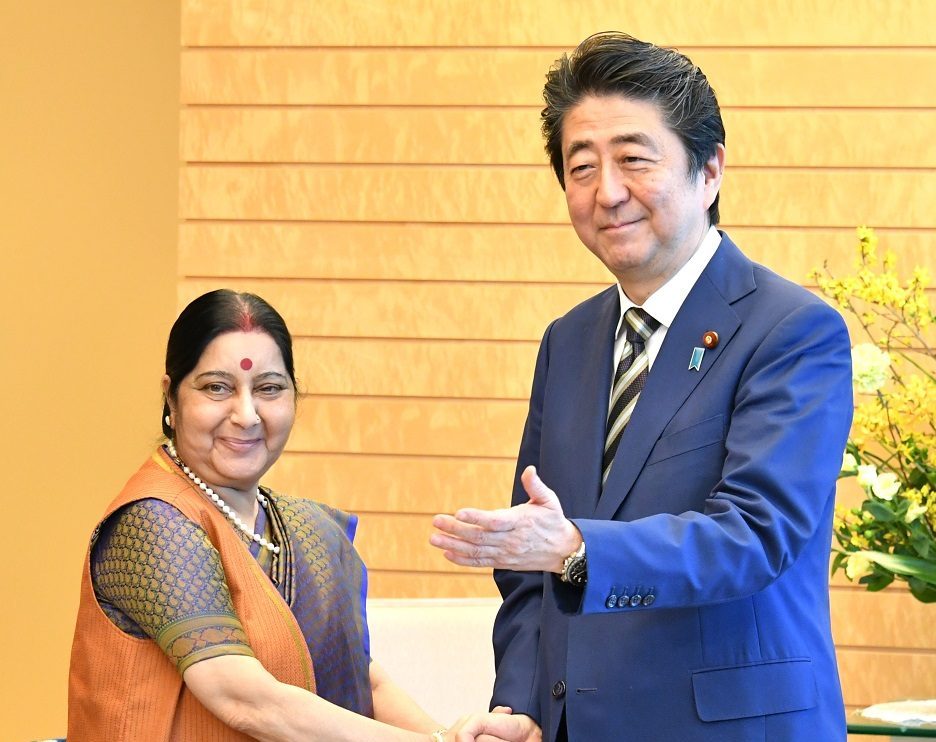 In his landmark speech titled "Confluence of the Two Seas," delivered before the Indian Parliament in August 2007, Japanese Prime Minister Shinzo Abe noted that "the Pacific and the Indian Oceans are now bringing about a dynamic coupling as seas of freedom and of prosperity."
That was during his first term as prime minister. Much water has flown down the Ganges since then, and the term Indo-Pacific has gained increasing currency across the world.
Japan and India concluded a Special Strategic and Global Partnership during the visit by Prime Minister Modi to Japan in 2014. On the one hand, Modi chose Japan as his first foreign destination for a bilateral visit beyond the Indian subcontinent, clearly laying out the foreign policy priorities of his government. On the other hand, Prime Minister Abe has often described the India-Japan relationship as the "relationship with the greatest potential of any bilateral relationship in the world."
The two prime ministers have invested a lot of energy and personal capital in the relationship.
After the Modi government took office, the "Look-East Policy" was renamed the "Act-East Policy." The Act-East Policy aims to reinvigorate New Delhi's historical engagement with countries in Southeast Asia and East Asia. At the same time, Tokyo has embarked on its Free and Open Indo-Pacific strategy.
However, of late, there seem to be some differences between India and Japan with regards to Beijing's Belt and Road Initiative (BRI) or the so-called One Belt One Road (OBOR). While Japan has signaled that is willing to cooperate with China on a case-by-case basis on the BRI, India has affirmed its staunch disapproval of the initiative because of concerns over sovereignty and transparency, among others.
In a welcome move, India's Mahindra Group has signed an MoU with ShinMaywa industries to manufacture and assemble US-2 aircraft in India. But there is a worrying development. Bilateral trade between the two countries has decreased to US$13.61 billion in 2016-2017, from $14.51 billion in 2015-2016.
In light of these developments, the March 28-30 visit by Indian External Affairs Minister Sushwa Swaraj to Japan afforded an opportunity for both sides to assess the progress in the bilateral ties and iron out their divergences. This was her first trip to Japan as India's foreign minister. She also met Prime Minister Abe during this visit.
On the Japanese side, Prime Minister Abe has been shackled by developments at home.
What Can India Do for Japan?
First, open sea lanes of communication heading in and out of Japan are critical for the health of its economy. India has a huge naval presence in the Indian Ocean region and hence is a key player in Japan's Free and Open Indo-Pacific strategy. The two countries now conduct annual bilateral naval exercises called the JIMEX, which are a far cry from the times when they only had exercises at the coast guard level. India, Japan and the U.S. are also part of the Malabar trilateral exercises, where Japan was included as a permanent member in 2015. New Delhi has a tri-services command, which lies at the entrance to the Straits of Malacca, a chokepoint in the strategically important Andaman and Nicobar chain of islands.
Second, India and Japan seem to be keen on collaborating in third countries like Sri Lanka. China has already taken the Hambantota port in Sri Lanka on lease, and is also engaged in several other projects on the island.
Third, India is also spreading its wings in its neighborhood by investing heavily in the development of the Chabahar port in Iran. It does not lie very far from the Gwadar port in Pakistan, which China has helped to construct. In the future, Japan could also think about collaborating with India in Iran's Chabahar port.
Fourth, on the international stage, India, Japan, the U.S., and Australia have formed the "new quad." In September 2017, Swaraj, Japanese Foreign Minister Taro Kono, and the former U.S. Secretary of State Rex Tillerson met on the sidelines of the United Nations General Assembly, where they agreed to work together on strategically important ports and other infrastructure in the Indo-Pacific region, among other things.
Visit Takeaways
Japan and India are already collaborating in a host of areas, like infrastructure and nuclear energy. The Mumbai-Ahmedabad High-Speed Railway in India is being built with Japanese technical and financial assistance.
During this visit, Swaraj took part in the 9th India-Japan Strategic Dialogue. She and her counterpart Taro Kono discussed Japan-India cooperation in areas like high-speed rail, information and communications technology, innovation, space science, healthcare and food processing.
The two countries also discussed cooperation in new areas, like skills development, Japanese language training in India, and the possibility of Indian professionals working in Japan under the Technical Intern Training Program.
She also laid the groundwork for the visit of Prime Minister Modi to Japan later this year for the annual bilateral summit. During this visit, Tokyo also pledged to offer New Delhi loans worth 100 billion yen for Mumbai's subway project and 49 billion yen for infrastructure projects in other parts of India.
There is growing complementarity between India's Act-East Policy and Japan's Free and Open Indo-Pacific Strategy. In addition, both countries are faced with a rising China on the one hand and some turbulence in their immediate neighborhoods on the other. The recent visit to Japan by the Indian external affairs minister has therefore come not a day too soon, given the growing confluence of their interests in the wider Indo-Pacific region.
Dr. Rupakjyoti Borah is with the Institute of South Asian Studies at the National University of Singapore. He was earlier an assistant professor of international relations at Pandit Deendayal Petroleum University in India. He has also been a visiting fellow at the University of Cambridge, the Japan Institute of International Affairs (Tokyo), and the Australian National University. His latest book is The Elephant and the Samurai: Why Japan Can Trust India? The views expressed are personal. He can be reached at rupakj@gmail.com or via Twitter @rupakj.