After 40 years, Victim's Families Urge to Resolve the North Korean Abductions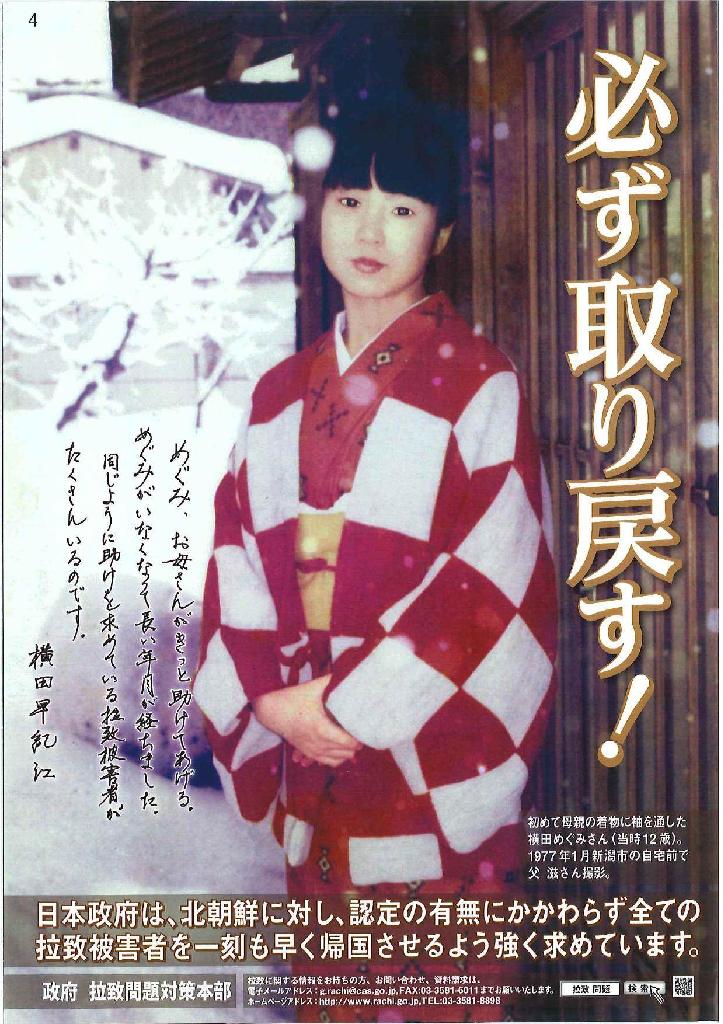 "Megumi, I will do whatever it takes to rescue you! Please don't give up! Everyone absolutely believes you will come home and we are all waiting for you, so keep your chin up!" This was the appeal of a Japanese woman at a rally held in Tokyo, on April 9, 2016.
Her name is Sakie Yokota, and she is 80 years old. Her daughter Megumi, now 51, was violently snatched away by North Korean spies in the city of Niigata on November 15, 1977, and kidnapped to North Korea. Megumi was in her first year of junior high school and only 13 years old at the time.
A former North Korean spy who defected to South Korea testified about her ordeal based on what he heard from North Koreans involved in the case. He said, "Miss Yokota was detained in the hold of a ship for more than 40 hours until the vessel arrived in North Korea. She kept screaming 'Mother! Mother!' while scratching the walls of the hold, bleeding and almost peeling off her fingernails."
North Korea subsequently acknowledged Megumi's abduction. However, it then lied and said she died, as a consequence of which Megumi has been unable to return home to Japan.
It has been 40 years since this crime took place. Sakie, who was 41 years old at the time her daughter was kidnapped, is now 80. As she has aged, her health has also deteriorated. Despite this, she has not let up her demands to the Japanese government to attain Megumi's return and she continues to travel throughout Japan to explain the issue and ask for support.
17 victims officially recognized
Megumi and others like her who were abducted by North Korea are called abduction victims. The Japanese government has officially recognized 17 Japanese citizens including Megumi as abduction victims. Those 17 individuals were kidnapped by North Korean spies by force or deception during the period 1977 through 1983.
Presumably, There are three main motives for North Korean abduction of Japanese citizens. The first is to disguise North Korean spies as Japanese by taking Japanese citizens and stealing their identities. The second is to train North Korean spies to pass as Japanese by forcing abduction victims to train them in Japanese language and customs. The third is to provide marriage partners for Japanese already living in North Korea.
One former North Korean spy who perpetrated a North Korean act of state terrorism learned the Japanese language from a Japanese abduction victim. In November, 1987, Kim Hyon-hui in conjunction with her spy-colleague, carried out the bombing of a South Korean Airlines flight and was subsequently arrested. The person who taught her Japanese language was Yaeko Taguchi, (now 60) who was 22 when she was abducted. She had been kidnapped and taken to North Korea in June 1978.
She had two children at the time. One of them, Koichiro Iizuka, (now 39) was only one year old when his mother was abducted. He was adopted and raised by Ms. Taguchi's older brother and is now part of the movement to rescue his mother and other victims. He calls his own mother "Ms. Yaeko". He cannot bring himself to call her "mother" because he has no memory of her as his mother. In all of the cases of abduction carried out by North Korea, the North Korean state has violated the sovereignty of other nations in order to kidnap foreign citizens. It has violated yet another gravely serious level of human rights by unilaterally forcing the severance of ties between a mother and her children.
The existence of these unresolved abduction cases was first reported in Japan in February, 1980, by the Sankei Shimbun. Yet, many Japanese continued to ignore the abduction incidents. The Japanese government acknowledged suspicion of North Korean involvement in the abduction of some of the missing Japanese for the first time in a National Diet session in 1988. However, most news media did not report on it.
In 1997 it was revealed through the information provided by a former North Korean spy that Megumi Yokota had been abducted by North Korea. Megumi's parents made her full name public and began a movement to rescue her. In March, 1997, Megumi's parents along with the family members of other North Korean abduction victims came together to establish the Association of Families of Victims Kidnapped by North Korea (AFVKN), commonly known as the "families association".
On the streets, family members started a campaign to gather signatures appealing to the Japanese government for early rescue of the abduction victims. In the beginning of their movement, there was little interest in the issue by the Japanese public. Some even muttered, "Is there really such a thing as abductions?" "Isn't this kind of movement dangerous?"
The Japanese government pressed the issue of the abduction victims directly to North Korea on several occasions. However, North Korea continued to deny it all. Japanese government officials were among those who were passive about the rescue of the abduction victims. A senior Foreign Ministry official, for example, on one occasion remarked on the issue, questioning whether it would be a good idea to stop the normalization of relations between Japan and North Korea on account of the abduction issue.
North Korea acknowledged abduction, but..
In 2002 the abduction issue finally moved forward. On September 17, 2002, then-Japanese Prime Minister Junichiro Koizumi visited Pyongyang, North Korea. Koizumi met with North Korea's supreme leader, Kim Jong-Il. Kim Jong-Il acknowledged the abduction of Japanese nationals for the first time and apologized. He then claimed that among the abducted Japanese, five were alive. These five returned to Japan on October 15, 2002. They are Yasushi and Fukie Chimura, Kaoru and Yukiko Hasuike and Hitomi Soga.
Yet, North Korea lied. It said that the other eight abduction victims including Megumi Yokota had died. No proof of death was provided. North Korea brought out a variety of documents, many of which were suspected of being fabrications. It also presented what it claimed were the ashes of the victims. When the Japanese government examined the ashes, though, it was found that they were the remains of unrelated persons. The victims who returned to Japan said that, after the dates North Korea asserted the other abduction victims had died, they had seen the those victims alive in North Korea and also heard from others that they were still alive.
Not only the families of abduction victims, but also the Japanese government, enumerating the evidence, asserts that the North Korean contentions are a lie. Furthermore, the Japanese government is demanding that North Korea return the living abduction victims to Japan immediately. Inside the organization of the current Japanese government is the Headquarters for the Abduction Issue. The head of this office is the Prime Minister himself. The work of the Headquarters for the Abduction Issue is to collect intelligence about the abduction victims and appeal for support on this issue both inside and outside Japan.
There are those in Japan for whom, in addition to the 17 abduction victims recognized by the government, the possibility of yet additional cases of North Korean abduction cannot be ruled out. The non-government organization called the Investigation Commission on Missing Japanese Probably Related to North Korea, known as COMJAN, lists approximately 470 people in this category. The Japanese police also are investigating the cases of more than 800 people for whom the possibility of North Korean abduction cannot be dismissed. The Japanese government is now demanding the immediate repatriation of all abduction victims, whether or not they are officially recognized.
Since 2002, North Korea has not returned a single Japanese abduction victim. Meanwhile, the victims' family members have passed away, one after another. It has become increasingly difficult to continue their rescue activities as the remaining family members' age.
Despite this, the families are continuing to demand return of the victims and campaigning for support throughout various parts of the country. The families know merely the fact that the abduction victims were kidnapped by North Korea. It is unknown where they are in North Korea, what they are doing, how they live and whether or not they are well.
Where are they now?
Even though there is information that abduction victims are alive, the families cannot meet the victims, or know what they are currently doing. It is a natural human emotion to want to see, at least once more, their living family members who had been so unreasonably snatched away. Therefore the families can never give up the rescue effort.
Megumi Yokota's mother, Sakie, speaking at the April 9, rally, appealed to everyone to, "once a day, please replace the face of the abduction victims with the face of your own child, and remember us."
It is not that the abduction victims were kidnapped by North Korea because of any wrong-doing. Some just happened to be in the place at the time when North Korean spies also happened to be there. Others just happened to meet certain conditions desired by North Korea, so they were just taken away.
In other words, any Japanese person could have become a victim of abduction. The abduction issue is not a special problem confined to the families of the victims. It is a common issue that must be resolved for all Japanese. "We want All Japan to come together and united we will resolve the abduction issue." This is what the families of abduction victims wish for as they continue their appeal.