Allez, The Brave Blossoms! Rugby and Japan's Special Sporting Footprint
From the Brave Blossoms to Shohei Ohtani, Japanese sports teams and their fun-loving, always impeccably tidy fans create a huge amount of goodwill.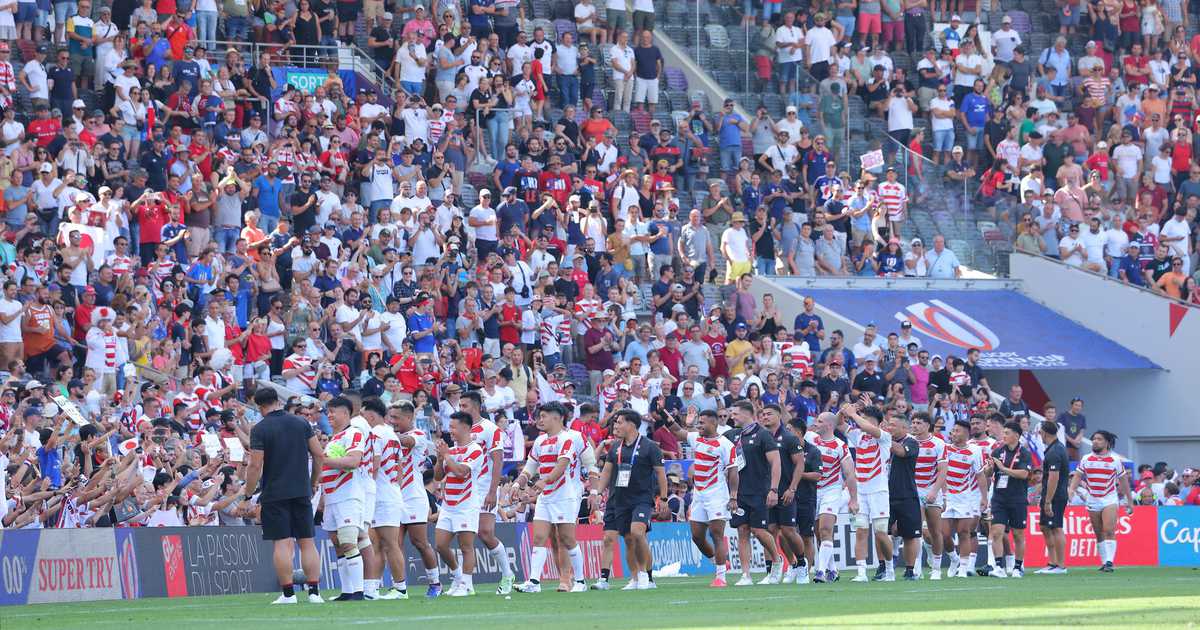 The midday sun was hammering down when we joined the 30,000-strong crowd in Toulouse, France's capital city of rugby. Japan's "Brave Blossoms" were starting their 2023 World Cup campaign with a match against Chile, newcomers to the event.
The last Rugby World Cup was hosted by Japan itself, in 2019. In the tournament before that, the Blossoms scored a sensational last-minute victory over the fearsome South African Springboks.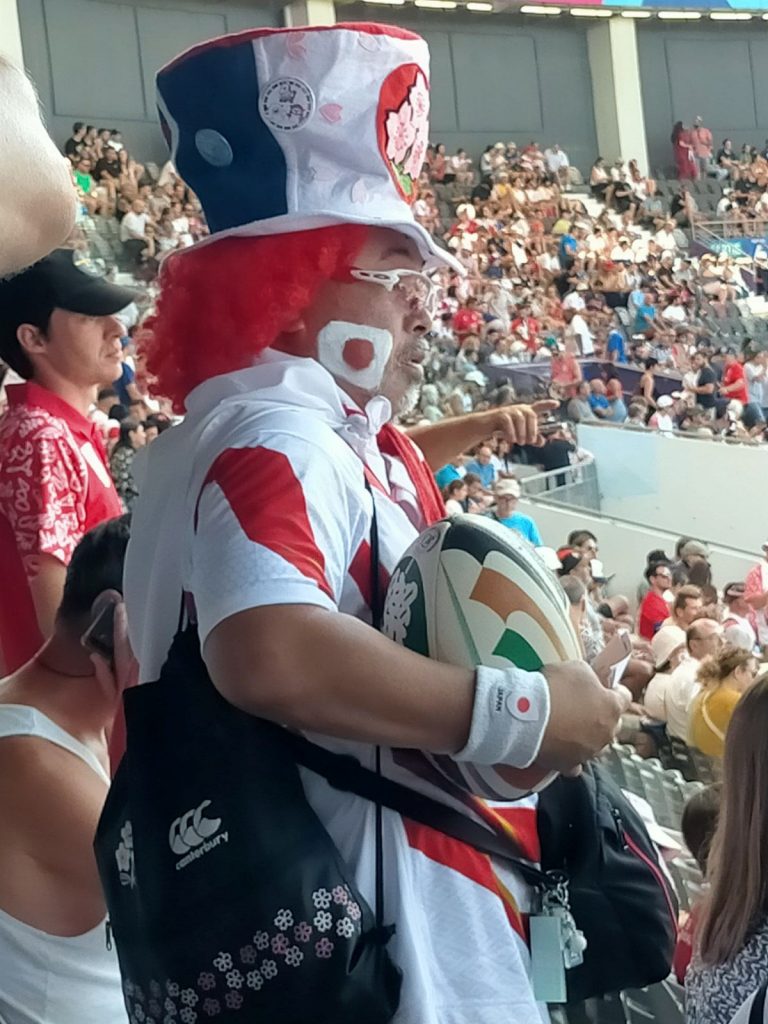 Japan's involvement in the sport dates back much further than that – since two Cambridge graduates, Ginnosuke Tanaka and Edward Clarke of the Yokohama foreign community, introduced the game to Keio University in 1899.
Even given that history, though, the level of support from traveling fans, many of them female, was astonishing. Red and white rugby shirts, rising sun banners, and "certain victory" headbands were everywhere.
It's a long way from Tokyo to Southwest France but plenty of Japanese rugby-lovers deemed it a trip well worth taking. There was a much smaller, but enthusiastic Chilean contingent too, noticeable from their chants of "Ole, ole, ole."
Naturally, French fans were in the majority, including some wearing yukata and kimono and shouting "Allez Japon" ("Go, Japan").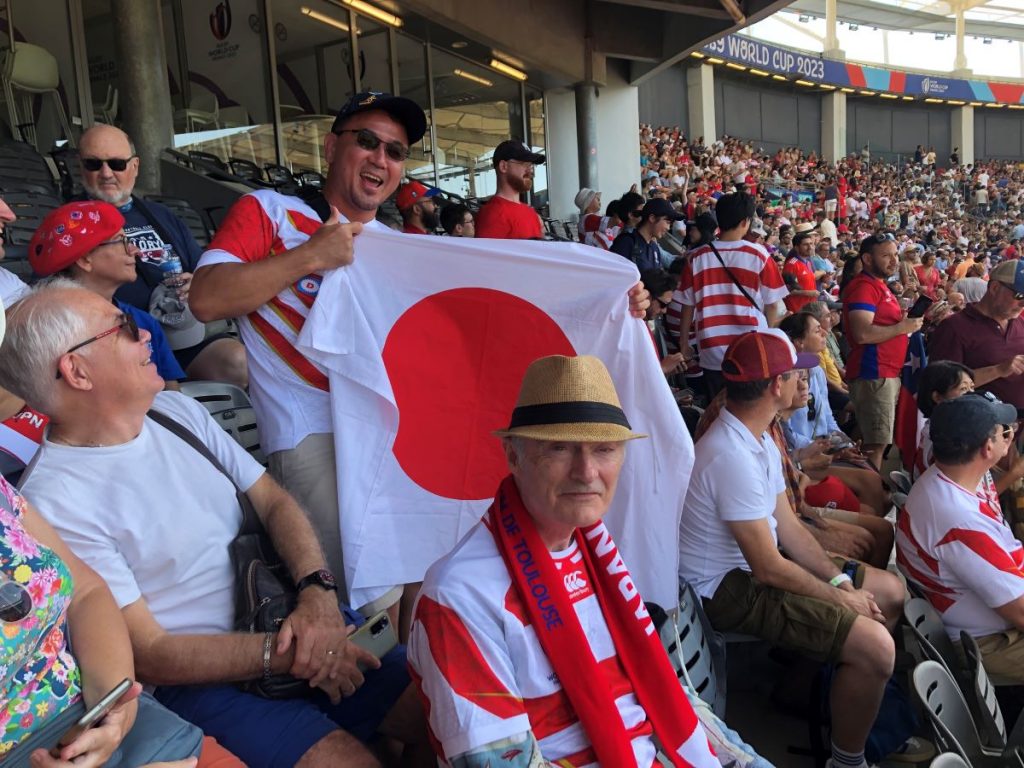 Rugby's History of Revolution and Rebellion
Rugby is a minor sport in terms of the number of people who play it. Moreover, the rules are complex to the extent that even seasoned observers can be baffled by the rationale for a decision by the referee. In contrast to football ("soccer" to some), the rules are always changing. And what was considered fine play twenty years ago could now earn you a "red card" and an appearance before a disciplinary panel.
Despite these drawbacks, rugby has retained a certain aura that distinguishes it from other sports and attracts unusual characters.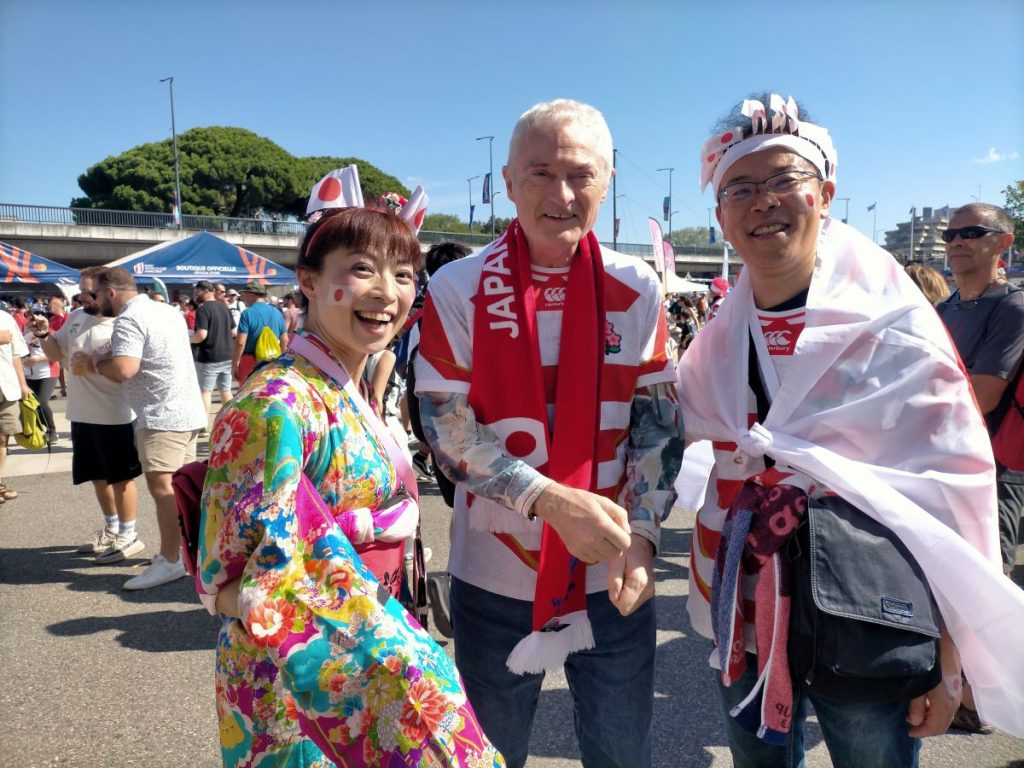 In his history of rugby, "A Game for Hooligans" (Mainstream Publishing, 2007), Huw Richards notes that the most famous Argentine rugger man is not the sublime fly-half Hugo Porta. Rather, it is one Ernesto "Che" Guevera, whose earliest published writing was on rugby, not revolution. His biographer claims that Che learned his guerilla tactics from his experience as a scrum half.
Richards also quotes this interesting comment from former French international center and coach Daniel Herrero:
The southwest [of France] in its historic rebellion against the abusive power of the north seized upon the game of rugby football as its main means of expression and space of joy.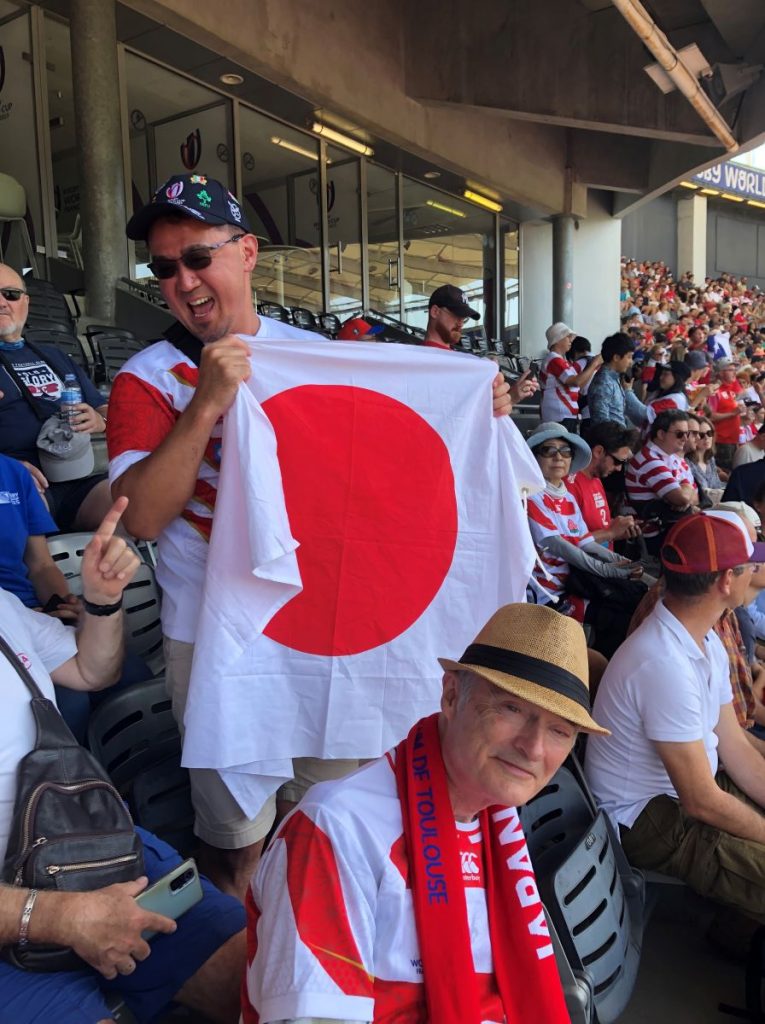 A Sport of Poets and Emperors
In contrast, Japanese rugby, like English rugby, began as an establishment pastime, nurtured in elite universities such as Keio, Doshisha, and Waseda. Prince Chichibu, younger brother of Emperor Showa, had attended matches during his stint at Oxford University. In 1926, he became patron of the newly formed Japan Rugby Union.
The sport's links with the Imperial Institution continue in the twenty-first century. The same goes for the British Royal Family, with King Charles said to have had his nose broken in a schoolboy match.
Japanese rugby has developed a wider presence in the national culture too. Indeed, the word "rugby" has become a legitimate season word – one of which is required in all conventional haiku – signifying the winter months. Seishi Yamaguchi, a well-known haiku master, produced dozens of rugby haiku. There is even one by Shuji Terayama, the pied piper of Japan's 1960s and 70s counterculture.
cheek burning from 
a rugby injury
I gaze at the sea

ー Shuji Terayama
Antithesis of Superpower Politics
The world of rugby is refreshingly different from the world of geopolitics. In it, the United States is not a superpower but a minnow that failed to qualify for the World Cup this time, having been dumped out by Chile. Germany, which has Europe's largest economy, was good enough to beat the French in the 1930s, but no longer features in any competitions.
New Zealand, with its population of five million, is the feared and envied hegemon that, until very recently, was an unstoppable force. China and India don't exist.
Russia has been banned from this World Cup but stood no chance of qualifying anyway. However, neighboring Georgia is there, having beaten Wales in an away match in 2022. Meanwhile, the talented Fijians are starting to fulfill their undoubted potential.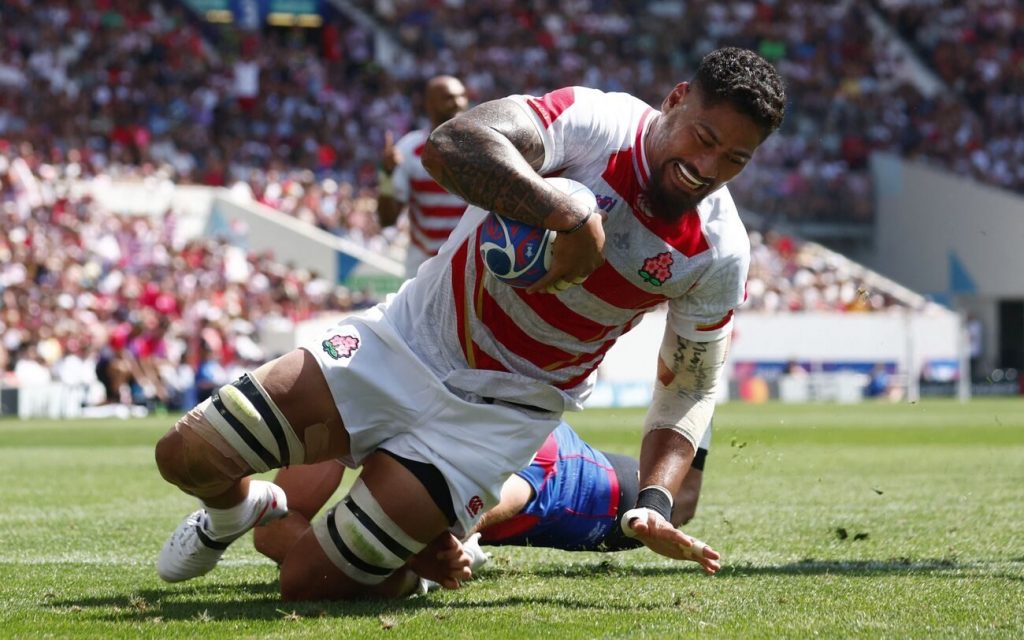 The Powerful Multicultural Equalizer
Huw Richards maintains that rugby played an important part in the collapse of the South African apartheid regime. In his telling, the boycotts of sports such as football, tennis, and cricket meant little to the hard-line Afrikaners who dominated the government in the 1980s. Only one sport counted – rugby, and particularly the long rivalry with the New Zealand All Blacks. Sacrificing that regular test of manhood really hurt.
Today, rugby is a multicultural game in which – thanks to the sport's lax qualification rules – national teams can field players who do not have citizenship. That can have the unhappy effect of stripping economically weaker countries, such as some of the Pacific Island nations, of their best players.
In Japan's case, the current team may offer a glimpse of a more multicultural future for the society as a whole. Its trailblazing captain and Japanese citizen Michael Leitch shows what is possible on and off the field.
The current squad includes a South Korea-born prop, a half-Zimbabwean half-Japanese fullback, several foreign-born players who arrived in Japan at the age of fourteen or fifteen, and a Tonga-born prop who incorporated his wife's name – "Ai" meaning love – into his own when taking Japanese citizenship.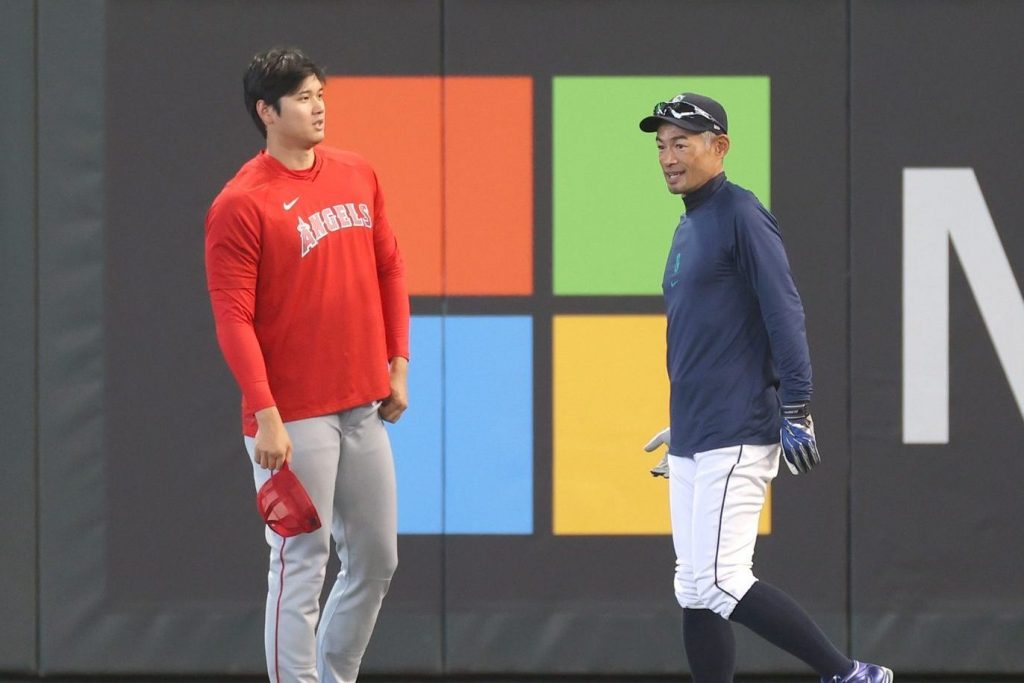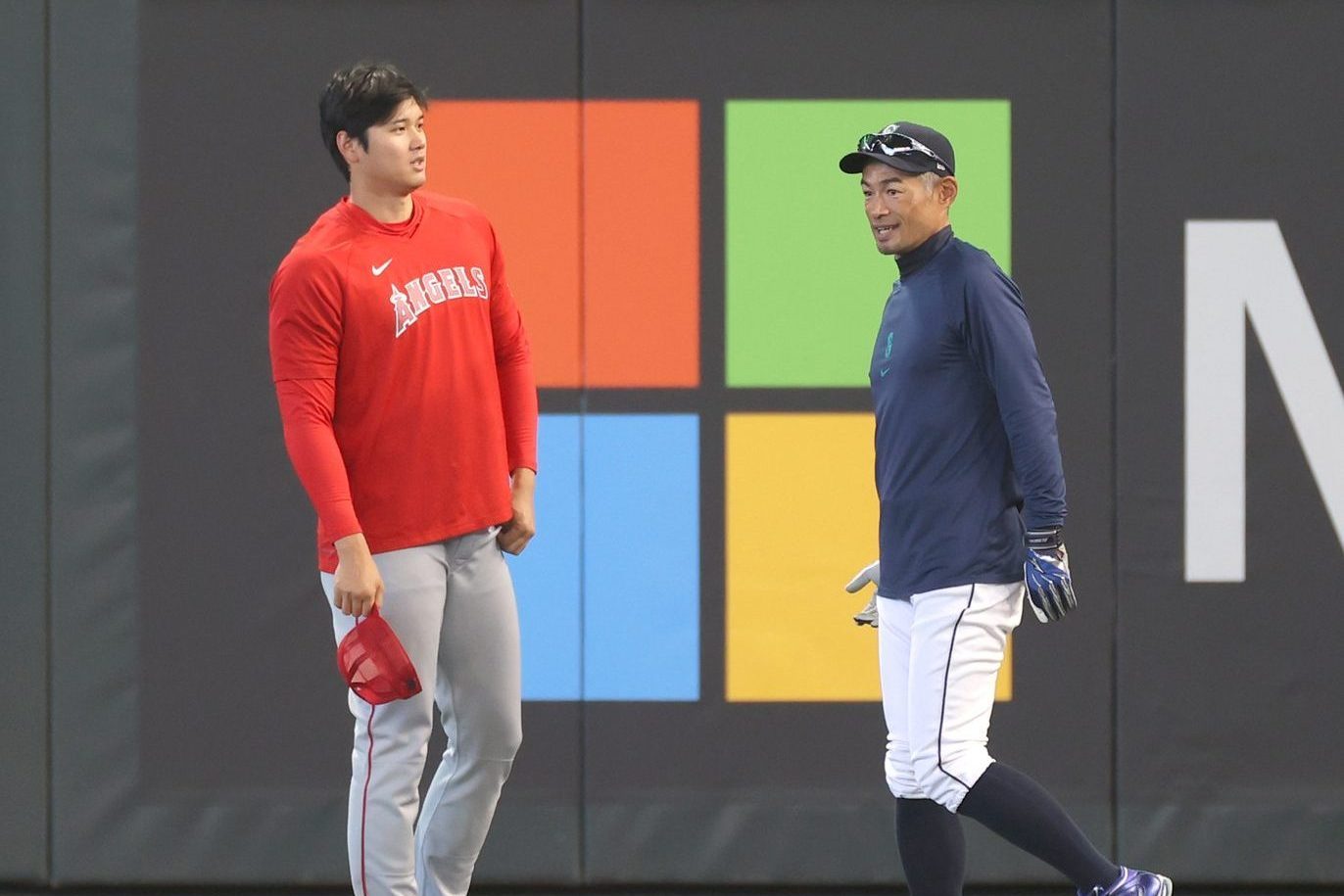 The 'Soft Power' of Sports
Japan has also made great strides as a sporting nation. In the recent Football World Cup in Qatar, it defeated Germany and Spain, two titans of the game. Earlier this year, Japan beat the USA in the World Baseball Classic. And in the figure Shohei Ohtani of the Los Angeles Angels, it has a player with the potential to become one of the greats of the game.
What other country has the ability to compete at the highest level in such a disparate variety of popular sports?
On that basis, Japan's sporting footprint is unrivaled. Call it "soft power" if you like, but the on-the-field achievements of Japanese teams and the presence of their fun-loving but always impeccably tidy fans create a huge amount of goodwill.
Back to rugby, described by Huw Richards as "that exasperating compound of beauty and violence, elegance and complexity, gentlemanliness and hooliganism." The Brave Blossoms were too good for the Chileans. But they will need to raise their game if they are to get out of their tough group, which includes England, Argentina and Samoa, all of them placing higher than Japan in the current world rankings.
Nonetheless, I would not be surprised if they took one or two scalps from more fancied teams. The Japanese are at their most dangerous when nobody gives them a chance and they throw caution to the winds. Just ask the Springbok team of 2015.
As for the long term, the Japanese have always been highly skilled rugby players. Now they are getting physically bigger. The challenge will be to convince the next Shohei Ohtani – who stands 1.93 meters tall and weighs 95 kilos – to become a dynamic wing-forward or center rather than a baseball player.
RELATED:
Author: Peter Tasker