As Typhoon Lan Approaches Here is How To Deal with Possible Transport Chaos
Typhoon Lan is set to hit the central island of Honshu, affecting Kobe, Osaka, and Nagoya, among others. Find out about past disruptions and lessons learned.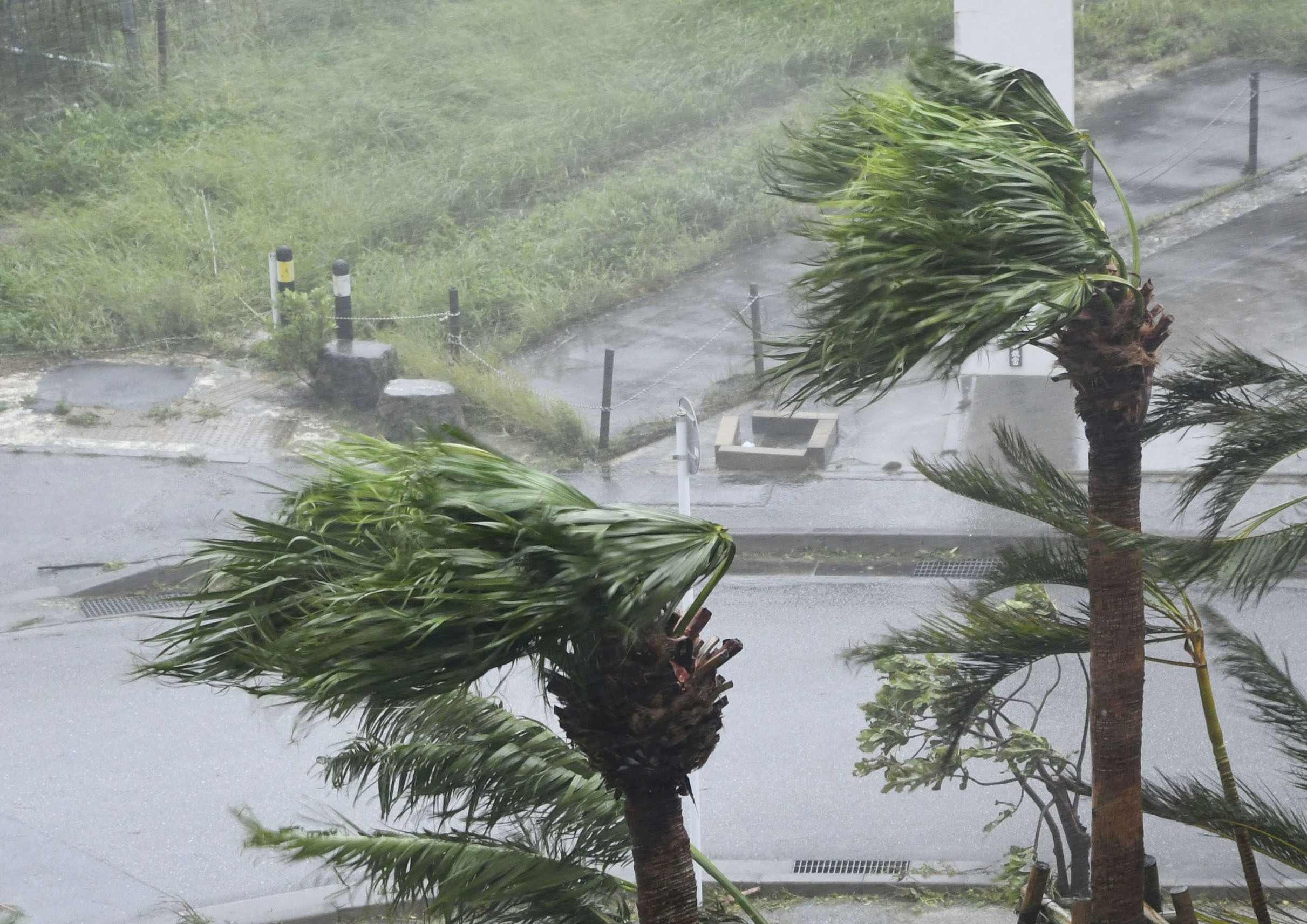 Typhoon Lan (or Typhoon Number 7) will be making its way up Japan starting on August 13, the Japan Meteorological Agency has announced.
First formed around the Ogasawara Islands in the first week of August, Typhoon Lan is set to barrel down on the main island of Honshu from August 15. As this happens, it is likely that transportation services — airlines, ferries, trains, and the Shinkansen — will be required to suspend their operations, and expressways and bridges will likely have to be closed, during one of the busiest travel seasons of the year.
In fact, it will likely be the main corridor between Kobe, Osaka, and Nagoya that will get hit directly or bear the brunt of the typhoon's wind and rain, affecting port operations — both cargo and cruise ships — as well as popular tourist destinations such as Kyoto.
The impact is also predicted at a number of critical airports, such as Kansai and Chubu, which handle both international and domestic flights. Itami airport in Osaka, which operates domestic services and, on an infrequent basis, US and Japanese military aircraft, is also expected to have disruptions.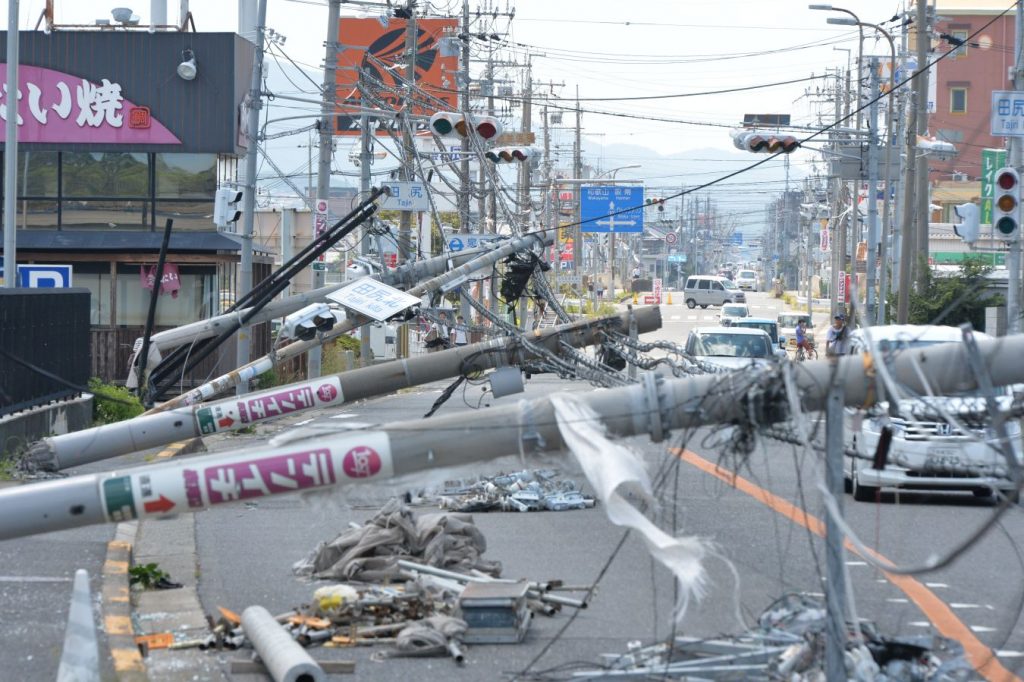 Past Experience: Typhoon Jebi
The Kansai region, as readers may recall, experienced a devastating typhoon five years ago in September 2018. On that occasion, not only did Kansai International Airport flood, but an improperly moored ship broke loose and crashed into the bridge connecting to the airport's man-made island, located in the southeastern part of Osaka Bay.
The ports were also heavily damaged. A total of 14 people were killed, with almost 1000 injured during what was considered Japan's strongest typhoon to hit in 25 years.

Looking at Typhoon Lan and Beyond
2023 has seen quite a few nasty typhoons already, in Okinawa and Kyushu, whose effects — such as flooding and landslides — have reached other parts of Japan, including the Tokyo and Tohoku areas. These storms have been especially difficult for the Japan Railways Group throughout the country, affecting both its local train services and Shinkansen operations.
Earlier this summer, I was caught up in the effects of Typhoon Mawar (or Typhoon Number 2) when JR Central had to suspend the Tokaido Shinkansen between Tokyo and western Japan, where I live. Due to heavy rains caused by the typhoon hitting Okinawa and the Nansei Islands, the company temporarily suspended operations in the early afternoon of June 2, a Friday and a normally busy day for travelers leaving Tokyo.
In this commentary, I would like to introduce my experience and recommendations to improve the situation, as it was utter chaos and much could have been avoided.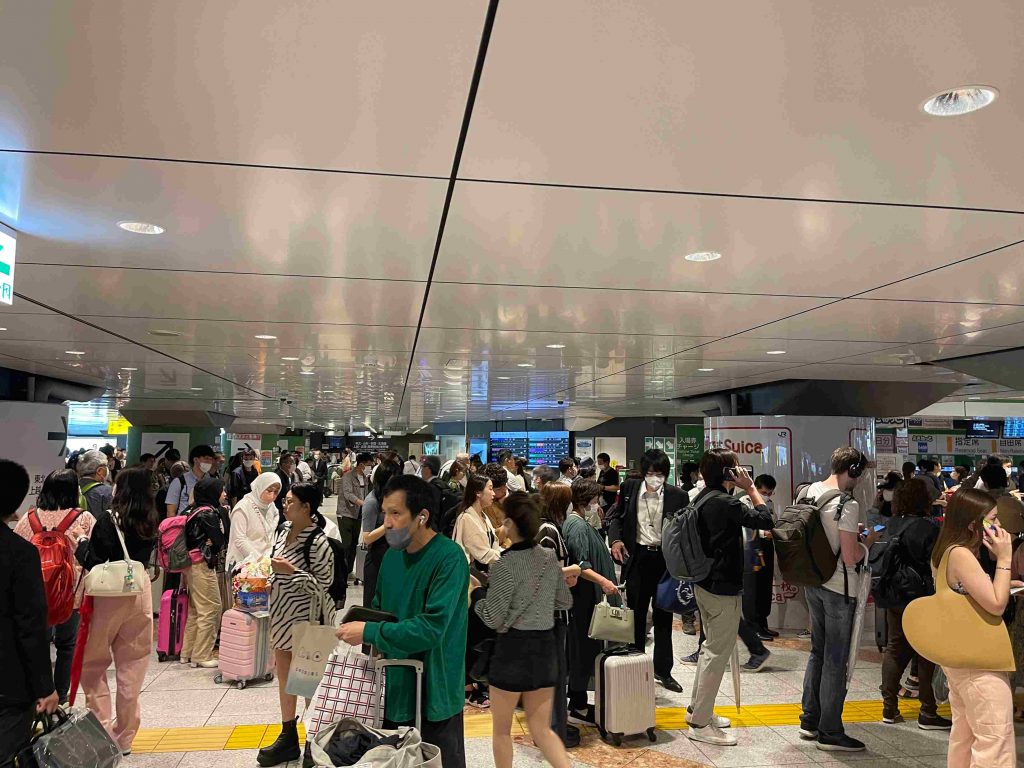 Lack of Cancelation Notification
Despite having online reservations, I did not receive any notification about the early afternoon suspension and was unaware of it until I arrived at Tokyo Station for my evening departure. Eleven minutes after my originally planned departure time, I received my first notification about the cancellation.
Having arrived at the station before my scheduled departure and seeing the chaos, I reserved a hotel room (at three times the normal price) and rescheduled my departure for the next morning.
The next morning, I went to the station where I learned that trains were scheduled to begin departing at noon. There were thousands of people lined up for tickets and/or trying to get through the wickets. A total of at least 135 Shinkansen trains had been canceled.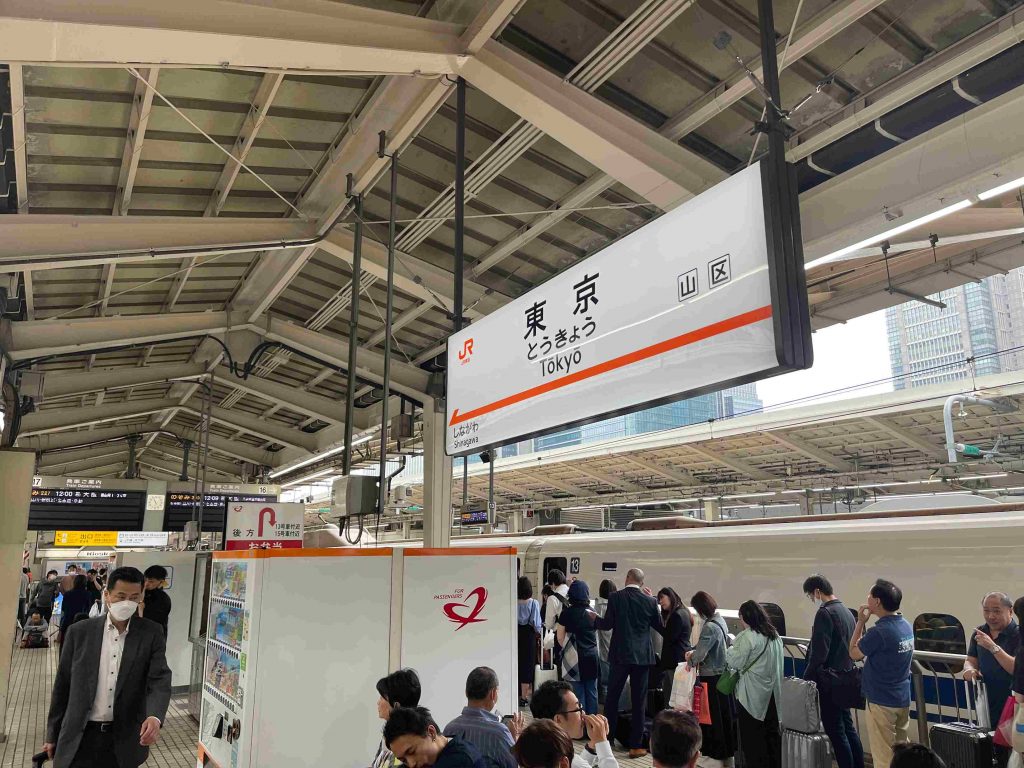 Widespread Chaos
While the JR staff were polite and responsive, they were unhelpful. They seemed to be doing business as usual rather than using innovative approaches to deal with the situation.
Hoping to reschedule (a third time) my reservation, they ushered me through the wickets and told me just to head to the platform, as they had said to hundreds before me. After a while, there were thousands of people on the platform waiting for the first Shinkansen to depart. It began to seem a dangerous and combustible situation, especially in light of the confusion and lack of further instructions.
I decided to get on the soon-to-depart Shinkansen and stand in the aisleway rather than wait with uncertainty on the platform with a reservation no longer valid. The train had to stop just outside of Nagoya for a while to ensure that the tracks were safe, which fortunately they were, and I eventually made it home 18 hours after my originally planned departure.

Lessons Learned
I was stunned by the mishandling and incompetence that day and came up with a simple plan to relieve the congestion and pressure on the station, and thousands of people on the platforms. I communicated it to concerned officials, and I hope it gets adopted.
In particular, I argue that the fastest way to expedite the departure of the people dangerously assembled on the platforms is to separate people by destination — Hakata (in Kyushu, the Southern island of Japan), Hiroshima, Kobe, Shin-Osaka, Kyoto, and Nagoya at 3-minute intervals on the faster Nozomi or Hikari-type trains. Kodama-type could follow for more local stops.
In other words, those going further to Kyushu should leave first on a non-stop train, followed by trains to Hiroshima, Kobe, Shin-Osaka, Kyoto, and Nagoya, respectively. They would be fired off and would not stop until their destination was reached. In this way, you could get about 20,000 people out of Tokyo Station in the first 38 minutes and operations would return to normal within an hour or two.
Instead what happened is that each train made stops at basically the same destinations, causing people to have to climb over one another to get off the cars. There was also confusion about which cars to get on and their departure time, as they were operating in a pre-crisis mode.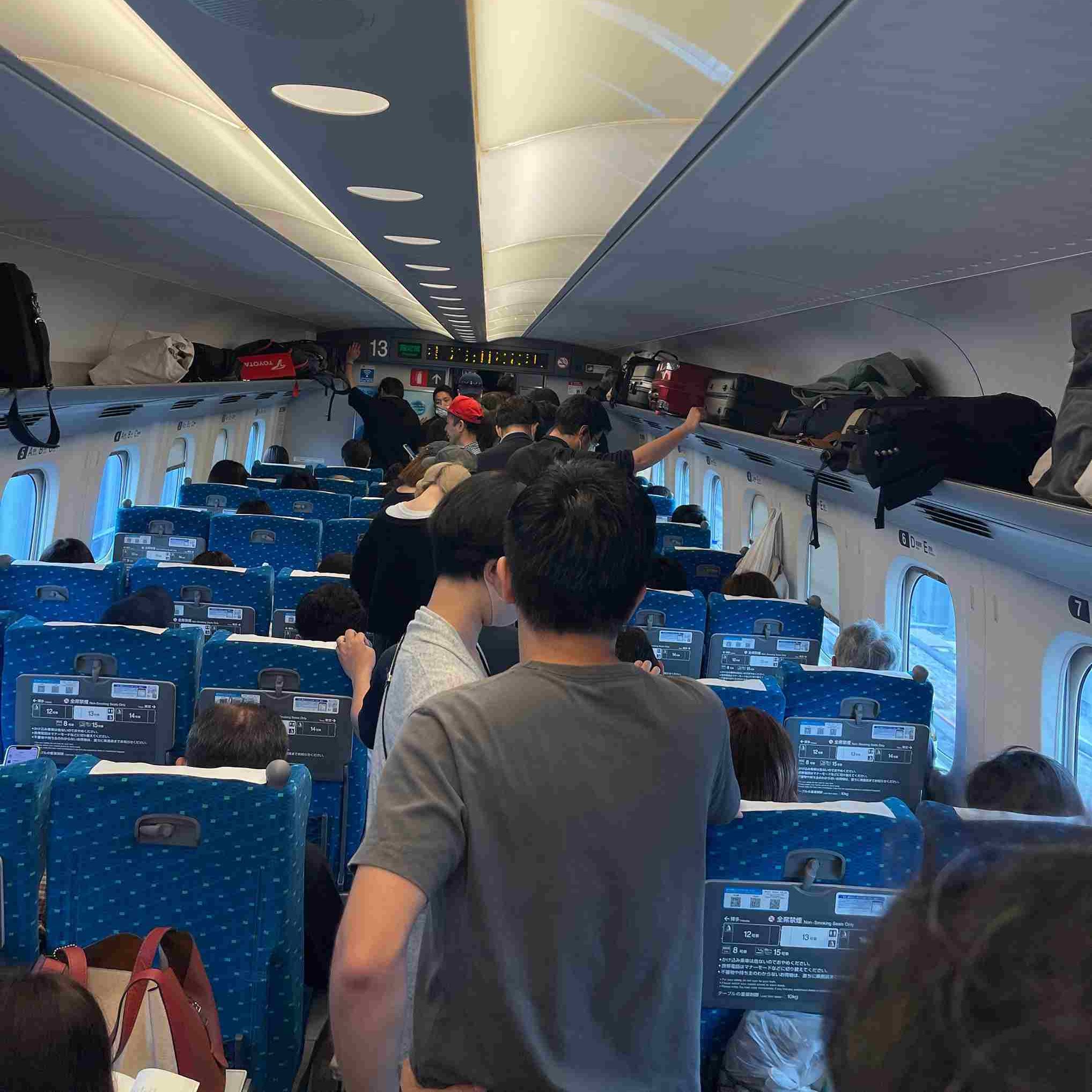 Crisis Management is About Anticipating Problems
These recommendations can be used not only for future cancellations like what happened, but also for future evacuation scenarios in the wake of natural or manmade disasters (an attack on Tokyo, for example).
Japan is not known for good crisis management. It waits until a disaster happens and then tries to make the best of it. A generally tolerant public puts up with it.
However, I was particularly sorry for the foreigners caught up in it, many of whom were first-time tourists. It seemed like it was maddening and a disappointing experience. I tried to help those who were nearby and clearly confused.
I was also saddened for Japan and the damage to its image as a superefficient country, at least where travel is concerned.
Crisis management is about anticipating problems as much as it is about handling issues after they happen. I hope Japan is prepared for Typhoon Lan and the twenty-two others that are predicted for this year.

For those traveling during a typhoon, find train information status on the pages such as that of JR East.
RELATED
Author: Robert Eldridge